Meet Simar: The 6-year-old Girl Who Developed a Videogame

116 Views
Published On: 14 Sep 2023 Updated On: 06 Oct 2023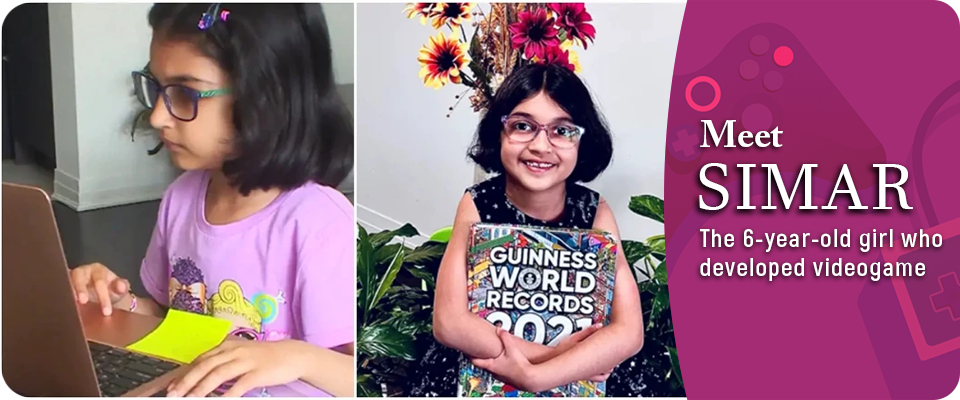 The Indian-origin resident of Beamsville, Ontario, Canada, Simar Khurana at the age of only 6 years and 335 days created a fun, interactive videogame for kids to enjoy. She earned the title 'World's Youngest Videogame Developer' by the Guinness Book of World Records. Ethical Hacking, Coding, gaming, and Computers are common hobbies and passions for many people around us. Although we all know not everything is everyone's cup of tea. Even so, Simar proved it wrong by being the game developer at 6! She is a child prodigy residing in Ontario who has left every other coder in the world astounded and baffled by her talent and remarkable dedication.
Simar Khurana at six achieved a milestone that absolutely none could think of by developing her own videogame specifically designed for kids that is educational as well as enjoyable. It is not surprising to see kids engrossed in playing video games or simply games. But Simar was unique. She didn't just want to enjoy them but also learn to develop them. As a result, she started taking classes on coding not less than a year ago. She took three classes per week which shows her determination towards her goal.
Paras, Simar's dad was the one who recognized his daughter's talent and knack for Mathematics and coding. "Simar learnt math on her own by watching YouTube videos. While in Kindergarten, she was able to do Grade 3 maths. She was making crafts and games with whatever she had, sometimes just out of waste paper. I felt that she would naturally excel at coding as she had an ideal combination of skills. So, I got her to try a demo coding class which she loved!" Paras expressed his daughter's love for math and coding.
The problem was almost every coding institute refused to take her due to age restrictions. Developing a game is not as easy as it seems. It requires highly developed reading and the same level of writing. So naturally, people found it hard to believe that Simar could pull it off effortlessly at her age. However, after a long search, a teacher finally accepted Simar and finally Simar embarked on a journey to develop games.
One day, the family visited their family doctor, where the doctor lectured the kids (Simar and her elder sister) about the consumption of junk food. Hearing this, sparked an idea in Simar's head, and hence the name of the videogame is 'Healthy Food Challenge.' This game relays the message of the importance of having a balanced diet from childhood by differentiating both junk food and healthy food in a unique way.
Still, the creation of this video game from zero is not a walk in the park or child's play. As a matter of fact, both Simar and her father had already set their eyes on attempting a Guinness World Records title but there was a time constraint. They had merely four months to achieve this so as to meet the age limit. That being said, Paras said that they increased the number of classes from three to four classes a week. In addition to this, she took dance, gymnastics, and Karate classes which she enjoyed and wanted to proceed further as well.
"Imagine a 6-year-old who goes to school and after that, she has 1-2 classes each day and has to do coding projects which require 1-2 hours of practice each day. It was intense, [it would be] even for a grown-up!" the father exclaimed about Simar.
Simar is extremely fond of mathematics and coding and aspires to be a game developer when she grows up. Practically, she already is a game developer. Presently, she has taken steps toward machine learning and AI which are clearly important if you wish to develop educational games for kids or even apps for kids.
You might also like