Karnataka's Shakti, Delhi Model Free Commute for Women

41 Views
Published On: 16 Nov 2023 Updated On: 21 Nov 2023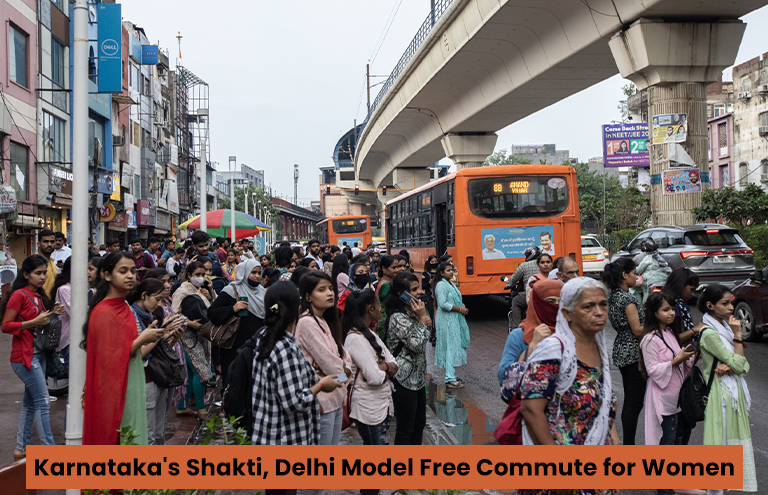 India's most recent state Karnataka's Shakti offers free commute for women, in the name called Shakti which means strength in Hindi. In 2019, Delhi was the first state to give free tickets in pink colour for women. The free tickets of more than 1 billion women have been used for many years, said the government this year. These schemes have already started and run successfully in Punjab and Tamil Nadu.
This scheme breaks all the barriers for women, who decided not to go for any work because of the unaffordable and unfeasible travel expenses daily. It aims to increase the number of women in the workforce by making it affordable and easy to work and travel. In India, there are some men who control women for access to money and the same men might object to women in their families working outside the home, but these free ticket policies allow them to avoid travel expenses.
"These policies suddenly open up new opportunities for women," said, a Bengaluru-based independent mobility expert, Satya Arikutharam.
According to the World Bank, India has one of the lowest rates of female labour workers in the world, with less than half of the women above the age of 15 in employment as of 2022, down from 27% in 2012. The International Labour Organisation referred to the decreasing rate of increasing attendance in education and improving household incomes, defining that fewer women need to work, but only that women lack job opportunities, mainly in agricultural activity that has reduced in India.
According to the analysis by Bloomberg Economics in 2021, India is one of the places with the biggest barriers to female participation in the economy. Till now, women provide around 17% of India's gross domestic product, and ending the employment space could spread India's GDP by more than 30% by 2050, it evaluates.
Some states have executed help for women short of free transport. The most popular state, Uttar Pradesh executed a free transit for women during the Raksha Bandhan festival in 2023 and this same thing happened in Rajasthan for International Women's Day. In Maharashtra, particularly in Mumbai, women pay half-price on buses.
Shreya Gadepalli, who is leading the think tank Urban Works Institute in Chennai said that she was happy to see that this investment for women will improve travel for women easily and because of that they can have opportunities and participation in education and jobs. By that, they end up contributing to the economy and the society.
These policies have triggered a reaction from other drivers like Private bus operators, auto-rickshaw drivers, and taxi drivers in Karnataka. They went on strike to oppose this scheme called Shakti in July for a month after it was announced, complaining their savings were disturbed as a result. The ruling party, Bharatiya Janata, who all are refusing in the states with the policy, has denounced it for loading public finances.
Many women feel that this free travel is also worsening the daily harassment they often face while taking public transport. The nonprofit Greenpeace India in October, took a survey of about 500 women in Delhi and found that 80% of them answered that the buses didn't stop for them, and other women said that few male passengers commented on them for taking the bus for free of cost. One of the report's authors, Aakiz Farooq, said that male passengers refuse to offer seats for women even in the female-only sections.
The government planned to expand this scheme and say it was a success. The data from the transport department shows that women made up more than half of the riders on Karnataka's buses since the Shakthi scheme which began in June. To meet the growing demand the state requested for 5,600 more buses to be added to its fleet. In 2020, the Delhi government gave hope to the women for free access to its metro rail in the future.
For women, this free transport scheme not only economically helps them but also allows them to travel, said Pawan Mulukutla, who is running a combined transport, clean air and hydrogen program at the nonprofit World Resources Institute India.
You might also like