Tulsi: A Magical Herb With Numerous Health Benefits

151 Views
Published On: 11 Sep 2023 Updated On: 06 Oct 2023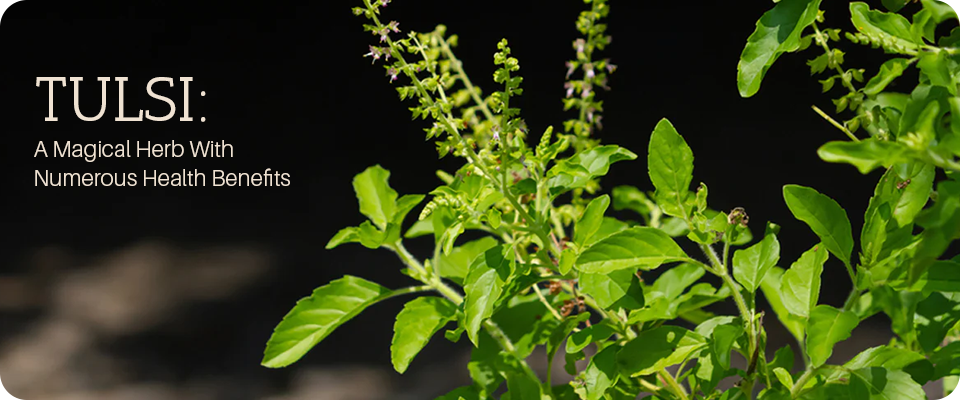 Tulsi scientifically known as Holy Basil is a revered herb belonging to the family Lamiaceae. It is an indigenous plant of India and is vastly nurtured throughout Southeast Asia. These green plants are almost part of every household in India, mostly in the Hindu community, as a part of the tradition. It is basically consumed raw to cure cough and cold. This plant is an important one in Indian traditions. The oil extracted from this plant is used in the beauty industries in the making of soaps, oils, perfumes, and many more.
Holy Basil or Ocimum gratissimum is a green leafy plant with a history in Indian medicine, popularly known as Ayurveda, as a treatment for various ailments from stress to ringworms and kidney stones. Not just the leaves, but even the stem, seed, and various other body parts of the plant can be used to treat several medical conditions. Tulsi is a sacred plant worshipped by the Hindus in India.
There are three main types of Tulsi growing in India. Those are:
Ram Tulsi which has bright green leaves.
Krishna Tulsi with purplish green leaves.
Wild Tulsi called Vana Tulsi.
From ancient times till now, tulsi has proven to be highly effective and efficient in shielding our bodies from various infections and diseases. Enriched with high-powered oxidants that help regulate your cholesterol and blood pressure levels in the body, tulsi is termed one of the best heart-healthy foods. It is extremely good for diabetic people as it possesses hypoglycaemic properties which are known to reduce your blood sugar levels. Tulsi is rightfully the "Queen of the Herbs."
Let's take a closer look at what this magical herb has in store for us.
Nutritional Value of Tulsi
| | |
| --- | --- |
| Carbohydrate | 2.65 g |
| Protein | 3.15 g |
| Energy | 22.4 g |
| Fat | 0.64 g |
| Water | 92.06 g |
| Dietary Fibre | 1.6 g |
| Sodium | 4 mg |
| Iron | 3.17 mg |
| Zinc | 0.81 mg |
| Potassium | 295 mg |
| Manganese | 1.148 mg |
| Phosphorous | 56 mg |
| Riboflavin | 0.076 mg |
| Thiamine | 0.034 mg |
| Pantothenic Acid | 0.209 mg |
| Niacin | 0.902 mg |
| Vitamin B6 | 0.155 mg |
| Choline | 11.4 mg |
| Vitamin K | 414.8 µg |
| β -Carotene | 3142 µg |
| Vitamin E | 0.8 mg |
| Vitamin C | 18 mg |
| Calcium | 177 mg |
Health Benefits of Tulsi
Reduces Cough, Cold, and Other Related Respiratory Ailments
Pollution and pollutants take a toll on your respiratory organs causing various diseases like asthma, bronchitis, and more. The presence of eugenol, cineole, and camphene in Tulsi helps fight the cold and congestion in your chest. Juices of tulsi leaves combined with honey and ginger are highly effective on asthma, bronchitis, influenza, cold, and cough.
Reduces Stress and Anxiety
Each part of Tulsi is considered to be an adaptogen. Adaptogen is a substance that helps alleviate stress and promotes mental balance. Although the concept of adaptogen is a holistic approach, Tulsi is incorporated with pharmacological properties to help your mind cope with several types of stress including physical, emotional, chemical, and infectious stress.
It even consists of compounds Ocimumosides A and B which are effective in reducing stress and maintaining the balance between the neurotransmitters serotonin and dopamine in the brain.
Lowers Your Cholesterol and Blood Sugar Levels
If you are a diabetic person or someone who has type-2 diabetes, Tulsi can help in the lowering of your blood sugar level. Scientific research and studies have shown that holy basil or tulsi helps in preventing several diabetic symptoms such as weight gain, hyperinsulinemia or excess insulin in the blood, high cholesterol, insulin resistance, and hypertension.
Reduces Fever and Pain
Tulsi contains natural anti-bacterial and anti-viral properties that help to fight infections, consequently reducing the fever. The fresh juice of tulsi taken with black pepper powder cures periodic fevers. Tulsi leaves boiled with cardamom powder in a container with a half liter of water combined with milk & sugar are also effective in toning down the temperature. Eugenol, a terpene with pain-relieving properties found in Tulsi reduces aches in the body.
Boosts Your Immunity
Enriched with nutrients such as Vitamin C, zinc, and a few others, Tulsi automatically acts as a natural immunity booster keeping infections out of your reach. Tulsi leaf extracts help in stimulating T helper cells in your body which helps fight the killer cell's activity. As a result, it increases your immune system.
Anti-cancer Properties and Heart-friendly
The presence of phytochemicals in tulsi is infused with strong antioxidant properties. Because of this reason, tulsi protects us from skin, oral, lung, and liver cancer. By reducing the lipid content of blood, Tulsi due to its higher antioxidant properties effectively treats and prevents cardiovascular diseases on the treatment and prevention of cardiovascular diseases. In addition to this, it even suppresses ischemia & stroke lowering hypertension.
Aids in Gouty Arthritis and Kidney Stones
Tulsi helps in the detoxification of the body and contains diuretic properties. It helps reduce uric acid levels in your body, the main cause of the formation of kidney stones. Reduction in uric acid levels also provides relief to patients suffering from Gout. Furthermore, Tulsi also helps to cure indigestion and appetite loss.
Good for Skin and Hair
Tulsi helps in cleansing acne and blemishes from deep within, on your face. Packed with antioxidants, tulsi helps to prevent premature aging. It also helps to strengthen the hair roots, thus preventing hair fall. The anti-fungal properties help in fighting off dandruff and fungus on your scalp.
Purifies Your Blood and Acts as an Antiseptic
Apart from the mentioned above, extracts of tulsi leaves can be applied to insect or bug bites or even other wounds and stings to ease the pain. They reduce swelling and irritation to a greater extent. Additionally, consuming tulsi leaves every day will purify your blood.
Promotes Oral Care and Treats Eczema
Tulsi has often been used in herbal toothpaste because of its amazing teeth and gum-strengthening properties. On top of that, it can act on mouth ulcers and therefore provide comprehensive oral health care. Commercially, Tulsi is also available in the form of ingestible pills and topical ointments which can be used for the treatment of skin conditions like eczema. They also provide long-lasting relief from itching and irritation.
Properties of Tulsi
Anti-pyretic.
Might have anti-inflammatory activity.
Might be an antiemetic.
Anti-diabetic.
Hypotensive and hypolipidemic.
Analgesic and anti-asthmatic.
Anti-cancer properties and diuretic.
Diaphoretic and stress reliever.
How to Incorporate Tulsi into Your Diet
Tulsi is available in different formulations in the market such as:
Manasamitra Vataka
Muktadi Mahanjana
Tribhuvanakirti Rasa
Muktapancamrta Rasa
The tulsi leaves are available in different formulations such as:
Tribhuvana Kirti Rasa
Manasamitra Vataka
Mahajvarankusa Rasa
Pancamrt Rasa
Apart from this, tulsi can be used in several other ways such as
Mixed vegetable soup
Cold extract
Tulsi tea
Medicated oil
Medicinal powder
Ghrit
Refreshing drink
FAQs
What are the other common names of tulsi?
The other common names of Tulsi are Holy Basil, Krishna Tulsi, and so on.
Can tulsi help in weight reduction?
Yes, tulsi leaves can enhance the body's metabolism. The quicker the metabolism, the easier you can burn calories. Tulsi boosts your digestion naturally and thus, helps in weight loss.
Why tulsi should be avoided during pregnancy?
Tulsi may stimulate uterine contractions during pregnancy, thereby increasing the risk of miscarriage. Hence you should avoid having tulsi during pregnancy.
Does drinking Tulsi water help in any way?
Having a glass of tulsi water on an empty stomach helps flush out the toxins and clears your stomach by easing digestion. Rich in antioxidants, tulsi improves the functioning of your digestive organs.
Can Tulsi treat skin disorders?
Adding tulsi leaves to the bathing water just a few minutes before bathing might help in smoothening the skin and fighting against other skin ailments. It might even treat skin disorders like eczema, ringworms, and more. However, kindly consult a doctor before taking any steps.
Can Tulsi help in improving memory?
Tulsi might contain properties to be an effective rejuvenator and might reduce stress, might relax the mind, and might help enhance your memory. However, research is needed, so kindly consult your doctor before proceeding with any steps.
You might also like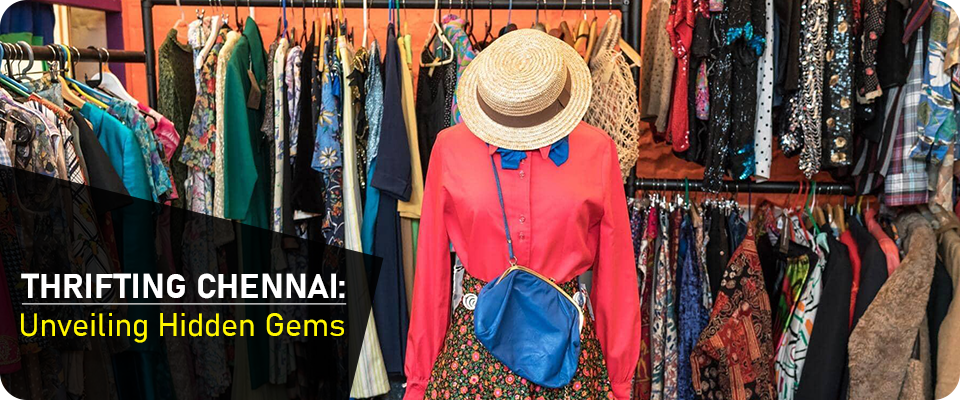 Wellness
26-Sep-2023
Thrifting Chennai: Unveiling Hidden Gems

Wellness
26-Oct-2023
Haryana Police to Launch 'Safe Journey' Initiative for Women's Safety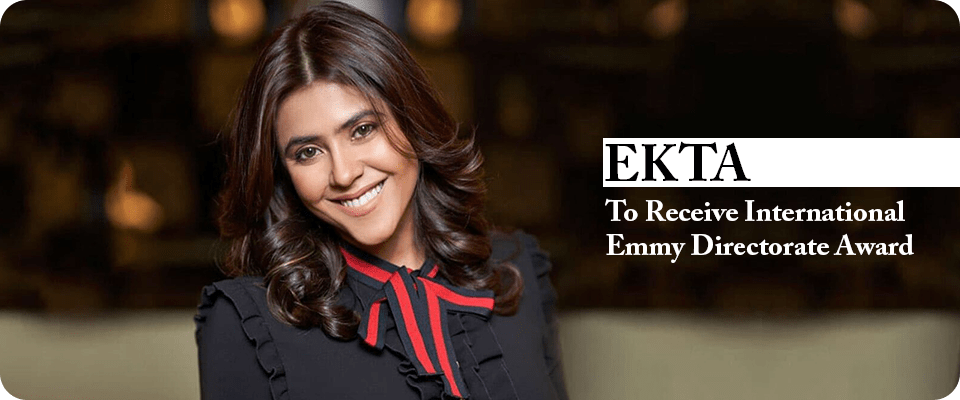 Wellness
30-Aug-2023
Ekta To Receive International Emmy Directorate Award