Change
Malavika Hegde: The Woman Who Saved CCD From Its Demise

242 Views
Published On: 23 May 2023 Updated On: 07 Nov 2023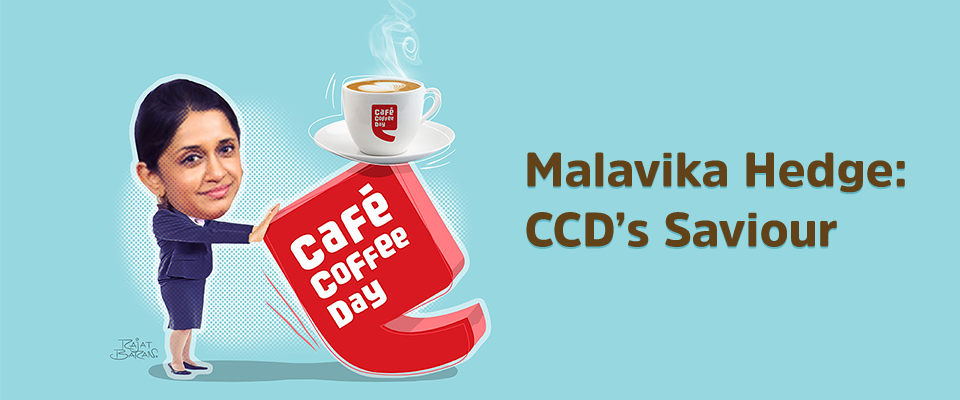 Cafe Coffee Day or CCD is considered India's most remarkable and one of the finest success stories that grew out of a home and made its way around the nation, reaching the peaks of popularity. Whether it was a quick hangout with a few friends or your very first date, or just to celebrate with your family, this became the perfect fun spot where a few hours of fun time turned into long-lasting memories.
Founded and launched by Indian entrepreneur VG Siddhartha, Cafe Coffee Day revolutionised the coffee culture of India, later on, turned into an amazing hangout spot for millions of teens to youths. But the sudden death of the founder Siddhartha, husband of Malavika Hegde brought the decline of the CCD chain and resulted in a heavy debt of Rs. 7000 crores to the corporate section.
When Malavika took over the post of CEO after her husband's sudden death, she worked with all her blood, sweat, and tears to save the company from disappearing entirely which her late husband had established with great hardships and care. This powerful and determined woman ensured the success of the CCD whilst being a single mother of two children.
Who Is Malavika Hegde?
Malavika Hegde is the daughter of the former Chief Minister of Karnataka, SM Krishna. She was born in the year 1969 in Bengaluru, Karnataka. She is the wife of the late VG Siddhartha who committed suicide on July 29, 2019. She worked for CCD as a non-executive board member and after taking over the position of CEO, her relentless work and efforts reduced the debt by 1731 crores by March 2020.
Early Life and Education of Malvika Hegde
Malavika pursued her school education at a nearby school in Bengaluru. She got her degree in Engineering from Bangalore University. Her family belongs to the Vokkaliga community. Her father, SM Krishna or Somanahalli Mallaih Krishna, is a prominent political figure who served in many important positions in the Ministry of External Affairs and as Chief Minister of Karnataka state. Her mother is a social activist and Malavika even has a younger sister named Shambavi Krishna, who is a businesswoman.
She got married to VG Siddhartha, founder of CCD in 1991. She has two kids namely Amartya and Eshaan.
Director and CEO of CCD [Cafe Coffee Day]
Malavika instantly got involved with the business of CCD right after her marriage. She became the non-executive board member of the popular food chain Cafe Coffee Day. She started off her journey in the field of entrepreneurship in this manner. She didn't receive any compensation for her work as she was a non-executive board member. She single-handedly pulled out CCD from the crisis and brought it to a certain level just like a phoenix who rose out from the ashes after her husband's death.
She owned 4% of shares in CCD and was able to pay off her debt during the COVID-19 pandemic. She shattered all the rumors and suspicions of the downfall of CCD after Siddhartha's death and brought it back on its feet. During the pandemic, she had sent a message to 25,000 employees stating Cafe Coffee Day's story is 'worth maintaining' and that she was dedicated to the company's future. Previously, she had stated that despite the overgrowing difficulties 'She aimed to grow Cafe Coffee Day into a multibillion-dollar business, free of all the debts. Malavika wants to carry forward the legacy held by her late husband and expand their business around all corners of the nation.'
Malavika's Dedication That Inspired Everyone
In the year 2019 when Siddhartha committed suicide leaving behind a note in which wrote, actually apologized to all his members and employees for failing to create the right profitable business model. He even mentioned that he couldn't bear the harassment of the income tax department and pressure from equity partners. With his death, the company fell into a debt of 7000 crores.
Despite all these obstacles, Malavika stood tall and took the leadership of Coffee Day Enterprises Ltd. in December 2020. Even though she was in huge grief after her husband's loss she never gave up and worked tirelessly for the company's growth each day and night. The annual report of the company stated that the debt owed by the company was 1731 crores as of March 31, 2021. The debt which was at a level of 7000 crores in the year 2019, was reduced to 3100 crores in March 2020 and with Malavika's approach, it was brought down to a level of 1731 just in a matter of year.
Malavika never raised the price of the coffee served whilst being under huge piles of increasing debts. She even removed the unprofitable outlets from IT buildings and parks and shut down various coffee machines that were installed across the nation. She persuaded new investors to infuse capital into their businesses and continued to uphold the company's legacy, brand's value, and managed to reduce the deficit of the company.
Important Facts About Malavika Hegde
Here are a few important facts about the CEO of CCD, a powerful inspirational woman hailing from India, Malavika Hegde.
She was a former board member of CCD, a non-executive member who had no salary.
She has 4% of equity shares in CCD.
Being a nature lover and one who loves to plant trees, Malavika, along with her husband planted more than 3000 trees.
According to the news article published in the Times of India, Hegde had written a letter addressing 25,000 employees that she was dedicated and committed to the future of the company and that she wants everybody to know that the story of CCD is 'worth maintaining.' Her relentless work and efforts brought CCD back from its point of downfall.
Upon Siddhartha's death, she didn't break apart, in fact, she grew to be the strongest woman whose only wish and mission was to uphold the proud legacy of her late husband and expand the coffee business across the nation, and grew CCD into a multibillion-dollar business, free of debt.
The Source of True Inspiration: Malavika Hegde
The story of Malavika Hegde is indeed an inspirational story for society and especially women. The amount of dedication and determination along with maintaining consistency and that too during the time when she was facing the grief of personal loss which resulted in being a successful businesswoman of India.
Her story teaches everyone the values of being patient, consistent, a person with great leadership qualities, and most importantly being honest with the people you love. With the right people, and the right amount of support, love, and desire one can achieve anything which is never impossible. Whilst going through grief and being a mother of two sons, she proved that no wall is tall or strong enough to hold you back from soaring and being successful.
She is truly commendable and appraisable for putting forward her husband's dream and making it her own, and continue working hard to convert the sinking ship into a ship that is well-balanced and maintained.
Conclusion
Cafe Coffee Day is currently having 572 cafes all around India with 333 Value Express kiosks. It began with huge accomplishments but the success slowly started to fade away it rose again because of Malavika Hegde. Her smartness, excellent leadership skills, and pure dedication resulted in the rebirth of Cafe Coffee Day. It has over 36,000 vending machines to serve coffee to its customers.
Even though hailing from a different professional background, Malavika ensured the success of CCD and let the customers enjoy the CCD even to this day.
You might also like