Love Island Star Laura Welcomes Baby Girl with Gary Lucy

73 Views
Published On: 08 Sep 2023 Updated On: 08 Sep 2023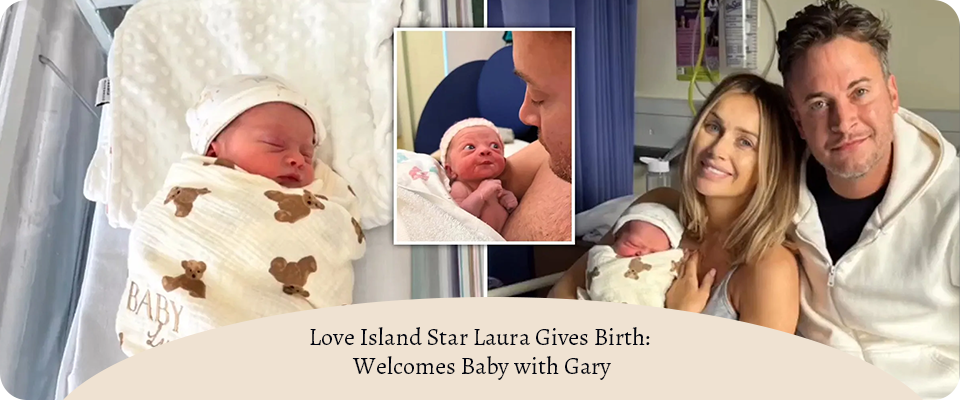 Love Island Star, Laura Anderson has announced that she has given birth to her first child, a bouncy baby girl, with her on-off boyfriend, Gary Lucy. The new mum took to her Instagram handle to share the news which also contains a heartwarming video montage. She has also shared a beautiful snap of the newborn baby with her fans.
The post shows Laura embracing her baby girl who was wrapped in blankets and wore a sweet pink hat. Beside her, sat her on-and-off boyfriend Gary Lucy, as they both posed for the picture.
The 33-year-old star, Laura Anderson, and 41-year-old, Gary Lucy were recently reported to have reunited after breaking off the relationship just after the announcement that they were expecting a baby. The new mum captioned it in a way that it was her baby writing it and said along the lines that childbirth is quite hurtful. The previous caption read (which is now deleted): "Hi everyone, my name is Bonnie Rose Lucy Anderson. I was born 02/09/23 at 06.03 am and weighed 6.10 lbs My Mummy and Daddy are sooooo happy and in love with me, this is our first week together. I'm sorry it's taken me some time to introduce myself, I hurt my mummy a little bit and scared my daddy too (oops) we're all now recovering well at home."
Following a report from OK magazine, Laura originally deleted the caption with her pleading to people and fans to stop asking about her relationship with Gary Lucy as this announcement about the childbirth is exclusively related to her baby and other things are irrelevant as of now. Soon after deleting the original post, Laura returned to Instagram to share a video montage of her baby and the first few days since her birth where the caption remained the same.
Laura Anderson and Gary Lucy got together when they both participated in a Celebrity dating show series called 'Celebs Go Dating' in the year 2022. They had signed up for the show to date 'ordinary people' but fell for each other instead and set off on their journey of romance. Later in February 2023, Laura announced she was pregnant, but just a few weeks after that the couple split up and rumours surfaced that they were not on the best terms.
Another report claimed that the couple got back together just days before their little one was about to enter this world. They were being spotted on a break at a Scottish hotel. Bonnie is the first child of Laura Anderson, who had previously dated 'Another Level' singer Dane Bowers. As for Gary Lucy, Bonnie is the fifth child as he already shares four children with his ex-wife Natasha Gray. These both tied the knot in the year 2014. Their children's names are India who is 18, Elvis who is 12, Sadie who is seven years old, and four-year-old Theodore.
You might also like