Fashion
Top Sweatshirt Brands for Women To Stay Stylishly Comfortable

130 Views
Published On: 14 Aug 2023 Updated On: 24 Aug 2023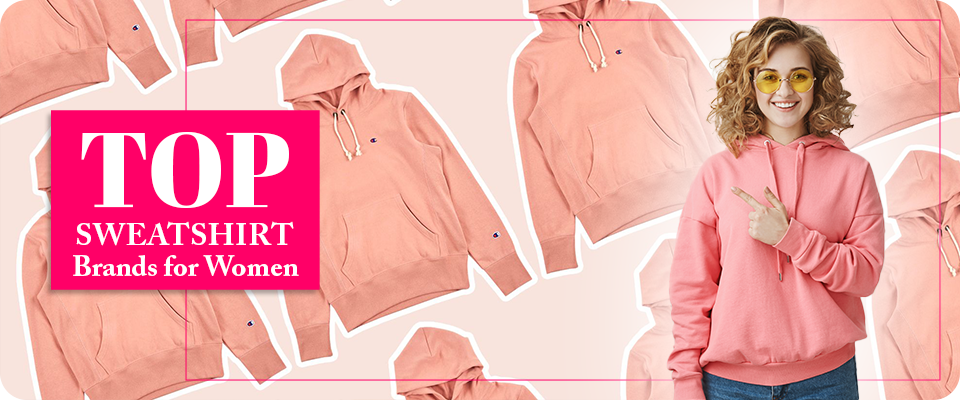 A great sense of fashion is all about comfort in style. Consider yourself a fashionista if you choose comfort over anything else when it comes to fashion. But it does not mean that the comfortable clothes you wear are dull and bland like pizza with no cheese. You can still stay stylish in comfort. Sweatshirts are one of the clothing items that will never go out of style even in 100 years because of their versatility. They are the most comfortable top wear that we can proudly own in our closet and can mix and match with any kind of outfit, weather, and season.
Sweatshirts, which were originally invented to wear as a comfortable athletic garment or as an all-cotton football jersey, are still immensely popular in today's generation but not only as a form of sportswear but as a universal fashion outfit. It can easily be layered with your other clothing pieces or simply worn as it is with a pair of jeans, skirts, or joggers. Sweatshirts are tremendously popular among Indian youngsters today, and if you are one of them who just loves sporting a sweatshirt at any time of the day, you have come to the right page. We have collected some of the best sweatshirt brands you can find in India, which are not only affordable but also comes in fantastic designs and prints. Check them out!
Trendyol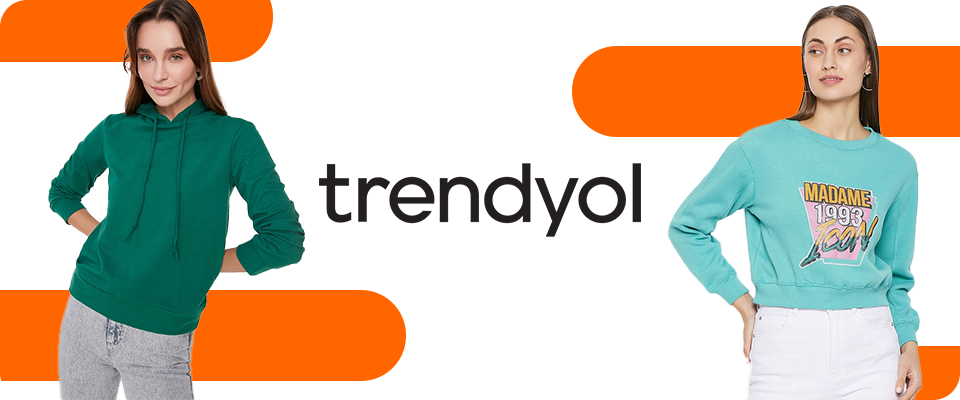 Trendyol is a popular Turkish brand, where you can shop their products on major Indian online shopping platforms like Myntra and Ajio. They have a wide selection of sweatshirts for women in various lengths and designs, so you have options to choose from. Their range features effortlessly chic and casual designs. Among the sweatshirt collections from this brand, which include solid pastel colours as well as graphic designs, the real standout in my opinion is their sweatshirts with abstract designs. Trendyol's sweatshirts strike an excellent balance of colour coordination, which will surely make you pop out in pictures.
Sizes available from – XS to XL
Price Range – 500 INR to 5000 INR
Adidas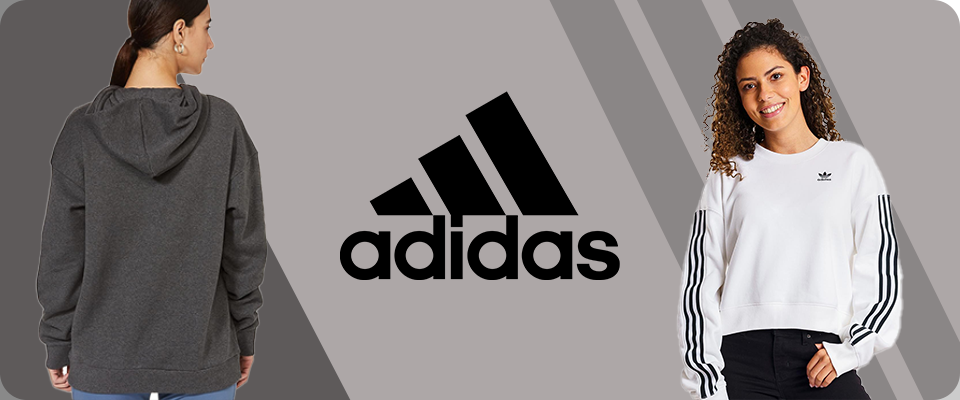 When we think about sweatshirt brands in India, we cannot go on without Adidas popping up in our heads. Adidas is one of the best and all-time favourite brands in India for all ages. The design and texture of an Adidas sweatshirt are unparalleled, whether you are resting comfortably at home or actively engaged in physical movements. Adidas's sweatshirts are available in diverse patterns and are crafted from high-quality fabrics. This global brand that has been leading the market in activewear curates a diverse selection of sweatshirts, ranging from 100% pure cotton to polyester blends, catering to every preference and occasion.
Sizes available from – 2XS to 3XL
Price Range – 1300 INR to 20,000 INR
Zink London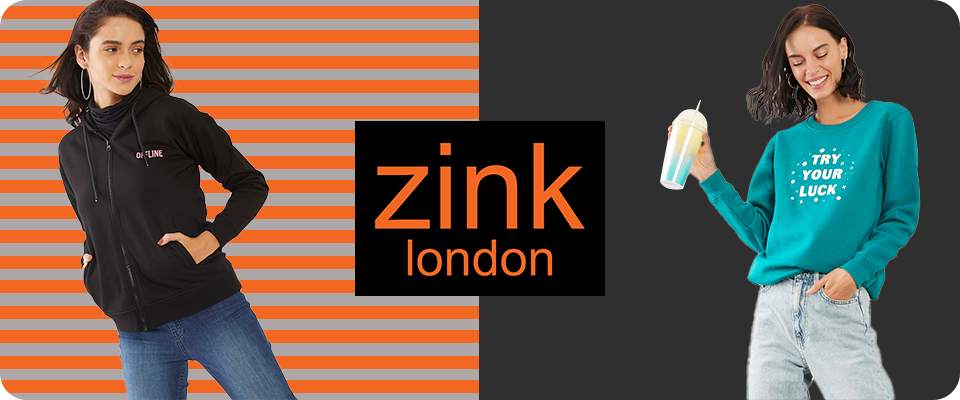 Beyond the relaxed and comfortable designs, Zink London sweatshirts exude vibrancy and quirkiness. Their sweatshirt collections come in designs that feature various styles, including solid colours, floral prints, graphic, zippered, multicoloured, and typography prints. Regardless of the designs, colours, and styles, the sweatshirts from Zink London are a great addition to your trendy wardrobe collection, adding quirkiness to your fashion outfits.
Sizes available from – XS to 2XL
Price Range – 800 INR to 1500 INR
Reebok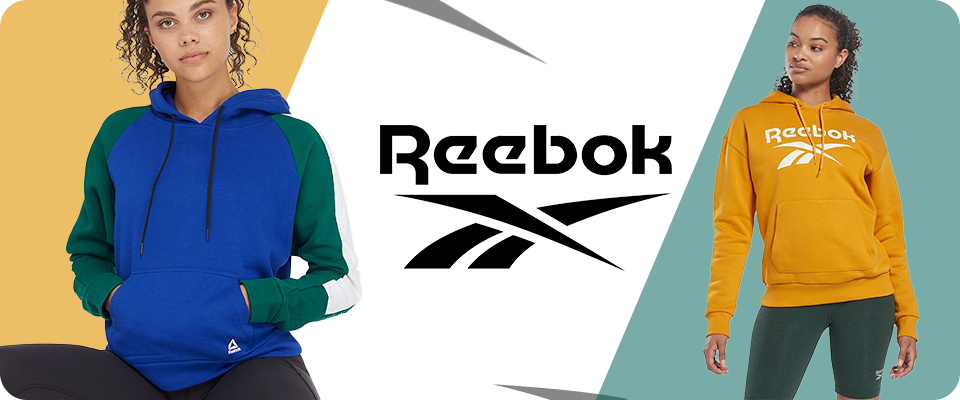 Reebok has an extensive display of sweatshirt collections tailored to women, which are ideal to flaunt during activities like dance, gym training, running, pilates, cardio, and yoga. These collections are offered in a spectrum of shades and designs, giving us an exhaustive range of choices. Achieving a chic and sporty look is effortless with Reebok's stylish assortment of sweatshirts. Reebok also offers an exclusive collection specially curated for sports enthusiasts with their NFL and NHL sweatshirts.
Sizes available from – 2XS to 2XL
Price Range – 799 INR to 7999 INR
Pepe Jeans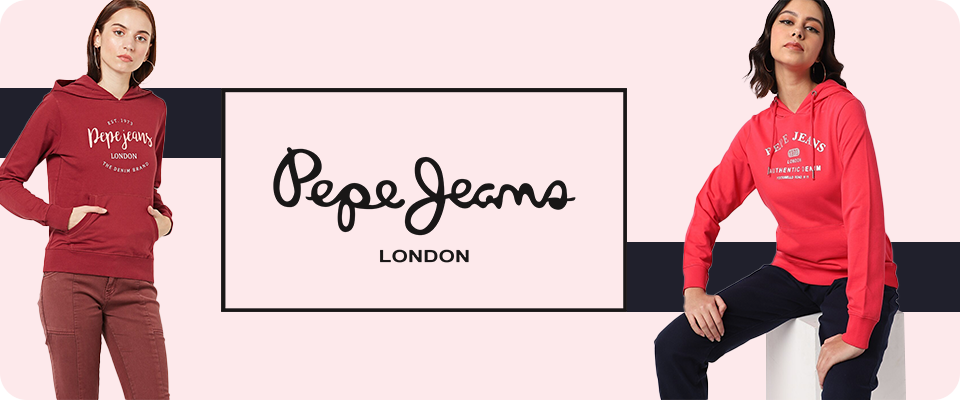 Officially launched in 1973 in London, Pepe Jeans is a premier brand name recognised for its impeccably crafted denim collections. Beyond this recognition, the brand also extends its range by offering a selection of premium sweatshirts, which are tailored for both women and men. Despite the brand being labelled as a premium brand though, Pepe Jeans presents their sweatshirts at budget-friendly prices. So, if you are looking for something that will keep you in comfort without burning a hole in your wallet, this brand is worth checking out. Pepe Jeans sweatshirts find particularly favoured among women, thanks to their exciting designs, rich fabrics, and dynamic colour options.
Sizes available from – S to XL
Price Range – 999 INR to 1499 INR
Miss Chase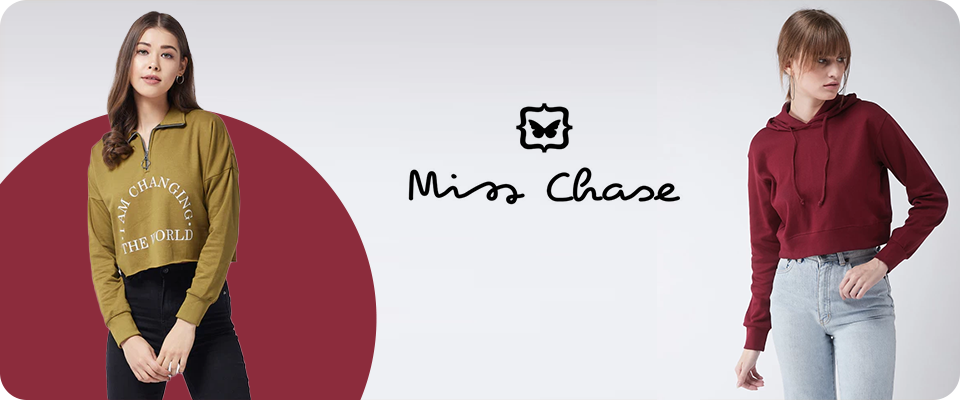 Miss Chase has garnered popularity, especially among women customers due to its focus on both comfort and premium quality, assuring a sustainable production process. Among their extensive category display, a diverse range of sweatshirts is available, starting from cropped designs with hoods, colour-blocked, cold-shoulders, crewnecks, zippered, and more. This brand contrasts with the typical bold prints and embraces a unique charm, which you will notice in their panel designs and the incorporation of abstract prints.
Sizes available from – XS to XL
Price Range – 600 INR to 1499 INR
Vero Moda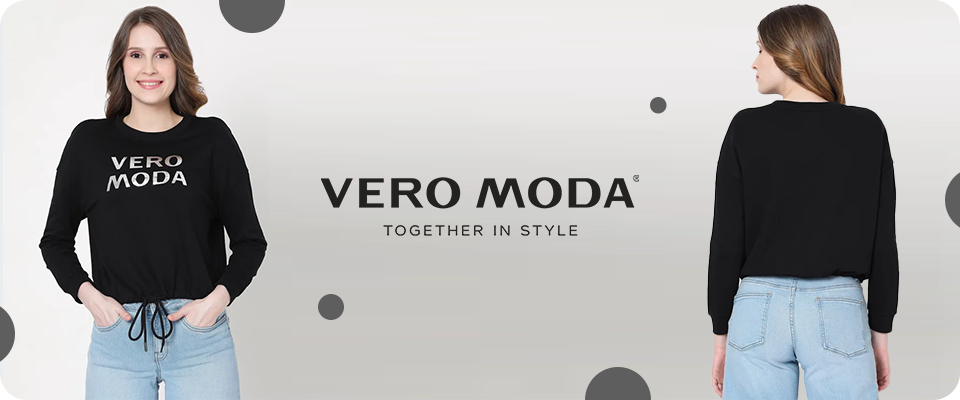 Vero Moda is one of the leading brands in India that is known for producing cool sweatshirt collections, which are customized exclusively for women. From the sweatshirt collections displayed on their brand website, we are offered a pleasant array of designs to choose from, including animal print, checkered, floral, typographic, colour block, and many others. These sweatshirts can be paired with a classic pair of ripped jeans or midi-length skirts to effortlessly flaunt an urban street-style fashion. From oversized styles to figure-hugging skinny fits, and a catalogue of colour palettes to choose from, you will definitely find your taste with Vero Moda.
Sizes available from – XS to XL
Price Range – 1100 INR to 1400 INR
Forever 21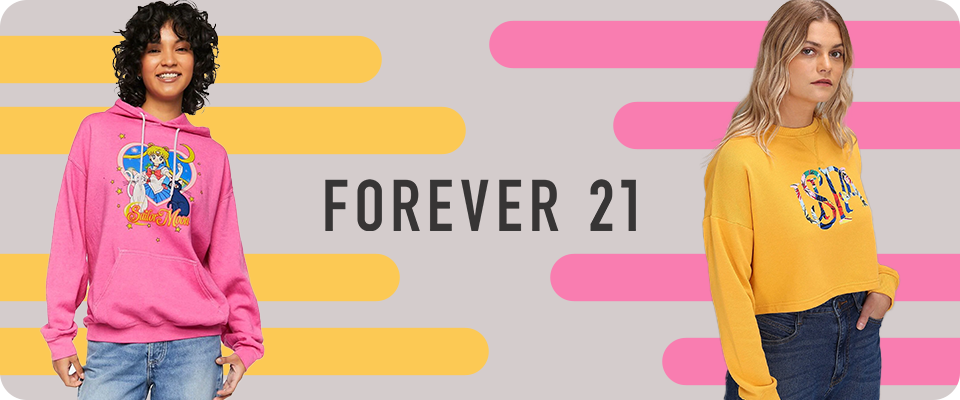 Forever 21 is another top sweatshirt brand in India you can shop from, which produces fashionable designs for women. They have a wide range of choices that adds appeal and style to your outfits, regardless of whether you match them with summer, winter, or spring outfits. There is probably not a single Indian millennial woman who does not know about Forever 21. This brand was one of the modern labels in India that brought Western fashion from TV shows to our wardrobes. Whether you are looking for a comfy or close-fitting sweatshirt, you will find it all to recreate the street-style fashion that you have always wanted.
Sizes available from – XS to XXL
Price Range – 550 INR to 2000 INR
DressBerry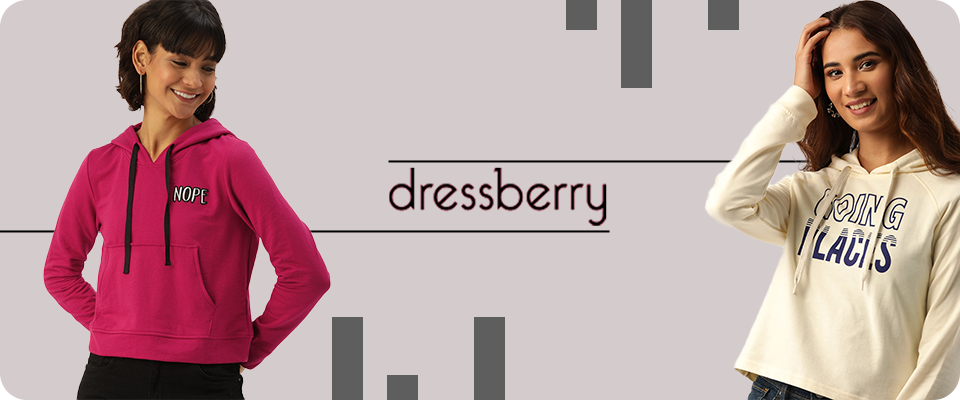 If you are planning to flaunt a combination of comfortable and chic fashion outfits, DressBerry has some of the best sweatshirt collections to complete your look. There is a spectrum of colour options, bold patterns, and styles that will complement any type of aesthetics you are going for. What adds to the appeal of the brand's value and collection is its commitment towards offering the products at affordable prices, ensuring that fashion does not break the bank. With all these in mind, you will surely find pretty sweatshirt options of your preference across several online shopping platforms in India like Myntra, Flipkart, and Amazon.
Sizes available from – XS to XXL
Price Range – 399 INR to 2499 INR
Puma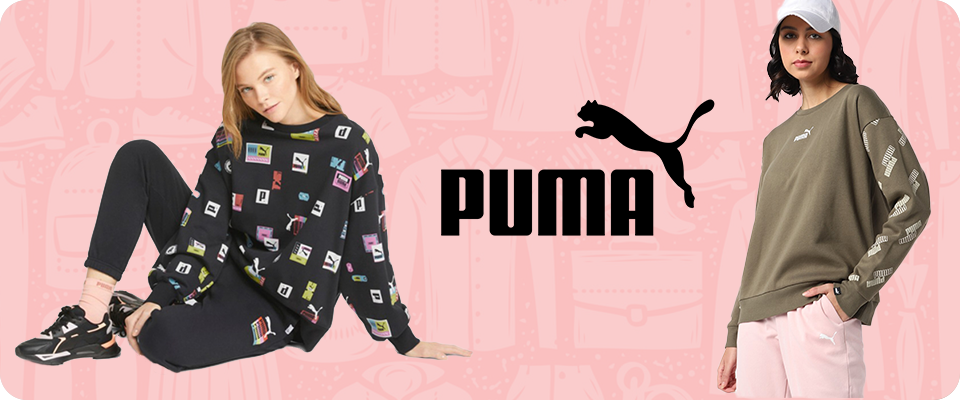 Puma's influence on streetwear and sports fashion lifestyle traces back to the 1960s, which is successfully thriving till today. Over the decades, Puma has consistently maintained its ground objective, technical creativity, sport, and innovative design. Seamlessly fusing factors from lifestyle, sports, and fashion, the brand's focus centres on delivering distinctive originality across all its product lines. Puma offers an array of women's sweatshirts in a wide assortment, offering a spectrum of styles, designs, and colours. If you are in search of a sporty or athleisure type of sweatshirt, the Puma brand is one to consider opting for.
Sizes available from – XS to 3XL
Price Range – 1200 INR to 4299 INR
Only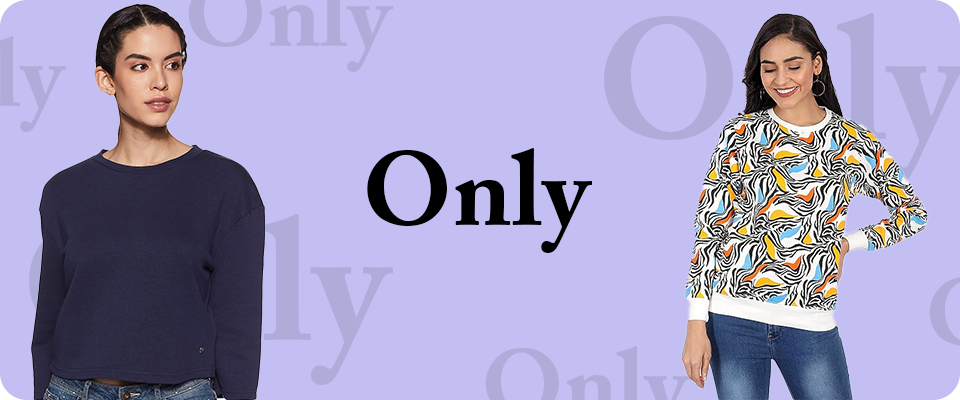 Only presents an extensive collection of sweatshirts for women that effortlessly blend style and comfort. Ranging from timeless crew neck styles to cool graphic designs, their sweatshirt can be styled for every occasion. The sweatshirt collection by Only is a perfect choice for any event, which can be easily paired with jeans, trousers, skirts, and accessories for a complete ensemble. The richness of variety offered by this clothing brand surely impresses us, including their affordability.
Sizes available from – XS to XL
Price Range – 699 INR to 2999 INR
Femella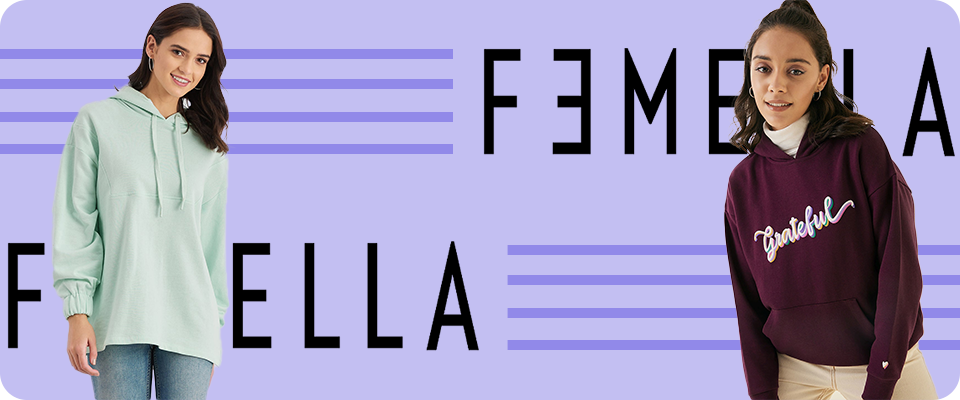 Femella presents a collection of sweatshirts manufactured with cotton fabric to offer the utmost comfort to its wearer. The sweatshirts come in lovely colour choices, containing practically every shade of the rainbow. If you are a fashion advocate for minimalistic designs and maximum comfort, we wholeheartedly recommend revamping your wardrobe with Femella's collection of sweatshirts.
Sizes available from – XS to 5XL
Price Range – 1599 INR to 2599 INR
Red Tape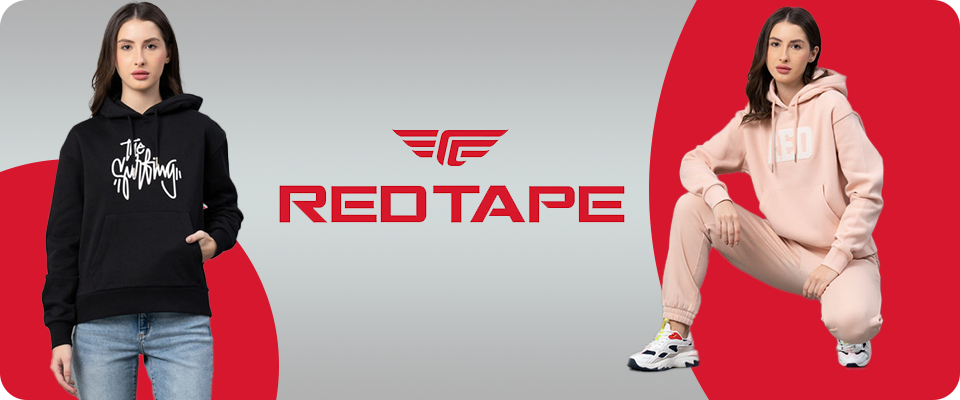 Red Tape boasts a modern and trendy collection of sweatshirts for women, which are best worn for a casual, streetwear look. From graphic prints to solid colours and crew necks to hooded designs, you will love the options they have for us. The designs are simple yet modern, and you can style them with a baggy pair of jeans or cargo pants with a pair of low-top sneakers. Get a pair of them to elevate your wardrobe collection!
Sizes available from – XS to L
Price Range – 599 INR to 1499 INR
H&M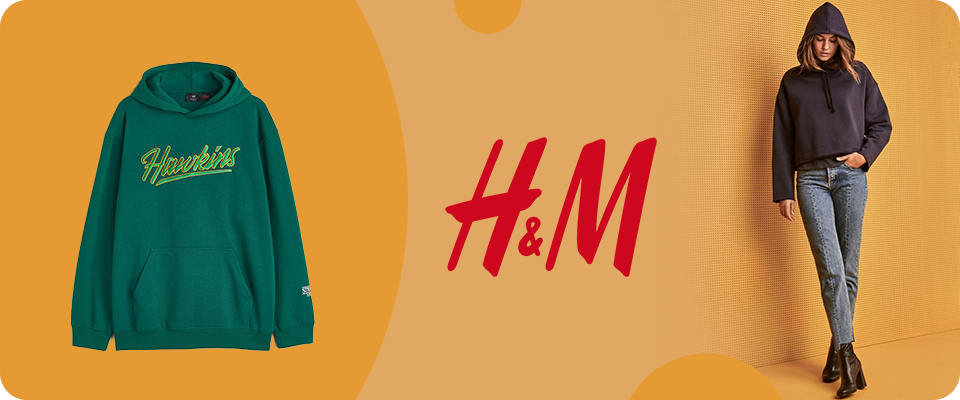 H&M sweatshirts offer a stylish yet affordable option for casual streetwear fashion. With a wide range of designs, colours, and sizes, they cater to diverse fashion tastes and body types. The quality of H&M sweatshirts is generally decent for their price point, but keep in mind that they might not be as durable or long-lasting as compared to premium brands. Their comfort level varies based on the specific material composition of the sweatshirts, but most of them deliver a relaxed and comfy fit. Overall, H&M sweatshirts are a popular choice for those looking for trendy and budget-friendly casual clothing options.
Sizes available from – XXS to 4XL
Price Range – 799 INR to 5499 INR
Bonkers Corner
Sweatshirts from Bonkers Corner offer a unique and quirky approach to casual fashion. Bonkers Corner produces their entire fashion collection in a bold, creative, and attention-grabbing design, making them a great choice for those looking to express their individuality. In terms of quality as well, Bonkers Corner sweatshirts are decent, with comfortable materials, giving great attention to detail in stitching and construction. The brand's focus on peculiarity might not appeal to everyone, but it is perfect for those who enjoy standing out from the crowd.
Sizes available from – XS to 3XL
Price Range – 699 INR to 2499 INR
How To Style Your Sweatshirts Effortlessly
A sweatshirt always has our back no matter what the weather is or the look we want to go for. Sweatshirts are so versatile, and that is what we love most about this piece of clothing. Here are some style tips to wear your sweatshirt effortlessly for a fashionable look.
Layer It For A Chic Look
One of the best ways to style your sweatshirt is to go for a chic look that gives you a sophisticated, elegant, and affluent-looking woman. To start, you can loosely drape your crew neck sweatshirt into a set of high-rise jeans and match it with a leather jacket or a blazer. Then, pair it with a cool set of low-top sneakers, creating the perfect outfit suitable for office wear or business meetings. You can also pair the look with a pair of Chelsea Boots or Stiletto for a more formal business wear look.
Furthermore, experiment with the style with a cropped sweatshirt coordinating stylishly with a mini or midi skirt, pairing them with a set of sandals or flats. Since sweatshirts allow us to create versatile looks, you can also shift the vibe by changing your flats with a pair of casual shoes. Elevate your look by complementing a shawl collar or funnel neck sweatshirt with a silk midi skirt or smart ponte trousers, creating a versatile outfit for various occasions.
Sport A Casual Everyday Look
Another style you can rock with a sweatshirt is the everyday casual look. For this, you can don an oversized sweatshirt on top of a T-shirt and pair it with bike shorts, black leggings, or skinny jeans. Opt for a sporty look by layering a hooded sweatshirt over a tee and blending it with tracksuit pants or joggers. For extra heat when the weather is colder, complement with a bomber or denim jacket, and complete the look with a set of retro-inspired athletic shoes. Never goes out of style! Experiment with a monochromatic aesthetic by matching wide-leg pants with a hoodie or sweatshirt of similar colour, to create another trend in casual everyday style.
Create An Urban Streetwear Vogue
Streetwear style is super trendy in today's pop culture, with all the youngsters donning different streetwear fashion everywhere. Streetwear fashion gives a stylish, casual look, inspired by hip cop culture, which is usually styled by people under 30 in urban cities. Regardless of the age though, you can still rock the look! You can start by coordinating an oversized hooded sweatshirt with a set of chunky trainers.
For a more edgy style, you can layer the hooded sweatshirt underneath a black leather jacket. Combine this dynamic pair with skinny jeans, creating a look that effortlessly balances classic and contemporary elements. For a dose of creativity in your wardrobe, layer a zippered fleece sweatshirt on top of a lovely floral dress. This unexpected pairing exudes comfort and elegance effortlessly. Elevate the fashion further by adding sunglass and a set of high-top sneakers.
FAQs
What Kind Of Fabric Is The Best For Sweatshirts?
The best and most comfortable fabric for sweatshirts from any brand should be cotton. Cotton fabric provides a soft and muted appearance, which develops into a refined texture over time. With every wash, the material becomes softer, making it a popular choice of fabric in terms of comfort in any season.
Is A 100% Cotton Sweatshirt A Suitable Option?
Yes, cotton sweatshirts are actually a fantastic choice to go for if you are looking for comfort and a skin-friendly option. Moreover, cotton fabric makes wonderful apparel, which will hold its original shape and last for several years when maintained with care.
Would Sweatshirts That Are Not 100% Cotton Shrink?
Cotton garments, in general, consistently undergo a slight contraction of about half an inch when we wash. Nevertheless, brand manufacturers continually put this into account when producing their garments, ensuring that the post-shrinking size remains accurate as per their size charts.
Should A Sweatshirt Be Worn Oversized Or Slim Fit?
Generally, the fit of a sweatshirt is meant to wear comfortably, meaning it should fit a person towards the baggier side. However, it depends on how you want to wear it. Some people prefer wearing it tight fitted on their body for the best comfort, and others the vice versa. All in all, a sweatshirt should serve both functionality and comfort.
You might also like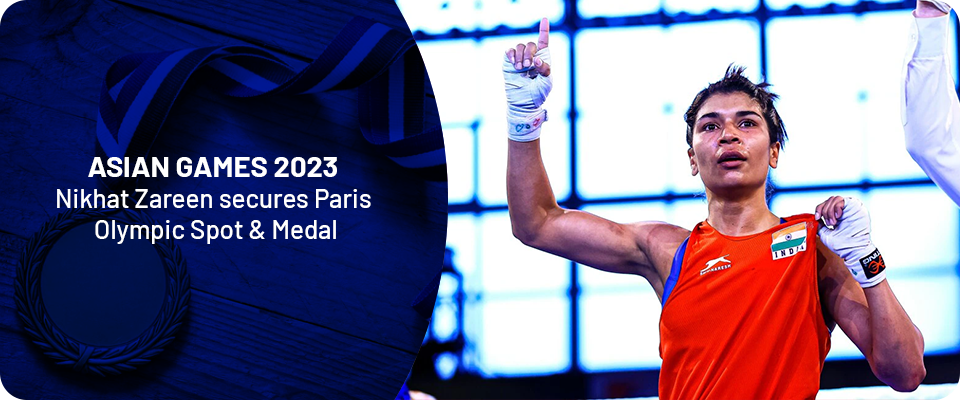 Wellness
04-Oct-2023
Asian Games 2023: Nikhat Zareen secures Paris Olympic Spot &…

Wellness
17-Feb-2023
Best Innerwear Brand for the Women of India 

Wellness
02-Mar-2023
Best Lipstick Brands In India