Fashion
Fashionable Clothing for Up to 3-year-old Girls

134 Views
Published On: 03 Jul 2023 Updated On: 27 Jul 2023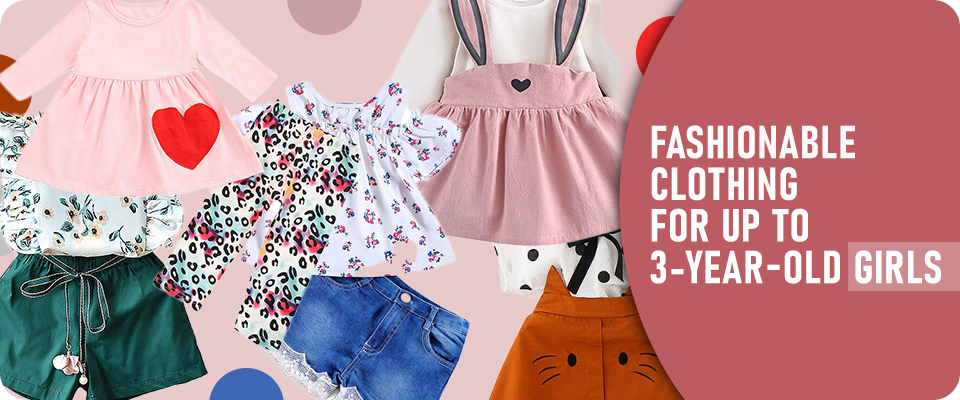 On the surface, it might look like an easy job to browse through the collection of kids' clothing but when set in motion, it is quite difficult since the kids' wear has become a popular zone in the fashion industry. With a plethora of options to choose from, it has become one of the serious businesses of today. No matter the occasion or the purpose, you can find a huge variety of choices to select from which can be a bit tedious for the parents.
The attire for kids should be skin-friendly, super comfortable, and in line with the ongoing trend. With the expansion & progression in the kids' fashion industry, Indian parents can select from a massive range of clothing for their little ones. They can choose from both Indian & Western Brands. While choosing the right outfit for your kids, it is important to consider both the activities and the climatic conditions. Like, for example, if you are opting for outdoor clothes for your kids to play in, it is better to go for clothing that is super comfy and in which your kid can move freely.
Struggling to choose the right attire for your little girl? Do not worry as we have curated a list of the best clothing sets for up to 3-year-old girls. Made with high-quality material and delivering the maximum level of comfort for your little girl. Now let us take a look at the top 5 clothing sets for your little girls.
Top 5 Clothes You Can Buy For Your Little Girl
Parents should keep in mind that their kids' curiosity is at its peak during this age. So, make sure you choose clothing that attracts your kids' attention and they love to wear it. In addition to this, kids tend to mess it up or drop food on their clothes so choose clothing that is easily washable and the material should be super comfortable while playing or walking.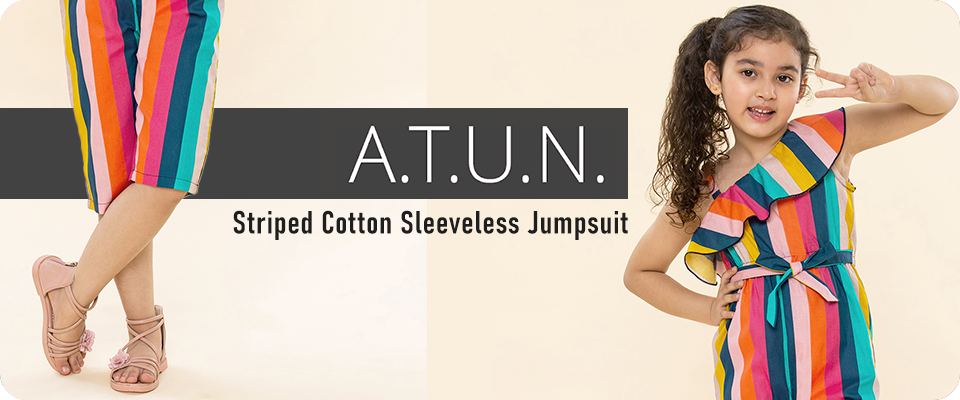 Jumpsuits have become a great fashion trend among women, but you can also choose this dress for your baby girl, 1-3 years old, to make her look beautiful. This cotton waist tie-ups sleeves jumpsuit. Your little girl will look more beautiful and stylish with this multi-coloured jumpsuit that has yellow, blue, orange, white, and pink stripes. It is made of 100 per cent pure cotton, so your little girl can feel comfortable with this. The dress is sleeveless and has pockets. Besides, it has a stylish shirt collar and waist tie-ups. Get it under Rs.550 by placing your order now.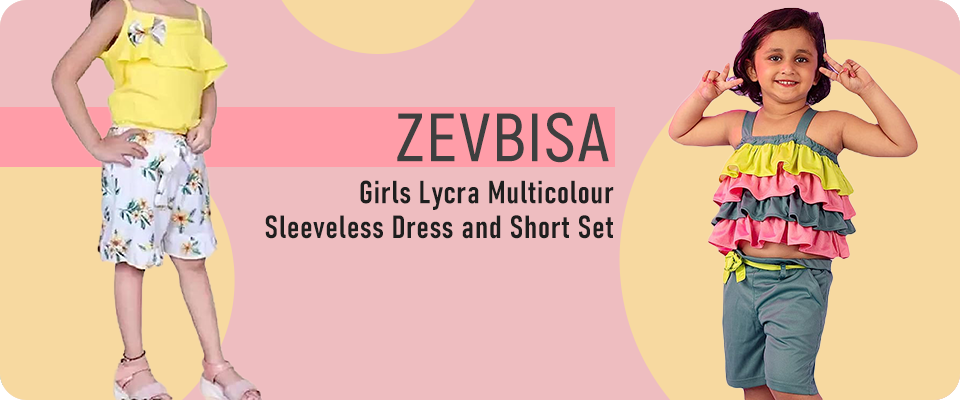 If you have a baby girl who is under 3 years old, then this clothing set is for you. Perfect for casual wear, this dress is made of 100 per cent Lycra. It is highly flexible and breathable. Your little girl deserves only the best, and with this, you can ensure that. Another best thing about this dress is its premium and adorable designs. The top has a checkered print and a beautiful floral embroidery pattern. We can assure you that girl will look stylish and adorable in this dress. This dress is a good choice for every occasion. It keeps your kid comfortable and cool in summer, and in winter, it keeps her warm. Get this dress for 3 yo now!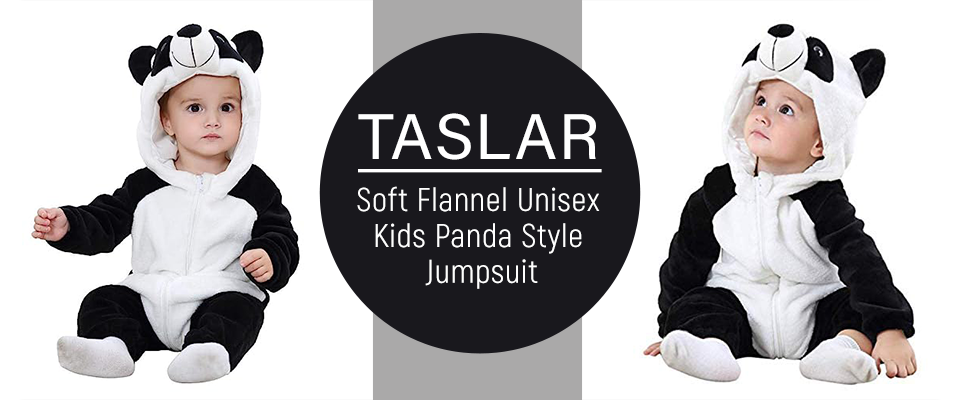 If you are searching for an animal costume dress for your kid, then you should try out this TASLAR Soft Flannel Panda Style Jumpsuit. This Panda-style jumpsuit is made using quality flannel material. It is breathable and highly absorbent. During winter, it will keep your baby comfy and warm. As it comes with double zipper closure, you can easily put it on or off. You can use it for home casual, pyjama sleepwear, or cosplay costumes. You may find it lisle costly, but your kid will surely love this dress. Buy it now!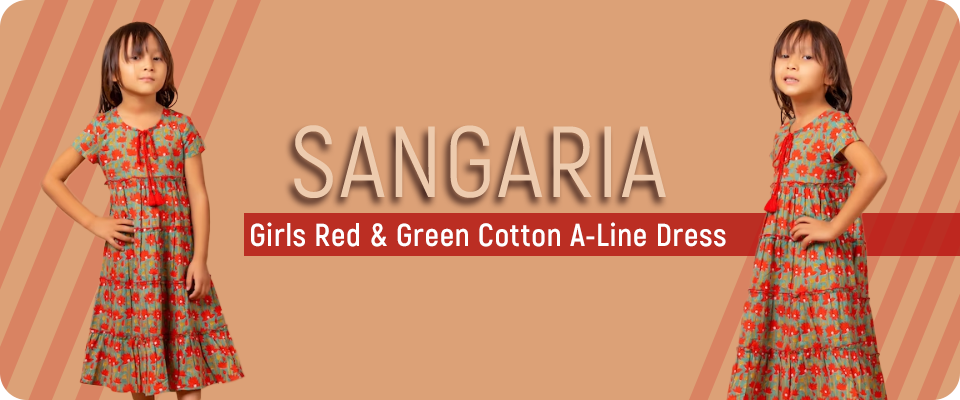 Sangaria flower embellished A-line dress in green and red colour comes with a round neck and an attached lining along with tie-ups. It has comfortable sleeves and flared hem. Made of breathable and soft material, it will surely provide your little kid with day-long comfort. Whether it is an outing or you are travelling, this dress can be a perfect option for your kid. By ordering now, you can get it at under Rs. 900.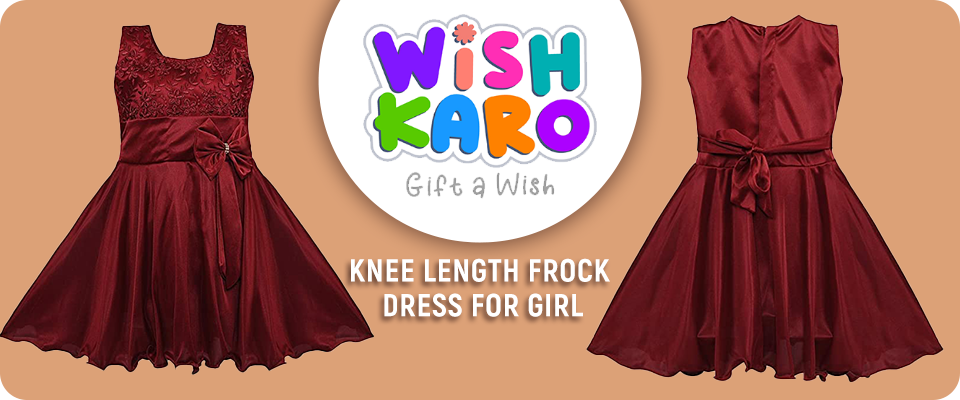 This wine red coloured frock dress comes with a sleeveless design and has a round neck. Made of comfortable and soft Lycra material, with this A-line dress, your little princes can enjoy maximum comfort. The dress has a hidden zipper closure at the back and a flared hemline. While the layers of this dress are made up of Lycra, the top section has a fashionable embroidery design. If you are searching for a perfect dress for fancy dress competitions or parties, then go for it. It gives a fluffy look, and your girl will look like a cute doll. Don't forget to team up this with the right types of accessories as well as shoes. You can get it under Rs. 500.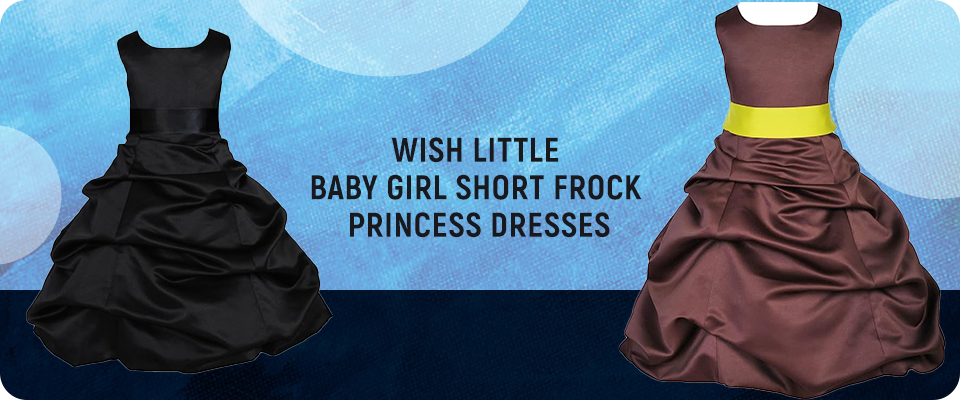 Looking for a beautiful party dress for your kid under 3 years? You may not find a better option than this dress. It is available in different colours and sizes. You can use this for various special occasions such as evening parties, weddings, birthdays, or Indian festivals. Speaking about the material used, It has polyester and cotton lining to offer maximum comfort. Buy it now under Rs. 900.
Choosing the Right Clothes For Your Little Girl
Every parent enjoys choosing clothes for their 3-year-olds. But it can get overwhelming since people usually tend to get carried because of the massive collection presented in front of them. Make sure you select the right one and not just dive into trendy, cool clothing which can turn out as a nightmare for your kids as they might need to be more comfortable. So, here the first important factor to consider is the comfort. Not only comfort but there are many other factors to keep in mind before making a purchase. Here is a list of things to be considered before concluding.
Choose a Super Comfortable Attire or Outfit for Your Little Girl
The first and foremost thing to consider before purchasing clothes for your little girl is their comfort. If you buy a cloth that is either sticking to their skin or too baggy, they won't feel comfortable with that. Especially tight clothes because it might cause skin irritation and they won't be able to move around their arms and legs freely. It might hurt your little ones' health. So, make sure the clothes are comfortable enough by checking the size and ordering them for your kids.
Always Keep a Close Watch on Discounted Children's Apparel
If you have a limited budget and still wish to purchase attire for a 1-year-old or a 3-year-old from reputable brands, it is advisable to monitor various sales events organized by online retailers. These sales events provide a great opportunity to find high-quality children's clothing at discounted prices. Some e-commerce platforms offer discounts of up to 80 per cent during such sales, allowing you to save a significant amount of money while still dressing your child in stylish and fashionable garments. These promotions not only help you clear out your existing inventory but also give you the chance to replenish your child's wardrobe with the latest and trendiest clothing options. Therefore, as parents, it is essential to stay up-to-date with the ongoing sales on different online shopping portals to make the most of these fantastic opportunities.
Take Into Account the Color Palette
When choosing attire for your children, it is important to consider the colour palette. Kids are known for their love of playing outdoors and often end up getting dirty. Therefore, it is wise to carefully select colours that not only hide stains but also offer versatility and durability. While some parents may opt for dark hues to conceal stains, it is vital to remember that constantly buying updated clothes when they get stained may not be the most practical approach. Instead, choose colours that can be easily mixed and matched and can withstand high-temperature washes to effectively remove stubborn stains. For example, garments in white, red, blue, or other vibrant shades not only provide a stylish and trendy look but can also be laundered at high temperatures without losing their colour or shape.
You Cannot Compromise With The Material
When it comes to buying children's clothing, compromising on the material is simply not an option. While dressing your kids in trendy and unique outfits adds to their adorable appearance, it is crucial to prioritize their comfort and well-being. Certain materials used in clothing can cause skin irritation, rashes, and even suffocation, which is why it is advisable to opt for clothes crafted from lightweight and breathable fabrics. Natural materials such as linen and pure cotton are considered superior choices as they not only provide comfort but also have a long lifespan without changing shape or texture. By choosing garments made from these materials, you can minimize the risk of allergic reactions and ensure your child's clothing is safe and comfortable.
Cost-Effective Options
Contrary to popular belief, expensive clothes are not always the best choice when it comes to dressing your children. Children grow quickly, and their clothing needs change constantly. Investing in expensive items that will become obsolete in a short period may not be the most practical decision. Instead, it is better to choose clothes that offer value for money and durability. By purchasing affordable items that are still of good quality, you can ensure that your child's wardrobe remains versatile and cost-effective. Additionally, mixing and matching branded clothing with local brands can be a smart way to create stylish and unique outfits for your child without breaking the bank.
Considering Your Child's Preference
As parents, it is natural to purchase clothing based on our preferences. However, it is important to remember that children should be allowed to explore different clothing styles and express their likes and dislikes. Even at a young age, a 3-year-old child can have their preferences when it comes to clothing. By involving your child in the decision-making process while shopping, you can better understand their style preferences and cater to their tastes. Allowing children to choose their clothes not only empowers them but also plays an important role in shaping their identities and fostering their sense of self-expression.
Appropriate Size Selection
It is crucial to choose the right size when buying clothing for your children. Ill-fitting clothes can restrict your child's movement and will make them feel uncomfortable. Therefore, select the appropriate size for your child. Additionally, keep in mind that children grow quickly, so it may be wise to choose slightly bigger sizes to allow room for growth. By choosing the right size, you can ensure that your child feels comfortable and confident in their clothing, allowing them to fully enjoy their activities and adventures.
Children grow quickly. Therefore, determining their exact body size may not be the best option. So, if you plan to purchase trousers, choose ones with adaptable features, like elastic bands.
Quirky Designs and Trending Patterns
The world of kids' clothing is evolving rapidly. Every brand produces children's clothing with distinct patterns and designs that you can't even imagine. There is nothing wrong with humorous patterns or unique-shaped garments for your kids. However, investing in timeless pieces of clothing can be a wise decision. With such clothes, you can create endless combinations to elevate your child's overall appearance, enhancing their cuteness.
Do Not Overlook the Occasion
Another crucial aspect to consider when purchasing clothes for kids up to the age of 3 is the occasion. Just like adults, children should have different types of clothes for different events. However, ensure that you have high-quality casual clothes for them. Kids' casual attires are comfortable and aesthetically pleasing.
A Few Fashion Trends for Children
Parents, it's time to gear up. The current year comes with new adventures and fashion trends that are all set to entice fashion-enthusiastic children. And this is the best time for parents to keep themselves updated with the newest fashion trends that can help them to choose the resurgent and blissful outfit. So, here are some latest kids' fashion trends you can consider.
Shorts and Capris
With time, some outfits, such as shorts and capris, are getting popular in the kid's fashion world. Besides, such dresses are considered an athleisure trend and can be easily paired up with different accessories for a funky look. If you are getting ready for a weekend party and picnic, then this outfit for your kids will be a good option. Such outfits are generally worn during the summer for maximum comfort.
Denim Jacket and Pants
Well, kids look stylish and super cool with denim jackets and pants. These outfits can be easily paired with various foot wears to achieve an amazing look. Besides, you can use them for different occasions.
Designer T-Shirts and Tops
When it comes to choosing the perfect outfits for regular wear or casual outings with your children, you can go for dresses like t-shirts, shirts, and tops. The rising demand for these dresses makes manufacturers redesign them in cool and trendy colour shades and designs.
Rompers
If you are looking for an ideal dress for your kids to keep them warm during winter, rompers can be a great option. But some parents don't know much about these dresses. Rompers are available in one-piece and two-piece designs. Besides, there are also dungaree-style rompers that can offer a stunning look to your kids.
Verdict
There is no doubt that fashion changes over time. Additionally, a parent's moods, feelings, and style expression methods also vary. However, there are some commonalities in the options you choose to provide your child with cost-effective and comfortable fashion and regular wear clothes. Well, if you have been searching for the most appropriate options for your kids for months, it's time to try these clothes. All these products are from well-known and trusted brands. They cater to kids' unique requirements in terms of affordability, style, and comfort. All of these products can be purchased online and are affordable.
Wrap Up
We hope this detailed article will help you a lot. Don't forget to tell us which one is your favourite option in the comments below. And also, share this list with others who might be searching for clothes for kids up to 3 years. Buy the best one and make your kid look stylish. Enjoy your shopping!
You might also like