Parenting
Say Bye To Rashes With These Top Diaper Brands In India

187 Views
Published On: 01 Jun 2023 Updated On: 27 Jul 2023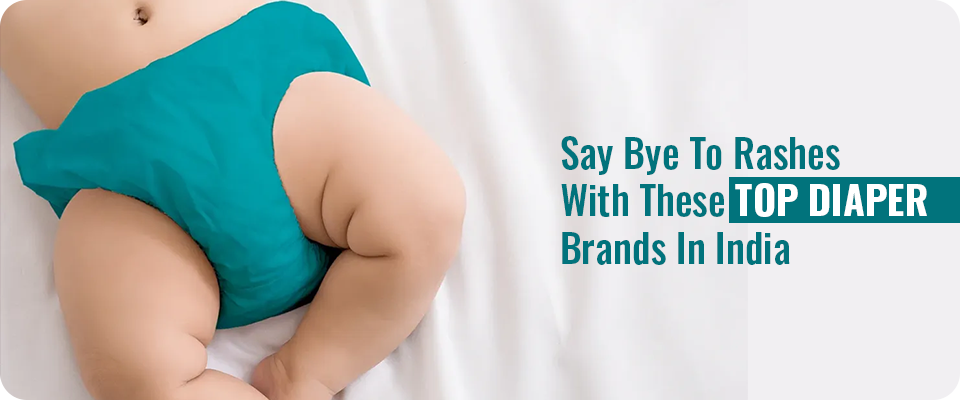 Being a parents, one of the top priorities we constantly keep in mind is to get the best quality diapers. Using a low-quality nappy can lead to causing severe rashes, skin infections, and dryness around the sensitive areas of your baby. Today, there are a plethora of choices accessible in the Indian market, and it is impossible to go through every single one to fit in your category. That will take forever. Whether you are looking concerning the quality, performance, or cost-effectiveness of the diaper, you can leave it to us to find the most ideal choice for you.
In the present scenario, the nappy industry in India is quickly shifting to a broader prospect as opposed to 20 or 30 years ago. New brands are continuously emerging every now and then, challenging both new and old parents alike to contemplate which is the best brand and the most ideal choice to opt for. To help with all the dilemmas, we have come to your rescue as we have handpicked the best of the best diaper brands that are accessible in India. With these lists, you don't have to worry about the hygiene, infections, and comfort of your babies. Take a look!
Pampers Diapers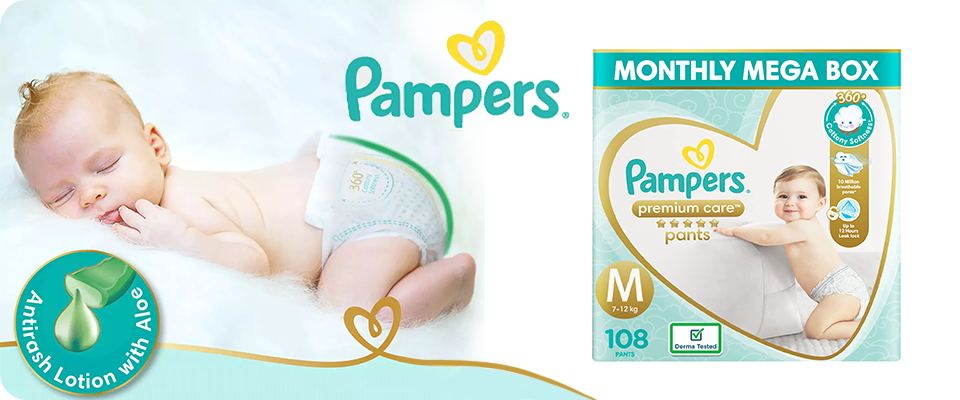 Pampers India produces a wide selection of diapers for newborns, babies, and toddlers, which comes in pant style and taped style. If you have a newborn in the house, buttoned diapers are preferably recommended to use as they are still undersized and delicate and it just needs minimum care to put on. Pampers' nappies are produced using the highest quality material, offering the softest and most flexible napkins.
With their Lock-Unique Magic Gel technology, Pampers diapers are also capable to remain dry for the most extended period of up to 12 hours. Their built-in wetness tracker can also greatly assist new parents to track and know when to change into a new one. Further, Pampers offer an exclusive feature on newborns' diapers for sheltering the umbilical clump.
Highlights
Breathable air pores
100% wetness lock
Built-in wetness tracker
Anti-rash blanket
2x faster absorption
Protection up to 12 hours
Cotton material
Latex-free soft elastics
Parabens-free
Dermatologically Tested
Approved by Skin Health Alliance
Huggies Diapers
Huggies diapers are another excellent choice for your baby to prevent skin rashes and safeguard their delicate skin. It is delicately designed for newborns and toddlers to deliver 100% protection for up to 12 hours with the best comfort and dryness, preventing the tender skin from inflammation and redness.
The Huggies nappy comes in a 3D bubble bed, offering the highest comfort all day long. It comes in six different sizes to fit all stages from newborn to toddler. The Huggies diaper is also constructed with triple leak guards, which offers additional protection to avert leakages.
Highlights
Bubble bed softness
Comfortable waistband
Threefold leak guard
12-hour absorption
Breathable material
100% organic cotton
Wetness indicator
Paraben-free
Chlorine-free
Latex-free
Little's Diapers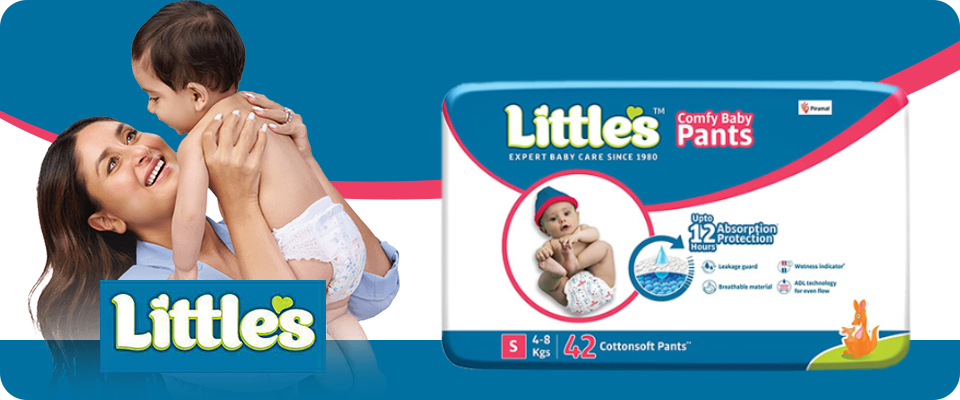 Little's brand officially came into existence in the 1980s, and ever since, the brand has gained great trust and loyalty among Indian consumers. Today, this brand caters to a broader range of product categories for your little ones between the age of zero to four years. Little's Diapers excels in all when it comes to qualities, performance, comfort, and other features. It is a brand that is universally acknowledged for its potential in providing a comfortable and reliable experience, whether it is towards the parents or the baby. The diapers are produced using exceptional quality material with the purpose to deliver maximum comfort at any time.
Little's nappies come in an array of sizes to choose from, catering to the requirements of various proportions and stages of the child. You have the option to purchase either disposable or reusable diapers, depending on which works best in your life as a parent. Apart from diapers, the other products that Little's also focuses on are baby wipes, feeding range, bedtime, Organix, toys, and many more.
Highlights
Absorbency up to 12 hours
Breathable material
ADL technology
Leakage guard
Wetness indicator
Available in 6 sizes
Alcohol-Free
MamyPoko Pants Diapers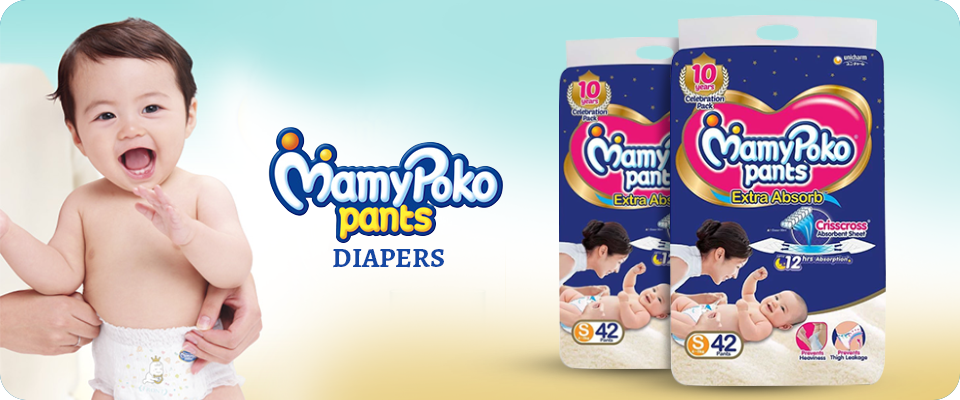 MamyPoko Pant created a massive buzz across the nation when it first launched back in 2009. MamyPoko Pants were the first ever brand in India to develop and come up with pant-style diapers using Japanese technology. According to the brand, they believe in creating a safe environment through the use of their innovative products. Their diapers are reliable and budget-friendly, which suits most Indian households' budgets.
MamyPoko Pants Nappies claims to suck up to 7 glasses of liquid, and many Indian mothers have vouched for it. With the crisscross widespread and impressive thigh support, its diapers offer 30% extra absorption as compared to other brands and prevent leakages. Additionally, it has a vulnerable waistband, allowing parents to effortlessly strip off once the diaper is used.
Highlights
Up to 12 hours of protection
Breathable cotton cover
30% quicker absorption
Crisscross sheet
Excellent thigh support
Revolutionary Japanese technology
Available in up to 8 sizes
Little Angel Diapers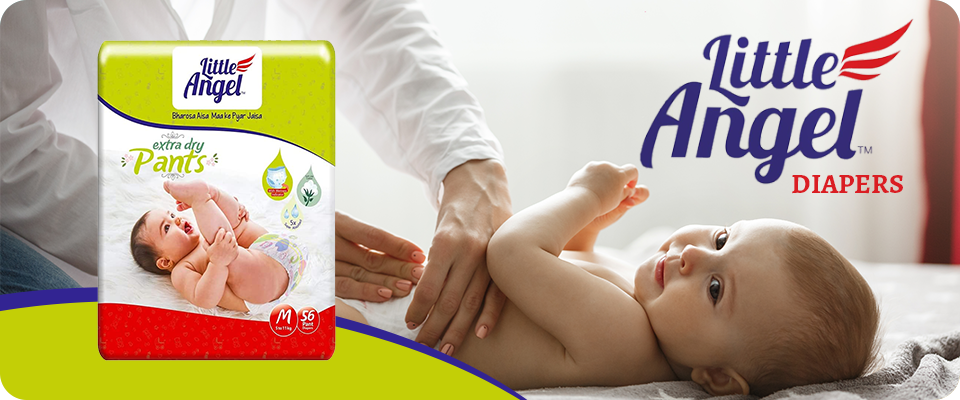 Little Angel brand was established under the care of a board of directors with over 3 decades of experience in entrepreneurship and medical research. The brand was born to ensure the hygiene and safety needs of the young ones. Little Angel nappies are made using the highest quality textures assorted with natural ingredients. It is designed to maintain and support your babies comfortably all day and night.
The surrounding waistband of Little Angel nappies offers a firm yet gentle grip around the belly, allowing your baby to move around without any discomfort. Moreover, it also presents state-of-the-art double leak safeguard that helps to avert leaks and maintain dry surfaces even during the night.
Highlights
Up to 12 hours of protection
Advanced double leak safeguard
Breathable layers
Cotton soft material
Super absorbent core
Wetness indicator
Extra Dry top sheet
Available in up to 6 sizes
Papimo Diapers
Papimo is one of those underrated brands that many parents are yet to discover. The Papimo diapers are designed and layered with soft cotton materials, offering your baby the most comfortable experience through day and night. It is made with soft, non-woven, and breathable fabric, so in case you are worried about the correct size for your baby, Papimo presents an assortment of sizes that can support up to 12 kilograms.
Furthermore, the Papimo diaper is formulated with aloe vera, which assists in protecting the delicate skin of your baby and prevents it from developing rashes and skin irritation. The super lock gel further helps in maintaining dryness for hours. This diaper also features a wetness indicator, where the yellow strip turns blue when the diaper requires a change.
Highlights
Extra absorption later
Leak guard
Soft cotton material
Aloe vera
Diamond core technology
Breathable material
Available in 5 sizes
Wetness indicator
Up to 12-hour protection
Bambo Nature Diapers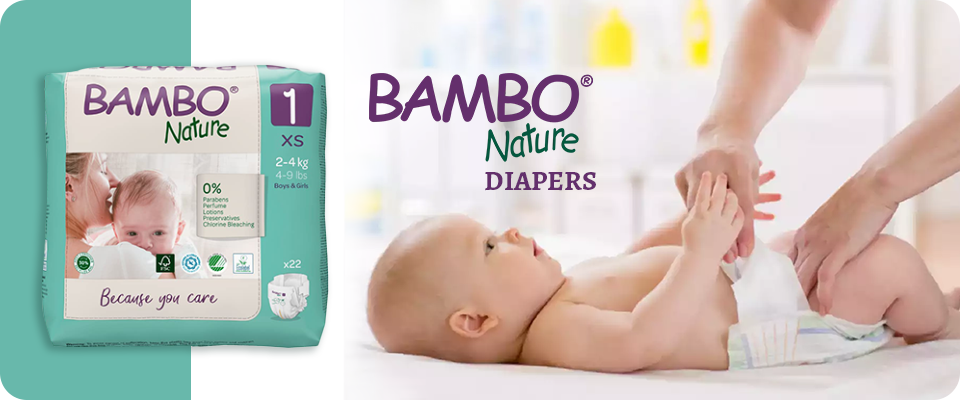 Bambo Nature has been in the business for over 40 years, produced and developed by ABENA, a third-generation family-managed company. The headquarter is based in Denmark. Bambo Nature is renowned for manufacturing hypoallergenic and exo-friendly diapers and other products for babies. If you are looking for a nappy brand that will keep your newborn comfortable all day, this brand would be an ideal choice.
Bambo Nature Diapers are perfect for sensitive and delicate skin that is highly susceptible to skin irritation and inflammation. Crafted from breathable fabrics, the nappies are also free from fragrance, allergens, and carcinogenic components, significantly reducing exposure to diaper dermatitis. Bambo Nature's nappies are thoroughly tested by expert dermatologists and are approved by FSC™ for the utilisation of raw materials from trusted sources and well-governed forests.
Highlights
TCF fluff
Wetness indicator
Ultra Absorb channels
Incredibly soft
Ultra flexible
Leak protectors
Flexible waistband
Latex-free
Dermatologically tested
Nordic Swan Ecolabel approved
Perfume-free
Parabens-free
FSC™ certified
Mee Mee Diapers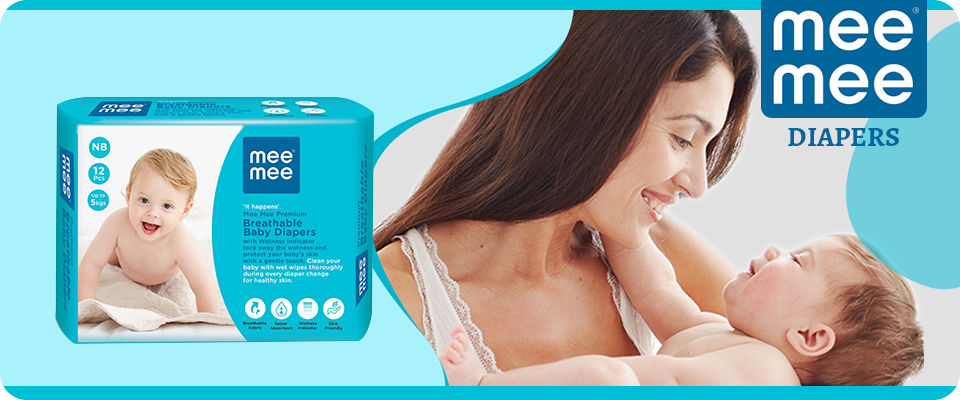 Launched in 2006, Mee Mee is a baby product line by Me N Moms. It was introduced with a core objective to supply parents with the finest baby care accessible at inexpensive prices. The brand has more than 3000 outlets throughout the country as of today.
Mee Mee nappies are manufactured using the finest breathable fabric and layered with super absorbent polymers, allowing your little one to move around comfortably throughout the day and night without inflaming their delicate skin. Their diapers are also featured with leakproof technology, assuring parents to be worry-free of any leakages in any situation. Another positive aspect of this brand is that the cushion is ultra-thin with a flexible thigh band, which prevents overflowing yet keeps it dry for up to 12 hours. Apart from the pant-style and taped-style nappies, Mee Mee also offers cloth-style, which is reusable.
Highlights
Wetness indicator
Super absorbent polymers
Leak-proof technology
Protection up to 12 hours
Air circulation
Soft & ultra-thin fabric
Breathable material
360° stretchable waistband
Sensitive skin friendly
SuperBottoms Diapers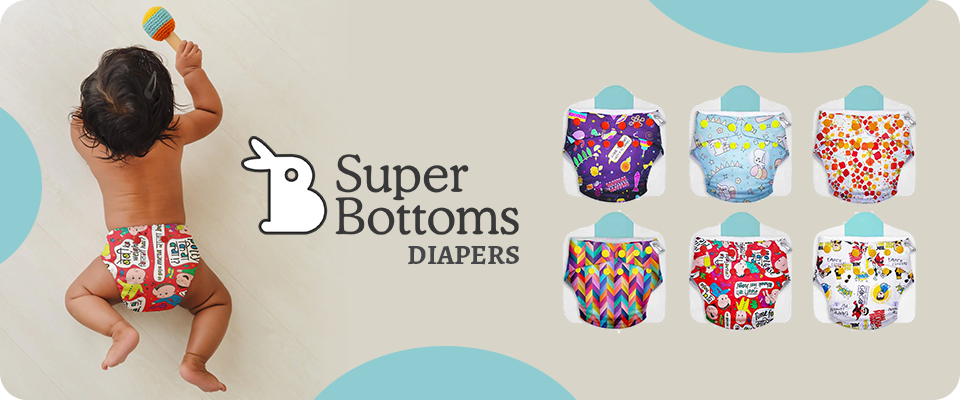 SuperBottoms is fairly a new brand that was launched in 2015 and is based in Maharashtra, India. This brand highly focuses on producing sustainable female and baby products and even won the Times of India Most Valued Mother & Child Brands in 2020. SuperBottoms is also CPSIA certified, which assures that the diapers are completely safe for the little ones and that the materials are free from hazardous materials.
SuperBottoms primarily offers the comfiest cloth diapers to help parents save substantially on diapering expenses. The nappies come in a multitude of patterns and lively prints, which is another fun aspect of SuperBottoms diapers. The diapers come in two categories— Newborns and Freesize. The newborn diapers are suitable for babies who weigh up to 7 kgs, while the Freesize diapers are ideal for babies weighing between 7-17 kgs.
Highlights
Absorbency power up to 12 hours
Reusable 300+ times
Rash-free
Toxin-free
Phthalates-free
Chemical-free
Eco-friendly
1 diaper fits all
100% Organic cotton
SuperDryFeel layer
Economical 74% Savings
Kindermum Diapers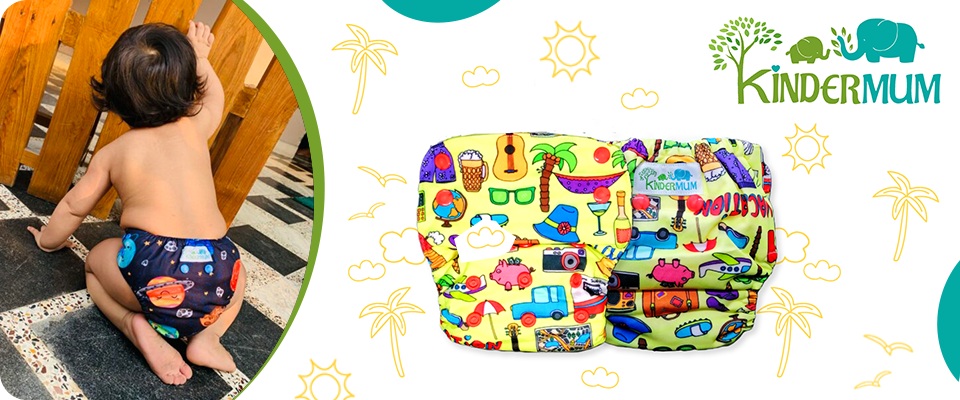 Being a mom herself, Mansi Modi started the journey of Kindermom with the main objective to offer fellow mothers and babies the best quality reusable diapers, which are sustainable yet affordable to the budget. Kindermum is both CPSIA and GORS certified, which means the nappies are favourably eco-friendly and made with 100% organic textiles, allowing room for breathability and comfort. The products are all 100% made in India, and that is something Kindermum proudly showcases as a brand image.
Kindermum diapers are washable and reusable more than 400 times and are ideal for babies who weigh 17 kgs or less. One size can fit almost any size of a baby, ideally between 5 to 17 kilos. The padded fabric is made of 8 layers of certified 100% organic cotton. The Kindermum nappies are also blended with Dry Feel technology, allowing the little ones to move around in comfort.
Highlights
Trimmest diapers
Waterproof outer PUL Layer
GOTS certified
CPSIA certified
Dry Feel technology
Side snaps
Gentle elastics
Changeable inserts
Highly absorbent
Certified 100% organic cotton
Varieties Of Baby Nappies Available In The Market
Being a parent can take a lot more effort than people think as we need to study and make choices from all angles and aspects. Did you know that there are different types of baby nappies meant for various purposes? If you are a new parent or weren't aware of it regardless, we are here to brief you in short.
Pant-Style Nappies/Diapers
Pant-style nappies or diapers are designed like innerwear and are most suitable for toddlers. It can be easily put on like underwear, which is why many parents opt for this type. This diaper variant ensures the babies to move around without any discomfort, and can be taken off or changed into a new set effortlessly. The pant-style diaper is a fantastic option especially when you need to go on an outing with your little one. It is very convenient and effortless.
Taped-Style Nappies/Diapers
This variant of nappies is ideal for newborns as it offers a finer fit and is effortless to put on, remove, and discard. Moreover, these kinds of diapers are rashes-free, which is ideal for the delicate skin of newborns. For the taped-style nappies, there is no need to lift or move the baby around for replacing the diapers. Simply adjust and place them on the nappy and secure the waistband.
Swim Nappies/Diapers
Swim diapers are basically designed to be used underwater, but it comes with many advantages as well. This type of nappy is perfect for the little ones whose parents wish to take them to a water park date or any activities that involve getting into the water. Swim nappies are designed with premium materials, which have excellent absorbency strength that locks the fluid for hours without leakages. Additionally, it reduces the growth of bacterial contamination like E. coli and Cryptosporidium, which are caused by excretion. These bacteria and parasites can potentially bring hazardous effects on the health of your child.
Training Nappies/Diapers
Training nappies are developed with thinner fabric as compared to the rest of the kind and are meant to use for potty training. It is still shaped like underwear and parents use this kind on their babies who are at the stage of being potty-trained. Unlike conventional diapers, training nappies can be efficiently dragged down when needing to go to the restroom and put back after the deed is done. This type of diaper is essential and convenient for parents as it prevents the house from messing up with babies who are yet to be potty-trained.
Preemie or Premature Nappies/Diapers
If you or someone you know have a premature baby, this type of diaper would be the most ideal. Premature babies are normally born 3 weeks or more earlier than the expected due date. Preemie diapers are specifically designed to meet the demands and requirements of babies born prematurely, and it comes in smaller sizes as compared to the sizes of regular nappies. This variant of diaper also comes with a special in-built feature to make room for the navel string that may be recovering.
FAQs
Which Brand Offers The Best Diapers In India?
There are a multitude of diaper brands accessible in India today and you can go through our list to know which fits your requirement the best. Some of the best brands that are worth your expenses are Pampers, Huggies, Mee Mee, SuperBottoms, and Kindermum.
Is It Safe To Use Organic Diapers On Newborns?
Absolutely! Diapers made of organic fabrics like cotton, bamboo, and hemp are the best choices to use on your newborns. They are safe and gentle on delicate skin and offer the best comfort at all times, prevent from skin infections and rashes.
What Fabrics Are Utilized For Producing Baby Diapers?
Diapers are usually created using polyethene, polypropylene, cellulose, polymer, elastics, cotton, bamboo, hemp, and such.
What Is The Maximum Weight A Baby Nappy Support?
A diaper can support a child anywhere between 0 to 17 kilos, although it can depend on the brand and its features. Some brands like Kindermum offer extension bands to support babies above 17 kgs. Make sure to check their descriptions before you buy.
Until What Age Should I Let My Child Use Diapers?
Diapers can be used from the day your little one is born until they are adequately potty-trained, which they normally learn by the age of 3.
How Long Can A Diaper Be Used?
Diapers can be worn for up to 12 to 13 hours, depending on the absorbency limit the brand offers. However, most brands offer up to 12 hours of safeguard. Keep in mind that you don't necessarily need to keep the same diaper on throughout the day. You can keep track via the wetness indicator and change it based on that. That way, it will also prevent rashes and skin inflammation on your baby's delicate skin.
You might also like
Wellness
24-Nov-2023
Pregnant Jessie Decker Confirms the Gender of Baby No. 4

Wellness
01-May-2023
Kumar Purnima: Celebrating Joy of Womanhood in Odia
Wellness
29-Sep-2023
Dr. Bina Modi Wins Women's Empowerment Award