Fashion
Top 5 Fashionable Clothes For Little Boy Up to 3 Years

132 Views
Published On: 03 Jul 2023 Updated On: 27 Jul 2023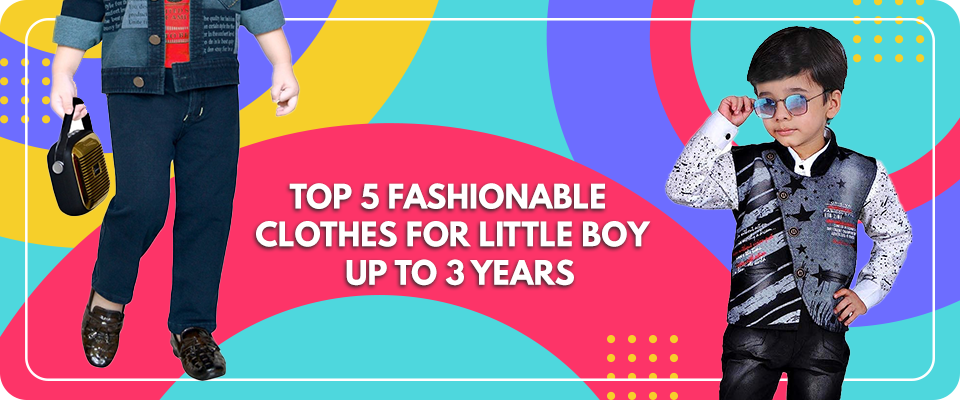 As per the words of Kate Spade, a popular American fashion designer, playing dress-up starts at just age 5, and that never ends. While it may look like a simple task to choose clothes for kids, believe us parents, kid's wear has become a serious business today. Today's children's fashion scene is quite big, with a massive selection to choose from. No matter what the occasion is, you will find a lot of options to choose from, and that can make it a little confusing to what to pick.
Clothes for children need to be skin-friendly, highly comfortable, and at the same time, they should be super trendy. Thanks to expanding kids' fashion industry, Indian kids now have a massive range of fashionable clothing options to pick from. The clothes are available from both Indian and global brands. While choosing clothes for kids up to 3 years old, it is very crucial to consider the activities and climate. For instance, if your little boy loves playing outdoors, then it will be better for you to opt for clothes that are very comfortable while allowing your kid to move freely.
Well, if you think buying clothes for your little boys who are under 3 years old is challenging, then it's to relax. To assist you with this, we have listed down some of the best options for you. These clothes are made up of quality material and designed to offer the maximum level of comfort to your kid. So, what are you waiting for? Let's have a look at the list of top 5 clothes for children up to 3 years and buy the best one for your kid now.
Clothing For 1 to 3 Years Age Group
Every parent should keep in mind that this is a vital stage as children at this particular age are very curious. So, the clothing you choose should attract the attention of your kid, and they will love to wear it. Besides, as kids are more like to make messes or drop foo, you need to make sure that the fabric used for clothes is washable. What's more? The clothing should be very comfortable while walking and playing.
Top 5 Clothes You Can Buy For Your Little Boy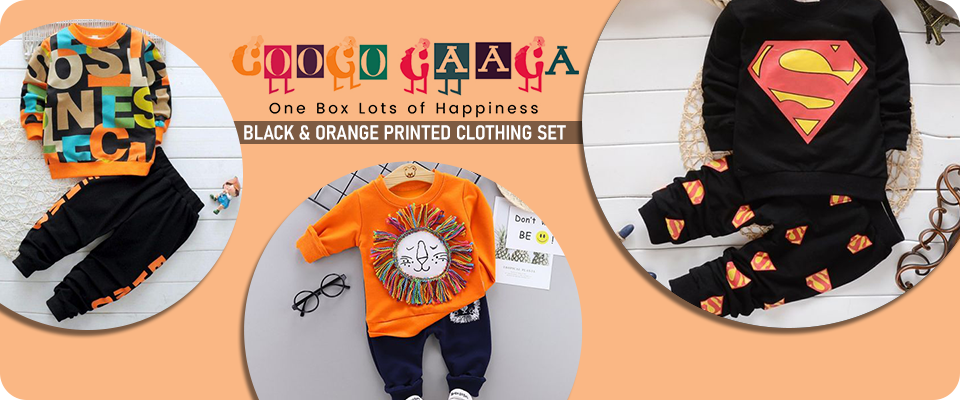 If you are searching for a fashionable dress for 3 year old at an affordable price, then this can be an excellent option for you. This is a 100 percent original Googo Gaaga clothing made of superior-quality material, 100 percent pure cotton. This beautiful clothing set has trousers and T-shirts. The T-shirt has a trendy orange and black print. With a round neck, it has long sleeves. The trouser comes with a slip-on closure. If your order it now, you can buy this clothing set for just under Rs. 500. It is available for kids up to 3 years.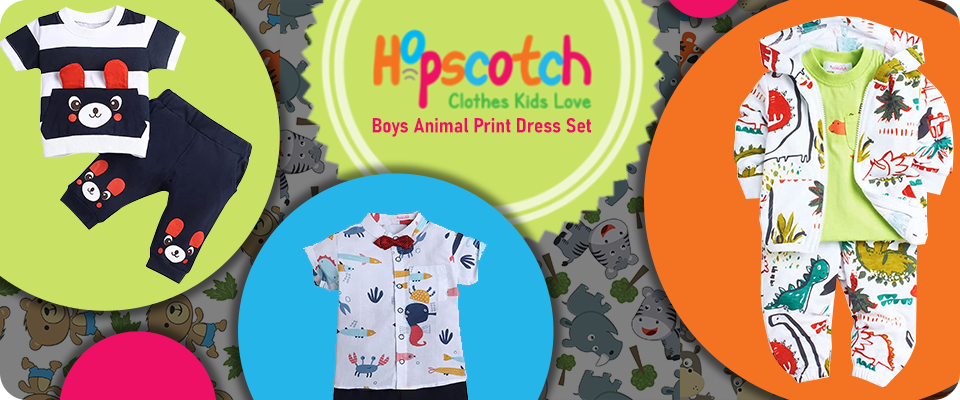 This beautiful dress for 1 yo to 3 yo is from Hopscotch, a well-known kids' fashion brand. With this dress, you can ensure that you are offering better comfort to your kid. No matter what the occasion is, this can be an excellent option. Made of 100 percent cotton, this set includes one jogger, one jacket and one t-shirt. It is available for kids up to 3 years. Check it out now.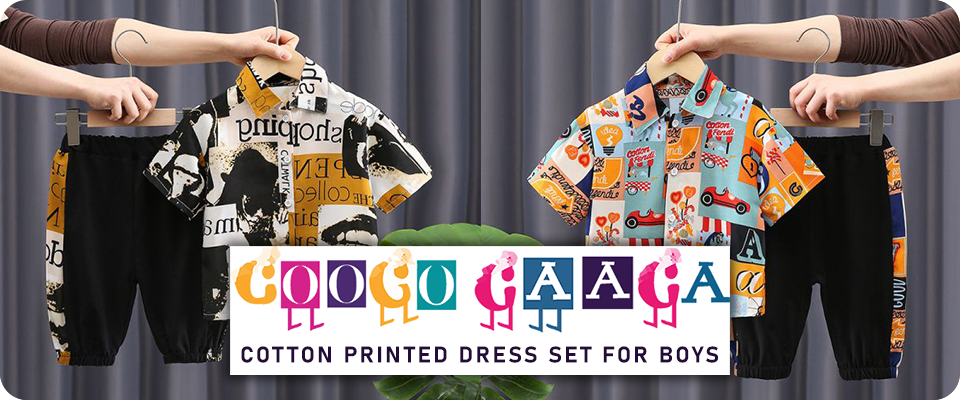 This Googo Gaaga T-shirt comes with a perfect round neck and long sleeves. As it has soft fabrics, it ensures better air circulation, which is important for your kid. On the other hand, the soft and smooth texture prevents skin irritation. For utmost comfort, this dress is made using pure cotton. The shorts come with an elasticated waist. The dress has 90 percent cotton and 10 percent polyester. You can use this as casual wear. So, what are you waiting for? Check out this cute dress for 2 yo and place your order now.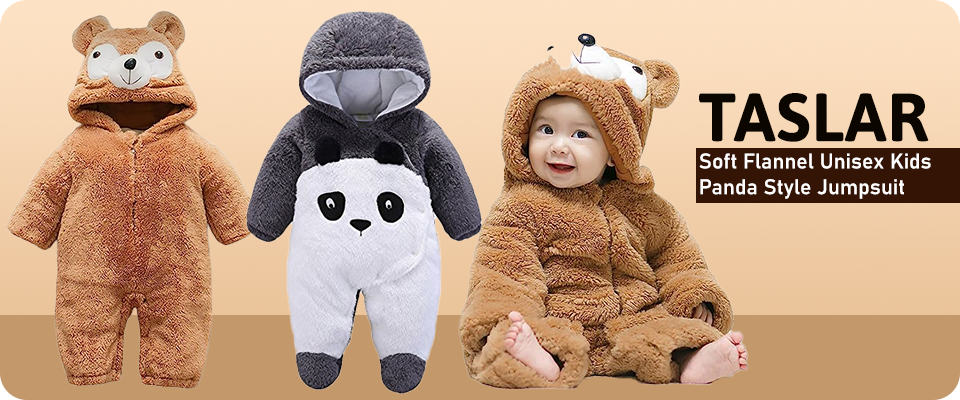 If you are searching for an animal costume dress for your kid, then you should try out this TASLAR Soft Flannel Panda Style Jumpsuit. This Panda-style jumpsuit is made using quality flannel material. It is breathable and highly absorbent. During winter, it will keep your baby comfy and warm. As it comes with double zipper closure, you can easily put it on or off. You can use it for home casual, pajama sleepwear or cosplay costumes. You may find it lisle costly, but your kid will surely love this dress. Buy it now!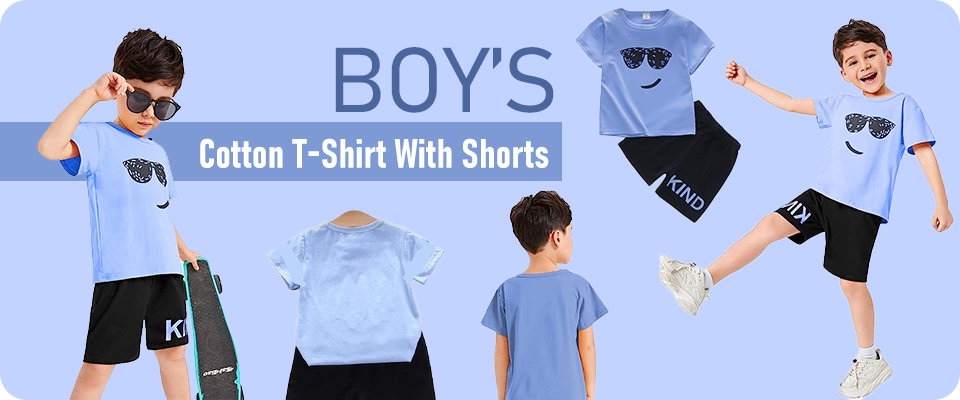 This sweatshirt comes with long sleeves and a round neck. The fabric used for this clothing includes 90 percent cotton and 10 percent polyester. If you order this, you will get 1 pants and 1 sweatshirt. Soft and quality fabric makes sure that your kid enjoys better air circulation. On the other hand, a soft and smooth texture avoids skin irritation. As it has an elasticated waist, you don't have to worry about the fit. Created with a unique colourfast design that prevents bleeding or fading of dyes. Get it now and make a solid fashion statement.
Your Guide to Choose The Best Clothes For Your Little One
Choosing clothes for children under 3 years is a satisfying thing for every parent. But when buying the right fit for your son, it is common to get overwhelmed with the available options and amazing combinations. But can't make any mistake here, and don't get carried away with the products. Remember that some clothes can be fun and super cute, but they can be a nightmare for your little boys as they may not be that comfortable for them. So, here the first important factor to consider is the comfort. Well, there are more such important factors that you need to keep in mind while buying clothes for your baby boys. So, to make it easier for you, you have prepared a list of crucial factors to consider. Let's have a look.
Ensure That It Is Super Comfortable
When buying clothes for your kids, the first thing that you need to consider is their comfort. If you buy clothing that is too tight and bigger than their size, then they will not feel comfortable with that. Tight clothes will make your kid feel uncomfortable, and he may not be able to move hands or legs comfortably. Your kids shouldn't feel restricted in any way. Furthermore, using tight clothes can cause skin irritation and may have a bad impact on the legs and hips. Just check the size and order accordingly.
Always Keep Your Eye On For Children's Clothes On Sale
If your budget is a little low and you still want to buy a dress for 1 yo or a dress for 3 yo from well-known brands, then it is advisable to keep an eye on different sales organized by shopping sites. Some online stores can provide you with up to 80 percent discount during such sales. These sales offer you an amazing opportunity to clear all your old stock and restock your little boy's wardrobe with new clothes. So, parents, go on and check out the available sales on different online shopping platforms.
Consider The Colour Scheme
All children love to play outside in the dirt, and the clothes suffer the most from their good times. So, it will be better for you to decide the clothes' colour scheme very smartly. Some parents prefer to go for dark colours as strains will not be that visible. But that should be your one and only option. Remember that clothes for kids up to 3 years can be very costly, and you will not want to buy new clothes every they get stained. So, choose colours that you can combine easily without any issues, and you can wash them at a high temperature. For example, clothes in white, red, blue or other brighter shades can be wasted at high temperatures to remove stubborn stains.
You Can't Compromise With The Fabric
Most of the parents love to dress up their children in trendy, cute and funky dressed so that their little ones look cute. Well, that's a good thing. But they tend to check the fabric used in the clothes. Some fabrics can lead to rashes, skin irritation as well as choking issue. To eliminate such issues, you should choose clothes with fabrics that are light and soft. In general, natural fabrics can last for months or years. They also don't change shape as well as texture. The most common and best fabrics for clothing are linen and pure cotton. These fabrics lower the chances of allergic reactions.
Choose Value For Money
You shouldn't get carried away with the fact that expensive clothes are the best. Remember that within a few months or days, they will be just a deadstock. So, go for clothes that guarantee value for money. Sometimes it is good to buy clothes averagely tagged instead of a costly ones. There is nothing harmful to be practical while buying clothes for kids. Besides, you can also try to combine branded clothes with local ones.
Consider Your Child's Opinion
It has been seen that most of the time, parents buy a similar type of clothing when they love it. Well, this is not a good idea at all. As they age, kids should be introduced to different and new clothes. Even though 3 years old kids are small, but they can decide what they like. While shopping, ask your kid to choose clothes. This way, you can understand their taste. Now, you can follow that while shopping for kids' clothes. Clothes are a crucial part of kids' personality. So, this time, let them pick their clothes.
Prefer to Purchase a Size Bigger
Children grow quickly. So, purchasing their exact body size may not be a good idea. So, if you want to buy pants, then choose one with some adjustment features, for example, elastic bands. This will be comfortable to amend. Besides you can also adjust them as they grow for a perfect fit.
Funny Patterns and Classing Shapes
The world of kids' clothing is evolving rapidly. Every brand is now making kid's clothing in unique patterns and shapes that you can't even imagine. There is nothing wrong with having funny patterns or -shaped clothes for your kids. But buying clothes with classic shapes can be a smart idea. With such clothes, you can come up with unlimited combinations to take your kid's overall look to a whole new level, increasing his cuteness.
Don't Forget The Occasion
Another crucial factor to consider while buying clothes for kids up to 3 years is the occasion. Just like us, kids should also have different types of clothes for different occasions. But make sure that you have quality casual clothes for them. Kids look good in casual clothes. These are comfortable as well as beautiful.
Some Top Fashion Trends For Children To Consider
Parents, it's time to gear up. The current year comes with new adventures and fashion trends that are all set to entice fashion-enthusiastic children. And this is the best time for parents to keep themselves updated with the newest fashion trends that can help them to choose the resurgent and blissful outfit. So, here are some latest kids' fashion trends you can consider.
Stylish Capris and Shorts
With time, some outfits, such as shorts and capris, are getting popular in the kid's fashion world. Besides, such dresses are considered an athleisure trend and can be easily paired up with different accessories for a funky look. If you are getting ready for a weekend party and picnic, then this outfit for your kids will be a good option. Such outfits are generally worn during the summer for maximum comfort.
Amazing Denim Jacket and Pants
Well, kids look stylish and super cool with denim jackets and pants. These outfits can be easily paired with various foot wears to achieve an amazing look. Besides, you can use them for different occasions.
Fashionably Designs of T-Shirts and Tops
When it comes to choosing perfect outfits for regular wear or casual outings with kids, then you can go for dresses like t-shirts, shirts and tops. The rising demand for these dresses makes the manufacturers redesign these outfits in cool and trendy colour shades and designs.
It's Tim For Rompers
If you are looking for a perfect dress for your baby boys to keep them warm during winters, then rompers can be a great option. But there are some parents who don't know much about these dresses. Rompers are available in one piece and also two pieces. Besides, there are also dungaree-style rompers that can offer an amazing look to your kids.
Closing Thoughts
There is no doubt that fashion keeps changing with time. On the other hand, the moods, feelings and style expression method also change from one parent to another. However, there are some commonalities in the options you choose to provide your kid with cost-worthy and comfortable fashion and regular wear clothes. Well, if you have been searching for the best options for your kids for months, then it's time to give these clothes a try. All these products are from well-known and trusted brands. They cater to the unique requirements of kids in terms of affordability, style and comfort. All these products can be purchased online and come under your budget.
We hope this detailed article will help you a lot. Don't forget to tell us which one is your favourite option in the comments below. And also, share this list with others who might be searching for clothes for kids up to 3 years. Buy the best one and make your baby boy look cool & stylish. Enjoy your shopping!
You might also like

Wellness
29-Nov-2023
BITS Pilani, ABCF Bring Startup Program for Women Entrepreneurs

Wellness
25-Apr-2023
Gulabi Gang: An Extraordinary Women's Movement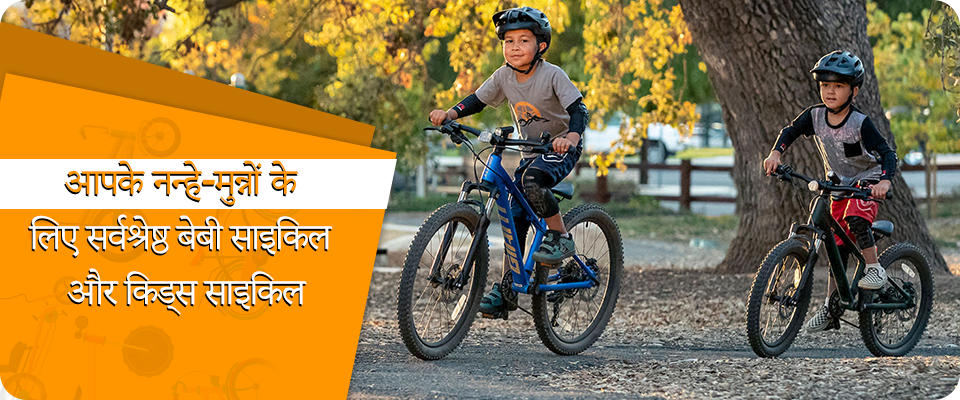 Wellness
22-Jun-2023
आपके नन्हे-मुन्नों के लिए सर्वश्रेष्ठ बेबी साइकिल और किड्स साइकिल