Fashion
Our Favourite Handpicked Bridal Lehengas under 5000 INR

329 Views
Published On: 13 Feb 2023 Updated On: 27 Jul 2023

Every bride undergoes nerve-wracking and strenuous moments in preparation for the wedding ceremonies, especially if you are a perfectionist and you need to make sure all the details are perfect for your wedding. Mainly in India, since the wedding ceremonies are held week-long, Indian brides usually experience mental breakdowns to uphold all the to-do lists fulfilled on time. Among all, one of the most important is the bridal outfits. And bridal lehenga is one of those outfits that give the wearer unparalleled beauty and poise, which is also the most-desired outfit for any desi wedding season. Indian influencers and celebrities have always had a huge impact on us with their comprehensive display of the most exquisite collection of lehengas. And let's admit it, we all get busy saving their pictures and taking notes for fashion ideas the moment they post on social media.
Indian Weddings prompts every Indian bride to explore and delve into vibrant and phenomenal lehenga designs. And it is without any question, we all want fashionable patterns, pastel colours, flower-patterned embroidery, and colourful edges. Fortunately, thanks to the rapid advancement of e-commerce in the present generation, the availability of bridal lehengas online is just a few clicks away. So, imagine if you find your dream bridal lehenga with all the above-mentioned aspects under just 5000 INR. Well, it might no longer be just your imagination and hope anymore!
Here are our favourite hand-picked top 10 bridal lehenga cholis under 5000 INR to make you appear undeniably lovely on your special day!
Best Bridal Lehengas Under 5000 INR
Zeel Clothing Silk Bridal Lehenga Suit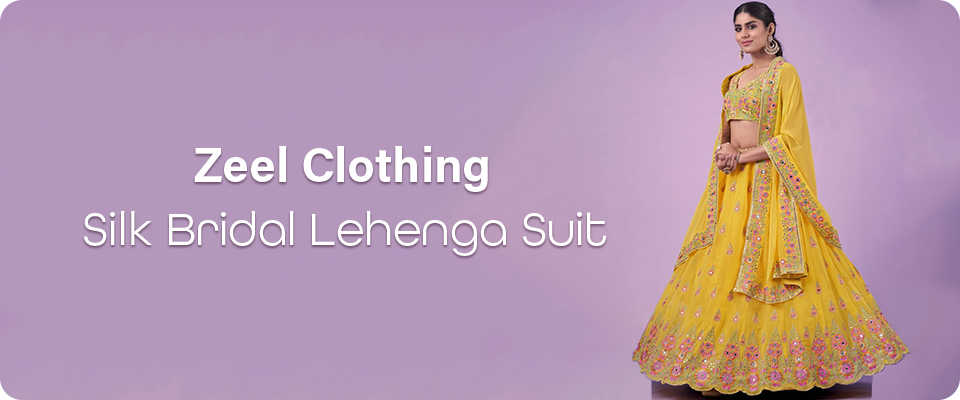 This gorgeous set of lehenga in yellow tone would be the perfect selection to look unquestionably radiant on your special day. Along with the 43 inches-long skirt and a meshwork dupatta coordinated with a golden edge at the hem, the suit is completed with a full-sleeved bodice with a low-cut neckline. The entire ensemble is crafted with Zari, Dori, and sequins that give it extra volume and glamour.
Product Spotlights
Colour: Yellow
Finishing: Semi-stiched
Current price: 3,799 INR
Care Instructions: Dry Clean Only
Package Contains: Lehenga, Dupatta, and Blouse
Measurements: Lehenga Flair: 3.50 meters (waist-43″, length-43″); Blouse: up to 44″; Dupatta Length: 2.25 meters.
Yami Fashion Soft Silk Bridal Anarkali Lehenga Suit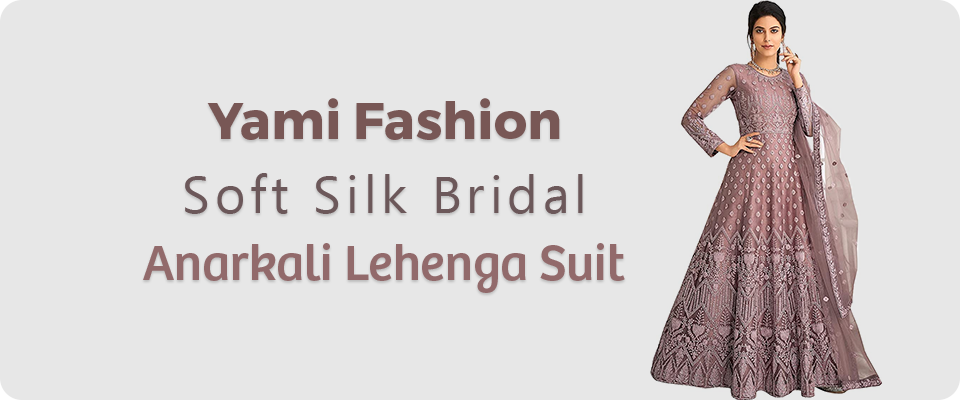 This stunning Anarkali lehenga suit might be your dream bridal look if you want to slay on your wedding day. Go for this pick and you will stand out on D-day. This lovely set is designed with hefty lace embroidery, cording and diamond work all over, giving a marvellous finish.
Product Spotlights
Colour: Light Purple
Finishing: Semi-stiched
Current price: 1,989 INR
Care Instructions: Hand Wash Only
Package Contains: Anarkali Lehenga, Dupatta, and Blouse
Measurements: Lehenga: 59″; Blouse: 54″; Dupatta Length: 2.25 meters.
Peach Mode Printed Art Silk Bridal Lehenga Suit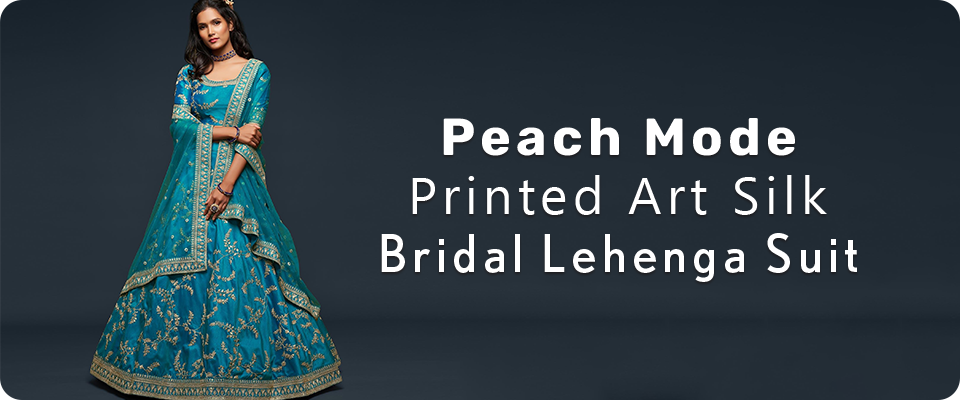 This lovely teal-blue lehenga choli has a beautiful floral pattern and gives a quirky fit. The set is constructed from art silk material and embellished with gorgeous floral prints with geometric patterns on the edges. This bridal suit would be an impeccable choice to wear on your memorable day to show your guests on whom their attention should be focused. The sheer dupatta gives the overall fit more vibrance, and the rim design enhances its elegance. Match this lehenga with a set of gold jewellery to leave an impression on your wedding guests.
Product Spotlights
Colour: Teal Blue
Finishing: Semi-stiched
Current price: 2,099 INR
Care Instructions: Dry Clean Only
Package Contains: Lehenga, Dupatta, and Blouse
GOODWISH Embroidered Bridal Lehenga Choli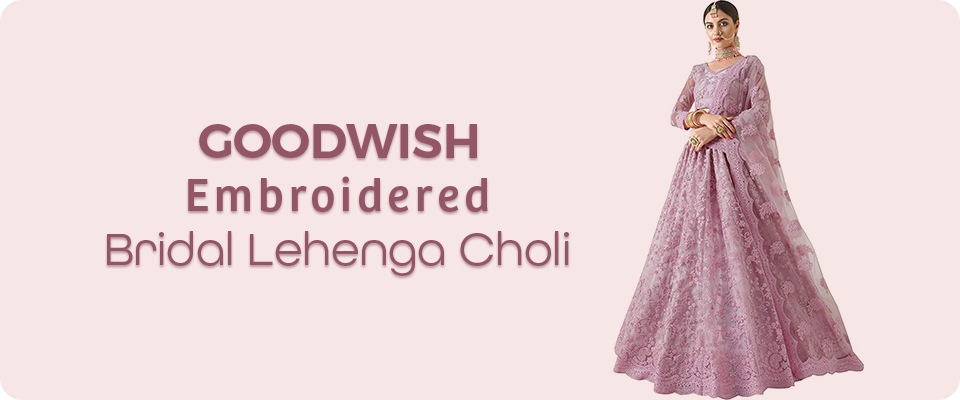 The stereotypical red lehengas worn by every bride in the past have been making a shift lately, thanks to Bollywood celebrity brides like Alia Bhatt, Anushka Sharma, Katrina Kaif, and the newlywed Kiara Advani. Now, pastel colours are in the trend and nobody can disagree that it looks fantabulous! This set of pastel pink bridal lehenga choli radiates a serene and enchanting demeanour and would be a fantastic alternative to wear on your engagement or reception day. The lehenga with pink embellishments looks certainly chic, adding to the vivacity of the complete ensemble
Product Spotlights
Colour: Pastel Pink
Finishing: Semi-stiched
Current price: 1,299 NR
Care Instructions: Dry Clean Only
Package Contains: Lehenga, Dupatta, and Blouse
Measurements: Lehenga: 44″; Blouse: 40″; Dupatta Length: 2.25 meters.
Panash India Zari Embroidered Bridal Lehenga Suit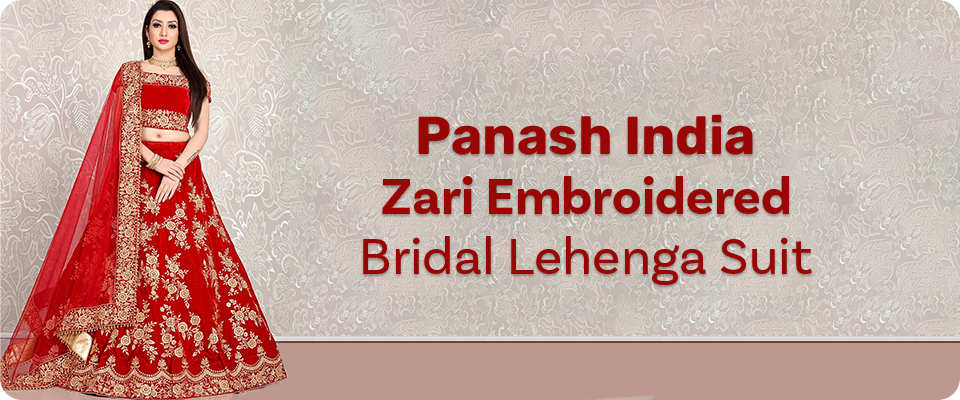 Panash Indian presents a stunning red bridal lehenga with detailed zari and resham embroidery all over accentuated by gemstone embellishments. This is a classic Indian bridal wear that you can find in today's Indian market. In addition to the intricate zari and resham embroidery, which enhances the build and adds luminance, the lehenga's vibrant red colour with gold highlights and style gives off an extravagant appearance. The attire stands out thanks to the wonderfully a-line lehenga, the flawlessly tailored blouse, the sheer dupatta, and the heavily embroidered border on the dupatta.
Product Spotlights
Colour: Red
Finishing: Semi-stiched
Current price: 3504 INR
Care Instructions: Dry Clean Only
Package Contains: Lehenga, Dupatta, and Choli
Mirraw Malai Satin Silk Bridal Lehenga Suit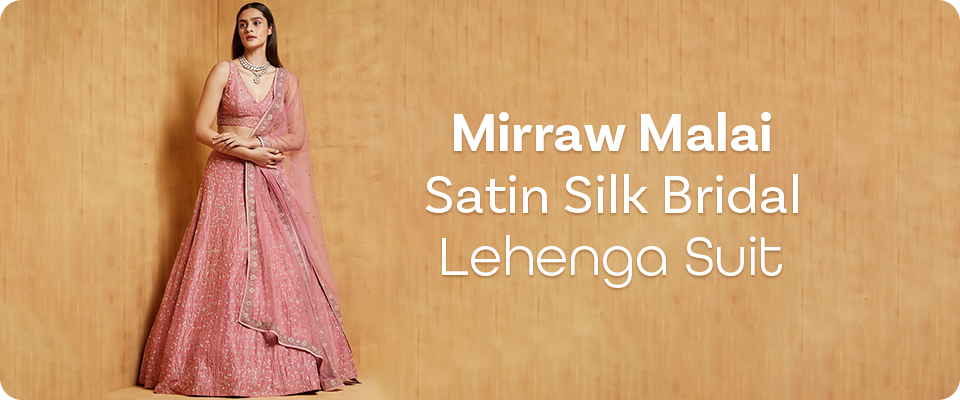 This sexy and feminine lehenga choli suit by Mirraw exhibits the most stunning bridal outfit with extravagant embroidery detail that is paired with a transparent dupatta. The embroidery design is carefully crafted with dori, zari, and sequined materials, which enhances the elegance of the attire. The entire fit comes in baby pink colour which would be your perfect reception look of the day and appear like a Bollywood heroine. This suit was carefully handpicked by us because it perfectly combines the colour brilliance and the embroidery detailing, giving it the ideal bridal look for the event.
Product Spotlights
Colour: Baby Pink
Finishing: Semi-stiched
Current price: 4399 INR
Care Instructions: Dry Clean Only
Package Contains: Lehenga, Dupatta, and Choli
Measurement: Lehenga- 3.25 To 3.5 Meters; Dupatta- 2.3 Meters; Blouse- 0.80 Meters
Peach Mode Stone Work Bridal Lehenga Choli Suit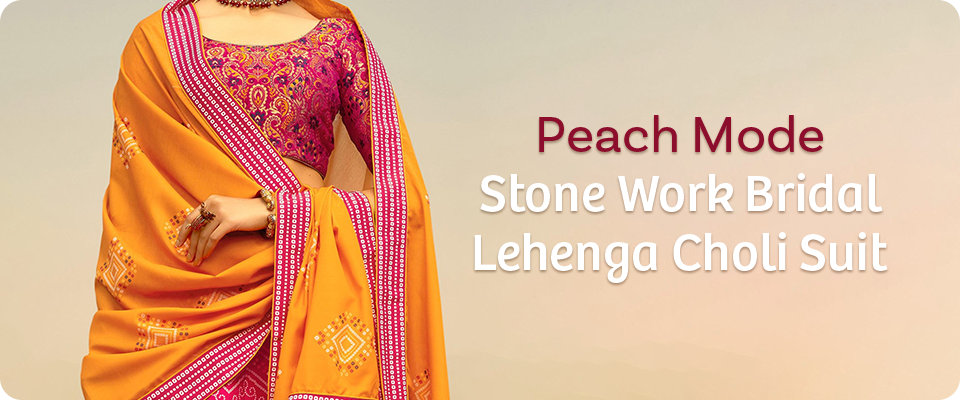 This bridal lehenga choli set by Peach Mode is one of the gorgeous pieces we have hand-picked for you, and you will not regret wearing it! The set is completed with a captivating embroidered choli, coordinated with a lehenga of the same colour, and a vibrant yellow dupatta. The pieces are constructed with thick silk textiles and are specifically designed to be worn in wedding receptions, engagement ceremonies, and other events where you wish to draw attention. To enhance your appearance, pair it with chic accessories and high heels.
Product Spotlights
Colour: Pink/Yellow
Finishing: Stitched
Current price: 4,049 INR
Care Instructions: Dry Clean Only
Package Contains: Lehenga, Dupatta, and Choli
Measurement: Lehenga- 3.5 Meters; Dupatta- 2.5 Meters
Utsav Fashion Embroidered Bridal Lehenga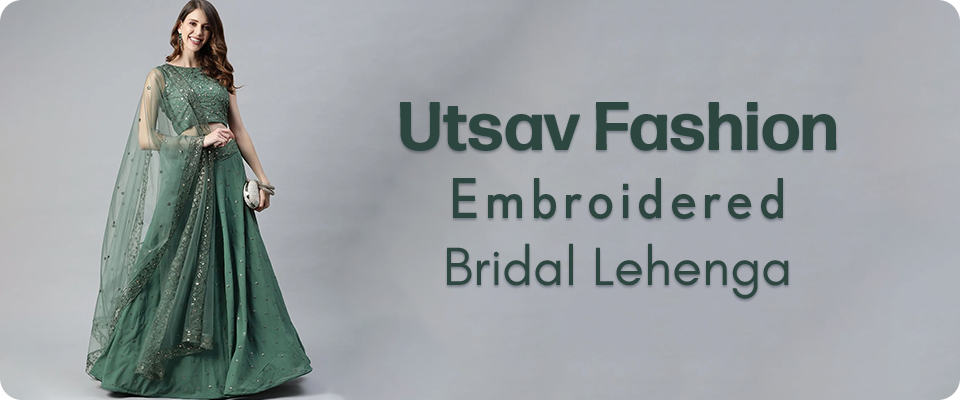 The perfect bridal party outfit would be this stunning appliqued and embroidered dusty green lehenga set by Utsav Fashion. The silver beads design gives the outfit the oomph you need any day and makes it suitable for your wedding occasion. The clothing is made comfortable to wear by the poly cotton lining. We do not doubt that you are going to look stunning in this breathtaking a-line lehenga choli set paired with a mesh dupatta embellished with Zari and Applique work. The dusty green cotton choli features a sheer design for the arm area and is filled with silver linings at the front, giving it a sleek, fashionable appeal.
Product Spotlights
Colour: Dusty Green
Finishing: Stitched
Current price: 3,037 INR
Care Instructions: Dry Clean Only
Package Contains: Lehenga, Dupatta, and Choli
Measurement: Lehenga- 42″; Dupatta- 2.5 Meters
Mirraw Bridal Designer Lehenga Choli Set
The most sophisticated bridal party dress would be this dazzling green couture lehenga and choli combination with spectacular embroideries, coupled with a matching striped dupatta. The embroidery enhances the elegance of the ensemble, which is made up of a set of lehenga, choli, and dupatta in complementary colours. This trendy lehenga set is the ideal bridal wear party attire and will enhance your beauty. The costume is specially designed to be worn for parties since it competently combines the colour brightness with the delicate embroidery, giving it the perfect party-ready appearance.
Product Spotlights
Colour: Green
Finishing: Unstitched
Current price: 4599 INR
Care Instructions: Dry Clean Only
Package Contains: Lehenga, Dupatta, and Choli
Measurement: Lehenga- 42″; Dupatta- 2.5 Meters, Blouse- 90″
TILK Store Printed Bridal Lehenga Choli Set
Our last pick for your Bridal lehenga choli outfit of the day is this gorgeous turquoise blue set with heavy chain stitch embroidery exaggerated with a Kashmiri mirror all over, giving a luxury touch and look. The lehenga set is paired with a matching coloured sheer dupatta with the same prints and design at the hem. The material is made out of Taffeta silk, so you can flaunt the look all day long without feeling uncomfortable. You can effortlessly rock this stunning suit at your reception, engagement, or haldi ceremony coupled with a chic set of jewellery.
Product Spotlights
Colour: Turquoise Blue
Finishing: Semi-stitched
Current price: 1,249 INR
Care Instructions: Dry Clean Only
Package Contains: Lehenga, Dupatta, and Choli
Measurement: Lehenga- 44″; Dupatta- 2.5 Meters, Blouse- 90″
To-Do List When Buying Your Bridal Lehenga
The wedding day is the most awaited moment in every girl's life, and we totally get it that preparing for the biggest day of your life could be exciting as well as gruesome. When looking for bridal outfits for your big day, you could get lost and stray away if you do not have a set plan just because of the plethora of options out there laid for you. There, there, calm yourself down, because we got your back! Here are the points you need to keep when you buy your bridal lehenga- Note it down!
Set An Allowance
The financial analysis gives you a clear idea of how you will select your bridal lehenga. From extremely cheap to highly expensive, wedding attire is offered at a wide variety of pricing points. Accordingly, you must purchase as wisely as you can for your wedding costume. Therefore, if you have limited funds and want to avoid paying a fortune, setting a budget of 5000 INR is ideal. Make sure to check out the list of exquisite lehenga sets we have created under the budget just for you so you don't have to take the trouble and look elsewhere.
Keep Up With The Vogue
If you are not someone who likes to stick to old-fashioned outfits, you need to consistently keep up with the current mania because they are always changing. Even with Indian bridal lehengas, their style, colours, and design shift with the season and the year. So, to don the latest vogue of lehenga designs and hues, we suggest you stay informed on the new trends. There are many different lehenga styles available, including different colours, outlines, designs, motifs, and ornamentation. You must consider everything during your research and it will greatly aid you in selecting your dream lehenga.
Do Not Hold Back On Exploring
When choosing your bridal lehenga, feel free to explore the variety of patterns and styles. At most times, ladies tend to be indecisive about wanting to wear something simple but at the same time unique and uncommon. Hence, tinkering with your bridal gown is not advised, except for experimenting with colours, types, and techniques. For instance, A-line lehengas are popular among brides nowadays as it exhibits extravagance and luxury.
Consider Your Body Frame
Knowing your body frame and colour palette could be one of the greatest help in choosing your bridal lehenga when you shop. Because everyone has different body shapes and sizes, finding and wearing the perfect type of lehenga can complement your body frame beautifully. You must wear a lightweight lehenga if you are too thin so that you can carry it easily. Additionally, if you are on the heavier side, you should choose a lehenga that is neither too light nor too thick. There are different types and shapes of lehenga in the market, so make sure to explore them before finalising.
Scrutinise The Fabric
Landing on the right fabric for your outfit will keep you dancing all night long on your big day. For that, you need to know the kind of material you want to wear. Your knowledge of trends and fashion will greatly help you make this decision.
Coordinate With Jewellery
Jewellery that coordinates with your bridal wear completes the look. Try to pair your lehenga with a nice set of chic jewellery and you would look fantastic. It brightens up your lehenga and gives you the greatest wedding day image.
Types Of Jewellery To Match Your Bridal Lehenga
The one thing you should focus on the most if you want your overall bridal look to be distinctive and memorable is jewellery. When brides don jewellery, they resemble the royal crown of a queen. Knowing what may strike a deal with your dress and enhance its style can help make your look distinctive. Here are the different types of jewellery to match your bridal lehenga!
Earrings
A pair of lovely earrings go nicely with any attire. When wearing a lehenga, make sure your earrings are completing the entire look at their peak. You can wear earrings made from pearls or a gemstone that complements your choli. Lehengas are usually a perfect fit for Chand Bali patterns, as they feature Mughal motifs and the designs are based on the different variations of the moon. However, you don't have to stick to Chand Bali earrings because Jhumkas are another option if you want to be more traditional. Either way, you can't go wrong with either of the earrings.
Nose Rings
Whether one has a pierced nose or not, nose rings give lehengas that extra touch of flair. There are many types of nose rings to match your lehengas, such as a basic gemstone nose pin, oversized-hoop nose ring, traditional Maharashtrian nath, Kundan nath, floral pearl-drop nose ring, or a good old vintage nose ring.
Bangles
The style of your choli will influence what you wear on your wrist. Match modestly designed bracelets if your choli has a lot of intricate work on it so that it may be the focus. Alternatively, you can highlight your bridal look with an ornate pair of bangles. Bold antique bangles are also a terrific option to attempt if you chose to wear brocade or silk lehengas. Else, you could also go for silver Kada bangles for your couture lehengas as this has been in the trend lately.
Neck Pieces
A casual necklace embellished with gemstones will finish your bridal look. The best-suited jewellery option for net lehengas is a stone necklace, while a simple gold or kundan necklace goes well with brocade lehengas. However, a sophisticated designer necklace might be a better choice if you want to display your lehenga more fashionably.
Get the Most Out of Your Lehengaa with these points
Many brides want to look divine at their engagement ceremony, therefore choosing the perfect lehenga is their top priority. In simple words, it must be the finest. But still, the aspect that can become a concern is the aftercare of this very costly dress after the function is over. It cannot just be carefully packed and put away. The fragile fabric and the intricate embroidery will be ruined if you do so. Here are some smart methods to help you save up your pretty lehengas after enjoying a wonderful event in them.
Verify if Refinishing is Required
Verify if refinishing is necessary. Don't just tie up your lehenga and leave it in the closet after donning it. If any strands or jewels are missing, thoroughly check the whole lehenga. Ask your seamstress to repair anything that needs to be finished again.
Dry Cleaning
Never attempt cleaning your wedding attire at leisure to save a few dollars. A lot of us have the inclination to think that washing apparel at home is more cost-effective than having it dry-cleaned if there isn't much dust in it. Even if you assume your lehengas look good to go, it's still a better idea to submit them for dry cleaning as is after donning them.
Storage
The majority of women keep hanging their marriage lehengas in their almirah, believing that this is completely acceptable to do. But, the bridal costume is thickly embroidered with stones and cut dana, which might come off if the lehenga was hung on the rods. Keeping the lehenga in a box and securing it in an area that is free of dampness and termites is therefore always the best solution.
The Correct Way to Fold the Lehengas
The crucial method to save your wedding attire is by properly tucking it in such a way that every pleat is in its place, without any wrinkles. You must take precautions to avoid your bridal costume from being ruined by the folds because it is heavily embroidered with so many stones, cut dana, and zardozi embellishments.
Cover it Properly
The following step is to cautiously and properly wrap it once you've folded it precisely. Your bridal lehenga must be wrapped in a fine muslin cloth or soft satin paper before being stored in the box.
Keep it Out to Breathe
While storing and keeping is an effective way to improve the life span of the lehenga it is also important to keep it out of the box under the sun to let it soak in some fresh air once in a while.
Ways to Reuse your Bridal Lehenga
Utilize Various Blouses in Combinations
The lehenga skirt can be worn with a new variant of top, which is one of the easiest ways for women to repurpose their bridal attire. We advise choosing the blouse in the opposing colour, while you are also encouraged to choose one that is identical but with milder embroidery. You may rely on them to make your bridal lehenga take on a distinctive twist thanks to the many blouses!
Create a Kasavu Lehenga Out of it
The silhouette of the bridal lehenga can easily be changed if you get exhausted with it. A saree lehenga occasionally recognized as a Kasavu lehenga, is a good example. All you need to do is instruct your dresser to sew the bridal dress dupatta to the skirt and blouse in a way that makes the silhouette appear entirely different.
Use the Duppata Again
The dupatta can be a game changer if you really want to reuse your pretty wedding lehenga. The dupatta can be made used in many vibrant ways such as combining it with an Anarkali set or a sharara.
Pic Credit: Pexels ( Gursher Gill )
FAQs
What Role Does The Lehenga Play In Weddings?
Wearing a lehenga choli suit could improve your entire appearance and make you picture-perfect during your big day. However, it's important to choose a lehenga style, colour, and pattern that complements your skin tone, body shape, nature, and such. 
What Qualities Should A Lehenga Have?
In addition to the design of your lehenga, choli, dupatta, and accessories are important. Before choosing your dream bridal lehenga, you need to choose a dupatta that perfectly complements the outfit and exudes elegance. The cut of the choli is also crucial since it highlights and emphasises the lehenga and your upper body.
Which Material Is Popular For Lehengas?
Lehengas are often made of georgette, chiffon, crepe, or net, however, the most popular material for lehengas is chiffon. It delivers the outfit with a lovely smooth feel, and those who wish to give themselves a luxurious appearance without spending a lot of money frequently choose it.
How Can I Keep My Lehenga Safe?
According to the experts, the best way to put away your lehenga after use is to fold within a malmal cloth and keep it away from high humidity and temperatures. Alternatively, it can also be covered with a piece of muslin or unbleached cotton fabric.
You might also like