Change
Indian Classical Dance Forms: Origin, History & Glory

262 Views
Published On: 07 Jul 2023 Updated On: 27 Jul 2023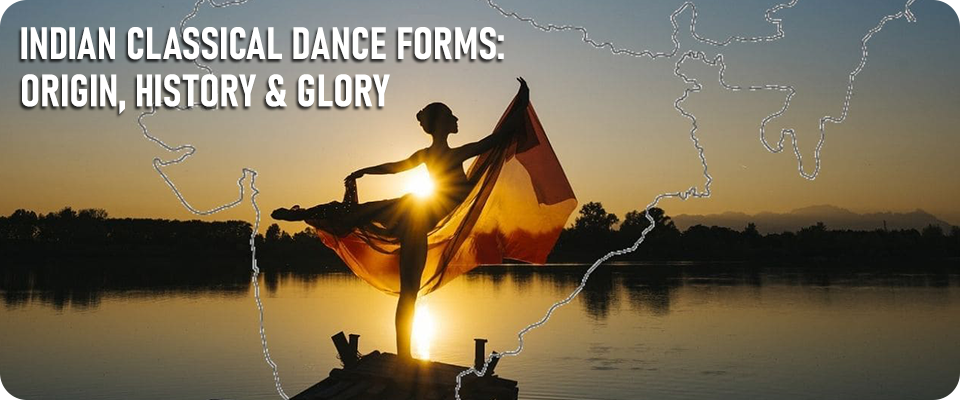 India is a land that is rich and diverse in culture. From cuisine to traditions, from rituals to languages, not to mention, even the dance forms as well. India has many dance forms that emerged from various states across the nation. Indian classical dances are an integral part of the performing arts in India. In this blog, we will get to know about the Indian Classical Dance Forms, their origin, the history behind them, and their glory of it.
The start of almost all these classical dance forms took birth in temples back in the monarchy era. Although evolved from various regions, the base for all these dance forms is the same. These can be extracted from the 'Natya Shastra' written in Sanskrit, dated between 200 BCE and 200 CE. This was started as a joyful & celebratory ritual in Hindu communities to offer devotion to the Lord. Today these classical dance forms are popular all across the world.
What is a Classical Dance Form
Each Indian classical dance is vibrant, colorful, and spiritual. Along with it, it is expressive. Usually, in the ancient, it was used to re-enact the tales of Hindu deities. Over time, artists transformed and developed these dance forms and modernized emerging as unique dance forms.
All major classical dance forms mentioned in the Natya Shastra are divided into 'Nritta', 'Nritya', and 'Natya.' The Nritta is the abstract, rhythmic, fast aspect of the dance. Nritya is the slow or elegant aspect of the performance. Lastly, Natya is the play or the group/team performance where in which they enact a play theatrically.
The main aim of these dance forms is to deliver Rasanubhuti or the 8 Rasas that are mentioned in the Natya Shastra. These include
| | |
| --- | --- |
| Rasas | Meaning |
| Shringar | Love |
| Hasya | Humor |
| Karuna | Sorrow |
| Raudra | Anger |
| Veer | Heroism |
| Bhayanak | Fear |
| Bibhats | Disgust |
| Adbhoot | Wonder |
Unlike folk dances, These are strictly based on technicalities, expressions, and rules. These forms cannot be taken lightly. Natya Shastra along with Abhinaya Darpana and Sangeeth Ratnakar (Nartanadhyaya) is the basic foundation of all norms and rules of the classical dance forms which include rasa, bhava, and their body movements.
As per the Indian Ministry of Culture, there are nine classical dances in total. Let's have a briefing on all these nine forms and learn a few facts regarding them.
| | |
| --- | --- |
| Name of the Dance Form | State |
| Bharatanatyam | TamilNadu |
| Kathak | Uttar Pradesh |
| Manipuri | Manipur |
| Mohiniyattam | Kerala |
| Odissi | Odisha |
| Kathakali | Kerala |
| Kuchipudi | Andhra Pradesh |
| Sattriya | Assam |
| Chhau Dance | West Bengal, Odisha, Jharkhand |
Bharatanatyam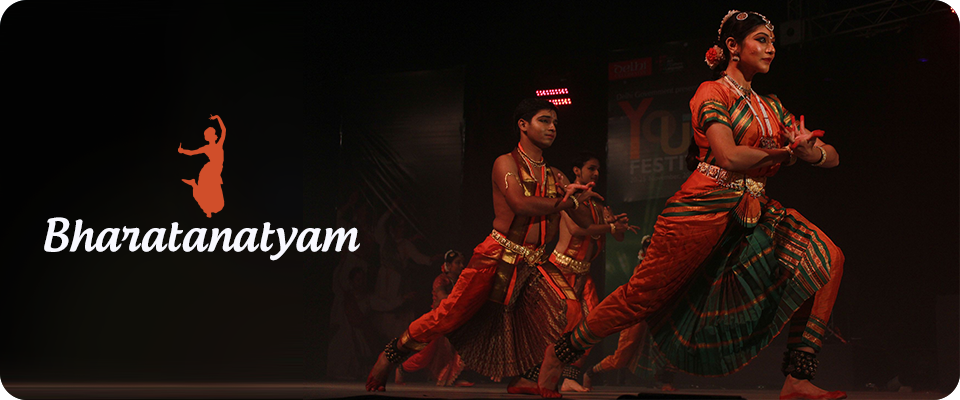 Bharatanatyam is a mixture of Bhav, Rag, Ras, and Taal. It was previously known as Sadir and was mainly performed by Devadasis at the Temples of South India. (Devadasis are the girls who are offered to the Lord) It is also referred to as Dasiattam because of the same reason. This prominently originated in the Southern regions of India, mainly Tamil Nadu and specifically Tanjore. It truly follows the script of the Natya Shastra appropriately.
Brihaddeshwara temple of Tamil Nadu was the main center for Bharatanatyam and even the Gopurams of Chidambaram depict different poses of Bharatanatyam, the chaaris, and the Karanas that are carved as stone sculptures.
Some of the famous dancers and pillars in the field of Bharatanatyam are Rukmini Devi Arundale, Yamini Krishnamurthy, Meenakshi Sundaram Pillai, Saroja Vidyanathan, and Janaki Rangarajan.
Meaning of the word Bharatanatyam
Bha: Refers to Bhava or known as emotions.
Ra: Refers to Rag or known as musical notes.
Ta: Refers to Taal or known as rhythm.
Natyam: Refers to the Sanskrit term which means drama.
Makeup and Costumes Present in Bharatanatyam
Extensive makeup and glowing ornaments.
Bright eye-catching costume.
Hair tied into a bun right before the plaits.
The Repertoire
Shabdam: Tiny compositions made with the usage of words.
Padam: Bhajan, religious prayers.
Varnam: This is a kind of story enaction by including both Nritta & Nritya.
Alarippu: Invocation.
Jatiswaram: The Nritta part of the Bharatanatyam.
Thillana: Tarana of the Hindustani music.
Mangalam: Ending of the performance.
Instruments and Music Used in Bharatanatyam
The music used is always Carnatic and the vocalists are usually referred to as Guru.
The verses used in this type of music are either in Kannada, Tamil, Telegu, or Sanskrit.
The commonly used instruments are Mridangam, Flute, Nadaswaram, Nattuvangam, Violin, and Veena.
Kathak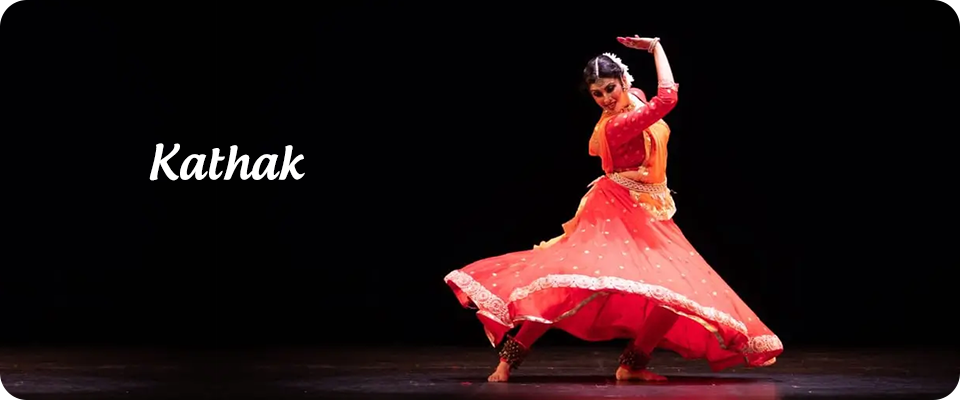 Kathak is a graceful dance form that originated in the North India. Kathak is also known as Natwari Nrutya, this dance form is considered one of the most beautiful and charming classical dance forms in India. The themes usually revolve around stories of Ramayana, Mahabharata, and Lord Krishna. This is generally categorised as a solo dance form but with the perfect synchronization, selection of theme, and track, group performances are attractive and eye-catching.
There are four main gharanas in the Kathak. Those are Jaipur, Lucknow, Raigrah, and Benaras. Kathak is especially famous worldwide for its fantastic footwork and amazing spins. The ghungroos are a center of attraction as they produce a variety of sounds like the sound of heavy rain, horse riding, and trains.
The pioneers of this elegant dance form are Nawab Wajidali Shah, Raja Chakradhar, Achhan Maharaj, Pandit Birju Maharaj, Sitara Devi, Rohini Bhate, Maya Rao, Mandvi Singh, and many more.
Meaning of the word Kathak
Kathak emerges from the Vedic Sanskrit word Katha which means 'a story.' Kathak means 'the one who tells the story.'
Makeup and Costumes Present in Kathak
Light but sharp makeup highlights the expressions of the dancer.
Chudidhar frock with a dupatta, ghagra-choli, and sari are the costumes for women. As for men, they can wear a churidar kurta with a dupatta tied to the waist.
Ornaments are commonly made of yellow pearls or white pearls.
The Sequence
Vandana
Uthaan
That
Aamad
Salaami
Toda Tukdas
Tihai
Paran
Gatnikas
Gatbhav
Ladi-Thatkar
Bhajan, Thumri, Tarana, Ashtapadi, Kajri, Chaiti, or Chaturanga as the ending
Instruments and Music Used in Kathak
The music preferred is Hindustani music. The verses or lyrics may be written in any regional language.
The musical instruments used are Pakhawaj, Tabla, Sarangi, Harmonium, Flute, Sitar, Sarod, and more.
Manipuri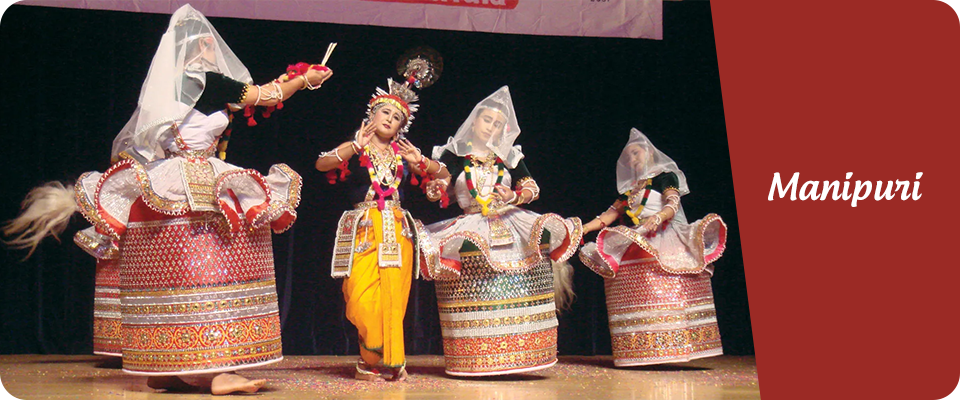 As the name indicates, the Manipuri dance form originated from the Indian state Manipur. Manipuri is also referred to as 'Jogai.' It was born as a traditional dance/drama form to depict devotional songs and the divine love story between Krishna and Radha through Raslila. This dance form is a blend of Indian & South-East Asian cultures. This form falls under the category of Tandav or Lasya.
Manipuri is a soft & graceful dance form that involves upper body movements with a curvy body structure. The most eye-catching thing about Manipuri is that dancers don't wear ghungroos while dancing. The themes used in Manipuri are mainly related to Vaishnavism.
Some of the famous personalities who uplift and took this form to another level are Nirmala Mehta, Guru Bipin Sinha, Savita Mehta, Yumlembam Gambhini Devi, and a lot more.
Meaning of the word Manipuri
Manipuri is derived from the two terms 'Mani' which implies jewels and 'puri' which means abundant. Combining both Manipuri translates to an abundance of jewels as the dancers wear lots of shining ornaments while performing.
Makeup and Costumes Present in Manipuri
Female dancers wear long barrel-shaped stiff skirts paired with a velvet blouse and a traditional veil that covers the hair and falls over the face.
Male dancers adorn themselves with a dhoti kurta and turban paired with a folded shawl on the left shoulder and a drum strap on the right.
The Different Styles in Manipuri
Raas
Natya Sankirtan
Pung Cholam
Dhola Cholam
Kartal Cholam
Thang Ta
Instruments and Music Used in Manipuri
The verses or the music accompanied while performing are mainly poetry written by Jayadev, Vidyapti, Chandidas, Govindadas, and Gynadas which are commonly in Maithili, Sanskrit, Brij, or any other regional language.
Pung and Small Kartals are the instruments used in Manipuri.
Other instruments include Sembong, Harmonium, Pena, Flute, Shankh, and Esraj.
Mohiniyattam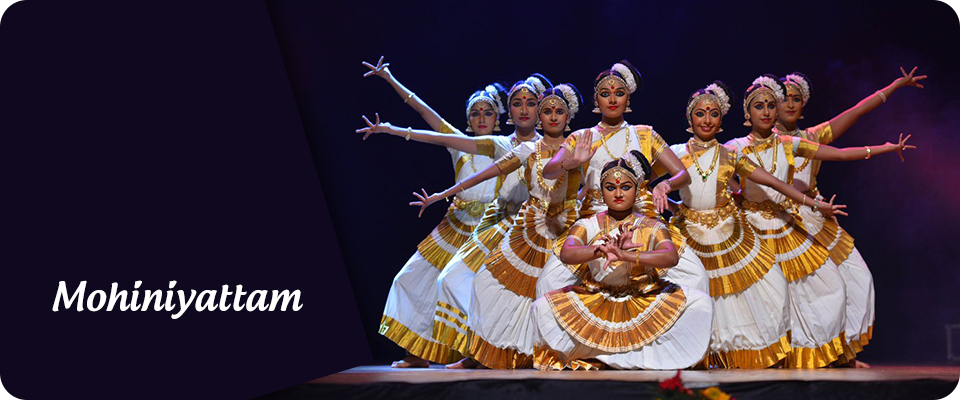 This amazing graceful dance form is from Kerala that falls under the Lasya category of dance. The term Mohini is taken from one of the avatars of Lord Vishnu, which is a charming woman, to put an end to all evil powers. Mohiniyattam translates to beautiful dancing women. It has a wide description and elaboration of the mudras.
This dance form is usually performed by women as it is considered to be feminine. This is mostly a solo performance by girls or women in a circular motion, delicate footwork, and subtle expressions. This dance form is more lyrical and delicate compared to Bharatanatyam and Kathakali.
Mukundraj, Krishna Panicker, Thankamony, Dancer Kalamandalam Kalyanikutty Amma, Sunanda Nair, and Pallavi Krishnan contributed enormously to this dance form to bring it to the top.
Meaning of the word Mohiniyattam
'Mohini' is the charming woman avatar of Lord Vishnu to end the evil forces. Here the female dancers are entitled as enchantresses who mesmerize the audience with their performance.
'Attam' is dance or the footsteps that causes oscillations on the stage.
Makeup and Costumes Present in Mohiniyattam
The costumes are commonly white or off-white.
The dancers have to tie their hair into a bun on one side which is called 'Kudama.'
The costumes are paired with adorning ornaments which acts as a highlight.
The Sequence in Mohiniyattam
Invocation.
Jatiswaram.
Varnam.
Shlokam.
Shabdam.
Padam.
Tillana.
Instruments and Music Used in Mohiniyattam
The verses are in Manipravala, a medieval language that is a mix of Tamil, Malayalam, and Sanskrit.
The music accompanied is Carnatic music.
Mridangam, Flute, Nadaswaram, Nattuvangam, Violin, and Veena are the instruments used.
Odissi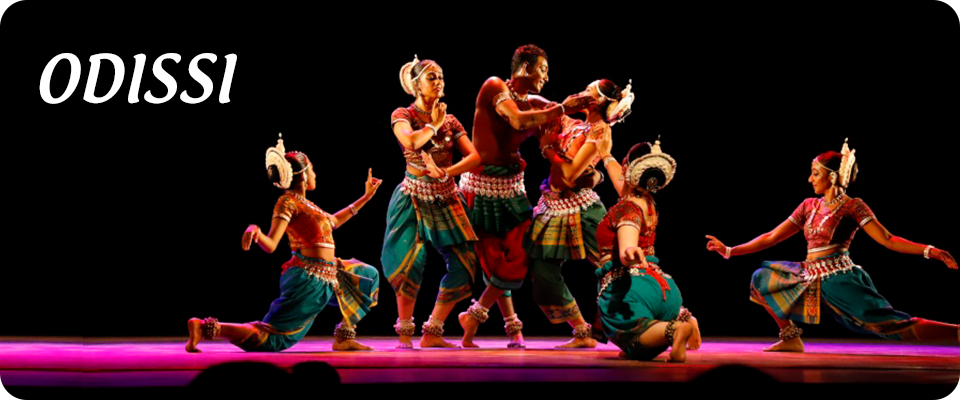 This dance form originated in the serene grounds of Shri Jagannath Temple, Odisha. It is a combination of both Lasya and Tandav. The themes are usually revolving around the lores of incarnations of Lord Vishnu and verses of Gita Govinda by Jayadeva.
Odissi is a soft, graceful dance and is similar to Bharatanatyam in terms of mudras & expressions. It is often backed up by soft lyrical composition. The dance form appears like waves of the ocean.
Some of the prominent artists who contributed greatly to Odissi are Kelucharan Mahapatra, Gangadhar Pradhan, Sonal Mansingh, Sujata Mohapatra, etc.
Meaning of the word Odissi
In ancient records, Odissi is referred to as Odhra Magadha. It is derived from the Indin state Odisha or which is also known as Orissa.
Makeup and Costumes Present in Odissi
The costumes are traditionally from the material of Odisha.
A crown is worn by the female dancers which is specially made in Jagannath Puri.
White flowers are adorned around the bun.
Just like other dance forms, jewelry is worn but only made of silver.
The Sequence in Odissi
Mangalacharan or the starting sequence to worship Lord Jagannath and other Gods & Goddesses.
Pushpanjali or the offering of flowers.
Batu Nrutya or the fast-paced dance.
Finally the dance drama sequence in the ending.
Instruments and Music Used in Odissi
Both Carnatic and Hindustani music is used for this dance form.
The verses are in Sanskrit or the Odia language. Ashtpadhi's Ardhnari and Dashavatar are the common ones.
Pakhavaj, Tabla, Swarnmandal, Harmonium, Sitar, Flute, Violin, and Cymbals.
Kathakali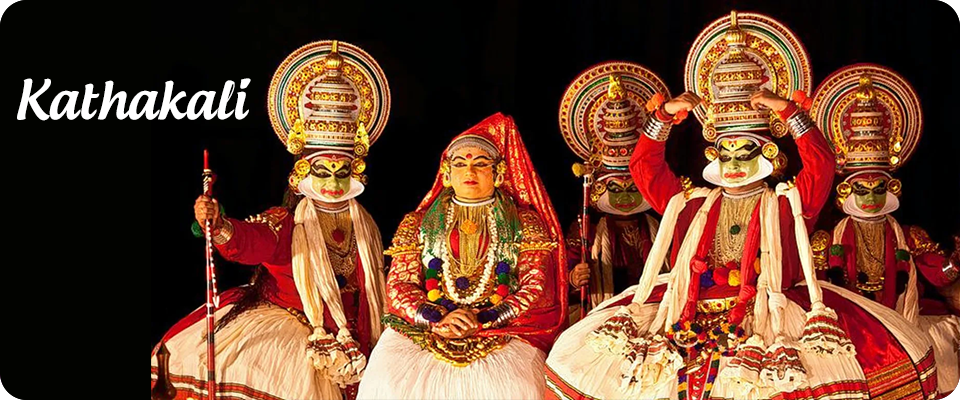 This is another dance form of Kerala. This is a powerful yet dazzling dance form. Its roots are from ancient 'Kutiyattam' which translates to 'classical drama' in Sanskrit. The vigorous dance movements are taken from ancient martial arts and athletic traditions.
Kathakali is a blend of dance, music, and acting as it dramatizes stories from Indian epics. Hand gestures, eye movements, and expressions are considered to be the most important elements in Kathakali. Unlike other dance forms that originated in the temples, this dance form originated in the courts and theatres of Hindu principalities.
It has similarities with other dance forms like 'Noh' and 'Kabuki' which are the dance forms of Japan. Some noticeable artists in this field are Kalamandalam Krishna Prasad, Kalamandalam Kesavan Namboodiri, Kalamandalam Gopi, Ramankutty Nair, etc.
Meaning of the word Kathakali
Katha: Refers to a story or a tale.
Kali: Refers to performance or art.
Makeup and Costumes Present in Kathakali
Heavy makeup and intense costumes.
According to the role, the artist's face is colored. For example, Green is for noble characters, red is for evil characters, and black is for hunters & monsters.
Yellow color for women.
The Themes in Kathakali
Mythological Themes like Ramayana, Mahabharata, etc.
Modern-day stories and Shakespeare plays.
Instruments and Music Used in Kathakali
The instruments used are Maddalam, Chenda, and Idakka.
The music used in Kathakali is Carnatic ragas.
Kuchipudi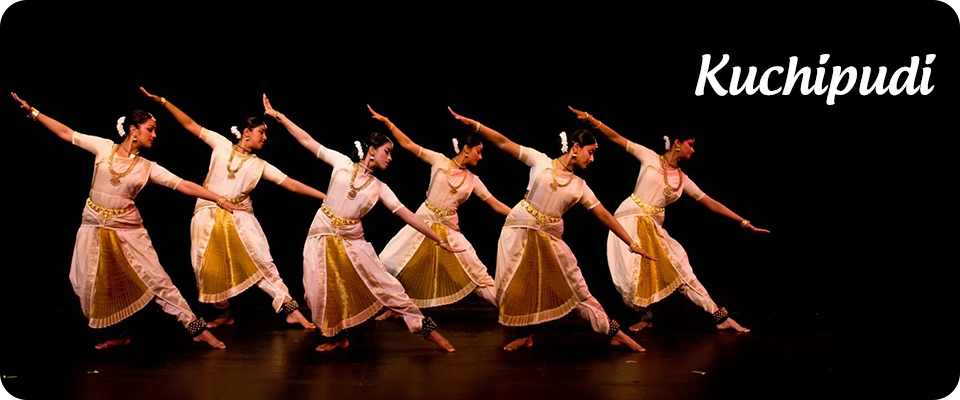 Kuchipudi originated in the Krishna district of Andhra Pradesh. Kuchipudi is a long-form od dance drama that started around the 3rd century. This was modernized by Tirtha Narayana Yati and Siddhendra Yogi. This dance form was developed to offer devotion to Lord Krishna.
Kuchipudi themes are related to Vaishnavism, Lord Krishna, Rukmini, Satyabhama, and many other myths. Kuchipudi has round poses compared to the sculpted poses of Bharatanatyam.
Some prominent personalities who contributed to Kuchpudi are Raja-Radha Reddy, Yamini Reddy, Vaijayanti Kashi, Uma Rama Rao, etc.
Meaning of the word Kuchipudi
Kuchipudi is derived from the village Kuchelapuram of the Andhra Pradesh state.
Makeup and Costumes Present in Kuchipudi
The makeup is similar to that of Bharatanatyam.
Female dancers wear Sari or stitched costumes.
Male dancers wear Angavstra which means Bagalbandi and dhoti.
The Sequence in Kuchipudi
The repertoire is similar to that of Bharatanatyam.
The specialty of this dance form is the 'Tangaram' where dancers perform on brass plates.
Dancers even place pots on their heads and perform which makes this dance form stand out from the rest.
Instruments and Music Used in Kuchipudi
The music used is Carnatic and the verses are in the Telegu language.
The commonly used instruments are Mridangam, flute, cymbals, veena, and tambura.
Sattriya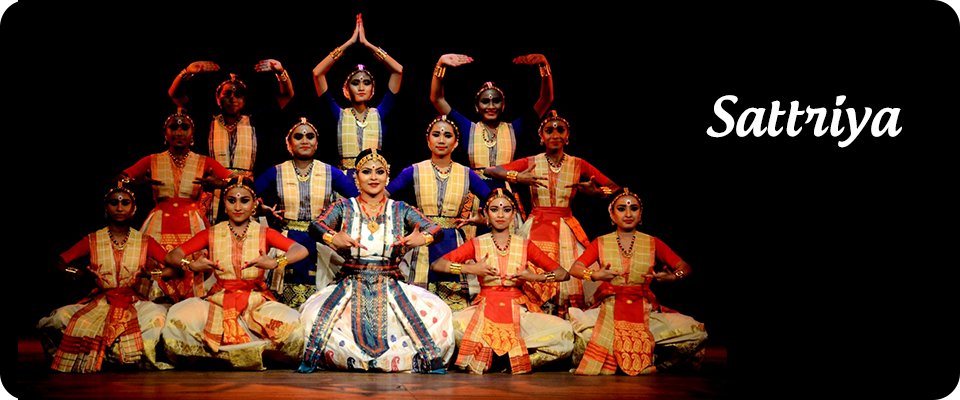 Originating in Assam, Sattriya is a traditional dance-drama that was officially recognized as a classical performance in the year 2000. It is a part of the Vaishnav Bhakti movement in Hindu monasteries called 'Sattra.' Sattras are the dance community halls of the monasteries. These days, it is quite popular worldwide.
Previously, it was only performed by Bhokots or Monks as a part of the ritual before the start of Bhagavat Purana. Today is the major part of the Indian Dance Culture that is performed on various occasions both inside the nation and worldwide. Some of the renowned artists in the Sattriya dance form are Guru Indira Bora, Jatin Goswami, Anita Sarma, and many more.
Meaning of the word Sattriya
The word is essentially derived from the term Sattra which is a holy place in Hindu Monasteries.
Makeup and Costumes Present in Sattriya
For the male dancers, it is the dhoti, chadar, and paguri which is the turban.
For the female dancers, it is ghuri, chadar, and kanchi which is a waist cloth.
The usage of masks in this dance form refers to monsters or evil powers.
Ornmanets worn are traditional Assamese ornaments.
The Themes in Sattriya
Most of the themes revolve around Radha-Krihna and other myths.
The dramas enacted are mostly written by Sankardev.
There is a masculine style(Energetic and with jumps) as well as a feminine style(Lasya and delicate) in the Sattriya form.
Instruments and Music Used in Sattriya
The compositions used are mainly Borgeet of Sanakrdev and Madhavdev.
Kohl (two-faced symmetrical drum), cymbals, Manjira Bhortal, flute, violin, and harmonium are the most commonly used instruments while performing the Sattriya dance form.
Chhau Dance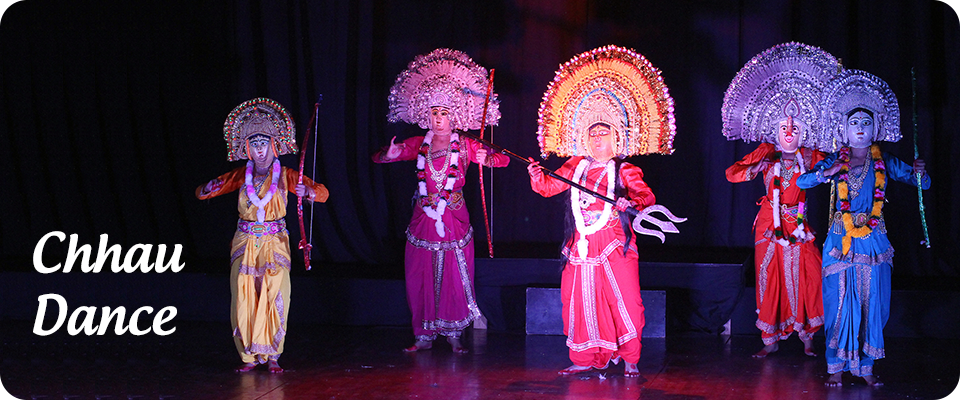 The Chhau dance form is a blend of martial, tribal, and folk arts. Chhau is derived from the Sanskrit word Chaaya which means shadow, image, or mask. This is conventionally & traditionally performed by male dancers or male dance troupes.
This dance form originated from three different regions and each type has its unique style, dress, and presentation. Those are Seraikella Chhau, Mayurbhanj Chhau, and Purulia Chhau. Seraikella Chhau uses a mask that symbolizes mythological characters, humans, animals, birds, and seasons. Mayurbhanj Chhau doesn't use any kind of mask to symbolize anything. Purulia Chhau uses masks that symbolise Hindu mythological characters and huge headgear is used.
This was listed in UNESCO's Representative List of the Intangible Cultural Heritage of Humanity. The National government deployed a main centre for the Chhau dance form in Odisha.
Makeup and Costumes Present in Chhau
Bright costumes and heavy ornamental costumes.
Huge headgears.
The makeup depends on the character representation.
The Themes in Chhau
Themes related to Vaishnavism.
Shaivism and Shaktism.
Instruments and Music Used in Chhau
Folk melodies are the music used in Chhau.
Mohuri, Shehnai, Dhol, Dhumsa, Kharka, and Chadchadi are the instruments used.
Efforts of the Indian Government to Revive Indian Classical Dance
Establishment of Sangeet Natak Akademi and its bodies all across the nation which helped in the boosting & development of these classical dance forms.
Implementation of grand dance festivals like Khajuraho, Konark, Dhauli Kalinga, Kalidas, Mukteshwar, Soorya, Ellora, Nishagandhi, etc.
The establishment of music & dance universities such as Indira Kala Sangeet Vishwavidyalya, Khairagarh, Raja Mansingh Tomar University, Gwalior, etc. helped in the growth and promotion of these dance forms.
Verdict
These classical & folk dance forms of India are much more than just body movements. This is considered to be a very disciplined way to devote yourself to the deity through the form of art. Inscriptions, excavations, sculptures, and literary sources pave the way to extensive proof regarding dance forms in India. Dance is not about only movements of the body or gestures. Elegance, expression, and conveying something through the art of dancing a talents indeed. Nowadays classes for classical dances are even broadcasted through online platforms like Zoom or Skype.
FAQs
How many classical dance forms are in there India?
There are nine classical dance forms in India as per the Indian Ministry of Culture.
Which book is referred to for Indian classical dance forms?
Natya Shastra by Bharata Muni is the book referred to for Indian classical dance form.
Who is the God of Bharatanatyam?
Lord Shiva is the God of Bharatanatyam.
Which is the most famous classical dance?
Bharatanatyam is the most famous classical dance.
Which is the most difficult of all classical dance forms?
Kuchipudi is the most difficult of all classical dance forms.
You might also like
Wellness
23-Feb-2023
The Best Sunscreens for Excellent Sun Protection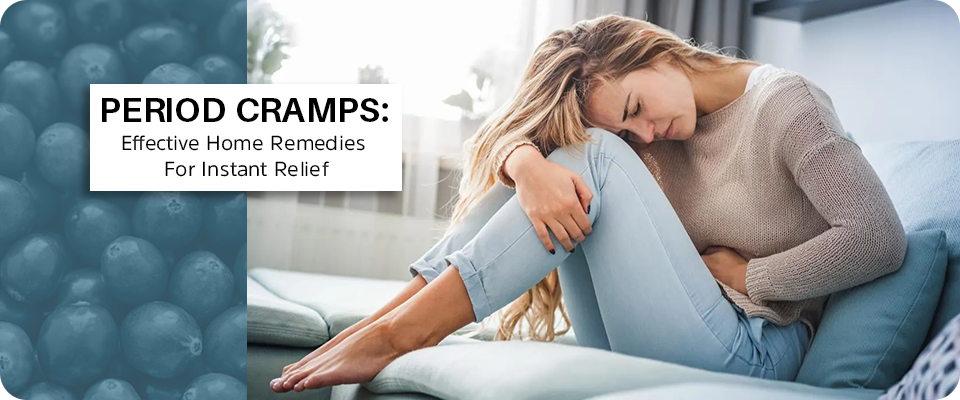 Wellness
04-Sep-2023
Period Cramps: Effective Home Remedies For Instant Relief

Wellness
23-Aug-2023
Use These Simple Tricks to Get Rid of Strawberry Legs