SwearBy
Best Cooking Oil Brands in India

158 Views
Published On: 21 Feb 2023 Updated On: 25 Aug 2023

What kind of cooking oil is the healthiest to use? Very likely, this question at some point has crossed your mind. When choosing the best oil for regular cooking, there are so many options that you can find on grocery store shelves. The truth is that not all cooking oils are manufactured in a similar fashion, and knowing the fundamentals will give you an advantage when choosing an ideal cooking oil brand. The oil you select can be used in a variety of ways to improve your cooking and meals depending on its unique qualities, nutrients, and taste.
To help you choose the best cooking oil available in the Indian market, KaroBargain has brought before you a specially curated list of top cooking oil brands and their products.
The Best Cooking Oil Brands on our list are:
Saffola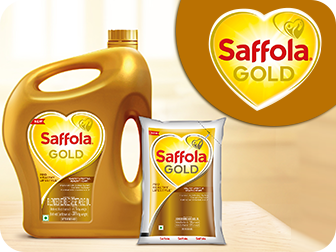 Saffola Gold Refined Cooking Oil is for all those who require the ideal blend of taste and health in their lives. This oil is a balanced mixture of 30% sunflower oil and 70% rice bran oil. Owing to its nutritional qualities, the oil is excellent for your heart health. It has no distinguishing flavour or smell. As a result, it combines with every form of cooking and preparation. It is suited for high-temperature cooking due to its high smoke point. The oil contains oryzanol, which raises your levels of good cholesterol while lowering your levels of bad cholesterol.
We liked:
Low absorption technology
The oil has a good balance of nutrients
We didn't like:
Saffola Gold Refined Cooking Oil is a bit expensive.
Fortune
We all are well aware of the benefits of using mustard oil in our food preparations. Fortune Premium Kachi Ghani Pure Mustard Oil figuratively gives a spicy sizzle to your dishes. The oil is made from the highest-quality mustard beans, is 100% pure, and has a long shelf life. KaroBargain highly recommends this product as it doesn't contain any additional preservatives, making it extremely dependable and healthy.
Omega 3 and Omega 6 fatty acids, which are healthy for the skin, the heart, and the immune system, are abundant in Fortune Mustard Oil. In addition, the oil is a good source of beta carotene, vitamins A, D, and E. It enhances eyesight, cognitive function, and inflammation control.
We liked:
This product has a high shelf life.
This is pure mustard oil with no added preservatives.
We didn't like:
This mustard oil can't be used for high-temperature cooking.
Oleev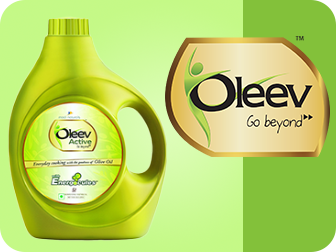 The Olive Pomace Oil of Oleev is the ideal option if you're searching for a healthy cooking oil with a neutral flavour. It is beneficial for your heart health. As this oil is high in MUFA and essential nutrients, it lessens the effects of bad cholesterol. The oil also contains vitamin E, which promotes quicker recovery and protects your body against various illnesses. As the oil contains high levels of vitamin K, it helps in strengthening your bones. Owing to its high smoke point, the oil is perfect for grilling, sautéing, and all other forms of cooking.
We liked:
This oil has a neutral flavour and is ideal for all sorts of cooking.
We didn't like:
The Olive Pomace Oil of Oleev is not recommended for everyday use.
Nature Fresh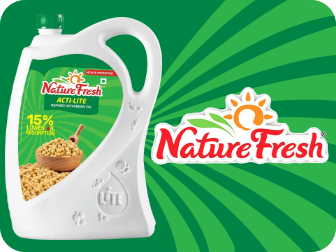 Since 2012, when Cargill India first introduced Nature Fresh, there has been no looking back. The business focuses on creating foods that are both delicious and healthful. This brand provides high-nutrient atta and superior-quality oils.
Nature Fresh Refined Soyabean Oil is an amazing solution for everyday cooking. It has a somewhat light consistency and doesn't feel unduly oily. Cooked food absorbs 15% less oil as a result. This oil is high in nutrients such as omega-3 fatty acids and vitamins A, D, and E.
We liked:
Nature Fresh Refined Soyabean Oil is high in essential nutrients.
We didn't like:
Nature Fresh Refined Soyabean Oil doesn't have great packaging.
Sundrop

Sundrop has been in business since 1989 and is one of the world's top suppliers of Indian cooking oil. Sundrop's refined oil is available in nutritious variations including Sundrop Lite, Sundrop Heart, and Sundrop Nutrilite and is supplemented with vitamins, oryzanol, and vital fatty acids. One of the best-selling products of this brand is Sundrop SuperLite Advanced Refined Sunflower Oil, which is a perfect addition to your kitchen. This oil is ideal for frying and roasting vegetables.
Sundrop offers you a variety of nutrient-dense oils, including refined corn oil, refined sunflower oil, and groundnut oil. Sundrop cooking oils have a reputation for being a good source of vitamins A, D, and E oryzanol, and essential fatty acids.
We liked:
Sundrop cooking oils have a low absorption technology.
Sundrop cooking oils are rich in nutrients.
Dhara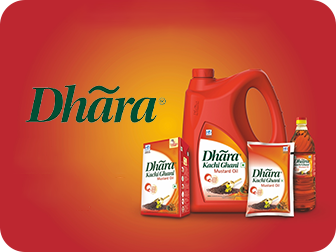 Dhara, one of the best-selling edible oil brands in India, is well-known for its premium quality products. All Dhara cooking oils have a low-absorption technology that makes it possible for food to absorb less oil as compared to normal cooking oils. The brand presents before you a wide range of products such as mustard, soybean, and groundnut oils.
If you ask your mum about the best mustard oil available in the market, she is most likely to talk about the Dhara Kachi Ghani Oil. Since this oil is pure and unfiltered, its inherent characteristics are preserved. The special low absorption technology in this oil makes it non-greasy. The oil contains high levels of vitamins A and D2, which assist in strengthening your bones and immune system.
Monounsaturated fatty acids, which are abundant in the oil, aid in maintaining good heart health. The oil also contains significant amounts of Omega 3 fatty acids, which your body cannot naturally produce.
We liked:
The Dhara Kachi Ghani Oil is a pure and unrefined mustard oil.
We didn't like:
This oil has a peculiar smell that everybody may not like.
KLF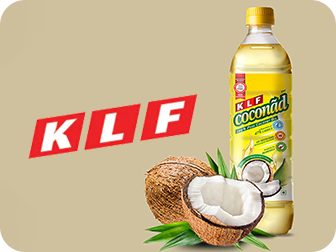 KLF Nirmal has been grinding coconut oil for 80 years and has a stellar reputation. KLF Pure Coconut Cooking oil is made only from coconuts grown in Kerala. This oil bears the authentic flavour of premium quality coconuts as it doesn't go through the process of refining or deodorising. Made from roasted coconuts, the oil has a distinct aroma and colour
The company employs a triple filtration technique for purification and filtration. Most importantly, there is no bleaching or chemical addition. The oil is famous throughout the world and is produced in their own facilities. Owing to its authenticity and distinctiveness, it is exported to about 18 different nations.
We liked:
This oil is free from preservatives and additives.
We didn't like:
This cooking oil is not ideal for everyday use.
Vedaka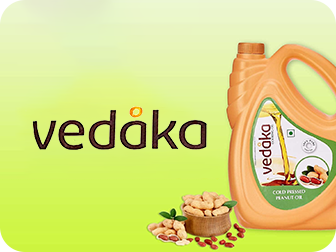 Vedaka is a comparatively new brand that offers lentils, pulses and cooking oils. Owned by Amazon India, this brand offers you healthy cooking oil options. The Vedaka Cold Pressed Sesame Oil is the perfect product if you are hunting for healthy cooking oil options. This oil comes with the goodness of monounsaturated fatty acids and helps to keep your cholesterol levels in check. This product is excellent for stir-frying and all sorts of cooking as it has a high smoke point.
We liked:
This cooking is quite affordable for Indian households.
We didn't like:
The Omega-6 fatty acids present in this oil can cause inflammation in your body.
Figaro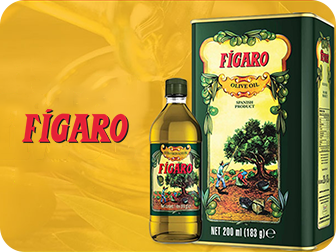 Figaro is a well-known brand that produces exceptional olive oil. The Figaro Extra Virgin Olive Oil has a distinctive flavour and enhances your dishes in every way in terms of texture, and taste. A few drops for garnishing with this oil can completely alter the flavour and aroma of your dishes.
Because it is absolutely unprocessed, the oil retains all of its nutritional qualities. The oil is packed with the goodness of antioxidants that lowers inflammation and removes harmful toxins from our bodiesOlive oil is heart-friendly since it is high in MUFA and PUFA and free of saturated fats. The oil is also a good source of vitamin E, which promotes healthy skin. For those who are on a ketogenic diet and trying to lose a few kilos, this is an ideal product for you.
We liked:
This cooking oil comes with multiple health benefits.
We didn't like:
This cooking oil is not ideal for everyday use.
The Best Cooking Oils Types:
Before knowing how to choose the ideal cooking oil, you must be aware of the various kinds of oils available in the Indian market. To help you in this regard, we have listed below the different kinds of cooking oils that you can use to fit your individual taste preferences.
Mustard Oil:
The taste and smell of mustard oil are quite unique. This oil is great for non-vegetarian cooking. Being rich in quality, it is regarded as one of the healthiest cooking oils. Mustard oil helps in preventing colds and coughs and helps with digestion.
Sunflower Oil:
Sunflower oil has a flavour that is quite neutral. It also doesn't taste or smell odd. As a result, it can be used for a variety of purposes, including frying and baking.
Rice Bran Oil:
These oils are taken out of the rice chaffs, a brown covering that surrounds each rice grain. Similar to peanut oil, rice bran oil has a very subtle nutty flavour. Since the flavour is not overbearing, it may be used in practically any dish. Due to its high smoke points, it can also be utilised for high-temperature cooking.
Groundnut Oil:
This is a kind of vegetable oil, which is extracted from peanuts. It tastes quite bland. Yet, it imparts a distinctive nutty flavour and scents. Vitamin E, which is great for the skin, is abundant in groundnut oil.
Olive Oil:
It is lightweight and comes with a subtle flavouring of vegetables and raw nuts. There may be a hot or pungent aftertaste. Olive oil, however, is ideal for maintaining your heart health. Because of its low smoking point, it must be utilised at low cooking temperatures.
Coconut oil:
This oil has an incredibly high heating temperature and a thicker and slightly oily texture. If you want to cook with high heat or repurpose the oil, you can choose coconut oil. The oil makes you feel fuller for extended periods of time because it is thick. Cognitive enhancement is another benefit of using coconut oil.
The Best Cooking Oil Buying Guide:
When we prepare food for our friends and family, we want to provide them with the best flavours and nutrition possible. While cooking oil is a daily necessity, choosing the ideal one for your needs can be challenging at times. To make things easier for you, KaroBargain has listed below a couple of factors that you should consider while choosing your cooking oil.
It is important to be sure that the cooking oil you choose does not oxidise quickly.
Your cooking oil must maintain its colour over time.
Saturation is another important element. Saturated and unsaturated fats can be found in cooking oils. To ensure the health of your family, you must find a healthy cooking oil
Cooking oil needs to be properly stored in airtight containers out of the sun.
Different sorts of cooking oils are used for different purposes. So, before you choose cooking oil, be sure of how you are going to use it.
For deep-frying use an oil with a high smoking point.
Use a neutral-flavoured oil for baking purposes.
Sunflower and canola oils are excellent for sautéing.
For salads, you can use virgin coconut oil and olive oil, which have a natural scent
Pic Credits: Pexels ( RODNAE Productions )
FAQs
Which cooking oil is the best in India?
For cooking Indian cuisines, always try using traditional, unrefined oils, which include coconut oil, sesame oil, groundnut oil, and mustard oil. It is problematic to choose a single oil for cooking. Your choice of cooking oil depends on the way you cook and how much heat you put the oil through.
Can I use my cooking oil multiple times?
Cooking oil can be reused without risk. It merely has to be properly cleaned and stored. You must allow the frying oil to cool down after using it for cooking. You need to filter off any remains from the prior frying once the oil has reached a safe temperature. Pour this oil into a fresh container using a fine-mesh sieve.
What types of cooking oils are good for the heart?
Mustard oil, safflower oil, peanut oil, rice bran oil, and soyabean oil are some of the cooking oils good for human heart health.
What kind of cooking oils can manage your cholesterol?
Sesame oil, peanut oil, avocado oil, chia seed oil, and olive oil are some of the oils that regulate the cholesterol level in your body.
Is edible cold-pressed cooking oil good for health?
Yes, edible cold-pressed cooking oil is best for health as these oils are extracted without any heat application. Thus, making these oils nutritious and healthier than other cooking oils.
Is there any oil to keep a check of, or control your blood pressure?
Canola oil which is derived from rapeseed is the best-suited cooking oil to maintain your blood pressure as it contains only monosaturated fat which is good for heart health.
You might also like