Wipro Appoints Aparna Iyer as Next CFO 

117 Views
Published On: 26 Sep 2023 Updated On: 04 Oct 2023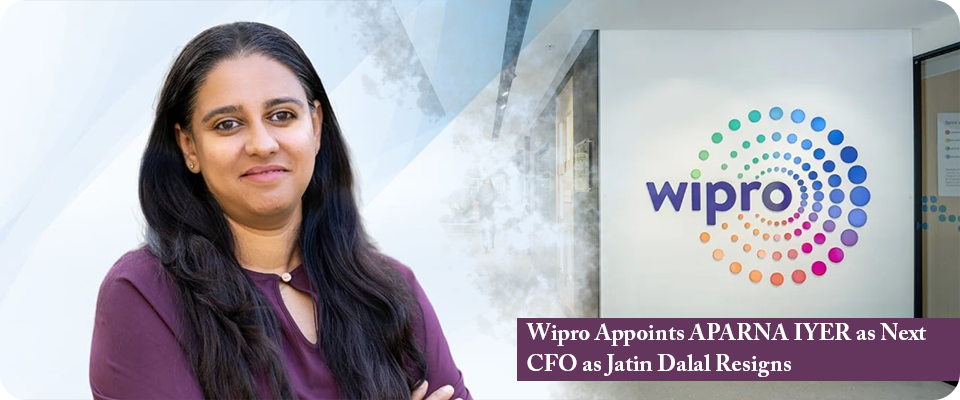 Wipro, an IT services giant of India on the 21st of September, 2023, said that the previous CFO, Jatin Dalal resigned from the company after his 21-year term with the company. The fourth largest It firm in India, Wipro has appointed one of its company veterans, Aparna C Iyer as the new CFO (Chief Financial Officer) who will begin their duties effective from September 22. The resignation of Jatin Dalal is considered to be one of the top exits from the IT firms in India over the past 12 months. He is said to leave the company at the end of November.
In an announcement on a stock exchange, Wipro revealed that Aparna's duties as CFO will be effective from September 22, 2023. She will report to the chief executive officer or the CEO Thierry Delaporte and later on join the executive board of Wipro.
Aparna Iyer joined Wipro as a CA or Chartered Accountant in the year 2003 and before becoming the CFO of Wipro was the Senior Vice President of Finance and Chief Officer regarding Finance of Wipro's Fullstride Cloud unit.
Jatin Dalal, who submitted his resignation letter on Thursday, September 21, 2023, stated that he has been looking to strive for his professional goals outside the organization since 2015, according to Wipro's statement.
According to Wipro's CEO, Delaporte, Aparna Iyer is an accomplished and goal-driven leader. He remarked on her skills by saying that in the course of her 20-year career in Aparna, she had always been an active, quick-thinking strategic partner to Wipro's business leaders. Delaporte had even made a note of Iyer being an integral part of Wipro's financial transformation over the course of 5 years. She had been playing a significant role in matters of financial planning and strategic thinking, investment programs, and transformation commencements.
"Her commitment to creating lasting value, expertise across the full spectrum of finance operations, and her experience in working with a range of stakeholders will be instrumental in achieving our financial objectives," exclaimed Thierry Delaporte.
After joining Wipro in the year 2003, Aparna took upon several financial roles ranging from Business Finance, Internal Audit, Corporate Treasury and Investor Relations, Finance Planning and Analysis, not to mention Senior Vice-President and the CFO position at Wipro's Fullstride Cloud unit.
Wipro, on her appointment, said that Aparna possesses deep understanding and knowledge regarding financial risk management, allocation of capital amount, raising of funds, driving business strategy, and growth in the financial sector.
Aparna is a 2002 batch Chartered Accountant and is a gold medal holder of her batch. She said that she is thrilled to be a part of this important juncture as a CFO at Wipro. She is looking forward to working with CEO Delaporte, the finance team of Wipro, and Wipro as a whole to work on the company's advancement and success, propel sustainable growth along with creating value for the stakeholders of the company.
You might also like