Kareena Kapoor as Maya D'Souza: A Brave Single Mom in Jaane Jaan 

116 Views
Published On: 12 Sep 2023 Updated On: 12 Sep 2023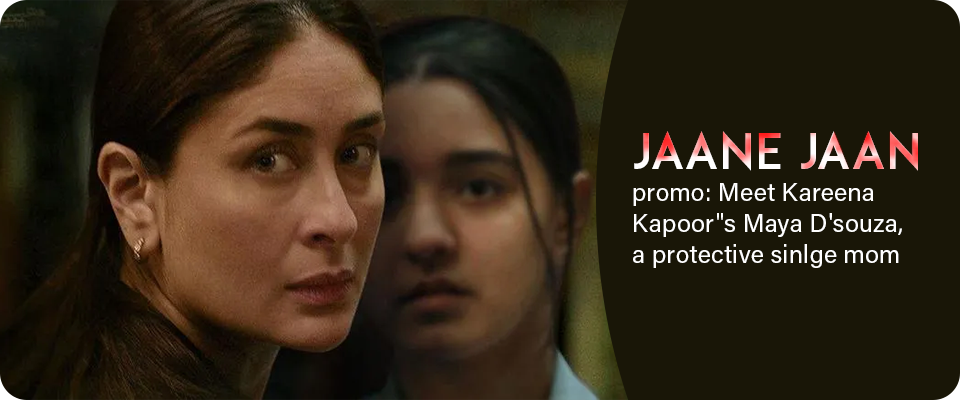 Jaane Jaan (the beloved) movie is going to stream on Netflix from 21st September 2023 directed by Sujoy Ghosh, an Indian Hindi Suspense Thriller movie adaptation of the Japanese novel "The Devotion Of Suspect X " by Keigo Higashino (2005). In that, the female protagonist who was rescued by her neighbour from her abusive husband, was murdered using self-defence and covered up the crime from the police who started investigating her.
In this movie, the famous Bollywood actress with 20 years of experience, Kareena Kapoor played the role of Maya D'Souza, a brave single woman who may or may not commit murder and tries to protect her daughter from every angle. She tries to hide things around the neighbour. This created a huge excitement and curiosity among her fans in Bollywood. She also shared that her character will create a huge impact and this is a very different role when compared to her previous films and she was super excited to work with Vijay and Jaideep in this movie.
The movie contains many important cast like Jaideep Ahlawat as Naren Vyas, Vijay Varma as Karan Anand, Naisha Khanna as Tara D'Souza, Uditi Singh as Soniya, Shyam Gopal as a senior judge, Karma Takapa as Sundar, Saurabh Sachdev and Lin Laishram. This story takes place in the hill station of Kalimpong. The promo is getting positive reviews about Kareena Kapoor's brave character and Jaideep Ahlawat's stunning look.
Sujoy Ghosh was well known for his hit thriller "Kahaani" and his segment of Anthology in "Lust Stories". On his Twitter, posted that it was a great honour for him to work with Kareena Kapoor and about her dedication level with the #jaanejaan.
The police role is played by Vijay Varma after the antagonist roles are played in " Darlings", " Dahaad" and "Lust Stories 2". He said at the trailer launch of "Jaane Jaan" in Mumbai, that he was a couch potato with a little good physique searching for this kind of cop character. Then his character demands certain qualities and this took four months to learn. He also registered that his fans are going to watch a different acting level in this film. There he mentioned his old friend Jaideep in FTII. And he also recalls the memories that they had before.
The Gangubhai's Alia Bhat on her Instagram shared her emotions after watching the trailer of "Jaane Jaan", that she was super excited by the character of Kareena Kapoor in the movie and she wondered about the cast. More than a friend, Alia and Kareena are family. Like Alia, Karan Johar, the Indian Filmmaker also revealed his excitement towards the film and the cast they have chosen.
The stunning and the hottest actor Hrithik Roshan on his Twitter praised Sujoy for the amazing trailer with fire emojis. Later Karishma Kapoor, Bhumi Pednekar, Masaba Gupta, Rhea Kapoor, and Saba Pataudi added their heart and fire emojis by showing their awful emotion for the trailer. It was going to be a very good movie with powerful acts by the leads.
You might also like