Change
Meet Roshni Nadar: The Billionaire Chairperson of HCL

117 Views
Published On: 02 Aug 2023 Updated On: 01 Aug 2023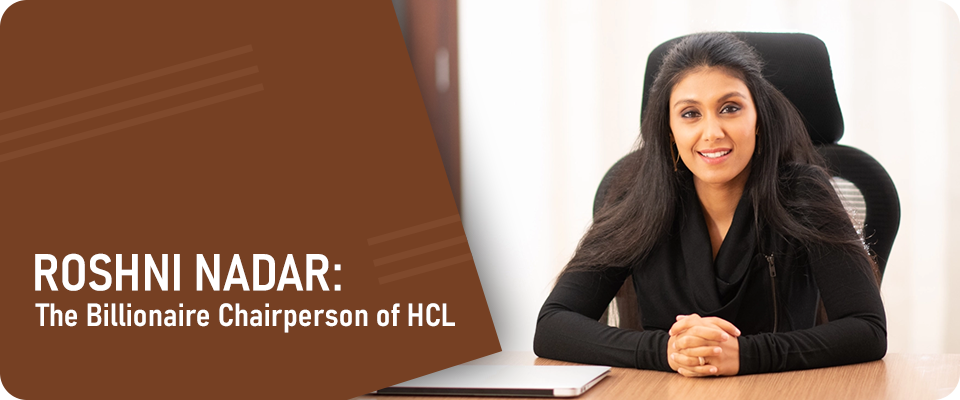 Roshni Nadar Malhotra is currently the richest female billionaire as well as the chairperson of HCL Technologies.
Roshni Nadar Malhotra is the daughter of a famous billionaire industrialist and the founder of HCL Technologies, a leading global technology organization, Shiv Nadar. She is even listed in the category of Power Women in Forbes. She is the first woman to lead a listed IT company in India. Roshni Nadar is not just a billionaire, but a successful woman, a philanthropist, and a powerful businesswoman.
Even though she was born privileged she worked hard and with her efforts she has paved her way and acquired the position of CEO in HCL. She is a role model to thousands of women and youth out there in achieving their passion with hard work & determination.
Childhood and Education of Mrs. Roshni Nadar Malhotra
Roshni Nadar Malhotra was born as an only child of Kiran & Shiv Nadar in a Delhi household. She went to Vasant Valley School. She even graduated from the prestigious Northwestern University with a Bachelor of Science in Communication. She holds an MBA degree from Kellogg School of Management. This shows how impressive her educational background was. Because of this, she was able to tackle the CEO position at HCL.
Her father Shiv Nadar, the founder of HCL Technologies is a great Philanthropist himself. Her father was awarded the Padma Bhushan award as well because of his achievements and contributions in the It sector. Shiv Nadar even started the SSN College of Engineering in Chennai which ensures benefits to the students with foreign university tie-ups.
Roshini is ranked 55th in the Forbes World's 100 most powerful women. She is the richest woman in India according to the IIFL Wealth Hurun India Rich List.
Career & Married Life of Roshni Nadar
Before taking over the position of CEO at HCL, she was a trustee of the Shiv Nadar Foundation which runs the not-for-profit SSN College of Engineering in Chennai. She is the mind and driving force behind the Vidyagyan, a leadership organisation for the underprivileged, meritorious students hailing from Uttar Pradesh. She is actively working to build future leaders from rural India who can become game changers to their communities, families, villages, and the nation at large.
In July 2020, she succeeded her father as the next and the first woman chairperson to lead a top IT firm in India. She is married to Shikhar Malhotra, who is an executive director of HCL Corporation. They are blessed with two children. Their names are Armaan and Jahaan.
She is passionate and enthusiastic about wildlife and conservation, so she founded the Habitat Trust in the year 2018. This foundation aims to ensure the protection of Indian natural habitats along with the indigenous species residing there to create and conserve sustainable ecosystems across the nation through collaboration with all stakeholders at all levels.
Not just these, she is also a member of the Dean's Advisory Council at MIT University, USA. She is a member of the Kellogg School Management Executive Board for Asia. In addition, she serves on the board of directors of the US-India Strategic Partnership Forum and is an independent director on the board of HDFC Asset Management Company.
Achievements and Awards Won by Mrs. Nadar
She is featured for five consecutive years in 'The World's 100 Most Powerful Women' released and compiled by Forbes.
In the year 2020, she was featured in the Forbes list of '25 Most Powerful Businesswomen of Asia.'
She is awarded Lewis Institute Community Change Maker in the year 2017 by Babson College.
She was recognised by Horasis, a globally renowned think-tank as 'Indian Business Leader of 2019.'
She is even an alumnus of the Forum of Young Global Leaders, which is the most unique and outstanding diverse community for next-generation young, powerful, and talented leaders across the globe. YGL is a unique and diverse community of the world's most outstanding, next-generation leaders, an initiative of the World Economic Forum.
She won the Young Philanthropist of the Year 2014 by NDTV.
She is awarded 'The World's Most Innovative People Award' for Philanthropic Innovation by WSIE.
She won Vogue India Philanthropist of the Year in 2017.
About HCL or Hindustan Computers Pvt. Ltd
Formerly known as Microcomp, HCL started as a startup that sold teledigital calculators with only eight employees. It is one of the original tech startups that transformed into the biggest Indian multinational Information Technology and Consulting company across the nation as well as across the globe.
HCL emerged as an independent company in 1991 when HCL entered into the software service business. It has branches and offices in 52 countries with over 2 lakh employees around the globe. HCL mainly offers a wide range of software services, infrastructure services & outsourcing of business processes.
Not just this, it offers and leverages an extensive offshore global technology workforce including financial services, Lifescience & Technology, Healthcare services, manufacturing, Public Services, oil & Gas production, Retail & CPG, Transportation & Logistics, travel, Government, Entertainment, Media & Publishing, Energy & Utilities, Telecom, and many more.
Some of the Business Lines of HCL include:
Enterprise Applications
SaaS
Applications Support and Maintenance
Finance & Accounting
Cybersecurity
Product Engineering
Data & Analytics
Cognitive Automation
Operational Technologies
Supply Chain Management
Closing Thoughts
Outside the industrial world, Roshni Nadar is a classical musician and a passionate lady who won't sit until she achieves what she set her mind on. Her net worth is estimated to be around Rs. 84330 crores with her primary source of income as the chairperson of the multibillion tech company. She has achieved all these milestones at such a young age shows how determined and how much of a dedicated hard worker she is, both towards her family and nation.
FAQs
Who is Roshni Nadar Malhotra?
Roshni Nadar Malhotra is the first Indian woman to lead a multinational IT firm of India called HCl where she is the Chairperson.
What is the educational qualification of Mrs. Nadar?
Roshni has completed her graduation in Bachelor of Science in Communication and MBA degree from Kellogg School of Management.
What is the list of awards won by Roshni Nadar?
Young Philanthropist of the Year 2014 by NDTV, 'The World's Most Innovative People Award' for Philanthropic Innovation by WSIE, and Vogue India Philanthropist of the Year in 2017.
What services are offered by HCL?
SaaS, Applications Support and Maintenance, Finance & Accounting, Cybersecurity, Product Engineering, and Data & Analytics are some of the services offered by HCL.
What are the names of the kids of Roshni Nadar & Shikhar Malhotra?
Armaan and Jahaan are the names of Roshni & Shikhar's kids.
Who are the parents of Roshni Nadar?
Kiran Nadar and Shiv Nadar (Founder of HCL) are the parents of Roshni Nadar Malhotra.
You might also like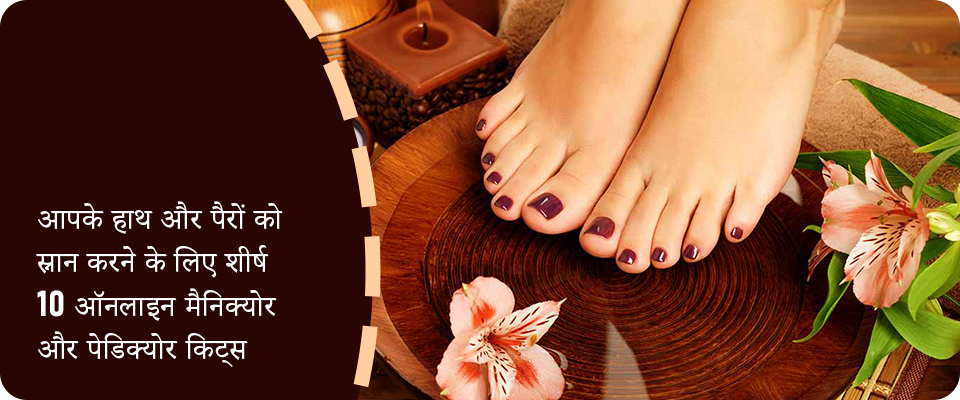 Wellness
04-Oct-2023
आपके हाथ और पैरों को स्नान करने के लिए शीर्ष…

Wellness
25-Oct-2023
Know All About the Oxford Women's Leadership Development Program

Wellness
01-May-2023
Kumar Purnima: Celebrating Joy of Womanhood in Odia