SwearBy
Top Rated Mixer Grinder Brands in India for Your Kitchen

283 Views
Published On: 16 Mar 2023 Updated On: 20 Sep 2023

Without a blender and grinder machine, an Indian kitchen always seems incomplete. Preparing flavorful pastes, powdered spices, and delectable chutneys almost sounds impossible without a mixer grinder machine. In the Indian market, there is no shortage of appliances; and every kitchen appliance claims to be the best in the market.
HelloNaari has put together a selection of the top mixer grinders available in India. The mixer grinders mentioned in this list come from a variety of companies and price ranges.
The best Mixer Grinder Brands in India on our list are:
ROYAL STEP Portable Electric USB Juice Maker Juicer
This compact, lightweight juicer machine can be carried to places very comfortably. You can charge this appliance anytime you want using a power bank or any other USB device. By blending a wide range of fruits and veggies, you can enjoy fresh, delectable juices, and smoothies, in just a few minutes. The Royal STEP portable juice maker is a great option for outdoor excursions and picnics.
Morphy Richards Superb Icon Mixer Grinder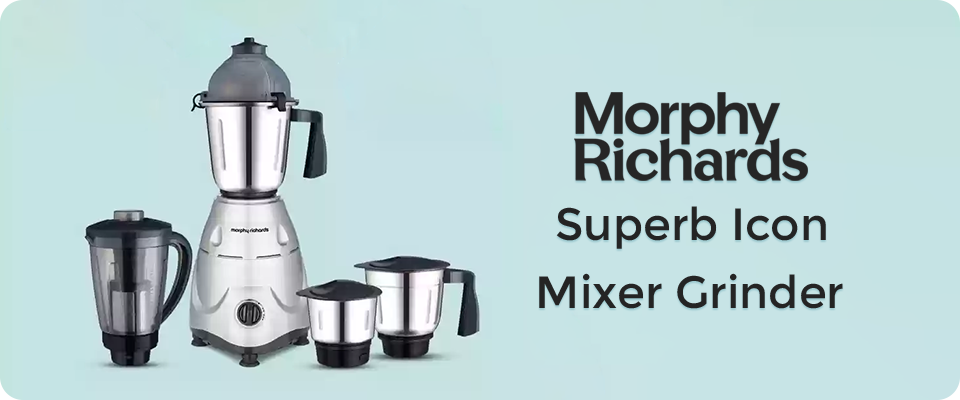 Morphy Richards Icon Super Mixer Grinder comes with a huge juicer jar with an integrated filtration facility. The jar can be used to process coffee beans, chia seeds, and spices like cinnamon and clove into a fine powder. On the other hand, you can use the liquidising jar to make milkshakes or lassi. In addition, you can use the chutney-making container to grind ginger and make green chilli pastes. This mixer grinder runs its blades at a gentle pace to lift the bulk of the dry ingredients and loosen particles attached to the jar wall.
Butterfly Arrow 500 W Mixer Grinder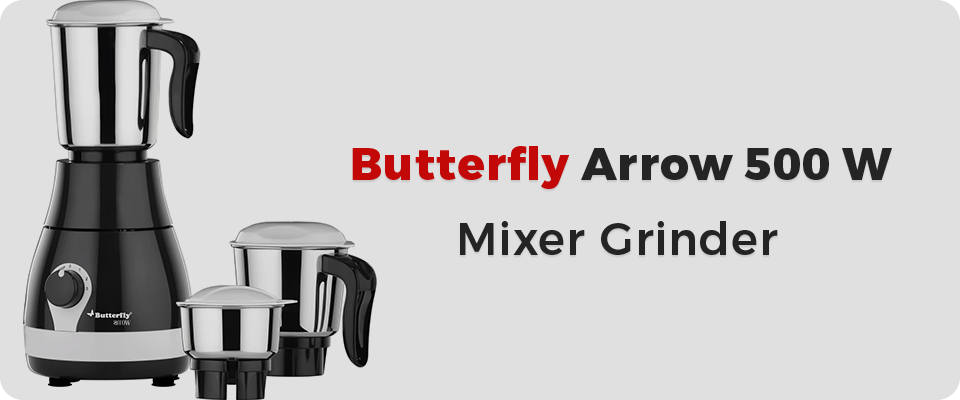 Ideal for couples and nuclear families, the Butterfly Arrow 500 W Mixer Grinder can efficiently grind hard substances into a fine paste. This machine has an overload protection feature and an anti-skid base that ensures your safety during usage. This mixer grinder has three jars. This includes a moist jar for combining batters, a dry jar for grinding spices, and a chutney jar for making pastes and chutneys. This mixer grinder has a dual-tone body, which makes it a sophisticated addition to your kitchen.
Viva Collection Mixer Grinder Philips HL7701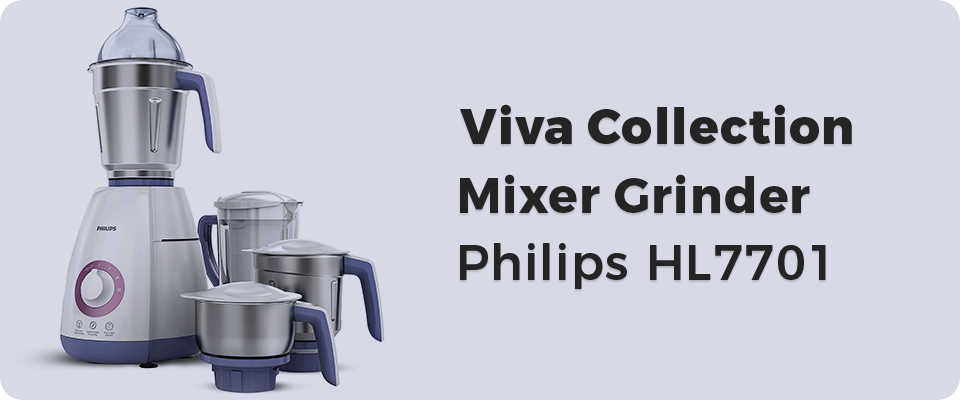 This mixer grinder comes with a powerful 750 W motor, therefore you can use this mixer grinder to make pastes in just a few minutes. The leakproof pulp extractor jar of this mixer grinder helps you to extract 100% pure pulp, leaving no bits and pieces. You can use this mixer grinder to extract juices from all kinds of fruits such as mango, coconut, cucumber etc.
Prestige Delight Plus Mixer Grinder
The eye-catching look and feel and high performance of the new-age Delight Plus Mixer Grinder from the house of Prestige are sure to steal your heart. With a compact and sophisticated design, this mixer grinder occupies very less space in your kitchen. This high-performance mixer grinder can do all kinds of grinding and juicing with ultimate ease in just a couple of minutes. The Prestige Delight Plus has three stainless steel jars that meet all your grinding requirements. It also has a juicer jar. So, what are you waiting for? Bring home the Prestige Delight Plus Mixer Grinder!
Bosch Truemixx Mixer Grinder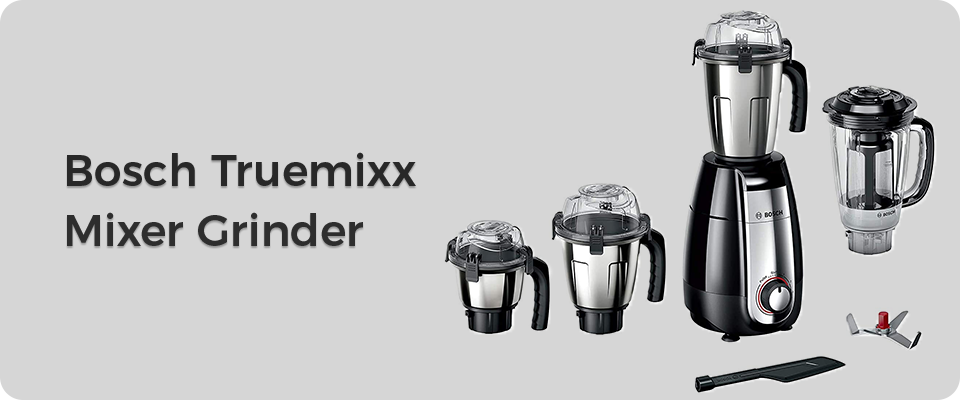 This is yet another popular mixer grinder that you can find in the Indian market. This mixer grinder comes with four jars that include a chutney jar, a grinder jar, a juicing jar and a jar which you can use for fulfilling multiple needs. Each of these jars has bodies made of stainless steel and well-built handles with finger grips. They also come with polycarbonate lids. The look and feel of the Bosch Truemixx Mixer Grinder are sure to steal your hearts!
You might wonder how good this product is at grinding Indian masala. To answer that question of yours. This mixer grinder does a pretty good job of preparing pastes of ginger, garlic and tomatoes. The Box Truemixx Mixer grinder comes with pounding blades and a flow breaker that works amazingly.
Preethi Blue Leaf Platinum Mixer Grinder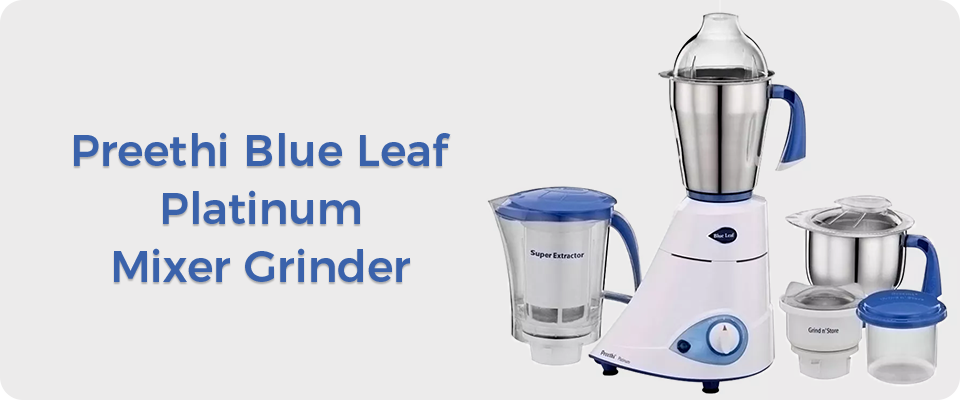 This is a mixer-grinder which has transformed how the mixer-grinder functions. This I-shape mixer grinder comes with a flexible lid and a warranty of five years. The motor of this mixer is capable of grinding dal for several minutes. This high-performance mixer grinder can easily grind hard substances such as a coconut in just a matter of a few minutes. You can very conveniently prepare smoothies, and milkshakes and extract the juices of apples and mangoes with this mixer grinder. This kitchen appliance not only helps you to make pastes and juices but also comes with a feature using which you store these items for a long time. All the jars of this mixer grinder are made of premium quality steel and have high-performance blades.
Hamilton Beach Professional Juicer Mixer Grinder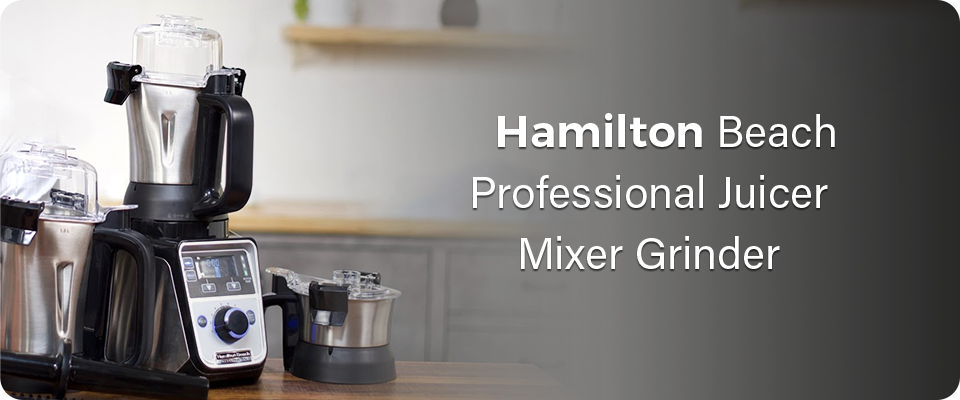 Bring home the Hamilton Beach Professional Juicer Mixer Grinder and solve all your daily kitchen-related work. This mixer grinder is extremely durable and of superior quality.
This high-performance mixer grinder comes with an intelligent speed sensor and can be used to prepare pastes, chutneys and juices. With about a 5 years total product warranty, you can use this mixer grinder to prepare to grind fruits and vegetables like coconut pulp and carrot.
Safety Features that You Should Check While Purchasing a Mixer Grinder
While you are planning to buy a mixer grinder, you should ensure that the appliance comes with a couple of safety features like it should have an ABS body that is shock-proof. Your appliance should also have a thick power cable with a 3-pin plug.
HelloNaari recommends you look for a mixer grinder that has security features like vacuum pressure feet. Such a feature would ensure that your kitchen appliance the mixer won't move much even when grinding hard substances like turmeric and coconut. If you have a higher budget, you can look for mixer grinders with double protection technology; Popular brands like Hamilton Beach offer you these kinds of mixer grinders.
Factors to Consider While Purchasing a Mixer Grinder
You are sure to find mixer grinder machines in every modern Indian home. The mixer grinders available today in the Indian market are quite different from the ones which were available several years back. Mixer grinder machines have become lighter, and super simple to use. Now that you have had a look at the best mixer grinders available in the Indian market, there are a couple of factors that you should consider while purchasing a mixer grinder. We have listed them all below for you.
The kind of mixer grinder machines
The common types of mixer grinder machines that you can find in the Indian market stand mixers and traditional mixers. You can use a stand mixer for mixing different kinds of food items. These sorts of machines are heavily used for whipping cream and kneading dough. This kind of mixer are mostly used in bakeries and food factories.
Traditional mixers have simple designs; These are the kind of mixers you can find in Indian households. They are mostly used for preparing ginger garlic pastes in small quantities. So, before you purchase your mixer grinder machine, you should know for what kind of purpose are you using it.
Consider the right wattage and speed
Wattage and speed are two essential factors that you consider while purchasing a mixer grinder. Mixer grinders with 500 watts to 750 watts are ideal for daily use in the kitchen. Another factor that must be considered is speed.
Speed of Mixer Grinders
The speed for mixer grinders is calculated in rotations per minute (RPM). A mixer grinder with 18,000 RPM is ideal for kitchen use. Every kind of mixer grinder available in the market lets you control the speed. According to your requirements, you should buy a mixer grinder with the right wattage and speed.
Variety of Mixer Blades
The different kinds of blades that are bundled with a mixer are important factors that you should consider while choosing a mixer grinder. There are a wide variety of blades available in the market. While some blades are used for dry grinding, other blades are used for wet grinding. You can also find mixers with different blades that are packed together. These kinds of mixers are of high performance.
You might also like