Beauty
Best Menstrual Cup Brands in India

488 Views
Published On: 16 Mar 2023 Updated On: 07 Nov 2023

Despite the fact that menstrual cups have been around for more than 80 years, some women are still reluctant to use them. People often wonder things like "do they hurt," "do they feel uncomfortable,", which is why menstrual cups are the subject of so many questions.
Yet, the menstrual cup is a safe and environmentally sustainable solution, which is precisely why it is becoming more and more well-liked among women. Congratulations if you've also made the decision to switch to a menstrual cup—you've made a perfect choice!
The menstruation cup is placed inside the vagina; it needs to be flexible and easy to wear. And if you're unsure which to choose, we can assist you!
The Top Menstruation Cups in the Market in Order of Recommendation
Sirona Menstrual Cup
Rated as one of the most well-known menstrual cup brands in our nation, Sirona menstrual cups are made of medical-grade silicon. These cups don't soak in the menstrual blood and simply accumulate it. Sirona produces premium-quality menstrual cups to ensure that your skin's natural pH level does not get disturbed.
The menstrual cups of this brand are non-toxic and free of odour. Want to know the best part about Sirona's Menstrual Cup? Their unique design makes them perfect for use while travelling as well as while engaging in sports. You can get these cups in three different sizes, which are available in online marketplaces like Purplle. HelloNaari recommends you pick the right one depending on your menstrual flow.
Carmesi Menstrual Cup for Women
Made from 100% biocompatible medical-grade silicone, this menstrual cup is absolutely safe for insertion. The Carmesi Menstrual Cup for women is itch-free and odour-free and is not known to cause any sort of rash or irritation. This menstrual cup comes with a Size Exchange Guarantee. Now, what does that mean? This essentially means that you can get your menstrual cup replaced free of charge if you find its size inappropriate. Isn't that amazing?
You would be glad to know that the Carmesi Menstrual Cup for women is available in three different sizes. While the small size is meant to be used by teens, medium-size menstrual cups are for those who have medium to heavy menstrual flow. On the other hand, large-size menstrual cups are for mothers or those who have extra-heavy menstrual flow. With the Carmesi Menstrual Cup, you can literally forget that you are on your period. With an 8-10 hours of no-leak guarantee, you can swim, go cycling or do whatever your heart wishes!
This menstrual cup is an extremely cost-effective solution. Why invest in tampons and sanitary pads every month, when you can use the Carmesi menstrual cup for up to 5 years? You can grab this menstrual cup for just Rs. 359 from the brand's official website.
On top of this, if you care about the environment, this menstrual cup is the ideal product for you. As you can reuse the cup every month, you can do your part in saving the waste generated from disposing of sanitary napkins & tampons.
Amozo Menstrual Cup
Amozo menstrual cup is a 100% safe product which is made of premium quality silicone that can be inserted into the vagina very conveniently., Unlike tampons, this menstrual cup will help to maintain the pH balance of your intimate areas in addition to holding more blood. The best feature of this cup is that it doesn't dry out your vagina and is very comfortable to wear. Therefore, you can easily use the cup for up to 10-12 hours. The cup is free from toxic chemicals like BPA, dioxin, and palates. Therefore, you need not worry about getting an Infection or rashes with the Amozo Menstrual Cup.
OrganiCup Menstrual Cup
These menstrual cups are an excellent option for controlling your period every month. Award-winning Danish firm OrganiCup is slowly gaining popularity among new-age Indian women.
These cups are sustainable and eco-friendly as you need not discard them after a single use. You can use an OrganiCup Menstrual Cup literally for several years. Therefore, these menstrual cups are an extremely economical option.
OrganiCup Menstrual Cups can be worn for several hours at one go during your period and are very comfortable and leak-free. These cups are easy to carry and have the capacity to hold blood equivalent to that of three tampons. Absolutely non-toxic, the cup won't make the vagina dry.
This menstrual cup is available in three distinct sizes: Mini, Model A and Model B. You should know that there are no hard and fast rules for selecting a cup size. You need to select a cup based on factors such as menstrual flow, childbearing history, and cervical position.
Pee Safe Reusable Menstrual Cup
This feminine hygiene product is quite flexible and super comfortable to use. The funnel-shaped reusable menstrual cup can be easily inserted into the vagina and can hold blood for up to several hours. If you are environmentally conscious and want to switch to eco-friendly products, this pee-safe reusable menstrual cup is ideal for you as you can use the cup for several years down the line.
Made of medical-grade silicone, this reusable menstrual cup can be found in the following – extra small, small-medium and Large. The Pee Safe Reusable Menstrual Cup can hold up to 26 ml of blood. It can provide you with all-around protection from stains for up to 12 hours. So, what are you waiting for? Get your hands on the Pee Safe Reusable Menstrual Cup now. You can get this product for just Rs. 259.
iCare Menstrual Cup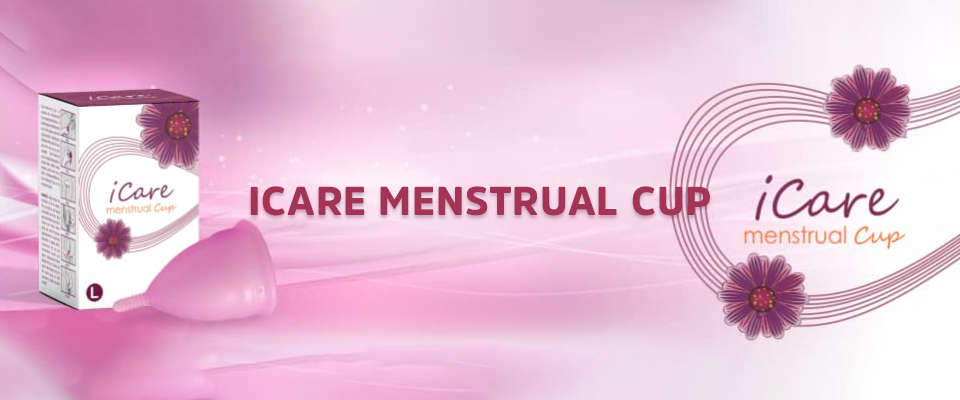 The bell-shaped iCare Menstrual Cup is a sustainable option for collecting menstrual fluids when you are on your period. The cup can be reused every month when you are menstruating. Extremely convenient to wear, this cup can offer you all-around protection for up to 4-5 hours.
We recommend you switch to the iCare Menstrual Cup especially when you are travelling for long hours. One of the best features of this product is that it doesn't disturb the PH level of the intimate areas and the mucosal tissue. The price of icare Menstrual Cup is Rs. 499.
Sanfe Reusable Menstrual Cup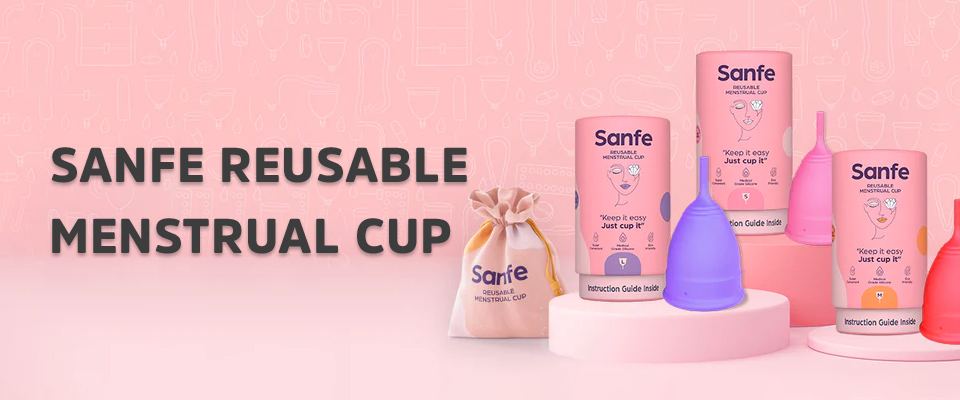 Ideal for beginners the Sanfe Reusable Menstrual Cup is composed of 100% medical-grade silicone. This cup is form-fitting, soft, and super comfortable to use for long hours. If you have been using traditional disposable sanitary pads for years and want to switch to a sustainable alternative, we recommend this iCare Menstrual cup to you.
These menstrual cups offer you uninterrupted freedom and protection from stains for up to ten hours so that you don't miss anything. The adjustable soft flex stem on the cup makes it simpler for you to grip and remove the cup.
Gynocup Premium Menstrual Cup for Women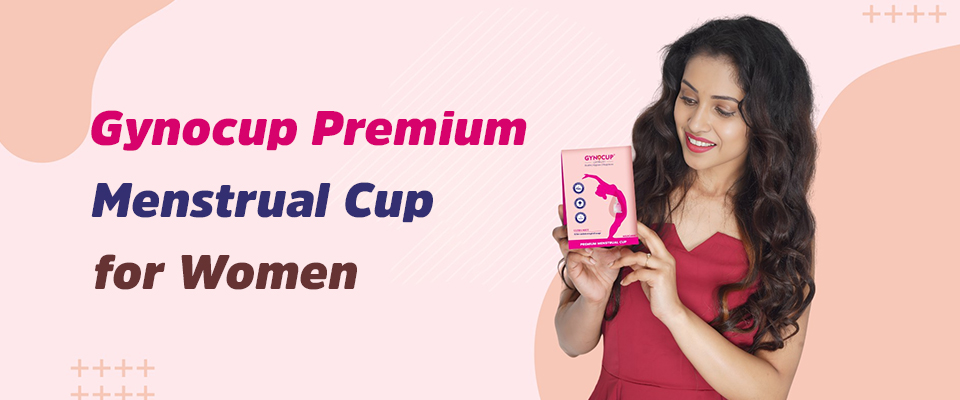 Gynocup menstrual cup is manufactured from high-quality silicon. The Gynocup Premium Menstrual Cup comes with a steriliser container, and a menstrual cup washes to keep your cup clean and hygienic every time you use it.
This menstrual cup is portable, therefore, you can carry it wherever you go. This menstrual cup can be worn overnight as well as during all strenuous activities such as swimming, cycling, dancing etc.
Ezy Menstrual Cup for Women
The silicone used to make the ezy Period Cup is soft and gentle on your skin. All skin types, including sensitive, dry, and normal, can use this cup. This menstrual can offer up to 12 hours of protection and has the potential to hold the light to moderate flow. The cup has an easy-to-use stem with a spherical bottom. This bottom makes the insertion and removal of the cup simple. You can use this menstrual cup for up to 5-10 years. Therefore, it is flexible as well as long-lasting.
Goli Soda Menstrual Cup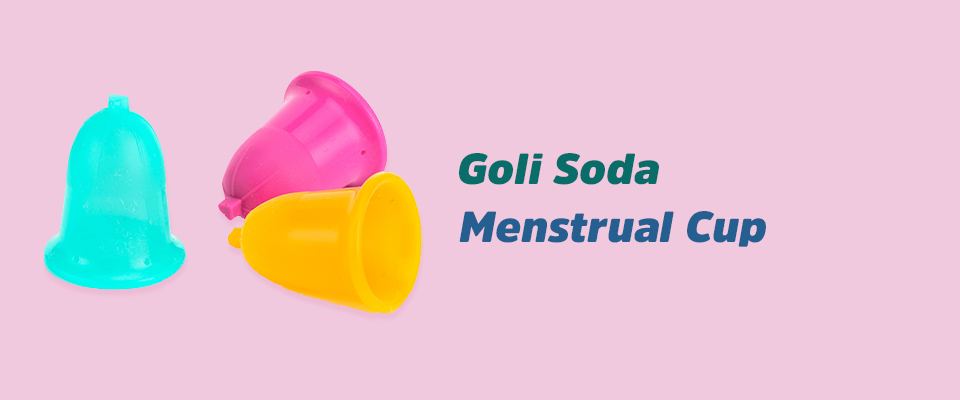 Goli Soda, as a brand places a strong emphasis on making beneficial impacts, whether large or little. This brand produces goods that are natural, eco-friendly, and, most importantly, designed to improve and protect people's lives.
Now you can keep yourself absolutely worry-free during your periods with this Goli Soda Sustainable Menstrual Cup. This cup is paraben-free, sulfate-free and can be worn internally. This product is very useful in collecting menstrual blood in a hygienic way. It is made of high-quality silicon and can be reused every month.
Advantages of Using a Menstrual Cup
Cost-effective
Because menstrual cups are reusable and last up to five years, they are frequently less expensive in the long run than using tampons and pads. Consider the money you will save by purchasing one cup as opposed to tampons and sanitary pads each month.
Decreased discomfort
Using tampons or pads might cause vaginal dryness or irritation for certain women. Menstrual cups do not have this issue because they are often irritant-free and composed of high-quality or medical-grade silicone.
Reduced odour
As women become accustomed to the removal procedure, they typically find the menstrual cup to be extremely clean to use. Most women feel that using menstrual cups reduces the odour associated with their periods because, unlike pads, blood is not exposed to the air.
Can be Worn for Long Hours
Menstrual cups can be worn for up to 12 hours, compared to the eight hours that tampons and pads can be used.
Factors You Should Consider While Choosing Your Menstrual Cup
Planning to buy your first menstrual cup? Wondering where to start from? Put an end to all your worries as we have brought before you the top factors you should consider while choosing your menstrual cup. Carefully go through the pointers and then choose your menstrual cup accordingly.
Age
Typically, persons under the age of 30 should wear smaller sizes, and those beyond 30 should wear larger ones.
Birth Record
Menstrual cup size can also vary depending on whether had a full-term pregnancy. Again, the focus here is on the pelvic floor muscles and how pregnancy may cause them to become weak. Hence, smaller cups are typically advised for those who have not given birth or had a full-term pregnancy, and larger glasses should feel more secure for those who have done so.
Cervical height
The length of your vaginal canal is essentially your cervix height. It may alter during the course of your menstrual cycle, so you should be aware of its lowest location. On or shortly before the first day of your period, place your longest finger into your vagina and feel for your cervix to determine if it is high or low. It will be located at the top of your vaginal canal and should feel like the tip of your nose: a smooth, elevated area with a dimple in the centre.
Menstrual Flow
Although not all makers of menstrual cups discuss flow in sizing instructions, it is something to consider. A smaller menstrual cup normally corresponds to a lighter flow, so you might only need to change a conventional tampon or pad once or twice per day. Larger cup sizes are frequently better suited for heavier flows when you'd need to change a highly absorbent tampon or pad every two to three hours.
Cup Length
It's likely to not work if a cup is too lengthy to fit within your vaginal canal. By utilising the aforementioned technique to measure the location of your cervix, you may determine the ideal length for you.
Cup Height
Sizes of menstrual cups often refer to the diameter of the cup. The diameter of a small cup will therefore be smaller than that of a large cup. Your age and previous pregnancies, among other things, will affect the diameter size you select.
Pic Credits: Tubarones Photography ( pexels )
FAQs
Do menstrual cups cause discomfort?
A menstrual cup should feel comparable to a tampon. You will be aware of its presence but you may not be bothered by it. Only if the cup is excessively big, too solid, or if you try to take it off without first breaking the seal by pinching the base you will likely feel discomfort.
How do menstruation cups function?
It collects your period flow instead of absorbing it like a tampon or pad. The blood can then be disposed of by taking out the cups and discharging the contents.
Are menstrual cups preferable to pads?
Tampons and pads can't hold as much liquid as menstrual cups. They have a reputation for holding twice as much liquid as tampons and sanitary napkins. They don't need to be changed as often as pads do. Also, they are friendly to the environment.
What is the right way to remove a menstrual cup?
In the first place, you should clean your hands and then insert your thumb and index finger inside the vagina. You would reach the base of the cup by gently pulling the stem. Finally, you need to pull down while pinching the base to release the seal. After the cup has been removed, you can pour it into a sink or bathroom.
You might also like