Forbes India: Meet India's Women Billionaires of 2023

100 Views
Published On: 13 Oct 2023 Updated On: 13 Oct 2023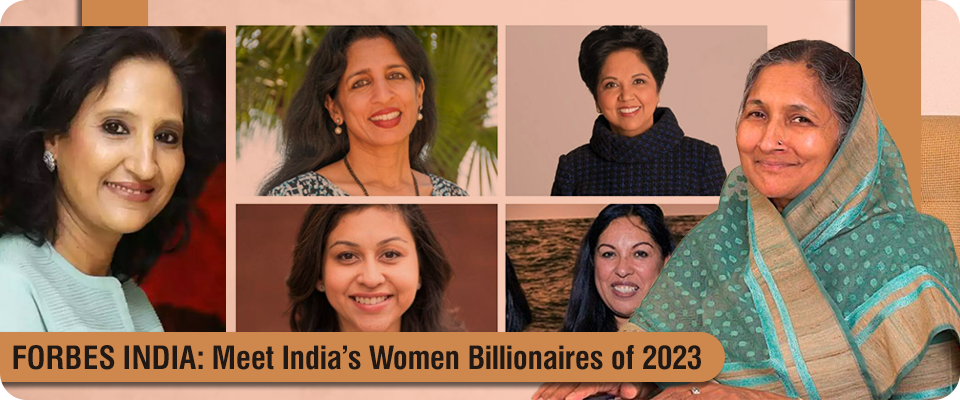 Forbes India dropped the annual billionaires' list for the year 2023 for India on Thursday, 12th October 2023. The list contained a mix of different business magnates hailing from different industries. Chairperson of Reliance Industries, Mukesh Ambani secured the first spot yet again with a net worth of $92 billion which is $4 million more than what was announced the previous year. Along with this, nine women billionaires of India made it into the list with an aggregate wealth of $57.96 billion.
Savitri Jindal
Among those nine who were listed, Savitri Jindal, the chairperson emerita of the steel conglomerate OP Jindal group was present in the top 5 richest Indians having a net worth of $24 billion. Savitri is the only woman who has made it to this point. According to the report of Forbes India, she also gained $7.6 billion which is the second-largest wealth gain compared to the rest compared to the last year.
Rekha Jhunjhunwala
On the 28th spot is the next billionaire, Rekha Jhunjhunwala, wife of late Rakesh Jhunjhunwala who is termed as the Big Bull of Indian stock markets. She took his place and debuted on the list of Forbes after Rakesh passed away in August 2022. According to Forbes, her present net worth is $7 billion. Their stocks, investments, and bonds include various companies such as Star Health and Allied Insurance, Titan, and Metro brands.
Vinod Rai Gupta
Havells India's Vinod Rai Gupta along with her son Anil Rai Gupta are on the 30th place in the list. Havells India is a multinational electrical equipment company located in India. Late Qimat Rai Gupta who is the husband of Vinod Rai Gupta, founded this company in the year 1958 and is currently having its branches across 60 countries around the world.
Renuka Jagtiani
Chairperson and CEO of the Landmark's group Renuka Jagtiani stands in 44th place with a net worth of $4.8 million. She took over the role of CEO after her husband passed away in May of this year. He founded the company in 1973. It is a Dubai-based company that has over 2k+ stores spanning over 24 countries around the world. This group is considered to be India's one of the biggest retail and hospitality industries present. The subsidiaries of this group include Max Fashion, Splash, Lifestyle, and many more.
Leena Tiwari
USV India's chairperson, Leena Tiwari took 45th place in the list of Forbes billionaires with a net worth of $4.75 billion. USV India is India's largest healthcare giant which is one of the oldest and most established pharmaceutical companies that provides API (Active Pharmaceutical Ingredients), Peptides, Biosimilars, Injectables, and Fixed Dosages Formulations (FDF). USV India began as a joint venture with USV&P Inc. USA, a subsidiary of Revlon.
Mallika Srinivasan
The chairperson of the Amalgamations group, Mallika Srinivasan takes the 83rd spot on the list with a net worth of $2.84 billion. The Amalgamations Group is best known for the diesel engine maker Simpson & Co. and the TAFE (Tractors and Farm Equipment Limited), which is the tractor manufacturer.
Anu Aga
Next is Anu Aga who is standing in the 87th position on the list with a net worth of $2.7 billion due to her majority stake in the engineering firm named Thermax which was listed. Thermax is an Indian-based multinational company located in Pune that is involved in clean water, clean water, and clean air to maintain a better environment. Thermax is the destination for utility partners in both industrial and commercial segments, helping customers achieve better resource productivity.
Falguni Nayar
Founder and chairperson of India's biggest e-commerce company Nykaa which is located in Mumbai, Falguni Nayar faces a downfall in her net worth from $4.08 billion to $2.65 billion as per the reports produced by Forbes. This led to a drop in 44 ranks on the list. Her company Nykaa was listed in the year 2021 of November which made Falguni Nayar India's richest self-made entrepreneur.
Kiran Mazumdar Shaw
Kiran Mazumdar Shaw is the executive chairperson and also the founder of Biocon. She is the last female holding the 92nd place on the list of 100 people in Forbes list. Kiran has a net worth of $2.52 billion. In 1978, Kiran founded Biocon out of her garage and she is the recipient of both Padma Bhushan and Padma Shri awards.
About Forbes India
Forbes India is the Indian edition of Forbes managed and operated by News 18, a media amalgamation group owned by Reliance Industries of India. It was introduced in India in the year 2008. Presently it has sold over 50,000 copies and has made over 50 crores rupees in excellence since its establishment. The magazine of Forbes India is issued fortnightly.
You might also like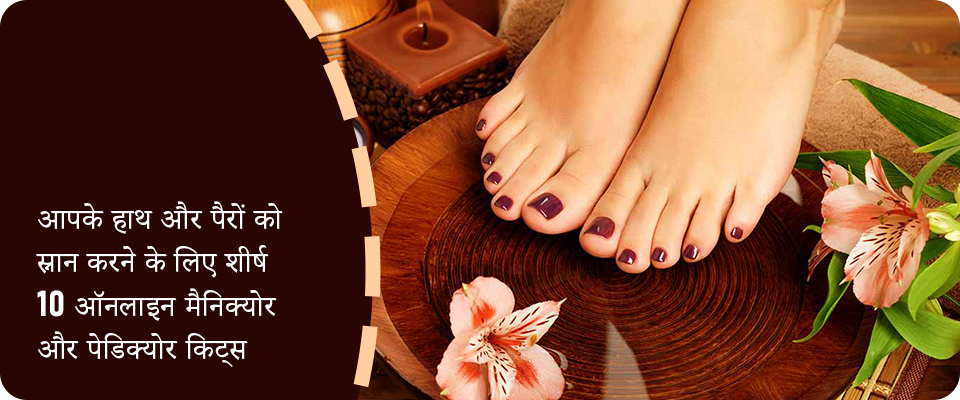 Wellness
04-Oct-2023
आपके हाथ और पैरों को स्नान करने के लिए शीर्ष…
Wellness
23-Feb-2023
The Best Sunscreens for Excellent Sun Protection

Wellness
07-Nov-2023
भारत में सर्वश्रेष्ठ मासिक धर्म कप ब्रांड