'American Idol's' Gabby & Cade Expecting Their Baby No.3

105 Views
Published On: 31 Aug 2023 Updated On: 31 Aug 2023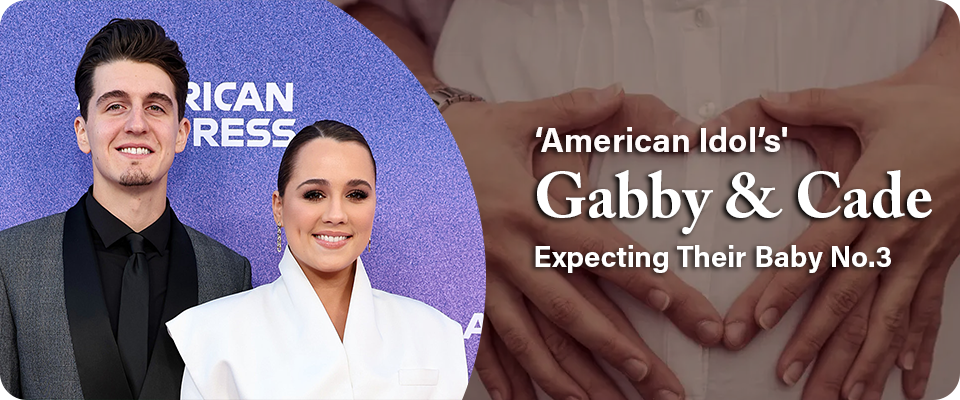 "American Idol" alumni Gabby Barrett has confirmed that she is expecting her third child at 23 with husband Cade Foehner. They both competed in season 16 of the American reality competition series named 'American Idol' in 2016. They shared the sweet news about pregnancy of Gabby with their fans and loved ones via an Instagram post on Wednesday.
On August 30, the 'Glory Days' singer along with the 'Fade to Black' singer shared a joint post consisting of a series of photos revealing that they are expecting their baby number 3. The couple is growing their family with a new member on its way making it a family of five.
Here is the link to the joint Instagram post of singer Gabby Barrett and Cade Foehner revealing to the fans about the couple expecting their third child.
The post contains some beautifully snapped pictures. In the first image, you can see the couple seated on the steps with purple lights shimmering around the stage, and a black box is placed in the foreground. On top of that, it can be seen that the couple shared a sweet moment where Jade kissed Gabby's cheek.
In the next photo, the box was turned around with the caption 'baby no.3' as a way to announce the wonderful news to their fans and the world. In addition to this, the couple shared a clip of Gabby Barrett relaxing on the bed using an at-home ultrasound machine to hear the little one's heartbeat. "There she is," the pregnant singer whispered as she moved the device along her stomach. The couple captioned it with "SWIPE for a surprise 💗 #livingthedream."
The couple tied the knot in the year 2019 when they met on the set of American Idol 2018. They got married exactly seven months after their meeting in Texas. The two eventually found their love even after being hesitant to approach each other at first. "I had seen him and I remember asking him to make a video together," singer Gabby stated in her 2020 mini-documentary, Breakthrough: Gabby Barrett. "I saw you and I didn't come up to you though because I was nervous and then we took a picture together."
Both the singers welcomed their first new addition to their family, Baylah May, in January 2021. Barrett shared the news through an Instagram caption saying "Got to spend a very sweet week with our newest addition… Meet our girl 🥰Baylah May Foehner 1.18.21" The subsequent year the couple was spotted in the headlines for choosing not to reveal the face identity of their baby.
"For the people constantly commenting on Baylah's face being blocked out of pictures, she is our daughter," Barrett wrote via her Instagram Story at the time. "We will not purposefully take pictures with her face in them because we keep her face identity private."
Continuing, she stated "We are protecting her from weird predators. Please respect how we've decided to protect our child."
Later in May 2022, husband Cade announced that Gabby was pregnant with their second child which turned out to be a baby boy. The baby was named 'Augustine Boone Foehner.' Barrett captioned an Instagram photo with her newborn baby and his older sister saying "Soaking up the newborn days with baby brother. What a precious gift from our Lord! Augustine Boone Foehner 10.27.22 💙 (Pronounced UH-GUS-TIN)."
You might also like

Wellness
22-Nov-2023
YouTuber Trisha Paytas Is Expecting Baby No.2

Wellness
08-Nov-2023
Shopping for Baby Registry Confirms Ashley's Pregnancy 

Wellness
25-Oct-2023
Meet Pranjali: A 16-year-old Girl Whose Startup Is Valued at…