Fashion
Best Innerwear Brand for the Women of India 

275 Views
Published On: 17 Feb 2023 Updated On: 27 Jul 2023

The need for comfortable and well-fitted intimate wear is a must necessary for the confidence you need to get the day going. A lingerie of top quality that fits well is not a dream anymore. You can make it come true when you meet the right brand and size for a match made in heaven. Here is a list of a few brands that can help you find your perfect intimate partner.
When looking for the right intimate wear there are a lot of factors, don't fall into the temptation of buying the cheaper one to save a few pennies. Good quality comfortable wear is a long-lasting investment. Different brands have different measurements when it comes to size.
Size, Measurement, fit and design when all of them come together result in comfortable innerwear that doesn't cut or irritate your skin. So before committing to buying any test your fit.
The Best Innerwear Brands are:
Zivame

The goal of Zivame is simple "To Offer Every Woman the Confidence, Comfort & Choice She Deserves". Zivame was founded in the year 2011 it started as an online platform to sell intimate wear and now has grown bigger with in-house production and retail shops across India.
When it comes to intimate wear inclusivity is a factor, you need them to accept the curves and edges of your body. Zivame seems to understand the inclusivity we are looking for. It is easy to get your hands on Zivame lingeries as you can buy them online without worrying about the fit. Leave the job to the online bra size calculator of Zivame, it will find the right size for you.
Clovia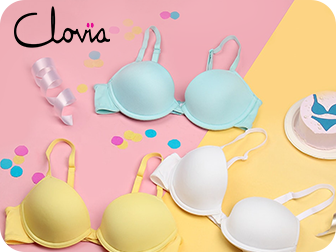 The brand Clovia originated in India and now is an international brand operating on all continents. They offer innerwear, shapewear, Activewear and Loungewear. Clovia took it as a personal mission to bring premium quality innerwear in India that offers style and comfort. Clovia's innerwear collection adds joy to every women's life with its perfect fit, comfort, fashion and style.
Clovia delivers good and sexy lingerie without compromising on quality or comfort making it a trusted brand among the younger generations of India. They give international standard lingerie under an affordable price tag. The innerwear from Clovia can fit into your body like a glove and feels like your second skin making you feel sexy, confident and comfortable.
Jockey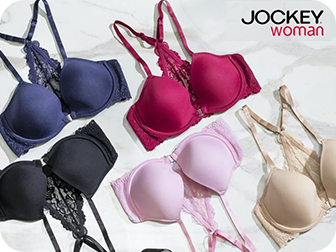 Founded in 1876 is a leading brand that focuses on manufacturing and marketing comfortable apparel and innerwear to men, women and juniors. The brand is popular across more than 140 countries. The brand is committed to delivering sophisticated innerwear and loungewear with ensured quality, fashion and comfort.
The brand name Jockey is synonymous with comfort and style when it comes to lingerie. They have a wide range of styles and price options to choose from ranging from basics to active wear. Jockey never compromises on quality the products are made from high quality that is breathable. It also delivers camisoles, training bras, slips on etc for teens, children etc.
Parfait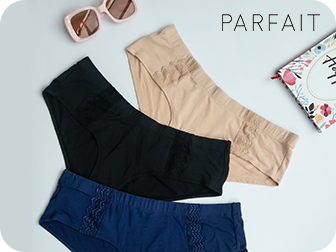 Parfait is a family-owned lingerie brand that was founded in 2005 with its roots spread across India, the UK, Los Angeles, Canada, and Hong Kong. The brand aims to provide exclusive lingerie and swimwear for plus sizes. Parfait designs have expanded sizing when it comes to intimate wear to meet the demands of the often neglected plus-size market.
Parfait would be the perfect brand option if you are finding it hard to find plus-size lingerie. Most brands tend to forget inclusivity and the sizes offered them are restrictive but Parfait is all to stan plus-sized queens. The lingerie offered by Parfait is comfortable with good design and quality. They have everything ranging from basic daily wear to spicy sexy lingeries. Parfait lingeries will be an investment that can last long and gives long-lasting comfort.
H&M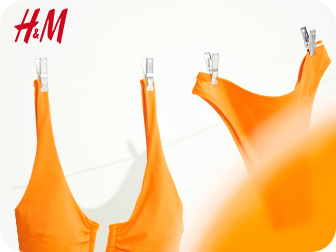 Founded in 1947 in Sweden, H&M was destined to revolutionize the fashion world with its unique designs and sustainable ways to provide affordable fashions to all. H&M covers the needs of seasons, styles and gender. The brand did not disappointed with any of its ventures and the same when it comes to innerwear.
People who have experienced the lingerie quality of H&M, know what the brand has to offer. All the apparel and fashion of H&M are popular and well-known, it took H&M some time to enter the field of intimate wear. The lingerie offered by the brand is innovative, comfortable and year around. They have for the size of everyone be it for someone petite or plus size and they deliver it all in an affordable price range.
Victoria's Secret

The name Victoria's Secret is no secret when speaking of lingerie, the list won't be complete without mentioning the brand. The brand is well renowned for its special modern fashion-inspired intimate wear retail. Victoria's Secret serves a signature collection of bras, sleep wears, panties, athleisure and perfumes. Victoria's Secret inspire women around the world and is a trusted brand by many.
The eccentric designs and quality of Victoria's Secret intimate wear are timeless and classic. Victoria Secret is available in India and people can buy the products from online or retail stores. They offer a wide range of products for women including shapewear, bikini, innerwear etc.
Triumph
Started as a family-owned corset factory in 1886 the Triumph Group has now become a global influence. The individuality of people is the driving motto of Triumph to create inner wears that fit every occasion and body type.
Triumph came to India all the way from Germany in the year 1998 and stole the heart of Indian women for its quality and style at affordable prices. They are loved by generations and never failed to meet the demands of time. The lingeries offered by Triumph is functional and offer great comfort and style.
Tailor & Circus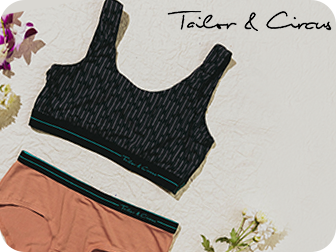 The aim of Tailor & Circus is to build comfortable underwear that can make one feel like their own skin. The comfort provided by Tailor & Circus expands to activewear, nightwear and swimwear.
Tailor and Circus craft their breathable comfortable garments using good-quality material that stays fresh longer. They offer a variety of innerwear in different sizes, shapes and fits. They also adopt gender neutrality in their prints and materials used.
Enamor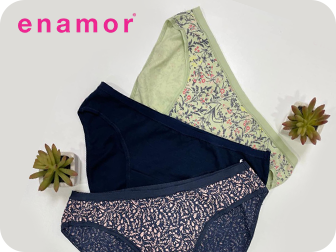 A joint venture of Gokaldas Images Private Limited and Barbara of Paris, the brand Enamor was established in 2011. Enamor designs its innerwear to make women feel confident, independent and fabulous. They innovate the designs to meet the requirements of modern women.
Enamor is the right destination for premium quality designer bras, panties, shapewear, sportswear, nightwear, and stylish athleisure. They offer bras and panties in solid and printed designs made from high-quality fabrics like polyamide, elastin, spandex and cotton.
Daisy Dee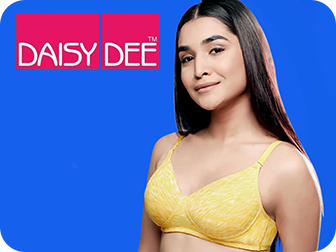 Launched in 1999 Daisy Dee is a well-known brand among women for its affordable high quality range of products. The products of the brand are made from imported high-quality material and superior fabric to mould to the body giving maximum comfort.
Daisy Dee's extensive collections are sure to meet the demands of people of all age groups and occasions. The innerwear is designed to look elegant and fashionable for a confidence boost. Daisy Dee provides a vast collection of bras, mood lingerie, sportswear and shapewear.
Amante

Comfort, fashion, fit and design are the factors that made Amante the favourite of many women. The thoughtful designs of Amante incorporate the need of every woman to own innerwear that is tailored to meet her needs. They have innerwear that suits every occasion.
Amante delivers products that are made from high-quality products like cotton, elastane, polyamide, and spandex. The pocket-friendly lingeries of Amante are sure to give support, style and shape to feel comfortable in their own skin.
Bodycare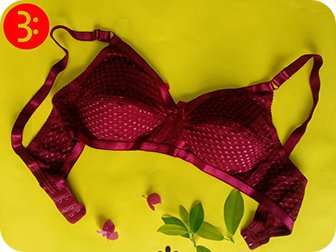 Bodycare is a globally recognised brand established in 1992, their design is sustainable and of high quality as the brand believes "We strive to meet the diverse needs of our customer by being innovative. We are committed towards offering fashion quality and comfort at an unbelievable price."
Bodycare is one of the best lingerie brands available in India for a comfortable bra with great coverage. The highlight of Bodycare products is that they are pocket friendly and deliver high quality with top-notch designs.
A good well fitted inner wear that is beautifully crafted to hug the body is a definition of comfort. Everyone is looking to find a perfect pair that can offer support, comfort and style. Mere than just intimate wear right-styled innerwear is a fashion statement, the one that can go along with the strapless killer dress, the elegantly hugging bodycon dress or simply chill in that oversized T-shirt.
The 101 When You Shop for Intimate Wear
Fit
Take your measurements, if you are buying it online there are many tutorial videos and instructions available on the internet on how to measure your size. All most all well-known online site has their own size calculator to help customers find the right fit
Quality
The price for better things in life is always higher. If you could pay a few extra bucks then you can buy quality innerwear that will last for years without compromising on comfort.
Budget
You don't have to tear your pocket to get quality well supported innerwear, you can get one for an affordable price. While some brands can be expensive others are functional and pocket friendly.
Occasion
You want innerwear that can go with all your mood. When on lazy Sundays you need a comfortable practical piece, that won't be what you are gonna wear to a club party. Similarly, you need a different one for active workout sessions.
Functionality
Comfort and support are not all that people look for in innerwear, sometimes it is all about adding style too. A good lacy bralette, spicy lingeries, a workout wear. So the functional role assigned to your innerwear also matters when you purchase one.
Pic Credits: Pexels (Karolina Grabowska)
You might also like