Meet 10 Female Entrepreneurs in India

92 Views
Published On: 15 Sep 2023 Updated On: 06 Oct 2023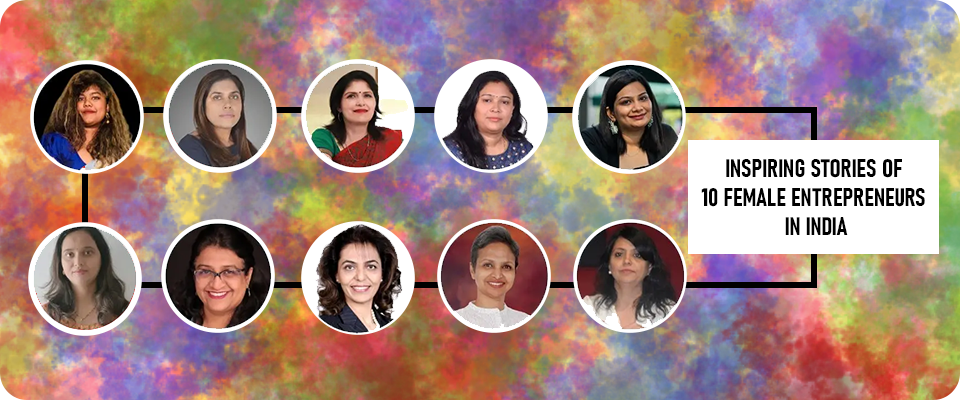 In this current world, women are proving that they can lead a business better than men and they are breaking all the stereotypes and taboos by changing their lives. Women are placing their feet in all the fields of study.
In India, the business spotlight falls only on men and not on women but now they are sharing their spotlight with men by kicking the steel bars around them.
Many women start businesses and they fail to continue because of the hurdles, but some women are still working without losing energy and hope. And that women are tasting the sweetness of success.
Here we can see the hurdles faced by 10 women in India as female entrepreneurs as well as solopreneurs and they are mostly from ordinary middle-class families, who struggled to get money for their business.
Ten Female Entrepreneurs in India
Falguni Nayar – Founder of Nykaa
Aditi Gupta – Co-Founder of Menstrupedia
Kiran Mazumdar-Shaw, Founder of Biocon
Richa Kar, Co-Founder & CEO of Zivame
Upma Kapoor, Founder of Teal & Terra
Vandana Luthra – Founder of VLCC
Kalpana Saroj – Chairperson, Kamani Tubes
Priya Anandan – Psychologist
Divya Gokulnath – Co-Founder of Byju's
Ghazal Alagh – Co-founder of Mamaearth
Falguni Nayar – Founder of Nykaa
Every girl out there will surely know about the brand "Nykaa", which was founded by Falguni Nayar in the year 2012. She was born and raised by her father with the help of a small business. She worked as a venture investor and merchant at Kotak Mahindra Group. Later, she was appointed as the MD at Kotak Mahindra Capital.
Ms. Nayar was an IIM Ahmedabad alumnus for approx 20 years. After the age of 50, she planned to start a business on her own from scratch. She had a very good plan to achieve her goal in this male-dominated society.
Brave Women Falguni Nayar's capability at the age of 50, clearly shows that her only aim is to achieve her dream even after ages and there is no age restriction for any goals.
Soon her brand Nykaa became famous around the people, and it became the first Indian unicorn that was led by a woman. As of November 2021, the company's net worth was $13 billion.
Aditi Gupta – Co-founder of Menstrupedia
Some inspirational stories that are so close and become so relatable for our life also. Aditi and her husband, both from the National Institute of Design Alumni, co-founded Menstrupedia Comic book in 2012. In 2014, she was named in the Forbes India 30 Under 30, 2014 list.
The girl from a conservative family in a small city in Jharkhand got her periods at the age of 12. People from rural areas will know that they have to sit in a corner, and they should not touch any of the utensils in the home because they are considered dirty girls. Aditi was also treated by her parents in that way.
Later it became an idea for her to teach about menstruation and hygiene to people using a comic book with support from her husband. Still, people are feeling so hesitant to talk about this menstruation topic freely in public. For that purpose, this comic book will funnily educate everyone. This shows that even a comic book is enough to teach people about the feelings of girls in periods and thus makes her a successful entrepreneur.
Kiran Mazumdar-Shaw, Founder of Biocon
In this, she proved that there is no division in doing work for males and females and that only hard work can lead you to a better way of achieving the goal.
Kiran Mazumdar who graduated B.Sc. Biology and Zoology in the late 1970s. She decided to follow her father's business. Her father worked as the head brewmaster for one of India's largest beer companies, which inspired her to change it as her career. For that, she decided to train as a brewmaster in Australia. Her only intention is to implement her new ideas in her business.
Unfortunately, the Indian brewing industry was highly male-dominated, and they didn't want any females to interfere in their business. Because of that, she couldn't enter that field even though she had the capabilities and knowledge.
With very little support and consistency, she decided to start her business from scratch. At that time, she met an Irish Entrepreneur Leslie Auchincloss who searched for an Indian partner to produce the enzymes and this was one of the greatest opportunities for her to start a venture that was related to her subject, Biology.
Kiran launched Biacon in 1978 as a joint venture with Ireland-based Biacon Biochemistry, retaining a 70% stake in the company. She started by seeding a rupee of 10,000 in her house garage area.
Today, Biocon is one of India's largest biotech companies and has a market capitalization of nearly $7 billion on the Bombay Stock Exchange. Then she was India's first self-made Indian female billionaire. This story and her motivational speech inspired lots of females out there.
Richa Kar, Co-Founder & CEO of Zivame
Speaking about lingerie was considered a Taboo topic in India, but here Richa Kar who studied Engineering at BITS Pilani moved and completed her postgraduate studies at Narsee Monjee Institute of Management Studies in 2007. Then she started working as an SAP retail consultant, where she learned many things about how to run a successful business. With the help of her clients, she included the famous lingerie company, Victoria's Secret.
For that, she started the research in the market for lingerie. Finally, she came out with a brand name called Zivame (meaning "radiance" in Hebrew) and produced the most comfortable wear for females.
It was not an easy track for her to achieve, she struggled so hard and was pulled back by her family. She borrowed 30,00,000 from her neighbours and friends. The company started the business in a very small office room, and now it turned into a very big company with many leading investors. And now the company has 200 workers which was led by Richa, one of the leading female entrepreneurs.
Upma Kapoor, Founder of Teal & Terra
Upma, the girl lost her parents at the age of 12, who was born and raised in Delhi. Then she went to her sister and brother-in-law's homes. She studied MBA in Finance from ICFAI. She worked in a corporate job for more than 15 years and left that boring job to start her own business. Furthermore, she also borrowed money for her business from a close circle of friends and families.
She started selling Teal & Terra ayurvedic products for skin and hair, and it starts from rupees 500/- onwards. In a short period, she got regular customers for her product. Being a solopreneur, she was so dedicated to her business that gave her Rs. 2.24 crore of profit today.
Vandana Luthra – Founder of VLCC
Most female Entrepreneurs started their businesses by maintaining health, beauty, and hygiene. Keeping that in mind, Vandana Luthra was born in a middle-class educated family with a mechanical engineer father and an Ayurvedic Doctor mother who ran an organisation called Amar Jyoti.
She travelled to Europe to gain more knowledge about Ayurvedic wellness and beauty. Then she started a very small company named VLCC in 1989 on a small bank loan for health and wellness. Being in a male-dominated and criticised society, she was very consistent in her business and she sought so many doctors' help and advice.
Today, the company VLCC has spread its wings around 11 more countries in Southeast Asia and now the company has two manufacturing units in Haridwar and Singapore.
Vandana was awarded Padma Shri in the year 2013. Then, she was identified by Fortune India's 33rd most powerful female entrepreneur and she was appointed as the Chairperson of the Beauty & Wellness Sector Skill Council by the current Modi government.
Kalpana Saroj – Chairperson, Kamani Tubes
We can see that most female entrepreneurs tried hard to reach the goal of being a successful person. Here, Kalpana Saroj who was born into a Dalit family's eldest daughter for a police constable. She was married at the age of 12 in a Mumbai Slum where she faced abuse mentally and physically by her mother-in-law. Then she moved to her village Ropherkeda in Maharashtra to live with her family.
At the age of 16, she moved back to her uncle's house in Mumbai. There she worked in the Garment to support her family, and then she started tailoring. On the other hand, she did real estate business and earned nearly 4 crores. She ventured into the film industry, the best investment that she made in the Kamani Tubes – a sick company for more than two decades. And now, she is the Chairperson of the company.
She also got the Padma Shri Award for Trade and Industry in 2013. She was appointed to the board of directors of Bhartiya Mahila Bank, a bank primarily for women, under the Government of India.
Priya Anandan – Psychologist
Psychologists are known to assist our mental breakdowns and help us to heal from all the negative thoughts. A well practised Lawyer turned into a certified Psychologist Mr Priya healed people's minds by providing counselling for them. She specialises in helping people deal with a wide range of mental health problems like Depression, Anxiety disorders, obsessive-compulsive disorder (OCD), Psychosis, Emotion regulation difficulties, PTSD, Combat Trauma, and Addictions.
She has 9 years of experience in the field of counselling, and she provides local therapy as well as online sessions.
Divya Gokulnath – Co-Founder of Byju's
Divya Gokulnath has completed her B.Tech in Biotechnology from RV College of Engineering, and she was the Director of Byju's with a net worth of 4,550 crore.
After the completion of her studies in 2007 she met the person Byju Ravichandran ( her husband ), who was motivated to start her career in the teaching field in the year 2008 at the young age of 21.
During the Covid period, she took charge of user experience, content, and brand marketing to ensure uninterrupted learning for the students.
For that, she started her ed-tech for students with her husband in the name of "Byju's". Now the company has raised a total amount of $5.5 billion at a valuation of $23 billion. Currently, they both have a net worth of $3.05 billion.
She received awards like Fortune India 40 under 40 in the year 2022, Fortune 50 Most Powerful Women in Business in the year 2021, and Business Today Most Powerful Women in Indian Business in the year 2020.
Ghazal Alagh – Co-founder of Mamaearth
When you plan to buy natural skincare products in the shop or online, you will surely find the brand Mamaearth. The famous brand which provides skincare, haircare, and babycare products.
Ghazal and her husband started the D2C brand of natural skin care products in 2016. She completed her B.C.A. from Punjab University and started her professional journey in 2008 at NIIT Limited in Chandigarh, India. She also served as a trainer of SQL, J2ME, and Oracle for two and a half years there.
The entrepreneurial journey first started in the year 2012 in the form of the Dietexpert.com website that helps people to have a perfect chart for maintaining a good and fit body with 2000 loyal individuals. In 2015, she established Honasa Consumer Pvt Ltd which became the stepping stone for the Mamaearth brand.
And now the brand has 1.5 billion regular and trustworthy customers. In 2019, the famous Bollywood Actress Shilpa Shetty Kundra expressed her faith in Mamaearth's baby care startup by investing a good amount. Today, Mamaearth has a total profit of $112 million at a valuation of $1.2 billion. She was awarded Business World 40 under 40 in 2019 and the Super Start-Ups Asia Award.
You can see many female entrepreneurs started their careers in business with consistency and strong willpower. There is no age restriction and anything to start a business, a perfect idea, and a good investment is enough. People may criticise us when we plan to do a very big thing, but in that time, we should not get upset or leave the ideas in a single second. Everyone has their struggle in life, fighting with them and overcoming them with positivity will bring a very big change and a successful life.
You might also like