Beauty
Expert-Recommended Mild Shampoos for Healthy Scalp in India

226 Views
Published On: 01 Jun 2023 Updated On: 27 Jul 2023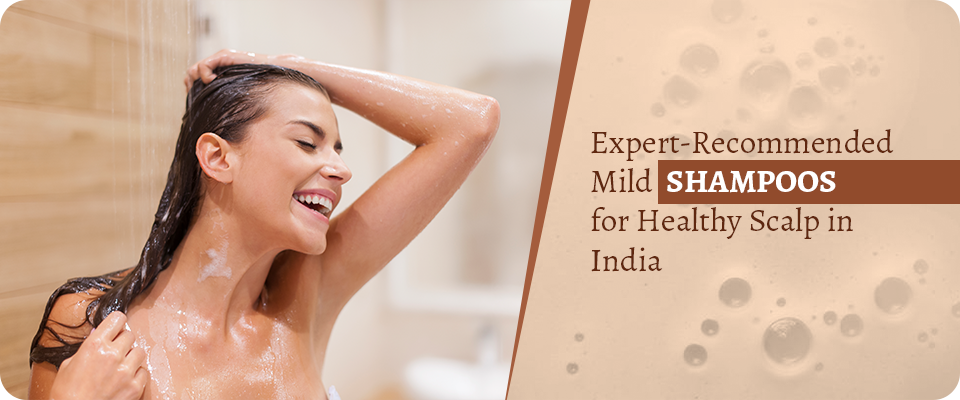 Indian summer is here, which means we will collectively go through common hair issues like the oily and greasy scalp, dandruff, split ends, hair fall, discolouration, frizzy hair, and more. Humid weather during this period of the year in India can put our patience to the test, including our hair. I'm sure I'm not the only one who feels frustrated and helpless when our hair starts to act up on top of the humid weather.
The condition of our hair may not be the direct impact of the weather only, but it may also significantly depend on how we take care of it, our hormonal imbalance, and our lack of basic nourishment. Some more prevailing factors that may affect the strength of our hair are mental health, pollution, stress, nutrition, lifestyle, smoking, medications, ageing, cosmetic procedures, hair styling tools, and genetics.
The positive thing is that there are ways to reverse it and provide the nourishment your hair deserves. One of the methods is to replace your old shampoo with a milder one. Using random shampoos carelessly with harmful ingredients may worsen the condition of your hair. Keeping all the above factors in mind, we have compiled a list of the best mild shampoos for healthy hair in India that are recommended by experts. These shampoos are clinically proven to be effective among Indian men and women and provide the required nutrition to your hair. Let's take a look
Selsun Suspension Anti Dandruff Shampoo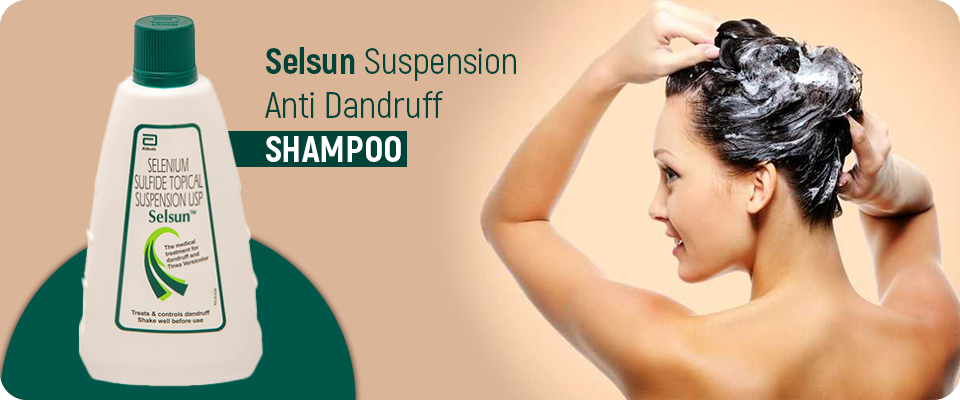 Our first pick is none other than this potent anti-dandruff shampoo from Selsun, which is effective if you are suffering from dermatitis, known for causing skin inflammation, itchy scalp, and dry flakes. It contains a key ingredient called Selenium Sulphide, an antimicrobial agent that reduces flaky and itchy scalps and eliminates dandruff. This shampoo is recommended to use once or twice per week depending on the severity of your scalp condition, or as advised by physicians.
The Selsun Suspension Shampoo may not be exactly considered a mild shampoo in the market because of its drying effect, but still, it has gained the trust and commitment of many users over the decades due to its effectiveness. It is loaded with dual benefits that fruitfully treat and prevent dandruff from redeveloping. This medicated shampoo is also recommended by dermatologists most of the time to tackle excessive sebum production of your hair follicles, which are typically caused by sweat, hair gels, dead skin cells, or hairsprays.
Product Highlight
Dermatologically Approved and Recommended
Mainly Targets Dermatitis
Controls Flaking
Relieves Itching and Irritation
Scientifically Proved
Original Research Brand
2.5% Selenium Sulphide
Biolage Hydra Source Shampoo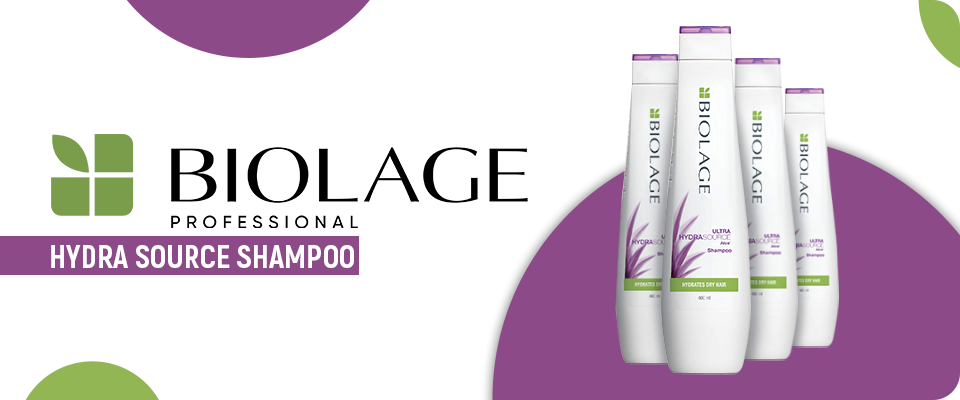 This shampoo by Biolage is another mild shampoo that is specifically designed to nourish and give the hydration that your hair needs, resulting in a remarkably smooth transformation. It is mainly suitable for dehydrated hair, which often results in split ends and frizz. The formulation of this shampoo was inspired by aloe vera, which helps in optimising moisture stability and shielding against subsequent damage. This professional treatment shampoo offers 15 times more nourishment to our hair from a single use.
The Biolage Hydra Source Shampoo contains the goodness of algae extracts, salicylic acid, conditioning balm, and ceramide repair treatment. It can be used on coloured hair as well as chemically treated hair. Account to the brand, this shampoo not only provides bounce and shine but also significantly improves the strength of our hair, resulting in lesser hair fall.
Product Highlights
100% Vegan Formula
Cruelty-Free
100% Recycled Packaging
Paraben-free
Suitable for dry, damaged hair
Key Ingredients-Salicylic Acid, Bisabolol, and Aloe Barbadensis Leaf Juice
Indulekha Bringha Shampoo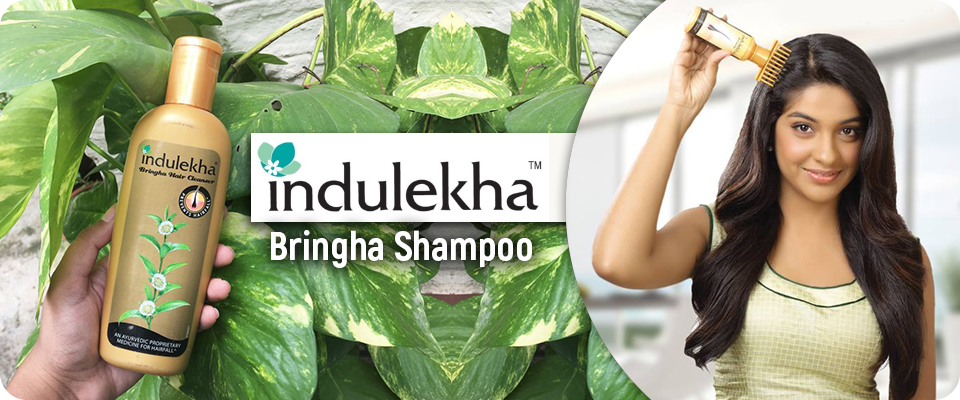 If you are someone who prefers to use shampoos influenced by ayurvedic or herbal components, this Bringha shampoo by Indulekha is another fantastic option. It is an exclusive Ayurvedic treatment for your hair and is recommended and approved by Ayurvedic experts. The shampoo's primary focus is on the hair fall issues most of us suffer from nowadays.
With the formulation of nine potent Bringharaj plant juice, essential oils, and the goodness of herbal components such as neem, tulsi, shikakai, and amla, this shampoo is designed to supply a rich source of vitamins, antioxidants, micronutrients, and minerals to your scalp and improve the overall hair quality. It has proven significantly effective in decreasing hair fall, stimulating blood circulation, toughening hair follicles, and promoting hair growth after using for at least 4 washes.
Product Highlights
Key ingredients- Bringha plant extract, Shikakai, Amla, Rosemary.
Ideal For Both Men & Women
Parabens-Free
Synthetic Dyes Free
Synthetic Perfume Free
Khadi Natural Shikakai & Honey Shampoo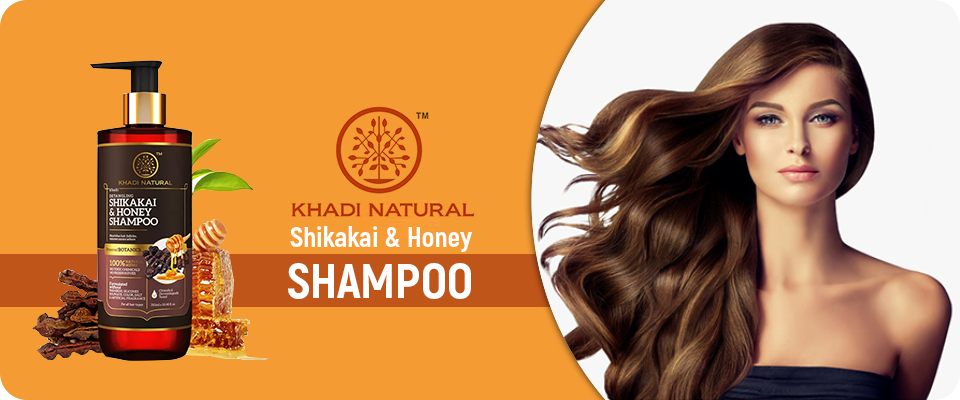 Khadi Natural is known for producing cost-effective products under the guidance of competent Ayurvedic doctors, using Herbal active ingredients. The Shikakai & Honey shampoo is one of its popular products, which comes within the standard of WHO, ISO, and GMP for daily use. This mild shampoo deep conditions your hair as it is infused with natural components like jojoba oil, reetha, shikakai, and honey, which are excellent at gentle cleansing, moisturizing, and boosting our hair shaft. Moreover, it also helps in reducing hair fall, dandruff, and dehydrated scalp.
The main ingredients of this mild shampoo are honey and shikakai, which are fantastic at locking down moisture and keeping our hair hydrated for a long. With consistent usage, this shampoo will transform your dry and weak hair into healthy and bouncy hair. Shikakai has a rich source of Vitamin A, Vitamin B, Vitamin C and Vitamin D, which are essential to maintain healthy hair. Moreover, the shampoo is also boosted with Aloe Vera extracts, Jojoba oil, rosemary, and Brahmi extracts, which can prevent hair loss after regular use.
Product Highlights
SLA Free
Paraben Free
Cruelty-Free
ISO, WHO, GMP Certified
Chemical Free
Key Ingredients- Green Tea, Honey, Shikakai, Aloe vera, Brahmi, Rosemary, Jojoba Oil, Bhringraj.
Core Focus: Deep cleanse, Dandruff, Hair Fall,
Satthwa Biotin and Collagen Shampoo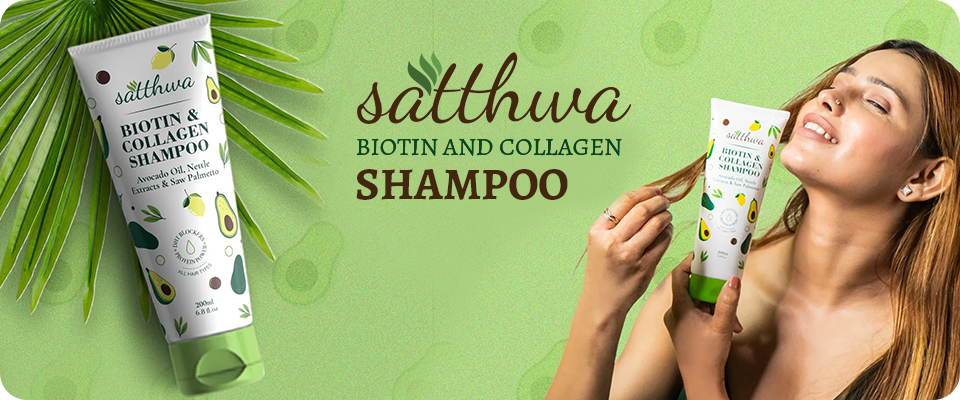 Satthwa brand is fairly new in the Indian market, but it is an underrated company considering they go for quality over quantity. Satthwa is among the best mild shampoo brands in the market that needs more attention. The brand focuses on producing cost-effective products that are free from chemicals, parabens, sulfates, fragrances, and silicone. Biotin and Collagen shampoo is one of their newest releases that are suitable for both men and women and all hair types.
The Satthwa shampoo is supplemented with Biotin, Collagen, Avocado Oil, Nettle Root Extracts, Saw Palmetto, Argan Oil, Active DHT blockers, Avocado Oil, Horsetail Extract, Jojoba Oil, Marula Oil, Grapefruit Oil, and Caffeine, which significantly assists in boosting hair growth and reduce hair fall. The components used in formulating this shampoo are rich in antioxidants and contain abundant minerals and essential fatty acids.
Product Highlights
SLA Free
Paraben Free
Cruelty-Free
Silicone Free
Clinically Tested
Non Toxic
Anti-DHT
Key Ingredients- Avocado Oil, Nettle Root Extract, Saw Palmetto
Arata Cleansing Shampoo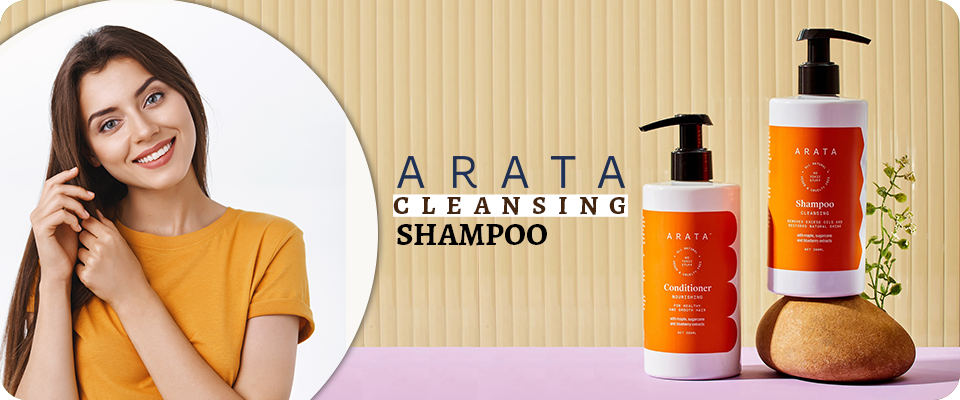 This mild cleansing shampoo by Arata is another excellent pick for you if you are looking for a non-toxic, chemical-free shampoo for your hair. This shampoo is suitable for all types of hair and can be used by both men and women. It is mainly formulated to target those who suffer from excess sebum production on the hair follicles. It is rich in plant-based antioxidants, which help in restoring the natural shine and smoothness of your hair. The replenishing recipe combats the excess sebum but removes them gently from the scalp without stripping it off while nourishing the stands.
The Arata cleansing shampoo is supplemented with the goodness of Blueberry, Soapnut, Maple, Sugar Cane, Lemon, Orange, Coconut Oil, and other botanical herbs. On the other hand, surfactant compounds like Sodium Cocoamphoacetate, Decyl Glucoside, and such, are utilised in the product
Product Highlights
PETA Certified
ACTF Certified
Paraben Free
Cruelty-Free
Chemical Free
Vegan Free
Clinically Tested
Toxin Free
100% Natural
Giovanni Triple Treat Shampoo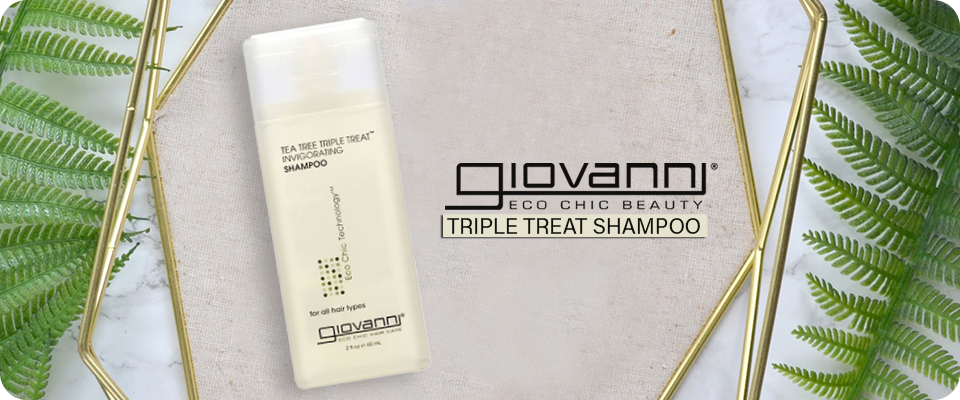 The Triple Treat Shampoo from the Giovanni brand is another selection we have picked for you, as this mild shampoo is created to bridge the void between regular and salon quality. With its main ingredient as tea tree, the restorative components in the shampoo rejuvenate each strand of hair while washing away grime and dirt that built up over the days. This in return leaves our hair clean, neat, and healthy.
What we love about this shampoo is that it is free from sulfate, which means that it will not strip your hair colour or damage them even in the long run. It is also free from parabens, and is PETA certified for cruelty-free and USDA certified for 100% organic ingredients. Some of the main components of this mild shampoo are Peppermint oil, Safflower oil, Aloe Vera juice, Chamomilla flower, Lavender, Eucalyptus oil, Tea tree oil, Sage, Rosemary, coltsfoot flower, Thyme, Nettle, etc. These elements are potent in clarifying dandruff and deep cleansing.
Product Highlights
100% Natural
PETA Certified
USDA Certified
Paraben Free
Cruelty-Free
Chemical Free
Vegan Free
Recyclable Packaging
Toxin Free
Sebamed Everyday Shampoo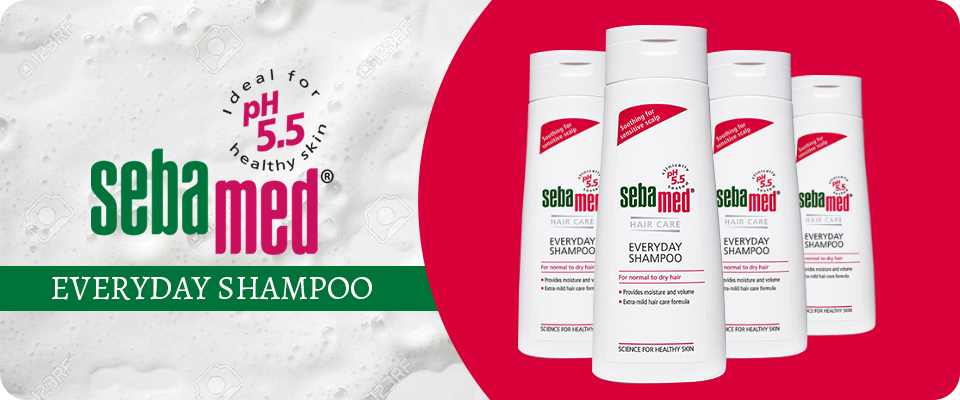 Sebamed Everyday Shampoo is another excellent pick if you are looking for a mild shampoo that is soap-free and gentle on your scalp. This shampoo has been developed and designed by professional Dermatologists with the core focus on gentle cleansing of the hair strands and scalp. This everyday shampoo is ideal for those who have a sensitive scalp, which simultaneously cleanses as well as moisturizes your scalp. It enables the natural moisture of the hair to lock and combats dandruff and itchy scalp caused by common, chronic inflammatory skin diseases like psoriasis and seborrheic dermatitis.
The lightweight ingredients also help in enhancing the natural shine and add volume to the hair. This shampoo is safe to use daily and because of the gentle formula, it does not strip the natural oil of your scalp and cause irritation. Additionally, it is free from Parabens, Phthalates, Paraffin, and Propylene Glycol.
Product Highlights
Moisturising
Smoothing
Volumising
Hypoallergenic
Paraben Free
Phthalates Free
Paraffin Free
Soap Free
Alkali Free
Ideal for Normal to Dry Hair
pH 5.5
Dermatologically Tested
Pilgrim Sulphate Free Mild Shampoo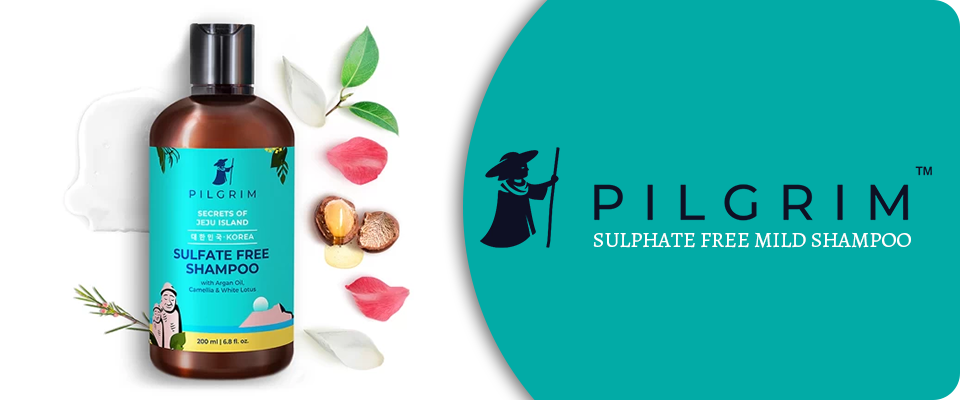 Pilgrim's sulphate-free shampoo is infused with essential ingredients like Camelia and White Lotus, sourced from Jeju, South Korea. It is extremely gentle on your scalp and deep cleanses the dead cells without stripping off the natural oils, which makes it ideal for those who have dry and curly hair.
The natural components blended into a bottle of this sulphate-free shampoo are a perfect combination of ingredients such as camelia, almond oil, argan oil, yugdugu extract, white lotus extract, coconut oil, and glycerine, which shields your hair and scalp from further hair loss and other skin conditions.
Product Highlights
Fights Hair Fall & Frizz
Reduces Split Ends
Boosts Hair Strength
100% Vegan
Cruelty-Free
FDA Approved
Paraben Free
Toxin Free
Vanicream Free and Clear Shampoo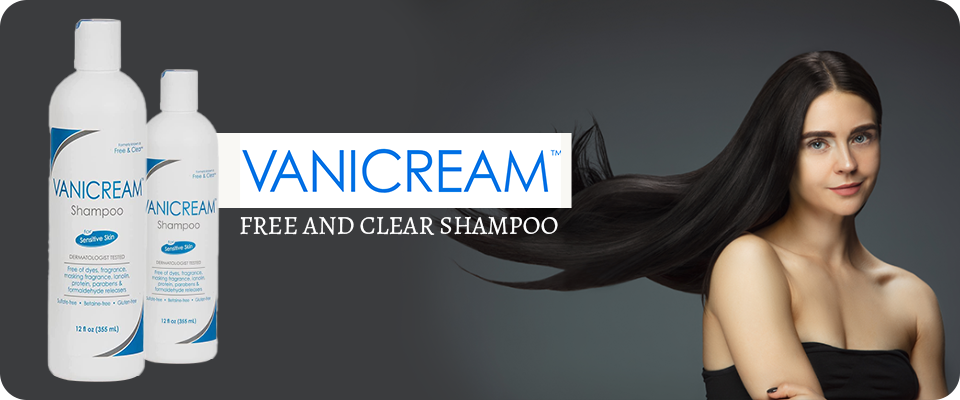 Free & Clear Shampoo by Vanicream is formulated for those with sensitive skin that effectively washes the hair and scalp while being gentle on the skin. Also, it is free of perfumes and other familiar irritants, which can negatively impact sensitive scalps. This shampoo helps in removing flaking and is effective for those suffering from inflammatory diseases like seborrheic dermatitis and psoriasis. It is great at removing excess oil without drying out the scalp completely, and it eliminates any build-ups on your hair and scalp, which you can get it from conditioners, hair creams, hairsprays, and other products.
This Vanicream mild shampoo is also fragrance-free and does not contain botanical extracts or essential oils. It has no harsh cleansing agents and is free from sulfate, proteins, gluten, and parabens. Additionally, it is dermatologist tested.
Product Highlights
Fights flaky & dry scalp
Reduces Hair Fall
Dye Free
Fragrance-Free
Lanolin Free
Paraben Free
Formaldehyde Free
Botanical Extra Free
Cocamidopropyl Betaine Free
Sulfate Free
Protein Free
Gluten-Free
Dermatologically Tested
Why Are Mild Shampoos Essential And Better?
What makes gentle or mild shampoos distinct and unique from other regular shampoos is the exclusion of potent cleansing components like detergents and surfactants. For those who are not aware, these two agents are soap-like elements, which are used to eliminate excess oils, residues, and pollution from hair. Some more components that we can find on potent cleansing shampoos are— ammonium lauryl sulfate, sodium lauryl sulfate, ammonium laureth sulfate, triethanolamine lauryl sulfate, disodium laureth sulfosuccinate, triethanolamine laureth sulfate, and sodium dioctyl sulfosuccinate. Due to the existence of these elements, regular shampoos are recommended to use only occasionally for deep cleansing.
Nevertheless, mild shampoos yet incorporate detergents and surfactants as well, but they are not as potent as the other powerful agents contained in cleansing shampoos. Some examples are— Cocamidopropyl betaine, ammonia esters, long-chain amino esters, cetyltrimethylammonium chloride, polyoxyethylene sorbitol esters, polyoxyethylene fatty alcohols, alkanolamides, sodium lauraminopropionate. Additionally, gentle shampoos also incorporate conditioning mechanisms like hydrolyzed silk and animal protein, glycerin, amino acids, dimethicone, keratin, propylene glycol, natural or essential oils, plant extracts, shea butter, panthenol and provitamins.
Because most of the mild shampoos incorporate the above components into the formulation, it provides multiple benefits such as— it does not irritate the scalp, it helps in fine cleansing without stripping off the natural hair oil, it does not precipitate hair loss in the future, and helps in nourishing dry and damaged hair, which are often caused by colouring, hair products, heating tools, etc.
Mild Shampoos For Types Of Hair Concerns
Mild Shampoo For Wavy/Curly Hair
Wavy or curly-haired people normally tend to lean towards a drier scalp, which leads to flakes and dandruff. So if you are someone suffering from dehydrated hair, mild shampoos are highly recommended to use as they are excellent in conditioning and cleansing gently. At the same time, it does not strip off the natural hair sebum and locks the moisture.
If your hair is dry and frizzy, we also recommend you use a good quality hair conditioner after or before shampooing as per your preference. And to offer extra hydration, apply a leave-in conditioner or hair serum on the hair strands.
Mild Shampoo For Hair Fall/ Loss
Hair fall is one of the most common hair issues that most of us go through in day-to-day life. While it can be improved through various means, preventing hair loss may not be completely possible, especially as we get older. Some of the common causes of hair loss are medical conditions, medications, poor nutrition, ageing, pregnancy, infection, stress, genetics, hair treatments and products, etc.
If you are going through hair thinning, using gentle shampoos is a great start. It can potentially help in calming your irritated scalp and prevent further damage to the hair follicles. This will in turn save your hair from breakage and overdrying the scalp, which many experience with harsh shampoos.
Mild Shampoo For Greasy/Oily Hair
People with oily scalps can also use mild shampoos by combining them with hard shampoo once a week. Some of the main factors that cause extreme oily scalps are genetics, stress, hormonal fluctuations, lack of personal hygiene, unhealthy diet, or scalp infections. Because mild shampoos are incorporated with gentle cleansing power, they can significantly reduce excess sebum production on your scalp.
Mild shampoos are also ideal to be used daily by those with oily hair. If you have the type of scalp that greases easily, try to avoid mild shampoos that involve silicones like dimethicone and cyclomethicone, which usually aids in adding shine to your hair. So, in reverse, it may make your hair more greasy.
Mild Shampoo For Hair Thinning
Hair thinning is a common hair concern as we age, however, if you face this issue at an early age, something could be wrong. It can be related to your health, hereditary, nutrition, hormonal imbalance, scalp infections, and such. Of the many ways to treat and prevent further hair thinning, adding mild shampoo to your hair care routine is a great start. If you are still using abrasive shampoos, it is high time to shift to a mild shampoo.
For hair thinning, we recommend going for a mild shampoo that is enriched with thickening components like ginseng, amino acid, biotin, peppermint oil, rosemary, grapeseed oil, keratin, ginger, and the like.
Mild Shampoo For Coloured Or Chemically Treated Hair
If you have coloured hair or your hair underwent chemical treatments, using harsh shampoos may possibly have side effects in the long run like excessive hair fall or premature hair thinning. Mild shampoos are a great replacement as they are formulated with natural ingredients and are free from harmful chemicals and fragrances.
Mild Shampoo For Dandruff
Sometimes tackling severe scalp concerns like dandruff and flaky scalps with potent shampoos may worsen the case and trigger your sensitive scalp more. Such scalp conditions can be combated and potentially minimise the disorder by using a mild shampoo that is incorporated with essential ingredients like zinc pyrithione.
For more severe conditions like psoriasis and seborrheic dermatitis, you can opt for shampoos that have ketoconazole, ammonium lauryl sulfate, distearyl phthalic acid amide, ammonium laureth sulfate, etc. Mild shampoos can help slow down the production of keratinocytes and counter flaking.
FAQs
How Long Does It Take To See Results With A Mild Shampoo?
It can depend on the condition and severity of your hair, but it can roughly take about two to three months to see positive results after consistent use. Keeping in mind that changing your diet, lifestyle, and hormones may also depend on the outcome.
Are Mild Shampoos Expensive?
Most of the mild shampoos we hand-picked for you above are budget-friendly, reasonably priced, and cost-effective.
Which Mild Shampoo Works Best In Reducing Dandruff?
Again, this may depend on the severity of your dandruff condition, but our best pick for everyday use would be Satthwa Biotin and Collagen Shampoo and Sebamed Everyday Shampoo. Meanwhile, for a more severe case, we recommend the Selsun Suspension Anti Dandruff Shampoo be used once or twice a week. It can be incorporated with a hydrating shampoo.
Are Sunsilk And Pantene Considered Mild Shampoos?
Unfortunately, shampoos from these brands are not mild shampoos as it contains harmful chemicals, which could bring consequences in the long run. These shampoos contain sulphate, SLS, and parabens. On the other hand, the Pantene Pro-V line claims to safeguard our hair from damage, while the Sunsilk brand asserts that their shampoos are infused with herbal components to nullify the side effects of the chemicals. But, it is something to seriously think about.
Can An Adult Use Johnson's Baby Shampoo? Is It Considered A Mild Shampoo?
Good news, yes! Johnson's Baby shampoo is naturally designed for the delicate and sensitive scalp of newborns and babies, so it can be considered a mild shampoo and would be suitable to use by adults as well. It is gentle on the scalp and hair strands and is free from parabens, phthalates, sulphates, and dyes.
You might also like