SwearBy
Top Kurti Brands in India for Quality and Style

247 Views
Published On: 24 Feb 2023 Updated On: 27 Jul 2023

If you personally prioritise comfort and elegance when it comes to clothing, a fair share of your wardrobe is likely to be occupied with kurtis. Kutis have evolved over time into a wardrobe staple for new-age Indian ladies, no matter where they are from or in which sector they work.
Be it occasions and events, or business meetings, draping a saree can be time-consuming at times; kurtis come to your rescue during such times. College-going girls these days prefer pairing their go-to pair of jeans with button-up kurtis. Many women when going shopping like to wear relaxed-fit kurtis. Coming to the fusion versions of kurtas, most women like to wear them even when going for brunch or a special occasion. In addition to these, who can forget the Shaadi wali kurtis? We are quite well aware of the different forms of kurti available in the market.
The Top Indian Kurti Brands on Our List Are
Fab India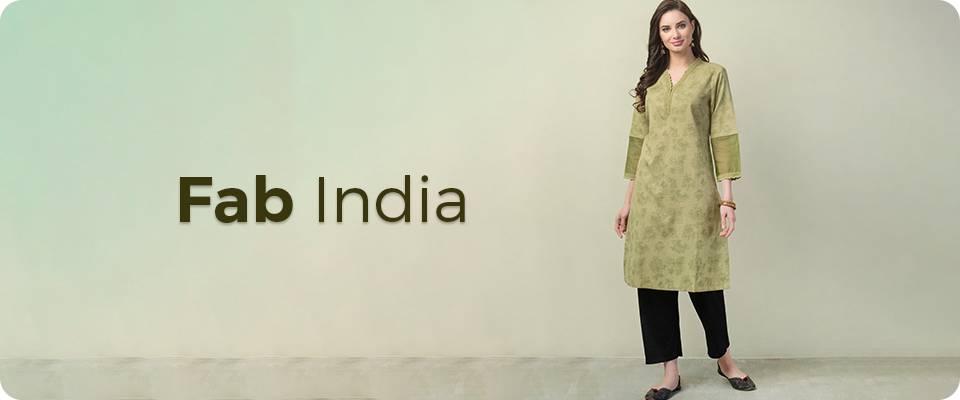 Fab India should be your first choice if you are looking for a formal Kurti. In addition to Kurtis, the brand offers you a wide range of goods including textiles, clothing, home decor, and much more. To ensure your ultimate comfort, these kurtis are created with classic materials like organic cotton. KaroBargain recommends you surprise your special ones with a present from FabIndia on important occasions.
We liked:
Fab India kurti are very comfortable to wear.
We didn't like:
Fab India kurtis are priced at a higher price.
W for Women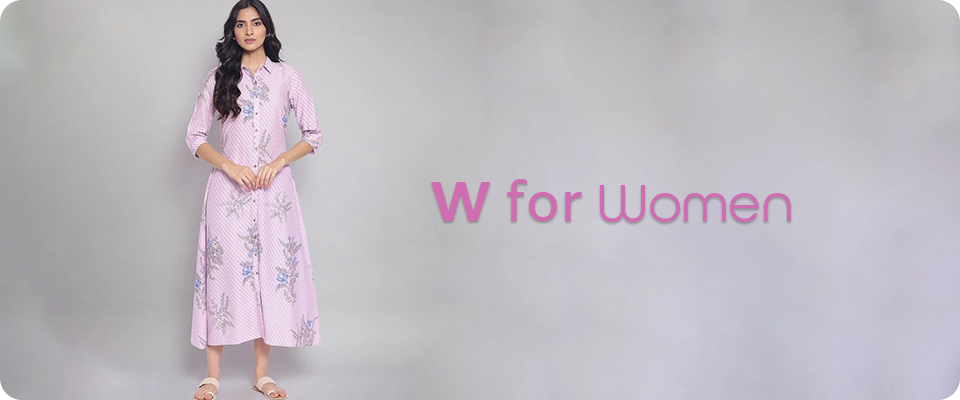 It's difficult for women to keep all kinds of Kurtis. Every woman out there can relate to this statement. W for Women is your best bet if you're seeking for a variety of Kurti models. The company is dedicated to offering wardrobe options that satisfy the needs of a contemporary woman.
You can develop a distinctive look with the W for Women kurtis. The most recent styles of this brand come in a variety of pastel tones and printed patterns. What's most impressive about these designs is that they were created to be both environmentally friendly and comfortable.
We liked:
W for Women kurtis come in a variety of styles.
We didn't like:
W for Women can be expensive.
Biba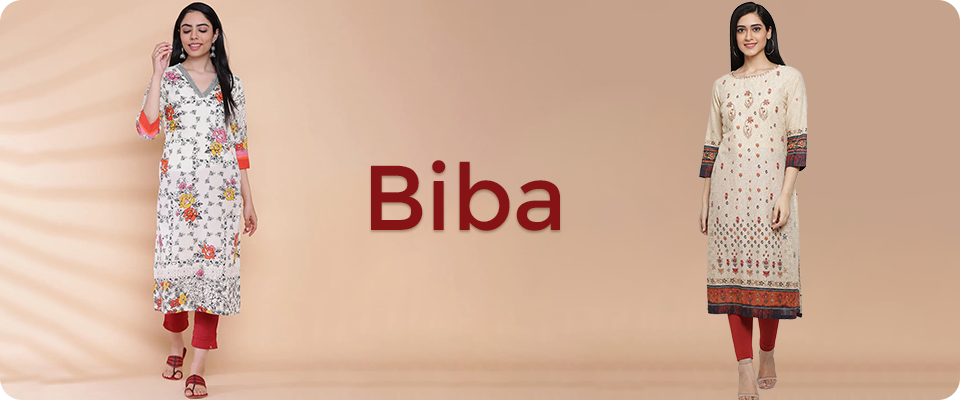 No other brand can compete with Biba when it comes to kurtis. In 1986, Mrs Meena Bindra founded one of the most well-known ethnic wear brands under the name "Biba". Biba is a Punjabi term which translates to "beautiful." One of the most sought-after kurta collections in the Indian market is that of Biba. This is a brand that was first recognised for its casual salwars and casual churidars. Biba offers you a lot of options to choose from when it comes to designs. Biba's items meet your demands for all situations, from modern and casual kurta designs to classic Indian styles
Biba currently has more than 285 outlets spread across different locations. The best part about this brand is that Indian ladies of various ages and body types look absolutely fantastic in their kurtis. The Biba brand is gradually gaining popularity in western nations due to its unique design and patterns.
We liked:
Biba kurtis have unique designs which you are not likely to find with other brands in the market.
We didn't like:
The fitting of Biba kurtis can be at times problematic
Melange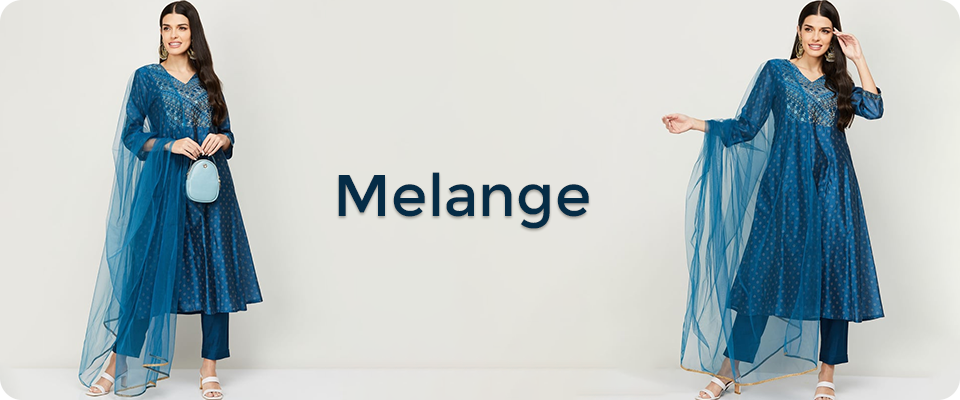 A brand that "cuts through the clutter of stereotypes of what ethnic wear should be" is how Melange positions itself. On the one side, they have kurtis with geometric prints, and on the other, they have sharp, new edge styles in unusual fabrics. Melange, formerly a Lifestyle brand offshoot, is now a kurta brand with a significant internet presence. The brand also has retail stores in different locations in India.
We liked:
This brand offers you new-age designs.
We didn't like:
The kurtis of this brand may at times be uncomfortable to wear.
Aurelia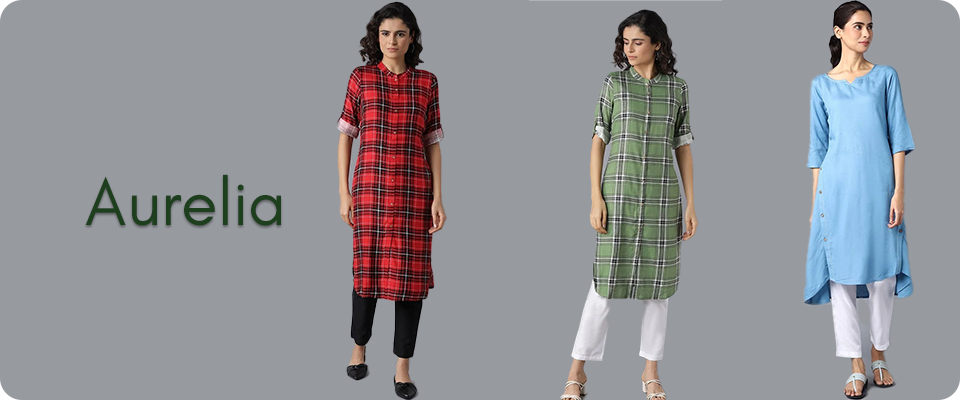 All our wishlists on Ajio or Myntra have been topped by the reasonably priced kurti line Aurelia. Many women say that this brand redefines Indian ethnic wear by remaining within the bounds of traditions. However, the brand integrates certain modern designs and patterns.." This is all that new age women like us want. After all, who doesn't want to stay trendy in addition to being close to their roots? According to KaroBargain, one of the best aspects of Aurelia's kurti collection o is how their distinctive designs make it simple for modern ladies to make a style statement.
We liked:
Aurelia kurtis are quite affordable.
We didn't like:
The quality of Aurelia kurtis may not be great.
Libas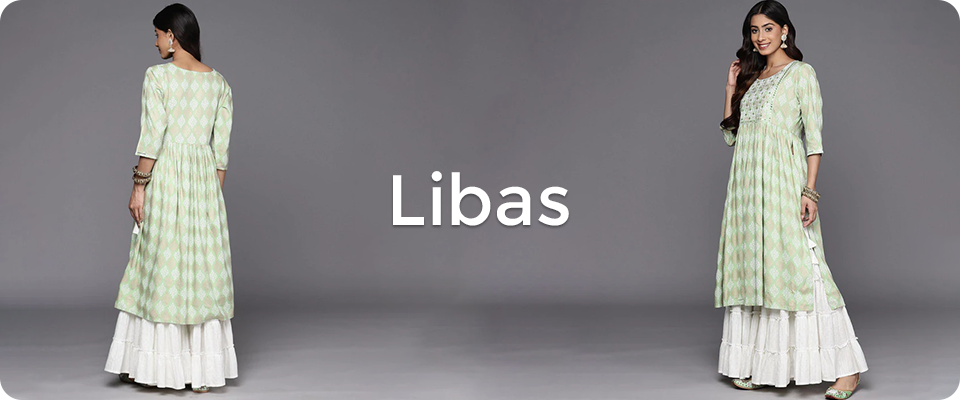 If you are looking for a value-for-money kurti brand in India, Libas has to be one of your first choices. Libas brings before you eye-catching kurtis with various patterns such as A-line shape, flared sleeves, and a straight bottom. The majority of Libas kurtis are machine washable and made of viscose rayon. They are ideal for daily wear. Libas kurtis can be a good option for formal meetings and gatherings.
We liked:
Libas offers you a wide variety of kurtis, which are available in different shapes and styles.
We didn't like:
The quality of LIbas kurti isn't that great.
Zola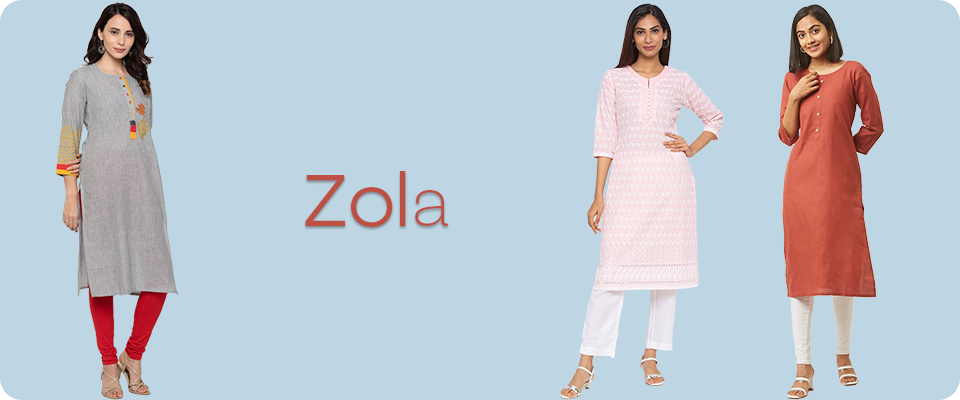 Everyone you encounter would be captivated by these gorgeous kurtis by Zola. The brand offers beautiful chikankari kurtis that reflect the classic charm of Lucknow. The kurtis of this brand are appropriate for both regular as well as festive wear. Cotton and polyester are just a few of the fabrics used to create these kurtis.
We liked:
Zola kutis are quite affordable.
We didn't like:
The stitching quality of Zola kurtis isn't that great.
Jaipur Kurti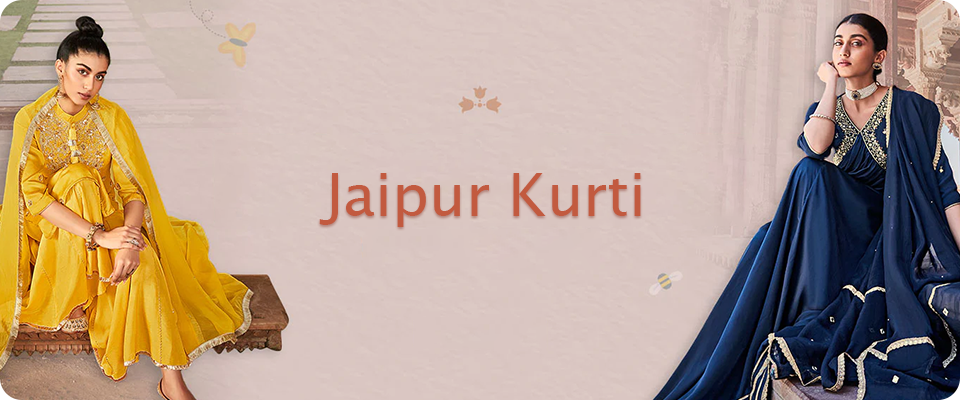 Mr. Anuj Mundhra founded the popular traditional clothing brand Jaipur Kurti.The company that operates the brand is called Nandani Development Pvt. Ltd. With its fantastically premium quality products, the brand has quickly gained popularity among the masses.Its designs blend high-end modern aesthetics with authentic Rajasthani designs.The best thing about this brand is how trustworthy and reasonably priced all of its products are.
We liked:
Jaipur Kurti offers kurtis at reasonable prices.
We didn't like:
This brand doesn't offer you a wide range of styles.
Lakshita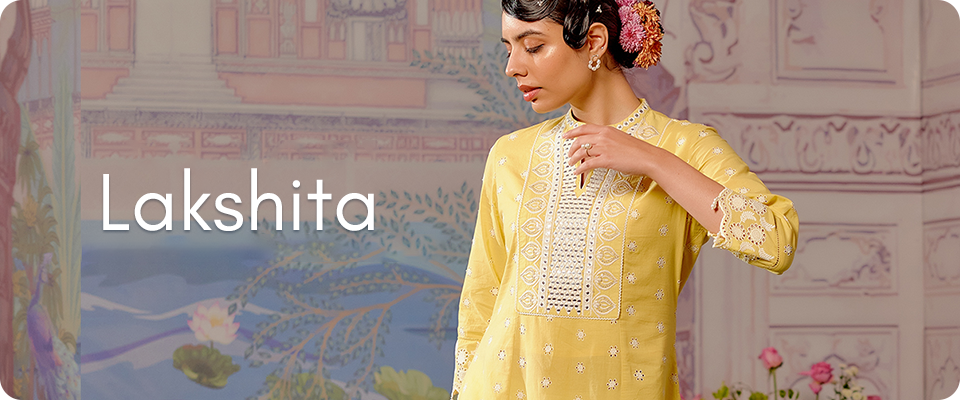 The Lakshita Brand kurtis are distinguished from other brands in the market by its distinctive combination of geometric shapes and elaborate embroidery designs. The company also places a strong emphasis on adding ethnic embellishments to their kurtis, taking design cues from Indian handicrafts. If you want to stand out in the crowd, you should definitely include their selection of Anarkali kurtis in your closet.
We liked:
The kurtis of this brand are quite unique in terms of designs.
We didn't like:
These kurtis are quite expensive.
Sabhyata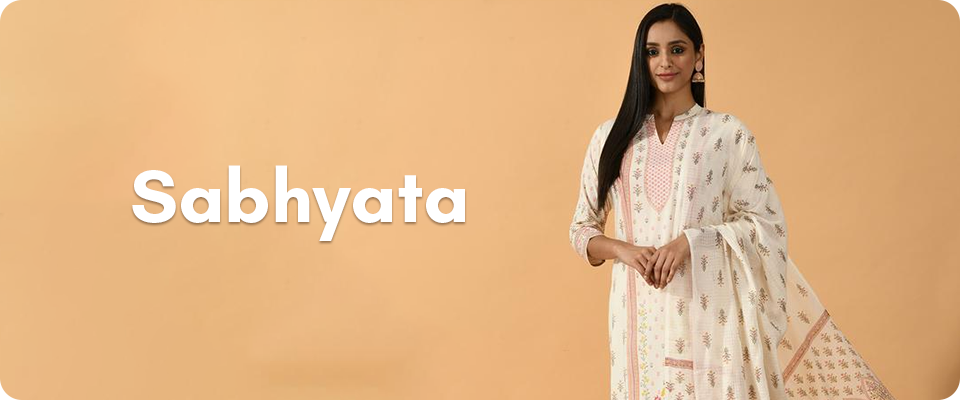 Anil Arora and Pankaj Anand launched the renowned ethnic clothing brand Sabhyata in 2003. People of all ages adore Sabhyata's collection of stunning kurtis, ethnic dresses, and skirts.Sabhyata is a brand you need to look at if you're looking for elegant Indian attires to slay your next celebratory event.
We liked:
Sabhyata kurtis are great in terms of quality.
We didn't like:
Sabhyata kurtis are not suitable for machine washing.
Anokhi
Anokhi, a Jaipuri kurti brand is well-known for its handcrafted, traditional textiles. Anokhi, is a 30-year-old company and is a pioneer in the export market. The brand uses vegetable colours, one of the oldest colouring methods, to produce their designs. We appreciate Anokhi since they provide all kurta variations. Short contemporary kurtis, kurta dresses, and our all-time favourite, straight-fit bohemian kurtas, are all the various options you have at Anokhi. Although they don't have an online presence, you can pick an Anokhi kurti from their offline stores.
We liked:
Anokhi kurtis have quite unique designs.
We didn't like:
The stitching quality of Anokhi kurtis isn't that great.
Factors to Keep In Mind While Purchasing a Kurti:
A kurti can be worn to a formal meeting, a family gathering, or even at home; owing to its versatility, kurtis have turned into an ultimate favourite of modern Indian women.
There are countless websites and offline stores that sell the kurtis from different brands. As an informed customer, there are few factors that you should keep in mind while purchasing a kurti. KaroBargain has put below all these factors for you.
Your Body Shape
Kurtis come in a variety of styles, including A-line, short, flared, dhoti, among others. You must be mindful of your body type and choose a kurti style that highlights your best features. Someone who is low height, for example, are recommended to wear kurtis with straight lines. This makes them appear taller. For those with slender hands, three-quarter or full-sleeve kurtis are good alternatives
Fabric of the kurti
Do you agree that the fabric should be one of your top priorities when buying a kurti online? The fabric of the kurti must allow your skin to breathe, and permit unrestricted movement. Cotton is by far the most practical fabric, although kurtis made of silk or rayon can be tried as well. However, if you're going somewhere with a humid climate, KaroBargain recommends you to wear cotton kurtis..
Print of Kurtis
Online as well as retailers offer an infinite variety of kurti print designs. Polka dots, bandhni patterns, and floral designs are a few examples of classic favourites. You can use wise play in this situation. If you want to appear slimmer and taller, use kurtis with minute motifs or vertical stripes. Choosing kurtis with larger prints can make you appear fat.
Ratings and Reviews
Ratings and reviews are helpful, particularly when you purchase a kurti from an online store. You might enjoy a particular print, colour, or style of kurti, but you should pay attention to how the certified customers have rated the kurtis. Most of the time, all apps and websites provide customer reviews of their goods. Customers also convey their entire experience, from placing an order to wearing it, in addition to giving ratings. A first-hand purchase guide are provided by these ratings and reviews. Thus, before making the desired kurta purchase,you need to carefully study them.
Budget
Your budget should be your other priority while purchasing a kurti.Make a list of the kurti styles or designs you come across on websites and apps if your spending limit is INR 1000. Compare the prices of kurtis on different websites to avoid wasting your money. Ask your local shops if they can find the kurti available online at a reasonable price.
How to Select a Kurti Depending on Your Body Type?
Wondering, what kurti shape should you choose to look flawless? No worries, here's KaroBargain to your rescue. We have listed below the various shapes and styles of kurtis which you can wear based on your body type. The guide below will surely help you choose a kurti that would look flattering on you.
Apple Shaped Body:
Use darker colour kurtis available in cotton and silk materials if your upper body is wide in comparison to your lower body, and if you have a large bust. V-shaped or embroidered necklines have a tendency to highlight the bust. Sleeves with flared edges will help to draw attention to your best traits.
Rectangular Shaped Body:
The shoulders, hips, and waist of a rectangle body type are all of an equal size. In the case of such a body type, the waist is not defined. However, the bust size can range from small to medium.If you have such a body shape, the ideal kurti for you should have a broad, deep neckline.. To finish the style, choose slightly slender and sleek bottoms like churidars or leggings.
Pear Shaped Body:
Pear-shaped bodies are those with full hips and thighs, a distinct waist, and small shoulders. If you have such a body shape, you should wear dark bottoms and pair them with lighter Kurtis. This will help in highlighting your torso. Your appearance can be improved by necklines with collar designs, or square cuts. You can also choose bishop and roughed arms for the sleeves. If you have a pear shaped body, KaroBargain recommends you wear kurtis that are straight and long. This will help in lengthening your frame.
Hourglass Body Type:
This body shape has a pronounced bottom and hips, in addition to a well-defined bust. You can wear any sort of Kurti if you are blessed with this body type. You can create a gorgeous style by wearing them with palazzos, straight-leg pants, or both. The ideal option for you can be a flared Kurti because it would highlight your best features. Also, a streamlined cut kurti would suit you well if you have this body shape.
This body type requires a narrower bottom and a squared-off shoulder line. Raglan sleeves would look great on this body shape since they provide the impression that the body is dispersed evenly. Be careful to choose longer Kurtis and to layer them with a skirt or patiala. To adopt a more appealing look, KaroBargain recommends you stay away from clothing with prominent shoulder details or high necklines.
Inverted Triangle Shaped Body:
This body type requires a narrower bottom and a squared-off shoulder line. Raglan sleeves would look great on this body shape since they provide the impression that the body is dispersed evenly. Be careful to choose longer Kurtis and to layer them with a skirt or patiala. To adopt a more appealing look, KaroBargain recommends you stay away from clothing with prominent shoulder details or high necklines.
You might also like