News
Indian Women are 3rd Highest Crypto Owners in the World

163 Views
Published On: 19 Aug 2023 Updated On: 24 Aug 2023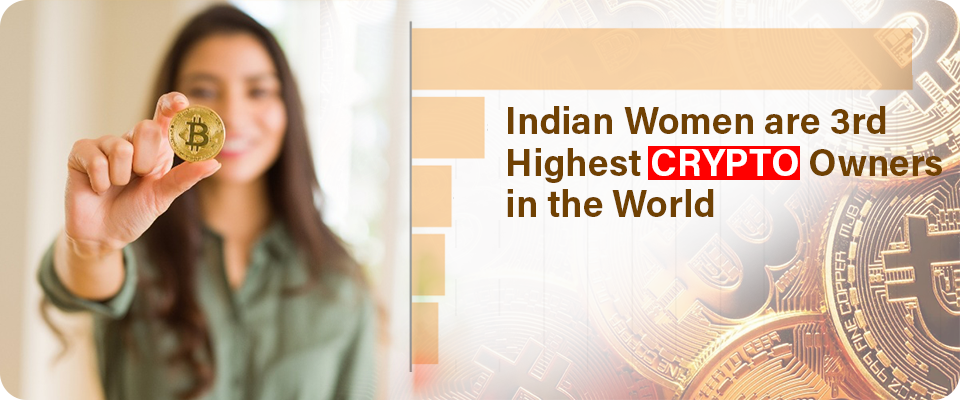 It is said that approximately 6.3 crore women in India are considered to be owning cryptocurrency in the entire country which makes up nearly 10% of the total population of women in India as per a recent economic statistics study. This makes the country the third-highest globally shared, as the study showed. According to the ET report, "Women crypto owners stood at 63 million in India as against a female population of about 685 million—a 9.2% share, data from foreign exchange education platform Forex Suggest showed."
As per the data from the foreign education portal called Forex, it is seen that there is nearly 10% of women who are owning cryptocurrency in India amongst the 685 million women present which is about 63 million women from the total population in India. Upon analyzing the figures indicated in India, The emerging tech evangelist in blockchain Sharat Chandra quoted "There are several aspects including the prosperity to explore the new assets. Most educated women are seeking independence in employment. Financial literacy, their general awareness, and their tendency to explore new asset is on the rise."
Vietnam is on the top of the charts with more than 12 million female cryptocurrency owners which contributes to 47% of the female owners of the country. This is the most even gender distribution of the owners seen spread across the country. It owns approximately 24% of the female population. Next in the line come the Philippines with more than 5 million women crypto users making 9.64% of female owning cryptocurrency. In the third spot is India with approximately 63 million women crypto owners contributing 9.18% population of females owning cryptocurrency in the nation.
Vietnam also topped the charts of most equal (in terms of gender) adoption of crypto with 47% of owners being female in owning cryptocurrency. As per the report of the study, it stated: "This is a difference of just six percentage points, showing that female access to digital currencies is being supported by the local culture." Next on the chart of women crypto owners was Venezuela with 8.42% of female crypto owners, South Africa with 7.60% population of female owners, Singapore with 7.51% female owners, United States, Brazil, Nigeria, Argentina with 6.88%, 6.63%, 4.25%, and 4.22% population of female crypto owners respectively.
In second place came Indonesia with a 14-point gap with male and female owner shares being 57% and 43% respectively. The third place was tied up between Kenya and Columbia with 42% of the women population of crypto owners in both countries. India ranks eighth with male and female cryptocurrency ownership at 60% and 40% respectively. The evangelist, Chandra further added that despite the setbacks laid for women optimizing asset tokenization opens up further asset classes which is plus point for women to explore and invest in crypto in India.
You might also like