SwearBy
Cast Iron Brands in India

140 Views
Published On: 22 Feb 2023 Updated On: 27 Jul 2023

The time-transcending cast iron brands of tawas and utensils are still present in modern kitchens. One reason could be how versatile it is, you can cook anything on it and it gives a crispy, healthy and well-cooked result. Even when people complain about the difficulty of maintaining it, the health benefits offered by it make them people's favourite. Cooking on a cast iron tawa can help add iron to your food and as the myth says it is not difficult to take care of your Iron skillets. The cast iron tawas are more durable as you can season them making them non sticky utensils again. Moreover cooking on a high-quality cast iron tawa makes cooking faster, it can retain heat and can spread them evenly.
People are bringing back cast iron utensils to their households after realising its health benefits. Investing in a good cast iron product is a long-lasting one as this tends to last really long without compromising on health factors. We have shortlisted a few of the best cast Iron Brands in India so you can get your hands on highly durable and healthy cast iron utensils.
The Best Cast Iron Brands on our list are:
Indus Valley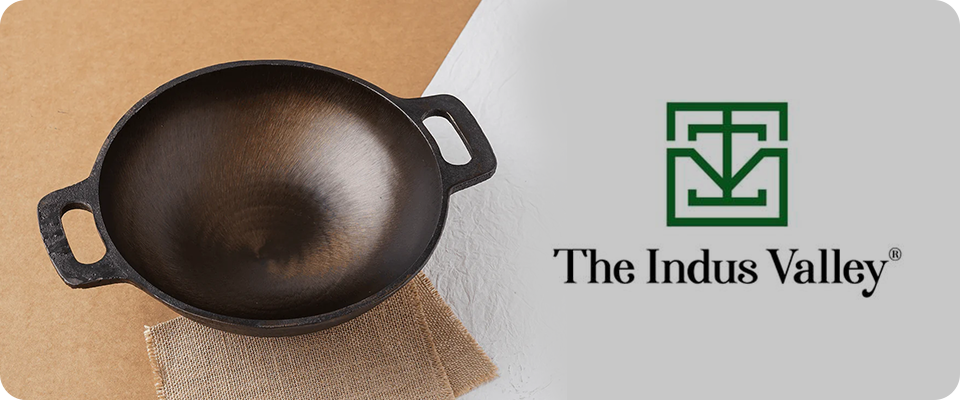 The Indus Valley offers premium quality cast iron utensils that enrich the food with Iron helping you and your family stay healthy. Indus valley offers cast iron utensils of various sizes and for various uses.
You can buy pre-seasoned, toxic-free iron kadai from The Indus Valley or tawa to cook your favourite dosa and roti, Iron Tadka Pan, Iron Frying Pan or Iron Wok to fit your needs. Cast iron cookware is well sought out for its heat retention and heat conductivity property.
Lodge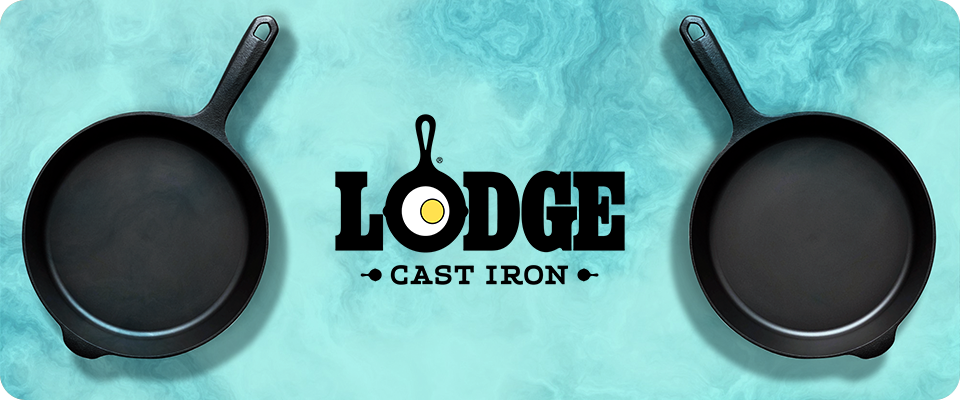 The lodge is one of the most popular Cast Iron Cookware Manufacturers globally. Established in 1896 in Tennessee their utensils have unmatched quality in terms of durability and metal property. Lodge has 125 years of expertise when it comes to manufacturing high-quality cast iron products.
You can shop from their variety of skillets, fry pans and tawas to fit your needs. The product sold by Lodge are pre-seasoned and can be used for a really long after seasoning them when required.
Zishta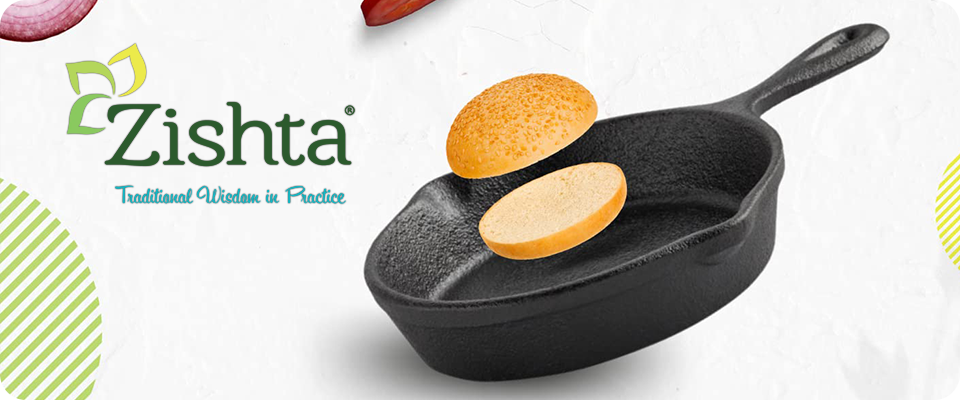 Preserve traditional ways of making utensils that would be Zishta's goal. Zista empowers traditional artisans of the country by bringing their products to customers from where they originated. Cast iron or be it the other products sold by Zista they are made by following the traditional methods like how the ancestors used to.
Thenkasi's traditional craftsmen, who are recognized for their ability to produce cast iron cookware and pure iron cookware from premium iron, make the cast iron goods for Zishta. Dosa pans, cast iron tawas, cast iron kadais, and paddu pans are only a few examples of the cast iron items offered by Zista.
Rock Tawa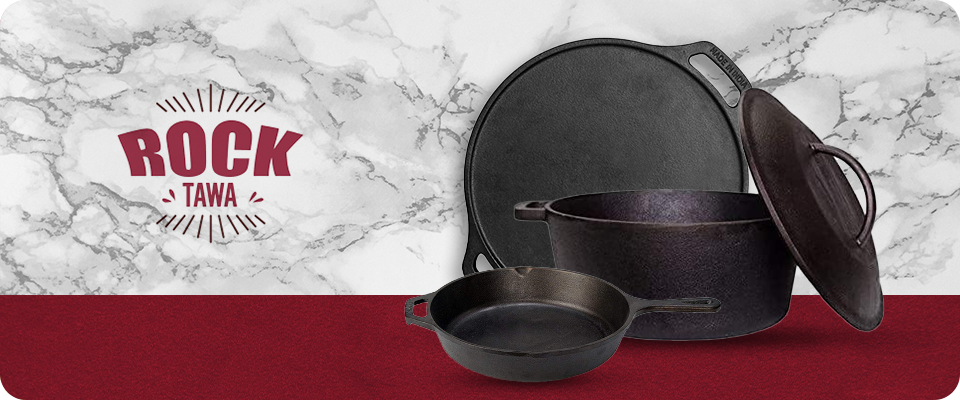 Understanding the likes and needs of Cast Iron Utensils in Indian households Rock Tawa manufactures high-quality cast iron utensils. The products of Rock Tawa are manufactured with high-quality ingredients and green sand moulding which are recyclable. The tawas are pre-seasoned with sunflower oil so customers can use them right away.
Rock Tawa offers a variety of cast iron utensils including cupcake moulds and bread moulds adding a healthy dose of Iron to baking. Their products are affordable and of high quality and can be used on induction cooktops too.
Meyer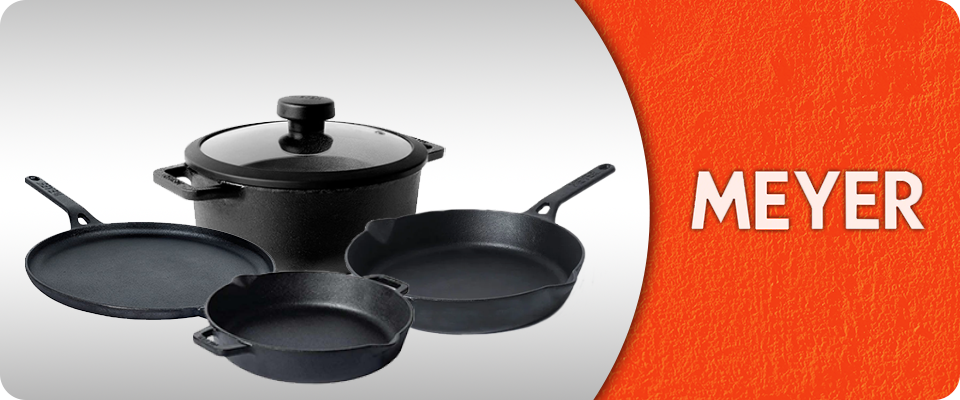 Meyer delivers high-quality functional cast Iron utensils to customers. Meyer utensil delivers utensils of international quality and it comes under the international cookware brand Circulon known globally. The brand has over 37 years of experience in the industry.
The cast iron range of Meyers is ideal to cook authentic Indian dishes. They have a range of cast iron ware including utensils for baking, frying, grilling and more. The cookwares of Meyers are extremely sturdy and can be used on stoves, and induction and can be heated on direct fire.
Vinod Legacy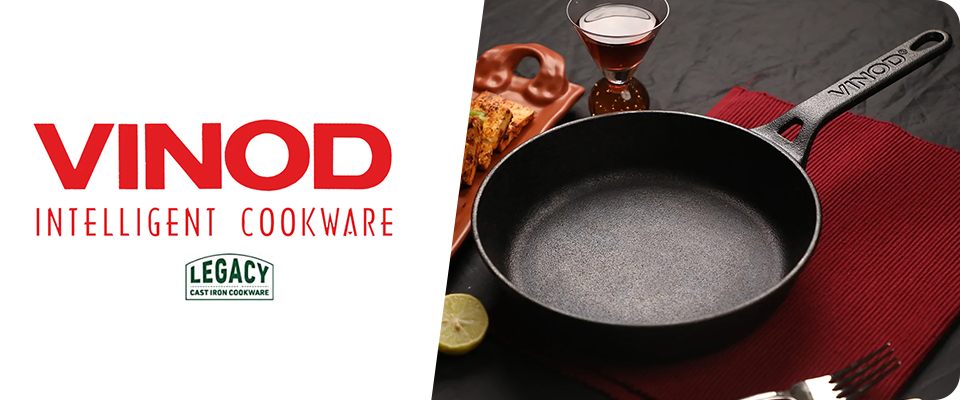 The cast iron utensils from Vinod Legacy have a premium finish and quality which can add elegance to modern kitchens. The utensils range of Vinod Legacy is designed to meet the requirements of Indian households.
The cookware is designed with heat-resistant handles and can be used for heavy-duty cooking. The cast iron utensils of Vinod Legacy are designed to distribute heat evenly and are dishwasher friendly.
101 of Purchasing Cast Iron Cookware:
You may be someone who always has a firm decision about everything in life, but even then the sea of options in the market could make you indecisive. For now, let us look into a few factors that can keep indecisiveness at bay when it comes to cast iron utensils.
Here are a few things to keep in mind while purchasing cast iron utensils:
1. Function
Are you looking for a utensil to fry, bake or something like a Kadai? Depending on the purpose of your purchase the utensil needs to be decided. If it is cooking your morning dosa you can get a cast iron tawa or a kadai for your favourite kadai chicken
2. Finish
Cast iron utensils are available with different finishes, and enamel-coated cast iron utensils are also available in the market to prevent food from sticking to the surface. While some prefer their cast iron utensils to look rough and uneven others prefer them smooth and polished.
3. Brand
The use of buying cast iron utensils from a good brand is in the quality and service they offer the customers. When we make an investment into buying a good utensil we have to make sure it is worth every penny. Most well-recognised brands give customers services like lifetime warranties on products purchased from them.
4. Price
We can only leap after knowing the depth guys, before committing to buy your cookware decide on a budget and look for a good one that comes under your budget.
5. Size
The size of utensils is an important factor you have to consider before buying them. If you have a big family it will be ideal to buy a bigger cookware. Also, consider the size of your kitchen and cooktop before buying.
6. Weight
Heavy utensils will be hard to manage in the kitchen. Cast iron utensils are a bit heavy, but not in a bad way. People can go for light weighted cast iron products to make things easier. The heaviness is a positive factor when it comes to casting iron products because it helps in retaining heat and spreads them evenly.
7. Seasoning
Seasoning a cast iron pan is not a herculean task as it is put out there, but if you have trouble figuring it out you can get a seasoned cast iron utensil. All most all cast iron brands sell pre-seasoned cast iron products.
If you want to season your own cast iron products it is very easy; spread an ample amount of vegetable oil onto the surface and heat it. This will add an extra layer of carbonised oil to the surface of the pan acting as a protective layer. As more and more cooking is done on the cast iron utensil with oil and fat the pan gets seasoned and can be used for a long.
8. Handle
Iron is a good conductor of heat and one has to be cautious when cooking with them. Always go for one that handles to keep your hands from burning. The length of the handle is also a factor that can help you from getting burnt.
How to Care for Cast Iron:
Cast iron are not cry babies like it's rumoured to be, they are more like attention seekers as long as you keep them a constant companion in your cooking they are good to go. The more you use them stronger they become.
So the first step to keeping your cast iron utensil safe is not to abandon them in a wet unused condition. This will develop rust on the surface. Keep them stored after drying them.
Cleaning: cleaning a cast iron utensil is very easy. All they need is warm water, stop spreading rumours of them being high maintenance. You can just wash your cast iron with your hands and soap. If food is still remaining on them you can remove it by using a sponge scrub or gentle brush. After washing dry them using a towel and store them.
For some reason you found your iron skillets coated in rust, don't throw them away. You can get them back to how they used to be in just a few simple steps. The first step is to Scrub. Scrub the rust accumulated on the surface of the pan using a ball of metal wool.
Once you have scrubbed off the rust wash the pan using soap and water. Dry them. Pour a little amount of oil on them and re-season them again. You can heat them in a microwave or on a stove.
Pic Credits: Pexels ( Caio )
You might also like

Wellness
31-May-2023
Shilpa Shetty Kundra Ventures into Farm-to-Table with Kisankonnect Investment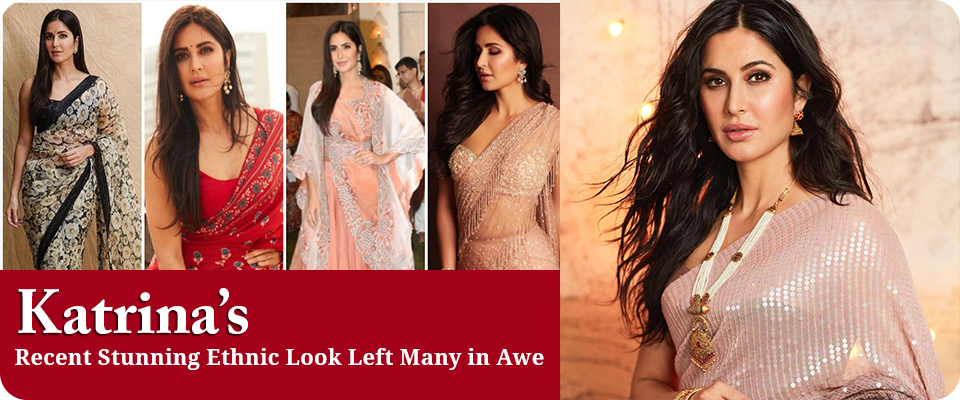 Wellness
05-Sep-2023
Katrina's Recent Stunning Ethnic Look Left Many in Awe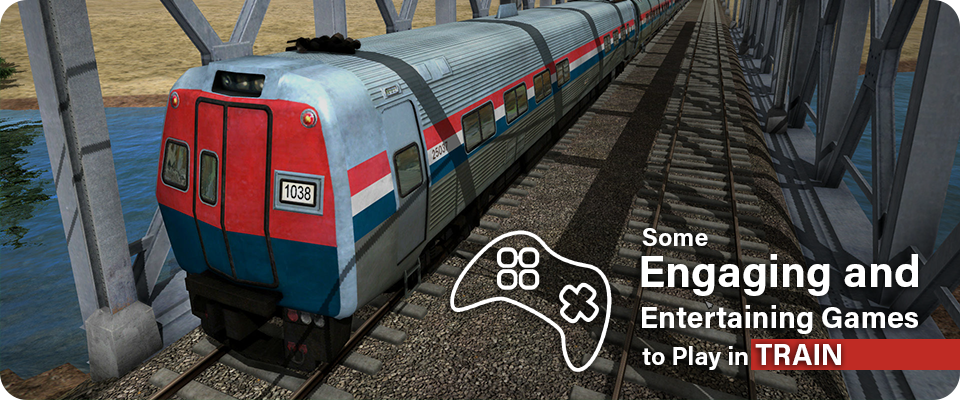 Wellness
31-Aug-2023
Some Engaging and Entertaining Games to Play in Train