Parenting
Get the Best Strollers for Your Baby's Safety

200 Views
Published On: 22 Feb 2023 Updated On: 27 Jul 2023

It is a fact that it is not easy to move around the park, city, travel or go on shopping carrying a child. Both your kid and you will be worn out after a few hours. So, is there any way to make those moments comfortable? Yes, and the answer is baby Strollers. A baby stroller can be a true lifesaver for every parent for various reasons. No more dragging your small kid around. Such useful baby gear provides your kid with all the comfort they want. These are designed and developed following the required safety standards to make sure your kid is happy and safe.
However, various companies manufacture and sell different types of strollers with various useful features. So, choosing the right one can be a challenging task for you. But don't worry at all, as with this article, we bring you some best strollers for kids in India. Besides, here you also explore some useful tips to choose the best one for you. Let's get started with this.
Understanding the Difference Between Baby Stroller and Pram
The terms strollers and pram are quite often utilized interchangeably. But the fact is both these products are different in terms of their design, use, functionality and more. Here are some big differences between strollers and prams.
Safety: Safety belts and harnesses are not there in prams. That means it can be hazardous for your kid if unsupervised. On the other hand, most baby strollers come with a harness and safety belt.
Design: Where a pram is a good option for new born babies, a stroller is suitable for slightly older babies.
Chair: In a parm, the chair will be higher from the ground, but in the case of a stroller, it is placed closer to the ground.
Weight: Compared to prams, strollers are much lightweight, easy to carry and foldable.
Price: As you will get more features with a stroller, it can be a little costlier than prams.
Well, it can't be said that a stroller is better than a pram or vice-versa. Both have some pros and cons. However, if you are buying one for your older baby, then you should opt for a stroller.
Different Types of Strollers That You Can Choose From In India
When you search for a baby stroller, you will find various types of strollers. Remember that the right type of stroller can take the comfort of your baby to the next level and how you handle the stroller. Well, some common types of baby strollers available in India are:
Jogging Stroller
These strollers are designed to make it easier for you and your kid when you hike or jog around. In general, it has three wheels, and some come with a handbrake to control the speed. A jogging stroller is developed keeping in mind easy manoeuvrability in various terrain and can keep your baby safe and comfortable. With the best jogging strollers, you will also get adjustable and reclining seats, harnesses, wrist straps and other safety features. However, these strollers are heavy.
Regular Stroller
Regular strollers are very common and lightweight. They come equipped with all the basic features that a good stroller must have, such as a quick-releasing system, shock absorbers, a canopy, brakes and more. In fact, with some best models, you will get storage space under the set along with adjustable canopies. The only downside of these stroller s they can be very bulky, and you may find them inconvenient to use in busy streets or in public transport.
Travel Stroller
As the name suggests, these strollers are designed for parents who travel a lot. With a well-designed travel stroller, you can make travel with your baby. It can be easily attached as well as detached from your car seat
Car Seat Carrier
These types are very compact and lightweight, and one can easily attach them to the seat in a jiffy. To attach them, you just need to recline or connect the wheel when you take the stroller on or off your car. These are also quite versatile. However, they are not very sturdy or wide in size.
Umbrella-Type Baby Stroller
An umbrella-type baby stroller comes with a comfortable curved handle. Designed for maximum portability, whit this, parents can take their child outdoors or indoors easily. These are foldable and can also be used with a car seat. Some models have features like cub holders, snack trays, storage baskets and an expandable canopy. These types of strollers are ideal for babies above one year.
Double to Triple Baby Stroller
Parents with more than one baby can opt for such types of strollers. They are available in two different designs- Front and Back or Side-by-Side. You can also add some extra parts based on your requirements. It lets you easily manage multiple children using just one stroller. But remember that these strollers can be difficult to store and bulky.
Top Options For You:
Baby Go Delight Reversible Baby Stroller & Pram
LuvLap City Stroller
Mee Mee Baby Stroller Pram
Graco Lite Rider LX Baby System and Car Seat Travel System
Chicco Lava Cortina CX Stroller
R for Rabbit lollipop Lite Baby stroller
Tiffy & Toffee Baby Stroller
Little Pumpkin – Baby Stroller and Pram
Cutieco One-Hand Stroller
Sunbaby Bloom Stroller
Joie Mirus Stroller
Baby Go Delight Reversible Baby Stroller & Pram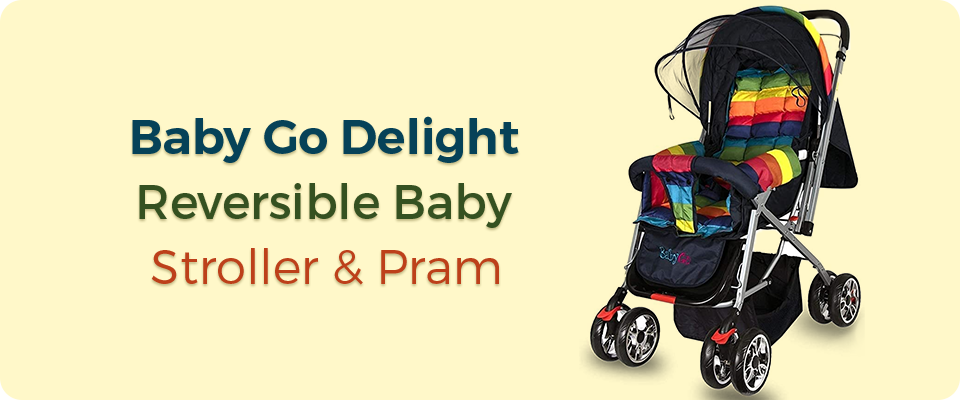 If you are looking for a stroller that can keep your baby protected from mosquitos when you go to a local park, then this is the best option for you. This comfortable stroller by Baby Go is made of quality materials and comes with a mosquito net. The best thing about this stroller is all the wheels have brakes. Besides, it supports a three-position seat reclining feature and has a 2-point safety harness. The basket and back pockets facilitate easy storage. The chrome wheels enhance the overall look of the stroller.
Pros:
The canopy can be expanded
Super easy to fold
Front wheels support a 360-degree swivel feature
Affordable
You can get in different designs
Footrest is adjustable
Cons:
Some users may find the frame's width is less compared to other models.
No car seat available
LuvLap Sunshine Baby Stroller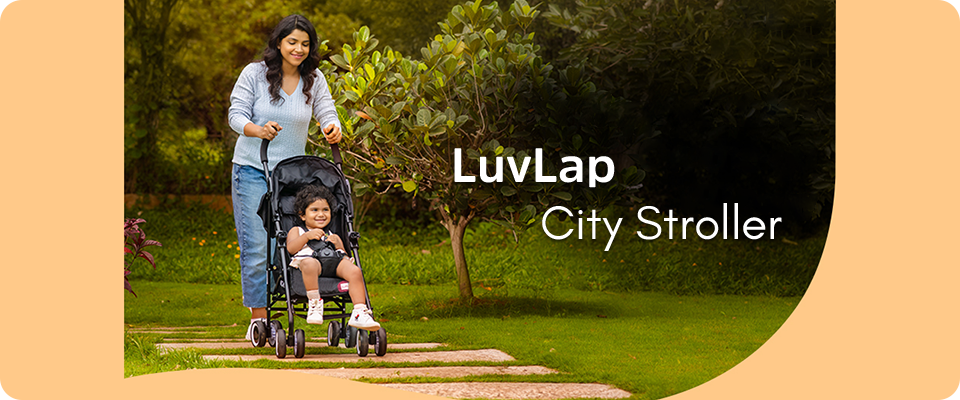 If you are looking for a comfortable, safe and stylish baby stroller for your little prince or princes, then you can opt for this. The stroller has a reversible handlebar that allows the users to walk while facing their kid. The well-designed extendable canopy can keep your kid protected from the sun's rays. The seat is adjustable, and the storage bag has sufficient space to keep toys, a diaper bag and more. Maximum carrying capacity is 15 kg.
Pros:
Comes in different colours
Adjustable footrest
Easy to lock, fold and open
Window on canopy
The seat is detachable and washable
Cons:
Some users have found the leg position little latch
The quality of mosquito nets could be improved
Mee Mee Baby Stroller Pram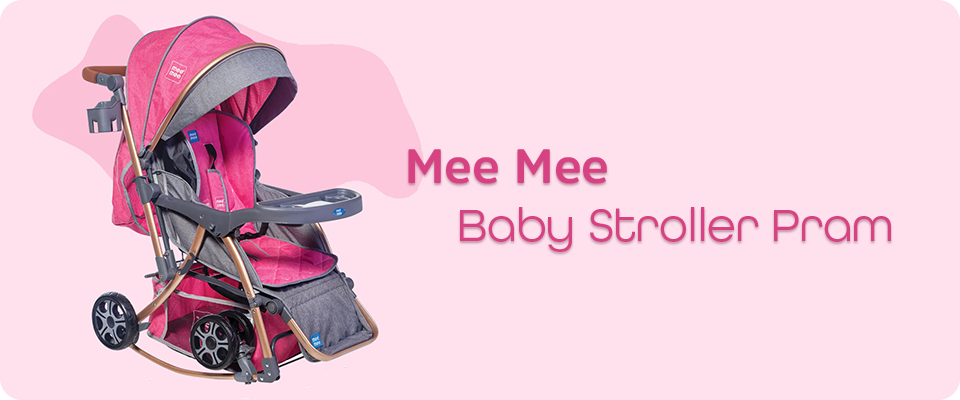 With a durable frame, this stroller comes equipped with an easy-to-adjust seat that lets your kid recline, sit or sleep comfortably. Speaking more about it, the front wheels have shock absorbers. Your kid will not feel any discomfort while moving on bumpy surfaces. It can easily handle a weight of 25kg. And its foam handles let you push the strollers conveniently for a longer time. It is perfect to carry, store and travel.
Pros:
Comes with a spacious storage basket
The feeding tray is detachable
One-hand folding mechanism
Foot brakes are located on the rear wheels
5-pint safety harness belt
Cons:
You will not get a mosquito net
Wheels are not durable enough for uneven surfaces
Some parents may find it a little costly.
Graco Lite Rider LX Baby System and Car Seat Travel System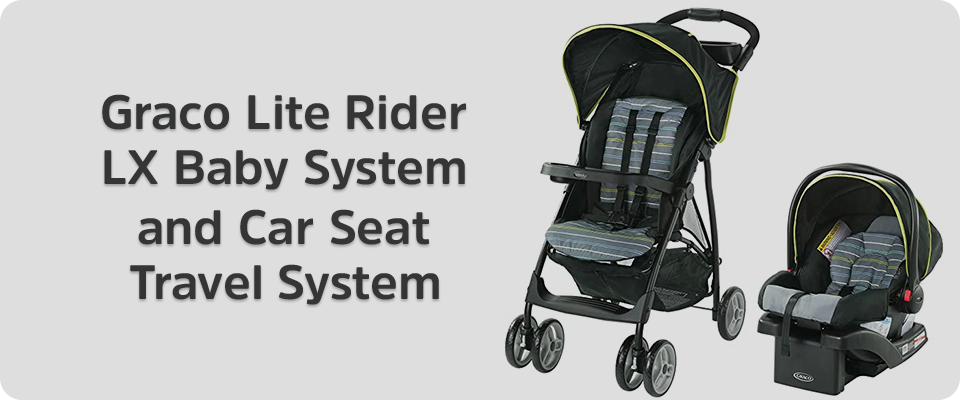 With a maximum weight limit of 15 kg, this is a complete baby travel system by Graco that comes with a Lite Rider LX buggy and a snug ride baby car seat. It has a one-hand fold mechanism designed for on-to-go mothers or parents. On the other hand, the locking front-swivel wheels make it easy to move. With this, you will get a 3 to 5-point harness belt. What's more? A peek-a-boo and sun canopy will keep parents connected with their kids. This stroller also has a cup holder and storage basket.
Pros:
4-position recline seat
Easy-to-read level indicator
Lightweight
Includes an infant car seat
Cons:
Some users may find the seat adjustment limited
Can take more storage space
Chicco Lava Cortina CX Stroller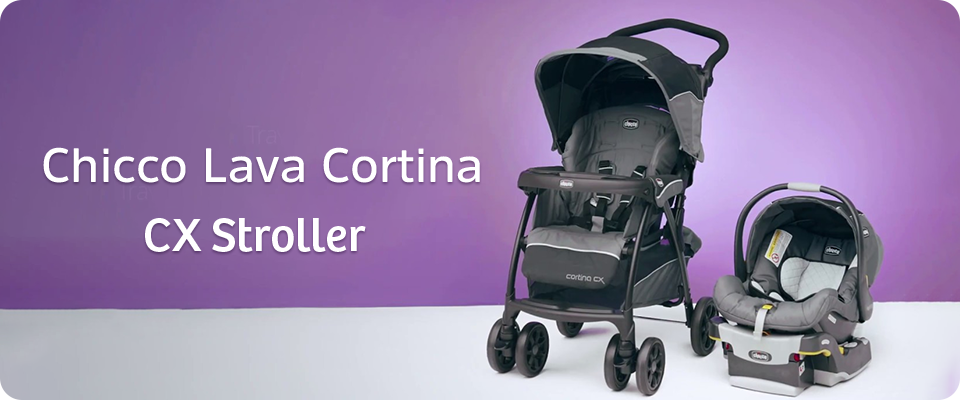 Chicco provides parents with different types of baby strollers, but this model is quite popular due to its function and simplicity in design. It has all the essential features to keep your baby safe. It is available as a travel system, and you can use this as a stroller as well as a car seat. The backrest is adjustable and can be set into a reclining or laying down position. All the wheels have brakes and suspensions. It is flexible and smooth, so using it will not be a challenging task. Its' 5-point harness belt ensures the safety of your kid. If you are searching for a premium-quality baby stroller that you can use alone, then this can be a good choice.
Pros:
Spacious storage basket
Adjustable backrest
The handle's height is adjustable
Flexible
Windows are located on the hood
Cons:
The handlebar is irreversible.
R for Rabbit Lollipop Lite Baby Stroller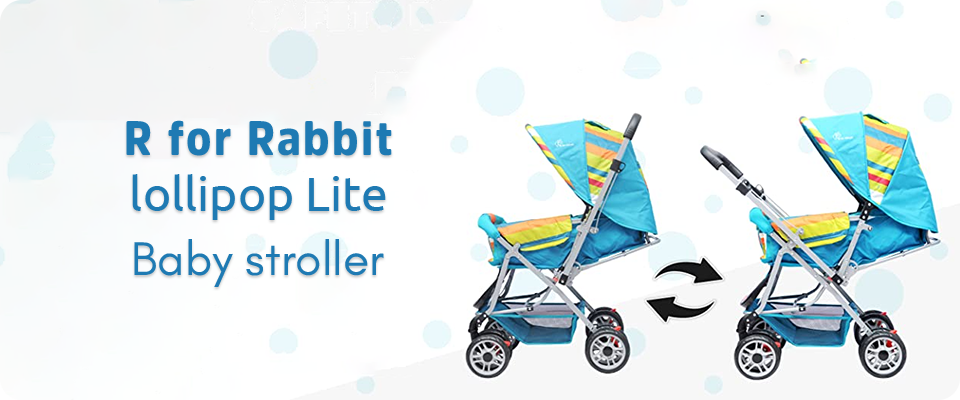 Want to add attractive colours to your kid's environment? Well, with R for Rabbit's Lollipop Lite baby stroller, it is possible. With this stroller, you can also keep an eye on your little angel while moving around, and it is possible due to its reversible handle. It has quality suspension on the front wheels to about discomfort during bumps. On the other hand, its 5-point harness belt ensures better safety for your kid. You can easily recline the seat in 3 different positions.
Pros:
Impressively durable
Lightweight
Easy-to-use self-folding mechanism
Adjustable let rest
Decent pricing
Cons:
The brand should focus on improving the guiding booklet
The sturdiness of the frames could have been improved
Tiffy & Toffee Baby Stroller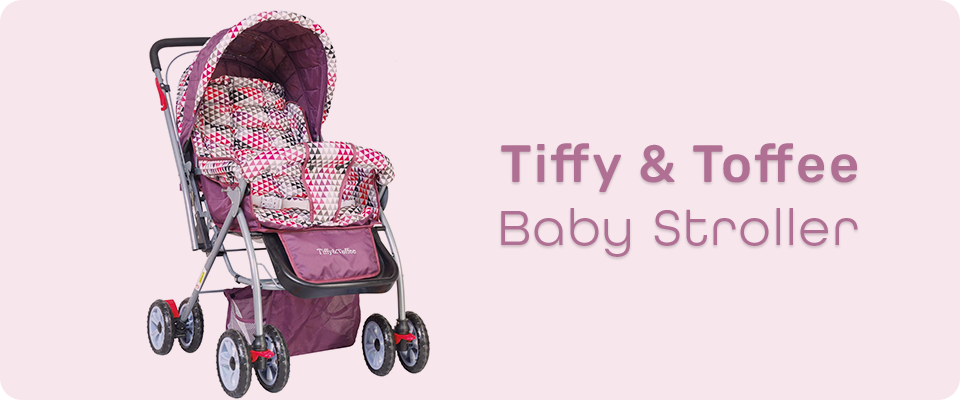 Want to go out, but your kid wants to have a beauty sleep? Well, nothing to worry about this if you are using Tiffy & Toffee Baby Stroller. This stroller has a 3-position reclining seat. So, your baby can sleep comfortably while you stroll around. Besides, it has a reversible handlebar, and you can easily adjust it in a front-facing or parent-facing position. There are foot brakes on both the back and front wheels.
Pros:
Front wheels support a 360-degree swivel function.
3-point safety harness
Comes with a mosquito net that is detachable
Large storage basket
Padded seat
The canopy has a pee-in window
Cons:
Seat reclining features are not that smooth
Wheels quality could be improved
The folding lock system is not smooth
Little Pumpkin – Baby Stroller and Pram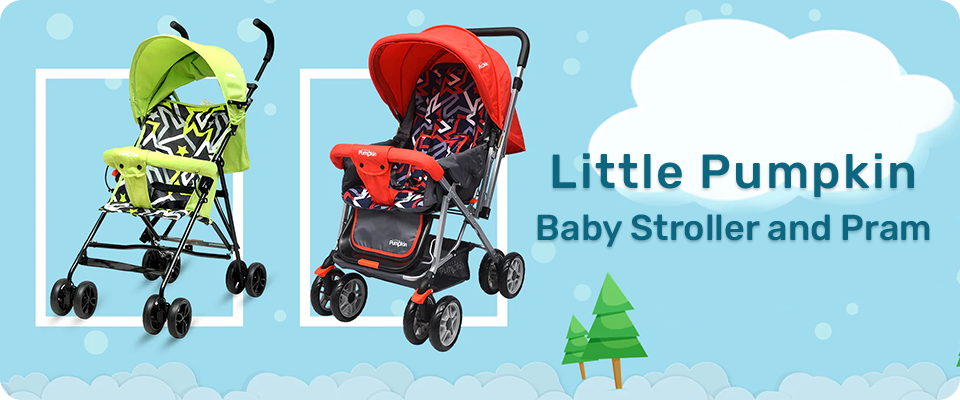 This baby stroller comes in an attractive and beautiful bright aqua-blue colour and patterns. You can go for it if you are looking for the best baby stroller in India, as it satisfies the EN 1888 safety standard. With a maximum weight of 5kg, you will find it very lightweight. As it has a full canopy, it offers sufficient protection from the sun. Furthermore, it has a simple lock mechanism that makes the stroller very easy to fold and store. It has a 5-point harness to keep your kid protected during the move.
Pros:
The frame is quite sturdy
Comes with rear brakes
Design is simple
A budget-friendly stroller
Easy to store and compact folding
Cons:
No recline seat
No front brake
Cutieco One-Hand Stroller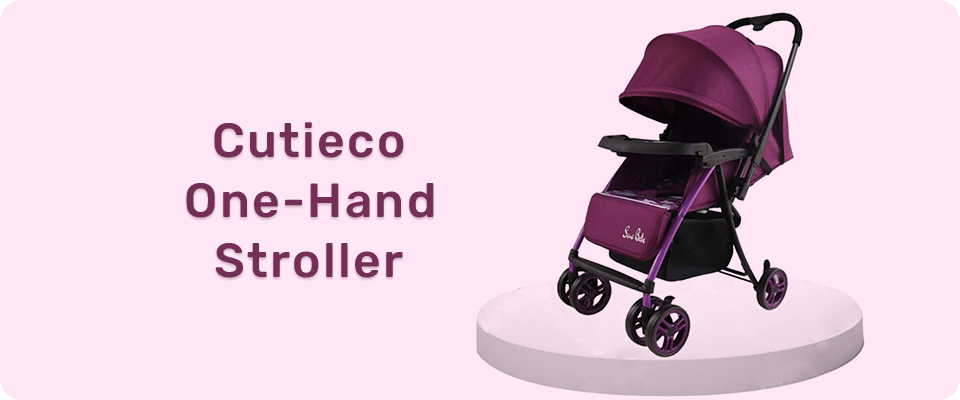 The new Cutieco baby stroller is quite durable and compact, and the manufacturer has used a quality aluminium frame. As it is lightweight and easily foldable, you will find it very travel-friendly and ideal for kids aged below three years. It can easily handle a weight of up to 15 kg. The front tray is removable. While buying this stroller, you can choose from 4 different colour. As it has a reclined seat, mothers can easily adjust the seat based on the comfort of their babies. To ensure the maximum safety of your baby, it has a 5-point harness belt.
Pros:
The multi-position seat recline feature
In-built canopy
Stylish and durable
Lightweight
Available in 4 different colours
Back wheels and front wheel brakes
Cons:
The maximum weight limit could have been better
No car seats
Sunbaby Bloom Stroller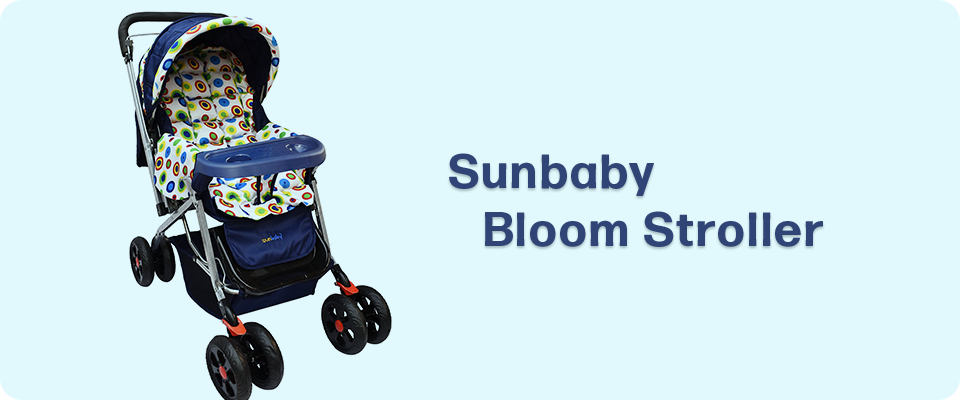 How about enjoying your favourite snacks while strolling with your baby? Well, to make it possible and hassle-free, Sunbaby has introduced the Bloom Stroller. It comes with a food tray for both the baby and the parents. The handle is easily adjustable, and you can extend it based on your convenience. The seat is also adjustable. It has a one-step foldable bar that lets you quickly fold the stroller without much effort.
Pros:
Comes with a 3-point safety harness
Reversible handle
Washable and soft cushioned seat
Foot lock features
Padded safety buckle
Huge storage basket
Cons:
Frame quality could be better
Installation instructions are not clear
Joie Mirus Baby Stroller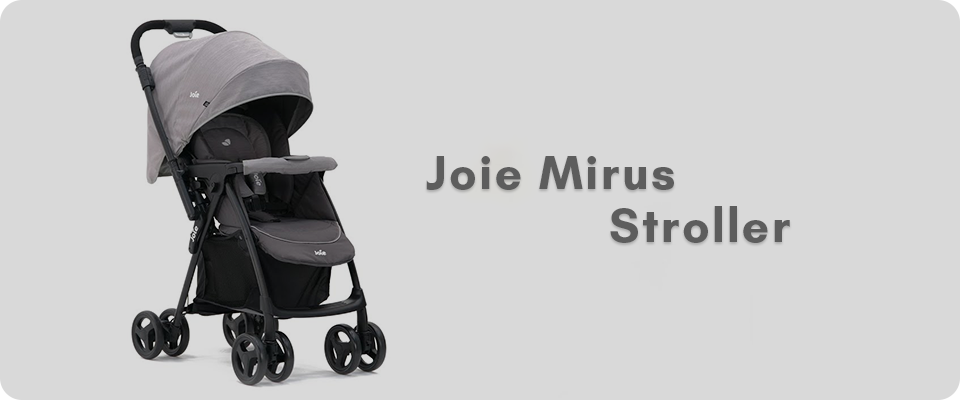 Weighing around 7kg, Joie Mirus Baby Stroller is very lightweight, and you will find it super easy to use. With this stroller, you will get a 5-point harness belt along with an adjustable recline seat to ensure better comfort and safety for your kid. Furthermore, its impressive one-touch brake works smoothly and offers additional safety. The front wheels support the swivel function.
Pros:
Hood is extendable
Reversible handle with quality rubber grip
Adjustable footrest
The steel frame is durable
Cons:
The padding material is not that soft
Parents with chubby babies may find the seat size small.
Safety Measures To Follow When Using A Stroller:
No matter how safe the stroller is, there are some important safety measures that every parent should follow while using a stroller.
If the stroller has to be kept stationary or halted, then make sure that you have applied the brakes. You should also use the brakes on flat ground to avoid unwanted situations.
Make sure your kid is within your sight. Use a stroller that has a window on the canopy or a reversible handle feature.
Whenever you step out with your baby in a stroller, make sure that he/she is not under the sun's rays.
Always buckle your kid properly with the safety harness and seat belt before you can start strolling.
If the stroller comes with hanging toys, make sure that they are out of reach for your baby and attached properly to prevent those toys from becoming a serious choking hazard.
Don't hand heavy things, like bags or purses, on them as it may lead to disbalance.
Always use an age-appropriate stroller.
Some Amazing Benefits of Baby Strollers:
The best baby stroller can help caregivers as well as parents to stroll kids quite conveniently and safely. You can take the weight off the shoulders and arms.
While you are engaged in other essential activities, like jogging or working, using a good baby stroller, you can carry your kid comfortably.
The design and construction of baby strollers will keep the baby cosy and safe from external contaminations and weather.
These products are super easy to use and can enhance portability as one can easily detach, assemble and adjust anytime they want.
It can help avoid back pain for parents as they don't need to bend frequently while using it.
You will find a lot of options to carry your kids, but a baby stroller will be more cost-effective than those options.
Baby strollers come with a huge storage space which gives your freedom to easily access the kids' needs no matter wherever you go.
Essential Things to Consider While Purchasing a Stroller:
Are you planning to buy a baby stroller for your kids? Well, you should keep in mind that not all strollers are the same. Features and prices will vary from one brand's model to another. So, how to choose the best one? Don't worry at all, as we have listed down some useful tips for this. Have a look.
Type of Stroller
Remember that strollers come in different types. They can vary based on their use and size. Full-sized baby strollers come with all the basic features, like a cup holder, expandable canopy, storage basket, removable try, reversible handlebars and more. But it can be very bulky, and you may not find it comfortable while travelling. That means if you travel a lot with your baby or live in a small home, it is advisable to opt for a portable one. If you have two kids, then opt for a double stroller. A car seat carrier can be instantly transformed into a car seat instantly.
Weight and Age
Always check the weight and age before choosing a baby stroller for your kid. Every stroller has a maximum weight and age limit. If you use it for a kid who weighs more than the set limit, it will not move smoothly. Go for a stroller with a maximum weight limit so that you can use it for a longer time.
Check the Safety Features
There are some strollers that come with only basic features, and you can use them just to transfer your baby from point A to point B. On the other hand, some strollers come with innovative and latest safety features. For example, a 5-point safety harness belt, a swivel-locking system, adjustable footrest, suspension and more. So, based on your safety concerns, requirements and budget, you should choose the best one for your kid.
Basket Size
Another amazing feature about some baby strollers is that they come with the largest basket locked below the stroller. This can be very helpful for parents or mothers who like to go shopping and require a storage place to keep their things. Even if you don't like shopping, it can still be beneficial for you as you need one to store diapers and other things.
Baby's Comfort
The baby stroller should serve your kid well, being comfortable enough to assist them in falling asleep. They should allow them to sit for hours without any discomfort. The best stroller comes with various features to enhance the satisfaction and comfort of the baby, for example, toy slots, a sunshade, a reclining seat and more.
Check The Stroller's Handles
While some baby strollers come with normal handles, some others have reversible handlebars that let you interact with your baby on the go. Choose a stroller that has a handle with a rubber grip or cushion to offer better comfort while moving the stroller.
Seat With Reclining Features
In general, seats in strollers are comfortable and padded, allowing parents to choose reclined seats to let the kid sit straight or make him/her lay down for a comfortable sleep. But some strollers come with two to four-seat reclining features while some offer only one to two features. So, check the available reclining features while buying one.
Understand Your Budget
Remember that strollers can be very expensive. The price of strollers can range between Rs. 4,000 to Rs. 1,00,00. These products can be very pricey, but these are great investments based on the type of strollers you are buying.
Suspension and Wheels
As the safety of your kid is crucial, you should make sure that the wheels of the strollers are broad, stable and sturdy for a comfortable ride on the worst roads. Furthermore, you should ensure that the wheels have brakes and locks for better convenience and safety.
Final Words
Strollers are wheeled and hand-pushed vehicles for babies that are used by parents to stroll with their babies comfortably. Whether you want to go on a vacation, for a walk or shopping, you can always utilize a stroller to carry your kid safely. Purchasing a functional and perfect baby stroller is important as it will be a medium to move around your baby. As the options are more, while buying one, make sure that you have perfectly checked the features and tested them. Make sure that the size is perfect and it comes under your budget. Well, you can opt for the above-mentioned products as they are budget-friendly and come with the required features. We hope this article will help you in making the right decision. If you still have some doubts, feel free to drop your thoughts below in the comment section.
Pic Credits: Pexels ( Yan Krukau )
FAQs
What are the significant characteristics of a good baby stroller?
A good baby stroller comes with features such as a 5-point safety harness belt, a 3-position seat recline, an extendable canopy, brakes, a reversible handlebar, suspensions, and locks. And most importantly, it should be foldable and sturdy. 
Is it safe to buy a baby stroller online?
Yes, it is always safe to buy a stroller online. However, check all the specifications properly and make sure the model meets the safety requirements. 
When should parents stop using a baby stroller?
After attaining the age of 3 years, most babies can start walking without any support. That means babies should be transitioning out of strollers this year. It is advisable for parents to now overuse a stroller. 
How to travel with a baby stroller?
Most airlines allow strolls to be used on flights, and they are not considered as check-in baggage. But you should keep it folded all the time. To travel by car, go for a foldable stroller and make sure it is compatible with the boot space. Stairs can cause obstacles when carrying a stroller. So, make sure the venue offers stair-free options. If you are travelling with a stroller, try to avoid rush hours so that you can get more space to move around.
You might also like