SwearBy
Olive Oils for Your Hair; Find Out the Best One for Your Hair Growth & Thickness

217 Views
Published On: 12 Jun 2023 Updated On: 27 Jul 2023

One of the most common problems at this current time is hair fall which makes us think twice about the same. No one likes losing so much hair. Unusual hair fall leads to hair thinness. The growth of new hair is equally important for maintaining a healthy hair balance. It's very important to prioritize this issue and maintain a healthy hair care routine to prevent hair fall and increase new hair growth, also make the hair even stronger.
Majority of the people are still unaware of the benefits and usage of olive oil and believe that we can use olive oil just for cooking purposes. Adding olive oil to your daily hair care routine can prevent many hair problems like hair loss, and split ends. It also boosts new hair growth by adding more healthy textures to your hair.
There are many popular olive oils available in the market, and finding out the best one among them for your hair is a tough job. Have a look at the top findings listed down below.
Figaro Olive Oil
Figaro is the oldest olive oil brand ruling in the market for the past 100 years. This is a Spanish product, made with pure natural ingredients, and finely cold-pressed from high-quality olives. It helps to nourish the scalp, also effective on dandruff and dry scalp. For hair growth, this is one of the best products available in the market.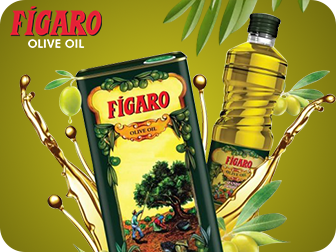 PROS:
Full of antioxidants
100% vegetarian
No chemicals and preservatives
CONS:
Though it is effective for hair, the majority use it as cooking oil
Urban Botanics 100% Pure Cold Pressed Olive Oil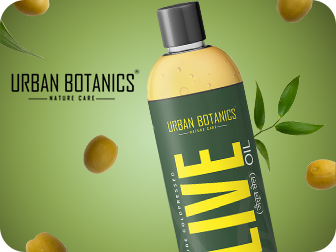 The Urban Botanics Olive is enriched with the goodness of pure olive, and collected from the very first press of high-quality olives. The brand ensures the oil is 100% cold pressed and with no added fragrances. This Olive oil is highly enriched with Vitamin E, Vitamin A, antioxidants, and fatty acids. It helps to build and protect the keratin in hair and locks the moisture. Continuous usage of this oil will make your hair healthier, stronger, and thicker. It prevents hair fall and grows new hairs on your scalp. Apply the hair oil on your scalp and to the length of your hair, and massage it gently. Rest it for 30 min and shampoo your hair. Use at least twice a week to see the best result.
PROS:
No fragrance
Alcohol-free
Chemical-free
Hexane and additive-free
CONS:
You have to be patient while using the product. It may take quite long to show the results.
Wishcare Cold Pressed Castor & Olive Carrier Oil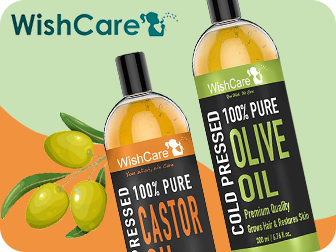 The oil is 100% pure and cold-pressed, extracted from premium quality olive fruits. This oil is directly sourced from our Indian farmers which is the ultimate sign of purity. The golden color of this oil is a sign of it is 100% pure and Hexane-free. The products are hand packed and with no added chemicals. It comes with a deep root applicator inside the package for zero waste. This hair oil is enriched with Vitamin E and Vitamin A, the ultimate choice for good, healthy, and strong hair, leaves your hair more shiner after each use. You can use this product directly to the root of your hair, gently massage it, and wash it off after 30 – 45 mins with shampoo. Use twice or thrice a week to get the best results.
PROS:
Hexane-free extraction
100% Natural
No added fragrance
Free from mineral oil
Cruelty-free
CONS:
The result may take a long to be visible.
Newish 100% Natural and Cold Pressed Olive Oil For Hair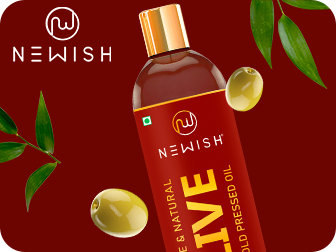 This hair oil is known not only for preventing hair fall but also helps to grow new hair rapidly. This hair oil gives extraordinary moisture to the hair and makes the hair smooth by giving the added nutrients & nourishments. The hair oil is 100% pure and has a richness of Vitamin E, Vitamin K, essential fatty acids, and antioxidants. It helps to rebuild the keratin and moisture in your hair. Newish 100% Natural and Cold Pressed Olive Oil has collagen builder which has Vitamin D which reduces dandruff and keeps the hair healthy. To use this oil, cleanse your hair, take the oil in a bowl, and heat it for 4 – 5 seconds, with a help of a cotton ball apply the oil to the roots and scalp, leave it for 20 – 30 min, and wash it.
PROS:
100% Natural
No chemicals
CONS:
It may not be suitable for those having an extremely sensitive scalp.
Soulflower Olive Hair Oil

Sunflower hair oil makes your hair healthier, and stronger, it locks the shine in your hair. It also enhances hair growth, deals with dry scalps & gives in-depth nourishment. Soulflower is an organic hair oil, suitable for any type of hair, that will soothe, hydrate, and condition your hair. It is a strong blend of Vitamin D3, Vitamin K, and Vitamin E which is extremely good for your hair and makes your hair freeze-free, reducing split ends. The hair oil can work as a shine serum for your hair.
PROS:
100% virgin oil
No hexane
No additives or chemicals
Suitable for all hair types
CONS:
Some people may find the smell extremely strong and fruity.
Plum Pre-Shampoo Hair Oil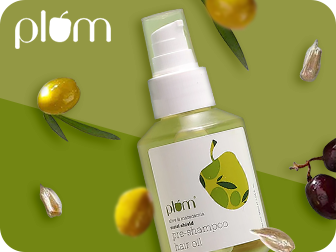 Plum Olive & Macadamia Nutri-Shield Pre-Shampoo Hair Oil is a 100% silicon-free hair oil, which is easy to spread all over your scalp. It has 8 plant-based oils inside which will protect your hair from all the shampoo-related damage, dullness, and dryness. It cures hair fall. The Plum makes 100% vegan products that are paraben-free, sulphate-free, and cruelty-free. All the Plum products are made with love for both men and women. To use this product, take a few drops on your palm, gently massage it using your fingers, keep it for 30 min to soak the rest of the oil properly, and shampoo your hair.
PROS:
100% vegan
Paraben-free
Sulphate-free
Suitable for all hair types
Cruelty-free
Silicon-free
CONS:
The coconutty smell can be strong for a few people.
Good Vibes 100% Pure Olive Carrier Oil Cold Pressed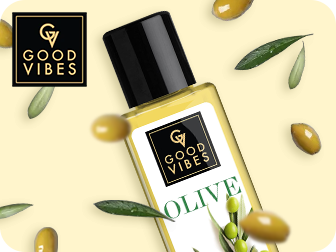 Good Vibes hair oil is cold-pressed hair oil enriched with the goodness of 100% natural ingredients. The oil produces nourishment, gives strength to the roots, and makes the scalp healthy. The hair oil has fatty acids, antioxidants, and vitamins that reduce hair fall. You can directly apply it to your scalp without any hesitation, also a mixture of 5ml of the carrier hair oil essential oil can be applied for good results, after applying keep it for 20 – 30 mins, and wash it off.
PROS:
100% pure and natural
PETA certified
100% vegetarian
No synthetics
CONS:
Added fragrance may not be suitable for all.
Khadi Natural Olive Oil
This hair oil is a pure moisturizer for your scalp and hair. Khadi Natural olive oil is a mixture of protein, minerals, and vitamins, suitable for all hair types. It keeps the hair smooth, and shiny. Take a sufficient amount of the hair oil, and gently massage it on your scalp and the length of your hair. This oil can be used for hair growth and damaged hair.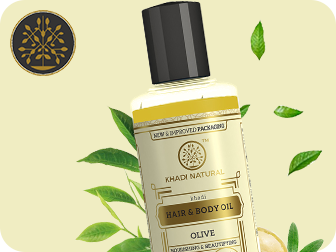 PROS:
Chemical-free & additives-free
Added antioxidants
Cruelty-free
CONS:
Some may find it thick on the scalp.
Nature's Absolutes Olive Carrier Oil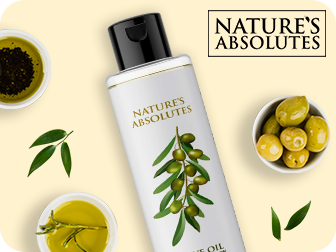 This is a cold-pressed hair oil enriched with nutrients and vitamins essential for your hair. The moisture keeps your scalp healthy and prevents dandruff. Usage of this oil gives an instant soothing effect to your scalp, develops new hair growth, and makes them stronger.
His hair oil is suitable for all hair types and can be used as a base oil as well as a carrier oil, which can be mixed with other essential oils and herbs.
PROS:
Non-sticky
Chemical-free
100% vegan
CONS:
This product is not suitable for newborns.
Benefits of Olive Oil for Hair
Olive oil is a very common and easily available beauty remedy. This oil works as magic for damaged hair. It helps to condition the scalp and prevent many hair problems in one go.
Here are a few benefits of adding olive oil to your hair care routine.
Reduces Dandruff:
The main reason for dandruff is having a dry scalp. The use of olive oil naturally hydrates the scalp and hair roots and prevents all the problems like fungal infections, dryness, itchiness, and reduces dandruff and other hair problems.
Tackles the Splitends:
Olive oil can not repair the split ends, but the moisture and natural condition can increase the elasticity inside your hair, and reduce the split ends count. Olive is a great remedy to keep the hair soft and healthy.
Reduces and Prevent Hair Breakage:
Olive oils make the hair soft and smooth. It helps to increase hair growth and keeps the hair voluminous. The Omega-3 fatty acids help to condition the hair and reduce breakage.
Re-boost the Hair Growth:
Massaging olive oil on the scalp increases blood circulation which helps to boost the hair growth process.
It Nourishes & Conditions Hair:
Massaging with olive oil improves blood circulation and produces nourishment for the hair follicles which helps to keep the moisture in the scalp, prevent dryness, and locks the moisture which eventually nourishes and conditions the hair.
Improves Scalp Health:
Olive oil is a great fighter against all the fungus, bacteria. Using it as a hair oil can prevent all scalp issues, keeps it hydrated, and gives a healthier scalp.
Repairs Damaged Hair:
Damaged hair can not be replaced but can be repaired. Olive oil is enriched with Vitamin A and Vitamin E which helps to protect the keratin and revise the damaged hair.
Reduces DTH Production:
Dihydrotestosterone, commonly known as DTH, is the major reason for hair fall. It is a hormone and byproduct of testosterone. More production of DTH leads to hair fall. Olive oil gives protection and reduces the production of DTH, and prevents hair fall, also makes the hair shiner and stronger.
Best Combinations & Methods to Apply Olive Oil to Get the Best Results
Egg and Olive Oil for Hair Growth
Ingredients:
Egg white and
2 tablespoons of olive oil.
Method: Whisk the olive oil in a bowl until you get a thick and smooth paste. Apply the pack to your hair and scalp. Let it rest on your scalp for 15 – 20 mins and rinse it with normal water and a gentle shampoo. This method can be followed once a week for stronger and shinier hair.
Olive Oil and Coconut Oil for Hair
Ingredients:
2 tablespoons of virgin olive oil &
3 tablespoons of extra virgin coconut oil.
Method: Mix and light heat the mixture, apply it to your scalp, leave it overnight, and shampoo it the next day morning. To see the best result you can use this twice a week. It helps to prevent fungal infections, itchiness, and dryness in your scalp.
Olive Oil and Banana for Hair
Ingredients:
Method: Mix the banana and olive oil properly, in case you feel it is too dry add some honey, and make a smooth paste. Apply the pack to your hair, and leave for the next 20 min. Wash it off with normal water and shampoo. Apply this pack twice in a week to keep your scalp moisturized and nourished.
Olive Oil, Honey, and Cinnamon for Hair Loss
Ingredients:
One tablespoon of honey
One or two tablespoons of olive oil &
One tablespoon of cinnamon powder.
Method: Mix all the ingredients properly, and make a smooth paste. Apply it to your hair. Rest it for 20 min and rinse your hair with cold water and a sulphate-free shampoo. This method can be followed once a week to prevent hair loss.
Avocado and Olive Oil for Hair
Ingredients:
One avocado
2-3 tablespoons of olive oil.
Method: Take a ripe avocado, blend, and get a smooth paste out of it. Include olive oil. Apply the paste to your hair. Let it rest for 1 hour, and rinse it thoroughly. In case you want to add more texture honey can be added to the hair mask. Apply once or twice a week for visible results.
Disadvantages of Using Olive Oil in Hair
The only disadvantage of olive oil one can face is if the person is having an oily scalp already. Olive oil may make it greasy and increases the chances of having dandruff. In case you are a beginner, apply a small portion of olive oil to check if you are getting any issues of allergies, rashes, or any other side effects.
FAQs
Is it safe to keep olive oil in hair overnight?
It is safe to keep olive oil in hair overnight but make sure sometimes too less can be too more.
Is it mandatory to heat olive oil before applying?
It is not mandatory to heat the olive oil, but for more effectiveness, you can pre-heat the oil for 4-5 seconds.
Is it safe to apply olive oil to hair?
Olive oil is safe and can be used for hair.
Does all the olive oils are safe for hair?
Olive oils are safe, but make sure while applying to your hair use only virgin olive oils.
Is there any side effect of applying olive oil to hair?
If your scalp is already oily it can make it more greasy and oily, which can increase the chances of having dandruff.
You might also like