Asian Games 2023: Nikhat Zareen secures Paris Olympic Spot & Medal 

79 Views
Published On: 04 Oct 2023 Updated On: 12 Oct 2023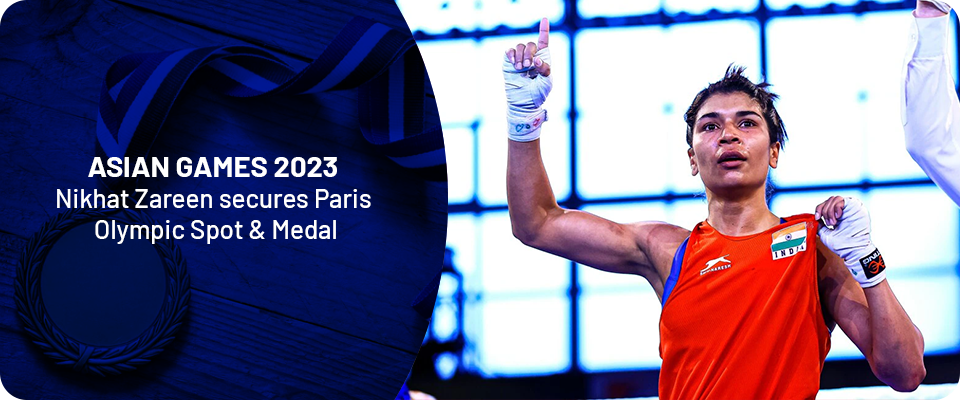 Nikhat Zareen had double delight, she qualified for the Paris Olympics 2024 and promised herself a medal in the ongoing Asian Games 2023 with a first-round win over Jordan's Hanan Nazar.
In Hangzhou, at the Asian Games 2023, Nikhat Zareen showcased her boxing powers in the women's 50 kg category. She faced off against Choron Bak from the Republic of Korea in round 16. She displayed her superior skills and strategy and emerged victorious, winning her bout by impeccable decision. It takes her to the quarterfinals of the tournament.
She added her Second World Championship to her trophy cabinet and won the Common Wealth Games gold the previous year. She has been dominant this year inside the boxing ring. On Friday, she needed just two minutes to win her bout in the 50kg quarter-finals as she knocked out Nazar in a minute and booked her place in the semi-finals.
She has now promised a medal in boxing for India and booked a place in the Paris Olympics next year.
Parveen Hooda, the World Championship bronze medalist, is making India proud again at the Asian Games. By securing a place in the 57 kg semifinals, she has not only guaranteed a medal for India but also earned a spot in the Paris Olympics. This is a remarkable achievement for Indian boxing.
Parveen's victory over Uzbekistan's Sitora Tuedibekova in the quarterfinals, with a unanimous verdict, is a testament to her skill and determination. As a reigning Asian champion, Parveen showcased her championship mentality by controlling the match from the very beginning. Her long-reach advantage allowed her to throw punches effectively from a distance, showcasing her strategic powers in the ring.
The achievement solidifies Parveen's position as a top contender in the boxing world and serves as an inspiration to aspiring athletes.
The four other Indian boxers, including two-time world champion Nikhat Zareen, Preeti Pawar, Lovelina Borgohain, and Narender Berwal have already confirmed their Olympic quotas. This is a testament to the talent and hard work of the Indian boxers. The tournament's regulations state that semifinalists in the women's 50kg, 54kg, 57kg, and 60kg events, as well as finalists in the 66kg and 75kg categories, will receive qualification for the Paris Olympics. Similarly, in the men's divisions, the gold and silver medalists across the seven weight categories will also earn Olympic berths.
Medals
2011- Women's Junior and Youth World Boxing Championships ( Gold medal )
2014 – Youth World Boxing Championships ( Silver medal )
2014 – Nations Cup International Boxing Tournament ( Gold medal )
2015 – 16th Senior Women National Boxing Championship ( Gold medal )

2019 – Thailand Open International Boxing Tournament ( Silver medal )
2019 – Strandja Memorial Boxing Tournament ( Gold medal )
2022 – Strandja Memorial Boxing Tournament ( Gold medal )
2022 – IBA Women's World Boxing Championships ( Gold medal )
2022 – Commonwealth Games ( Gold medal )
2023 – Women's World Boxing Championships ( Gold medal )
Awards
Nikhat was appointed as the official Ambassador of her native town Nizamabad, Telangana.
Won 'Best Boxer' title in All India Inter-University Boxing Championship, Jalandhar, Punjab in February 2015.
JFW Award for Excellence in Sports.
Arjuna Award in 2022.
You might also like