Change
Mrinalini Sarabhai: Grande Dame of Classical Dance

197 Views
Published On: 06 Jun 2023 Updated On: 18 Sep 2023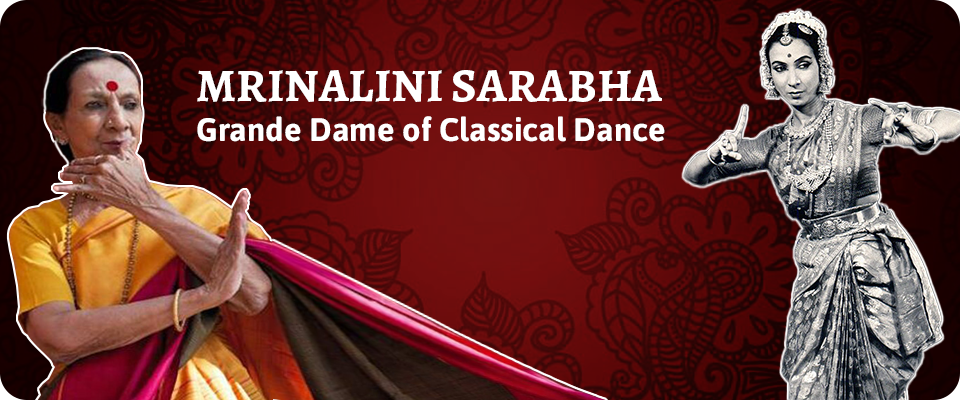 Classical Dances in India started around 200 BCE. This form of dancing is considered to be some sort of communication with the Gods. The style and art of Indian classical dance are joyful, and vibrant and have the ability to convey motivational messages to address serious issues happening around the world. Mrinaline Sarabhai is an exceptional dancer who left the viewers mesmerised with her performances and is the epitome of elegance, grace, and uniqueness.
Mrinalini is always remembered for her extraordinary contribution to the field of Indian dance. With her performances, she was able to approach and address both the Indian classical dancing and social issues during those periods through her unique sense of creativity and art. She received numerous awards for her contribution to the field of Indian dancing. She married the renowned physicist, Vikram Sarabhai who was also a social activist.
Who Is Mrinalini Sarabhai?
Mrinalini Sarabhai was born in the year 1918 into a Kerala family. She is not just a famous figure in the field of Indian classical dancing, but also the first one to be a choreographer. Even though she pursued her career in dancing, she even held the titles of an author and a social activist.
Mrinalini's father was a Tamil Brahmin and her mother was a Kerala Nair. Her father was a distinguished lawyer who graduated from Harvard and London universities. He practiced criminal law in the Madras High Court and then was appointed as a principal for the Madras Law College. Her mother was a social activist who is a former parliament member. Her elder sister was a commander-in-chief for Indian National Army.
She got married to the famous Indian scientist Vikram Sarabhai and had two kids namely, Kartikeya and Mallika. She dedicated most of her life to the pursuit of her passion, which is dancing, and when she died at the age of 97, her children continued her legacy in their way. Her daughter paid tribute to her by performing her favorite dance composition.
Early Life and Education of Mrinalini Sarabhai
Sarabhai was interested in dancing right during her childhood days and learned the Dalcroze method of dancing while she was raised in Switzerland. She attended Santiniketan in West Bengal and did her schooling there. Under the assistance of the famous Indian poet and the founder of Santiniketan, Rabindranath Tagore, Mrinalini realised that she should move forward and pursue a career in dancing. Later on, she even took up classes at the American Academy of Dramatic Arts and trained as a danseuse.
When she returned from States, she trained herself in Bharatnatyam, Kathakali, and Mohiniattam under famous dance instructors such as Meenakshi Sundar Pillai and Guru Thakazhi Kunchu Kurup. She faced many difficulties in travelling from her hometown to the North. Despite the obstacles she did not let these become a restraining or a downfall towards her passion and dedication in pursuit of the dancing career.
Darpana Academy of Performing Arts
This academy was started by Sarabhai in 1949 in Ahmedabad as she found the need for an academy that catered towards providing training in the field of Indian classical dancing. In her autobiography named 'Voice of the Heart' she wrote: "As I was building up an entirely new atmosphere in Ahmedabad and had Vikram's support, I, fortunately, did not have to worry in the beginning about finances. But I wanted someday to have a dance institution that would be self-sufficient. It was disappointing that I could find no students interested in dance and finally made a few of my friends join, just to have some company." In the later 60s, the school started to get fully-fledged with students who trained in various Indian dance forms.
She didn't just break the barrier of acceptability by being in the state but also became a role model for millions of girls out there who got inspired by her and wanted to be her in the future by following in her footsteps. Today the school offers classes on Bharatnatyam, Indian classical vocal, Mridangam, Violin & Flute, puppetry, and martial art Kalarippayattu. Every year it organises a three-day event called 'Vikram Sarabhai International Arts Festival' at Ahmedabad.
The Social Activist and Feminist: Mrinalini Sarabhai
Mrinalini was as unconventional in delivering performances with her unique sense of creativity. Her fame was not just limited to India, she took the dance form Kathakali across the world gaining popularity without the costume drama. Her performances were so well-received by the audiences which encouraged her to travel throughout Europe and promote different Indian dance forms.
Mrinalini was known for her beautiful yet thoughtful presentation of art through her performances as she highlighted several social issues that plagued during those times around the nation. One of the most notable issues was dowry death which she learned through an article published in the newspaper. She was immensely surprised by the torture women go through just because of the dowry system. She decided to reflect the same through her art and spread awareness on this sensitive topic.
Songs on such issues were nonexistent back then so she used the power of rhythms and melodies which according to her is easily understood by audiences. Her interest in issues of intolerance, discrimination based on caste, and women's empowerment, she choreographed these issues in her dance to portray a powerful message across the audience.
In the year 1977, she used Chandalika to address the issue of untouchability. In her performances of Tasher Desh and Kingdom of Cards, she conveyed protests against various isms through Kathakali dance form. She even addressed issues such as rape, discrimination, and mistreatment of the Adivasis, and various environmental issues like how the sacred river Ganga is been polluted by mankind through her incredible performances. She used textiles and handlooms in her performances and thus promoted the textile industry through her dancing.
Awards and Recognition Received by Mrinalini
She has been awarded by the Indian government with Padma Bhusan in 1992.
In the year 1963, she was awarded with Padmashri award by the Indian Government.
She was honored with the Degree of Doctor of Letters, honoris causa by the University of East Anglia, Norwich, UK in 1997.
Mrinalini was the first Indian to receive a medal and diploma from the French Archives Internationales de la Danse.
She was nominated to the Executive Committee of the International dance council, Paris 1990.
She was awarded the Sangeet Natak Akademi by New Delhi in 1994.
She was awarded a gold medal by the Mexican government for her choreography for the Ballet Folklorico of Mexico.
Other Facts About Mrinalini Sarabhai
She was the chairperson of the Gujarat State Handicrafts and Handloom Development Corporation Ltd.
She was also one of the trustees of Sarvodaya International Trust, an organization that aimed to promote Gandhian ideals around the nation and the world.
She was also the chairperson of the Nehru Foundation for Development.
She has choreographed over 300 dramas and productions in her lifetime.
She has trained over 18,000 students in Bharatnatyam and Kathakali dance forms.
She was the first recipient to receive the Nishagandhi Puraskaram which is the annual award given government of Kerala in the year 2013.
She was awarded the Dhirubhai Thakar Savyasachi Saraswat Award by the Gujarat Vishwakosh Trust.
Conclusion
Mrinalini Sarabhai created history by taking Indian Classical dance forms to another level. Not only did she deliver great performances but she also brought light to many societal issues and proved the importance of addressing such problems through any form of work. She took her last breath in the year 2016. She lived an extraordinary life and created a ray of hope with the use of her talent in the Indian society that is plagued with patriarchy and inequality.
Even these days, her legacy lives on through the existence of Darpana Academy, her daughter who followed her mother's footsteps in the world of classical dance.
"Creative work is a mystical experience. In literature, in dance, in drama, indeed in all the arts, inspiration is the springboard for the final work. But inspiration is itself the result of many years of study, a deep knowledge of the subject, and hard work." – Mrinalini Sarabhai (In a blog of hers)
You might also like