News
India's First Fuel Outlet Run By Women Convicts In Chennai 

141 Views
Published On: 16 Aug 2023 Updated On: 18 Aug 2023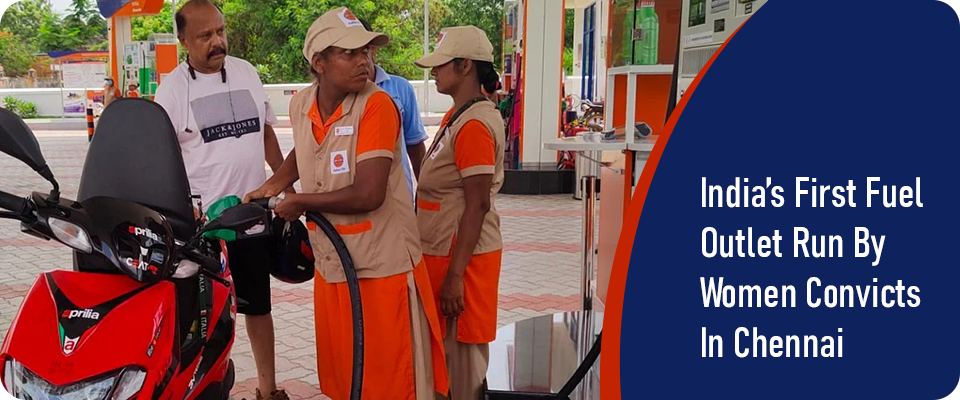 The 30 female convicts from Chennai who are currently serving the prison statements were employed at the fuel retail outlet just beside the prison premises on an inventive development basis of the nation. This is going to be the nation's first fuel retail outlet run by women convicts. This is going to be a new and innovative type of reformation & rehabilitation for prisoners to gain education, skill, and vocational training. The Department of Prisons and Correctional Services is aiming to adopt and implement various new strategies for the rehabilitation and reformation of prisoners for the better development of the nation in the future.
This fuel retail outlet was inaugurated in Chennai by S Regupathy, the Minister for Law & Prisons, Tamil Nadu on Thursday. This outlet is located on Ambattur Road, Puzhal, near Special Prison for Women, Puzhal. This fuel outlet place is named 'Freedom Filling Station.' According to the official release of this topic, this was stated as "For the first time in India, a petrol retail outlet will be fully managed by convicted women prisoners. About 30 female prisoners will be employed at this petrol retail outlet. The prisoners are going to get Rs. 6,000 each month as their salary."
Amaraesh Pujari, the In Charge DGP of Prisons and Correctional Services said that the Freedom filling station is going to be the very first petrol outlet run by women convicts in India. This is going to serve as a base for reformation, rehabilitation, and reintegration with society for them, he further added in his statement. This initiative will serve as a great opportunity for the women inmates to interact with outside customers and the larger world as well as boosts their social skills and eventually reduces isolation.
Not only this, this new strategy will help the inmates to behave well and follow & oblige to the rules as it is mandatory for them to live up to the expectations of "certain criteria and behavioral yardsticks" when required for the eligibility to be appointed for a job. The officials who took part in this inauguration were R Kanagaraj of DIG Prisons (Head Quarters); A Murugesan, DIG Prisons of Chennai Range; and VC Asokan, Executive Director & State Head of Tamil Nadu & Puducherry, IOCL.
Apart from these, the Prison department had already opened a Prison Bazaar where items cultivated and made by the prison inmates were sold over there. These items include compost manure, shoes, notebooks, handicrafts, raincoats, bakery products, readymade garments, and even vegetables & grown by them are sold here. This is another one of the reform and rehabilitation schemes of the Prison department.
The state government of Tamil Nadu has authorized & permitted the setup of 5 more fuel retail outlets on the outside premises of Central Prisons including Coimbatore, Central Prison of Puzhal, Madurai, and 2 locations in Tiruchirappalli including Salem. The Tamil Nadu government in association with Indian Oil Corporation has started running these fuel retail outlets under the name "Freedom Filling Station."
You might also like