Change
The First Practising Lady Doctor of India: Dr. Rakhmabai

150 Views
Published On: 05 Jul 2023 Updated On: 27 Jul 2023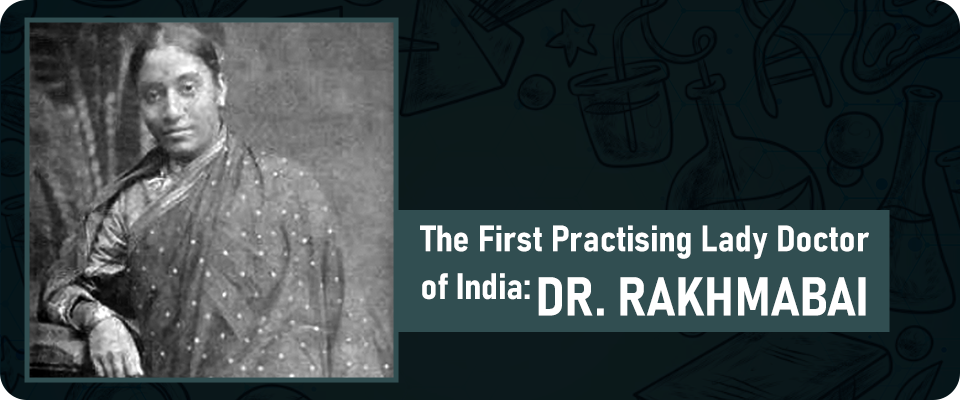 Born on November 22, 1864, Dr. Rakhmabai Raut was the first Indian woman to bring into existence the Age of Consent Law and undoubtedly a pioneer in the field of medical science. In the 19th century, when women weren't even allowed to speak or voice out their opinions, Dr. Rakhmabai fought for Women's Rights which led to the passage of the 'age of consent' from the jurisdiction.
Rakhmabai was a gutsy woman who did the impossible. She fought a battle that greatly defied child marriages (which were a common thing back then). She went against the odds to pursue her dreams and bring a change in the nation. Her passion for the medical field & and her undeterred mindset made her a legend and icon who went down in the history of India.
Background and Childhood of Rakhmabai
Hailing from a small family, Rakhmabai was born in a household in Maharashtra in the year 1864. Her childhood was not that great. Her mother, Jayantibai remarried a distinguished doctor, Sakharam Arjun. This wasn't as shocking as her marriage at 11 years of age. She got married to Dadaji Bhikaji who was only 19 years old at that time.
Sakharam Arjun wanted his son-in-law to become a distinguished, well-paid man who can provide for his wife. But Bhikaji had no such intentions, so Sakharam stated that to become an eligible son-in-law, he should become independent and able enough to take care of his family.
Schooling of Dr. Rakhmabai
After the condition placed by Sakharam, frustrated Bhikaji left the house and stayed at his maternal uncle's place. Meanwhile, Sakharam encouraged his daughter to pursue her formal education, in the hopes that Rakhmabai would grow up to be a liberal-minded person. But due to the insufficiency in the schools for girls, she began home-schooling. Rakhmabai, under the guidance of Sakharam, her stepfather, started to learn and write. Later a while, Raut started writing anonymous letters & articles to 'The Times of India', describing the plight of women and the situation focused on girls dropping out of school, and many more.
Passage of 'Age of Consent Act' in 1891
The Dadaji Bhikaji and Rakhmabai Raut case of 1885 started when Sakharam didn't let his daughter stay with Bhikaji who was still not an independent, capable person who would take care of his daughter well. Two years later, this matter went into the hands of the court where Justice Pinhey favored the Raut's side whose justification was accepted as valid according to English law.
But this didn't settle well with the community as a large number of people supported the opposition which ultimately lead to the retrial of the same case. But this time, the judge set forth two options for Rakhmabai. Either go with her husband and live with him or be imprisoned for six months. Bold Raut wrote a letter stating that she would rather spend her life in jail than pursue a marriage that happened without her consent.
Lastly, this case was overturned by Queen Victoria herself as he annulled the court's order. With a settlement amount given to Bhikaji, Raut shifted to England to pursue her higher education.
This case led to the 'Age of Consent Act' by the British government in India to prevent such cases in the future by having set a particular age for marriage. Rakhmabai didn't only achieve victory for herself but for the countless women who were trapped in child marriage. Even though she had no direct relationship with the regulation or formulation of the law, the Indian government was made to look into the matter of child marriage deeply and take action based on that.
Raut's Higher Education and Passion in the Medical Field
Rakhmabai was inspired by her stepfather. Deciding to follow the footprints of her stepfather, Raut wanted to pursue her career in the medical field. Not only did she study medicine but even pursued her passion of becoming a writer in London. She wrote about the plights of the Indian women under the pseudonym 'A Hindu Lady.' She graduated with extra credentials from other universities like Glasgow, Edinburgh, and Brussels.
Upon returning to India, she started practicing medicine in Mumbai. After some time, she became Chief Medical Officer at Surat. She worked in Surat till 1917. In 1918, She started working as a Chief Medical Officer for Zenana Hospital of Rajkot. She continued working there till 1930.
Although Anandi Joshi was the first woman to be qualified as a doctor, she didn't practice medicine due to her untimely death. This makes Dr.Rakhmabai Raut the first Indian lady to practice medicine and fight for women's rights in India.
Verdict
Dr. Raut's story conveys determination paired with a set of courageous actions that impacted history. Being raised to be a liberal-minded person, she exactly knew what she could demand and fought for equality in an era where stereotypical thinking overpowered the changes. Even though she was a victim of child marriage but she never sacrificed her passion to study and write and became India's first lady to practice medicine.
Her story might not have impacted all lives but her story is worth seeking inspiration for and today several Indian women proudly & boldly choose to dream of the life they want to seek.
FAQs
Who is Dr. Rakhmabai Raut?
Dr. Rakhmabai Raut is India's first Practising LAdy Doctor who also fought for Women's Rights in the 19th century.
When was the 'Age of Consent Act' passed officially?
The 'Age of Consent Act' by the British Government in India was passed in the year 1891.
Where was Dr. Raut born?
Dr. Raut was born in a small household in the Maharashtra state.
What is the name of the article Raut posted while she was pursuing medicine in London?
'A Hindu Lady' was the name under which Raut posted articles about Indian Women while pursuing medicine in London.
What is the name of Dr. Rakhmabai's husband?
Dadaji Bhikaji is the name of Dr. Rakhmabai's husband.
You might also like