Nutritious Edible Flowers To Add To Your Diet

113 Views
Published On: 11 Sep 2023 Updated On: 03 Oct 2023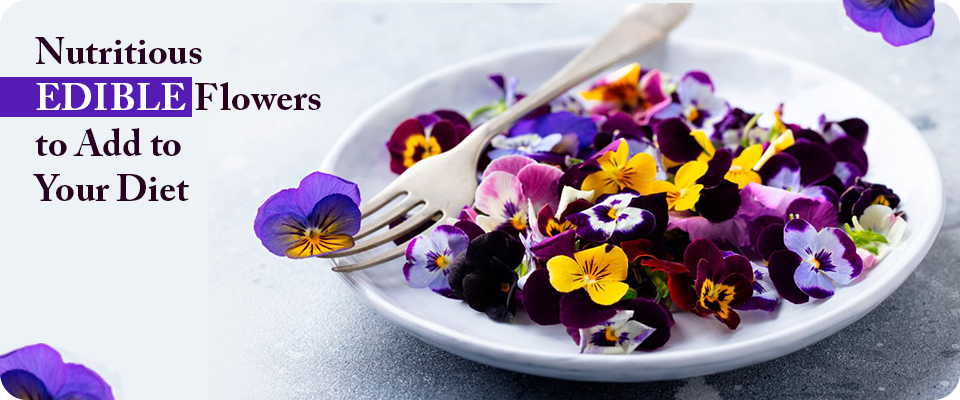 There are various methods to maintain our health and numerous ways to enhance our diet, which can significantly improve the condition of our gut health. It can be through physical exercises, yoga, limiting consumption of processed and fatty foods, balanced diets, meditation, body detoxification, and many other forms. Among these, flowers can be a fantastic addition to nourish our well-being and gut health. But wait! It is not just any flowers— they are edible flowers! Yes, you read that right.
Edible flowers are packed with antioxidants, bioactive components, and vitamins, which considerably support boosting digestion, reducing anxiety, relieving stress, managing diabetes, lowering cholesterol, and many other gut health benefits. They are considered an amazing remedy for various conditions. If you are looking for ways to enhance your dietary choices, it is time you add these edible flowers to the list. They can be added to beverages, salads, desserts, sauces, and entrées, and can even use as garnish to complete your meal. With these in mind, here are some of the most nutritious edible flowers you can add to your diet to receive optimum benefits.
Ten Edible Flowers To Your Diet
Hibiscus
Rose
Lavender
Marigold
Banana Blossoms
Pumpkin Blossoms
Jasmine
Chamomile
Moringa
Papaya Blossoms
Hibiscus
It is the flower that helps in reducing the hunger level by promoting satiety. The researchers found that it decreased hunger by 56.4% and also decreased weight by 5.4%. Hibiscus flower leaves also help to reduce double the weight. The fresh aroma from the flower will serve as a tea also. When we take any supplements with little heat it will surely burn the weight so fast. Preclinical research shows that this flower extract can reduce triglyceride accumulation in fat cells. It is found in oils, butter, and all the fat items which won't give any energy except fat.
Rose
The King of healing in flowers is none other than Rose. Many people consider that this flower is only used for adding colours and for decorating foods. It contains Phenolics which has anti-inflammatory properties and are a rich source of vitamins that help in diet. It has a rich aroma when we add this as a garnishing element. And with the help of vitamins, there are many chances to lose weight. Most people used to have this as a tea in their diet. In that tea, we can add cinnamon and cloves. If we want sweetness in that, adding a little amount of honey will equal it.
Lavender
The flower Lavender will catch everyone's eye by showing the shades of warmth. It is a tiny flower that looks like bunches in our hands when we carry it. It is not only used for preparing perfumes only. It has a highly nutritious level which helps in maintaining a proper diet and also adds beauty to our foods. We can consider this flower as a zero-calorie flower with a 0% carbohydrate level. The most important thing about lavender is that it is consumed by sniffing the oil extracts which will reduce stress levels and also help in proper sleep. Most people prefer lavender tea and oil to lower the level of craving for fast food items.
Marigold
The yellow family flowers add glow to the faces of acne-prone skin and dull skin by providing vitamin C. It also has anti-inflammatory properties to produce proper digestion. This flower is also considered to be the zero-level carb flower that won't ruin your diet plan. It helps to get relief from period cramps, stomach ulcers, and nausea too. Adding more marigolds to your diet may also cause stomach upset and irritation in intestines, kidneys, and liver. It is an edible flower which has been used since ancient times.
Banana Blossoms
The purplish colour petals around the little strands are rich in fibres, protein, and minerals like potassium, calcium, phosphorus, iron, copper, and magnesium. This helps to fight sugar levels mainly with type-2 diabetes. As we all know, reducing the amount of sugar levels in our diet will surely make our size zero in that case, Banana Blossom is a very good choice. Intaking raw flowers like this will change the colour of the teeth shade a little brown. In India, many people use this flower in curry, soups, juice, and in salads.
Pumpkin Blossoms
The fusion of five petals with various nutritious elements like fibre, copper folate and vitamin A helps to improve the energy level in your body. Like the taste of the pumpkin vegetable, it contains little sweetness. It can be taken as a wrap for the vegetable roll and for salad. Taking this flower in the early morning before the meals will help you to gain more benefits. Whatever the vegetables and the flowers which contain more water level will surely help in dieting for weight loss.
Jasmine
Only people in India will know the fresh aroma and the beauty of jasmine by placing them in their heads. When we talk about aroma, it is mainly used for preparing fragrance and also adding flavor to the tea. It helps in reducing blood pressure, aids in weight loss, and strengthens the immune system.

Chamomile flower
The cute little flower chamomile detoxifies inside the body and helps in reducing fat. It is enriched in antioxidants level. Taking this as tea before every meal will help with gastric levels also. It provides strength to the stomach area and treats ulcers, diarrhoea, mouth ulcer, gas, indigestion, and nausea.
Moringa
It is commonly known as drumstick flower, a good source of vitamins A and C. The best flower that helps to promote iron supplements to the body. It is a good medicinal flower and it can be taken raw also. Most people prefer something like soup or curry. By the presence of iron supplements, it helps in maintaining a very good diet.
Papaya Blossom
The most affordable flower that we are able to see in local delicacies and this provides many vitamins like A, C, and E. Like papaya, this also helps in promoting glowing skin. In many areas, people used to prepare this by lightly frying the flower in a pan by adding a small amount of salt as their side dish. When it is taken as a tea in the early morning as a detox, it helps in reducing the fat as well as the skin problems.
FAQs
What will happen when we only eat flowers daily?
There is nothing wrong with consuming flowers daily by following the proper instructions. It will help our body to get relief from various issues like diabetes, indigestion, gas, nausea, etc. And some flowers will add glow to our body.
Is eating flowers in a raw state good for your health?
Yes, edible flowers are good to eat and they promote nutritious supplements easily without any struggles. Some people have allergies when they consume petals in their diet. So, before trying any kind of flowers just seek a doctor's advice once.
Whether boiling flowers for tea without removing the stamen will cause a serious issue?
Yes, some flower stamen will cause allergies and migraines. It may contain a drug-like substance in some flowers. Removing that part before boiling will help you to get rid of serious issues.
Do seasonal flowers give benefits more than seasonal fruits?
Some researchers find that eating seasonal fruits will add extra taste when compared to seasonal flowers. But there is not a huge difference between fruits and flowers while producing energy.
Which are good vegetables, fruits, or flowers?
Researchers found that the above three things are must-have ingredients that we have to eat in our daily lives. But consuming at a good level will promote good energy and there is no specific thing in that.
You might also like

Wellness
29-Nov-2023
BITS Pilani, ABCF Bring Startup Program for Women Entrepreneurs

Wellness
22-Feb-2023
Get the Best Strollers for Your Baby's Safety

Wellness
31-Aug-2023
Top 10 Online Manicure & Pedicure Kits To Pamper Your…