Beauty
Home-made DIY Remedies for Natural Skincare

106 Views
Published On: 12 Aug 2023 Updated On: 16 Aug 2023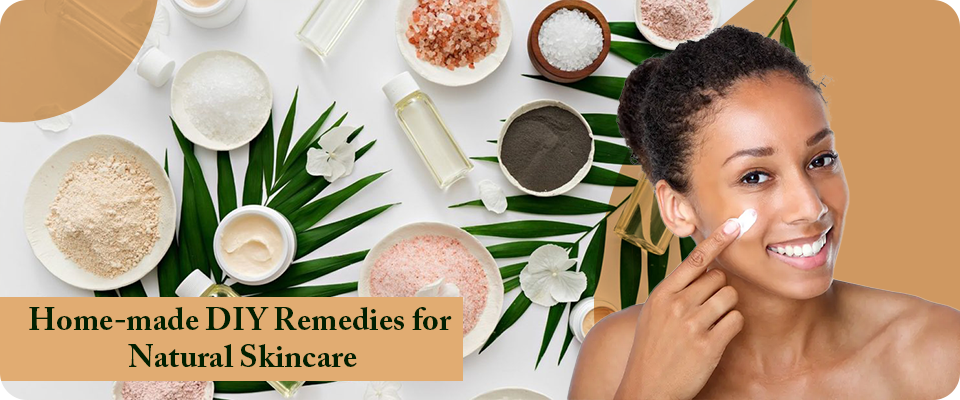 Tired of trying cosmetics and various skincare products? Didn't find a suitable one that works fine with your skin without causing any damage or bringing out any kind of side effects? Looking for a natural solution with the ingredients present at home? Worry not, we have got you covered well. Here is the list containing easy, homemade remedies from specialists to aid your skin. These DIY remedies are not just effective but will you provide a spa-like feeling with all the relaxation and tranquility.
While there are benefits of using skin & beauty care products found in the marketplace and online but the wholesomeness of the natural, home-made products is unbeatable. What are you waiting for? Walk into your kitchen and get hold of these ingredients and make homemade skincare masks, anti-aging scrubs & soaks for your body, lips, face, and more. This imparts you with glowing & healthy-looking skin with just simple steps and ingredients.
Before diving into the list of remedies, let us have a look at the benefits of various ingredients found at home and how it acts on your skin.
| | | |
| --- | --- | --- |
| Ingredient Name | Skincare Elements Present | How it acts on your skin |
| Aloe Vera | Antioxidants & Vitamins | Improves elasticity, Helps in the healing of damaged skin, moisturises skin, and minor wound healing. |
| Honey | Sucrose, Glucose, antioxidants, Humectant | Home remedy for eczema, psoriasis, fastens wound healing and scar fading |
| Turmeric | Antioxidants, Curcumin | Boosts Collagen production, anti-inflammatory |
| Milk | Vitamin D & A, Lactic acid, Tyrosine | Helps in improving facial tone and reduces dark spots. |
| Olive Oil | Vitamin A, D, E, K, and Antioxidants | Improves skin glow and provides UV protection |
| Sour Cream | Lactic acid | Hydration and exfoliation of the skin |
| Orange/Lemon Juice | Vitamin C, Citric acid, Antioxidants | Brightening dark spots, improving elasticity and firmness, improving moisturization |
| Besan | Besan flour | Helps in the exfoliation when used as a mask or scrub. |
| Papaya | Papain, vitamins, chymopapain | Antiviral, antifungal, and antibacterial properties, reduce wrinkles, decrease the risk of acne, exfoliate, and leaves the skin glowing |
| Cucumber | Antioxidants, Folic acid, and vitamins | Anti-inflammatory helps to balance skin pH, decreases puffy skin, curbs irritation, and hydrates |
| Oats | Saponins | Powerful cleanser, exfoliation |
| Coconut Oil | Hydrating Healthy fats | Long-lasting moisturisation, nourishment |
| Rice grain | Starch | Natural exfoliants and cleansers soothe damaged skin. |
Turmeric Face & Neck Pack
Turmeric is one natural ingredient filled with loads of benefits for skin & health in general. Turmeric is a divine spice that is never going to let you down and is packed with anti-bacterial and antiseptic properties. Turmeric is a great anti-oxidant that delivers your skin with a radiant glow. In Ayurvedic Science, the use of turmeric is essential in healing several diseases because of its power to eliminate all kinds of toxins and free radicals from your body.
Regular application of this homemade remedy imparts you with increased collagen in your skin & youthful look. Here is how you can use turmeric on your face, neck, and even on your whole body.
Take a half teaspoon of turmeric powder and a cup of gram flour (Chickpea flour)
Mix them using enough water or milk until it converts into a smooth paste.
Gently apply this paste all over your face and neck using your fingertips. You can apply the paste all over your body as well.
Leave it until it dries and then rinse it thoroughly.
Cocoa Face Mask
Cocoa is considered to be a good exfoliator that gently exfoliates even the unreachable parts such as the side of your nose. It is an effective tan remover along with detoxifies your skin from deep within. Cocoa is a powerhouse of antioxidants and works well on acne marks providing your skin with a fresh look and deeply nourishing from within. It even fights pigmentation and lightens up the pigmented region with regular use. The cocoa mask which is rich in antioxidants replenishes the skin's natural moisture giving you a youthful look.
By providing necessary hydration to the skin, this remedy is useful in acting as the skin's barrier. Here is how you can use a Cocoa mask on your face.
Take a tablespoon of cocoa powder, 1 tablespoon of sour cream, 1 tablespoon of honey, and one egg white.
Mix it well and gently apply it over your face with your fingertips in a circular motion.
Let it dry completely and then rinse it thoroughly which tightens and firms your skin.
Olive Oil Face & Neck Cleanser
Olive oil acts as a great antioxidant for the skin. This is known to be a repellant for cancer-causing cells with its application after exposure to the sun. It works effectively in healing damaged skin and imparts your skin with a shiny radiant look. It even avoids the early aging of your skin. Olive oil is not just good for health but is also very effective on the skin.
It has great moisturising properties and fights bacteria present in your skin. The various vitamins present in olive oil are proven to be beneficial for the skin. Here is how you can use Olive oil on your skin as a remedy.
Take a few drops of olive oil every night before sleeping and apply gently it all over your face and neck.
Take a clean towel and dip it in a bowl of warm water.
Squeeze off the excess water and gently place it on your face & neck for about a minute.
Dip the towel again and now clean the excessive oil from your face and neck.
Take a dry towel now and wipe your face and neck to make it dry.
Oat Face Mask
Ground Oats are a good source of saponin & are packed with essential fibers and vitamins and zinc that is a natural detoxifier and rejuvenate your skin from within. Oats contain Manganese that helps to aid swelling & improves healing of the wounds and irritation caused in the skin. The excess iron content present in oats boosts blood circulation in the cells.
The skin's natural pH is regulated by apple cider's high levels of alpha-hydroxy acids and ground oats do the removal of excess oil. Here is how you can use ground oats with apple cider on your face with these simple steps.
Take 3 teaspoons of ground oats and ¼ teaspoon of apple cider.
Mix it well until it settles down in the form of a smooth paste.
To that mixture, add ¼ tablespoon of lemon juice, ½ tablespoon of brown sugar.
Stir the mixture until it is even.
Gently apply this paste on your freshly cleansed face and leave it for 5-10 minutes till the ingredients deeply penetrate the upper layer of your skin.
Gently rub your skin in a circular motion to exfoliate and boosts blood circulation.
After that, rinse it off with warm water and pat dry with a clean towel.
Saffron Face Pack
Saffron otherwise known as a golden spice is a popular spice known for its unique scent, taste, and vibrant scarlet golden color. Saffron is an ingredient power-packed with nutrients that are beneficial for the skin. It is that divine spice that fights off numerous health and skin-related issues. It is packed with vitamins, minerals, and antioxidants. It even delivers glowing, clear skin with a youthful look.
Saffron effectively treats pigmentation and lightens your skin & it is considered to improve skin texture as well. With lots of benefits, let us know in what way or with what other ingredients can this amazing spice be used on your skin.
Add a few strands of saffron to water and leave it for 5-10 minutes.
Add this saffron-infused water to turmeric or milk or even honey for various types of face packs.
After getting a smooth paste, apply it on your skin evenly and leave it for 10-15 minutes.
Rinse it off with water and then pat dry with a clean towel.
Milk Hand Soak
Raw milk is the power source of lactic acid and other essential hydrating fats. It reduces fine lines and wrinkles and other signs of ageing on your face. Removal of dead skin cells, exfoliation, and deep moisturises your skin. The lactic acid present in the raw milk softens your rough skin as it is one of the richest source of moisturising ingredients. Raw milk works as an exceptional toner for all skin types.
Raw milk boosts and hydrates your skin from deep within and offers unmatched skin cleansing. Here is how you can use raw milk on your skin with these simple steps.
Take 2-3 cups of milk (Enough to submerge both of your hands) and heat it in the microwave oven until it is warm.
Pour the content into a bowl and dip your hands into the bowl.
Soak your hands for 5-10 minutes allowing the fat from the milk to hydrate your skin and vitamins A & E to nourish your skin.
Pat dry your hands with a clean towel later on.
Coconut Oil Moisturiser
Coconut oil is one ingredient commonly found in every household and is used on various occasions. Coconut oil can effectively hydrate your skin and help your skin retain its moisture. Due to its antibacterial properties, it reduces inflammation and promotes wound healing. Works effectively on people with conditions like eczema. Coconut oil is antifungal, and antiviral, and strengthens skin barriers in infants.
It protects you from damage-causing microbial and actively supports healing upon regular application. Here's how you can use the multi-beneficial coconut oil on your skin.
Squeeze a small amount of oil onto your palm.
Directly apply it on your hair or skin or warm it up a little and then apply it.
Make sure you do a patch test before applying it to every area of your body.
By regular application of the oil, it keeps our skin glowing and healthy.
Yoghurt Face Mask
Another ingredient that is rich in lactic acid is Yoghurt. Yoghurt can not just be consumed as a food product but can be used as a skincare product as well. It doesn't only have amazing health benefits but also works effectively on the skin when applied in the right way. This is a powerhouse of probiotics, protein, and bone-building calcium. A yoghurt face mask has a lot of potential benefits for the skin.
A yoghurt mask is a good way to instant moisturize booster to your skin and shields your skin from drying. Here's the DIY recipe to make a homemade yoghurt face mask.
Take ¼ cup of Yoghurt, 1 tablespoon of oatmeal, and 1 teaspoon of honey to exfoliate your skin.
Or take ¼ cup of Yoghurt, 1 teaspoon of olive oil, ¼ cup of avocado to deeply moisturize your skin.
Or take ¼ cup of Yoghurt, 1 tablespoon of cocoa powder, and 1 teaspoon of honey for an antioxidant boost for your skin.
Mix any of the three recipes well until it turns into a smooth paste.
Apply evenly on your face and leave it until it dries.
Rinse it off with water and pat dry.
Tea Leaves Face Toner
From boosting brain-boosting to promoting weight loss, the benefits of tea leaves are plenty. It has a wide range of therapeutic properties that benefits your skin in various ways. It protects against skin cancer because of the polyphenols present in the leaves. These polyphenols contain antioxidant properties. It prevents premature aging of the skin. It highly works on blemishes and soothes skin irritation.
Here's how you can make a face toner using tea leaves and a few other ingredients to shield your skin from harm and free radicals.
Take a teaspoon of peppermint, 4 white tea leaves, ½ cup of boiled water, and 2 drops of lavender oil.
Combine all these and keep it in a French press (tea/coffee brewing tool) for 10 minutes to let the content steep.
Pour the container into a glass to cool it down and combine this mixture with enough aloe vera gel.
Store the mixture in the refrigerator before application.
Baking Soda Foot Soak
To improve your skin texture, a good exfoliating product is what your skin requires. And Baking powder is the one you are looking for. Baking soda is not just used for food recipes but can even be an excellent exfoliator for your skin if used appropriately. This exfoliator will make your skin bright & brilliant in no time. It is a readily available, affordable ingredient that makes wonders on your skin.
Here's how to use baking soda as a foot-soak element to exfoliate your foot.
Take ½ cup of baking soda powder for each gallon of warm water.
Mix it well until the solution is clear and the powder dissolves completely.
Soak your feet for 30 minutes in the tub containing this solution as you sit back and relax.
Rinse away the baking soda and pat dry your feet with a clean towel.
Banana Face Mask
This sweet and delicious fruit has been a staple in our diets for ages. Bananas are an easily available, healthy, and tasty ingredient packed with many nutrients. It even has essential vitamins like vitamin B6, vitamin C, vitamin A, magnesium, and potassium along with a fair amount of carbs, fibers, and prebiotics.
Coming to skin benefits, it fights off acne, gets rid of dry skin and dark spots, and acts as an excellent skin moisturiser. It combats the aging of the skin as well. Here is how to make a DIY remedy out of bananas.
Take a few bananas, peel them off, and mash them in a bowl.
Apply it on your face and neck and leave it for 15-20 minutes.
Rinse your face with lukewarm water and pat dry with a clean towel.
You can even apply it as a facemask by adding a teaspoon of honey, and one teaspoon of lemon juice to a single ripe banana.
Rice- Ginger Body Scrub
Rice grains make a great natural exfoliant and are effective on the skin. The scratch from the rice is especially beneficial to heal damaged and irritated skin. It fights off and gets rid of all dead skin cells and reveals smooth, glowing, and radiant skin. With its anti-inflammatory, brightening, anti-ageing, exfoliating, moisturizing, and antioxidant properties, the ginger powder can be used to address a variety of skin concerns. It is a safe and natural alternative to chemical-laden skincare products and can be easily incorporated into your daily skincare routine.
Here is how to make a DIY remedy out of rice and ginger.
Take ½ cup of ground rice (Blended in a mixer), ½ cup of coconut milk, ¼ cup of brown sugar, and 1 ½ tablespoons of ginger.
Mix the contents in a bowl until it turns into a smooth paste.
Use your hands to smear the paste all over your body and spread it evenly in a circular motion.
Leave it for a few minutes and then rinse it off using lukewarm water.
Honey Lip Scrub
Honey is officially known to be a powerhouse of enzymes, nutrients, and beneficial compounds. It is used in both therapeutic and cosmetic applications. It has anti-inflammatory properties along with anti-ageig, microbial and bacterial problems. When mixed with other medicinal preparations it enhances the medicinal value of the product. It is a natural humectant and moisturiser.
Honey deeply nourishes your skin, delivering hydration to the underlying layers of the skin which results in plumper, softer, healthier, and naturally glowing skin. Here is how you can use honey with several other ingredients as a DIY skincare remedy product.
Take 1 teaspoon of coconut oil, 1 teaspoon of honey, 2 tablespoons of raw sugar, and a dash of lemon juice in a bowl and mix it well.
Take the mixture and apply it on your lips using a new unused toothbrush in a gentle circular motion.
Rinse it off in a while and then apply your daily lip balm.
You can even try with 2 to 3 tablespoons of crumbled oats, 1 teaspoon honey, ½ teaspoon apple cider vinegar, and one drop of tea tree oil.
Papaya Face Pack
Both raw and ripe papaya have numerous benefits for the skin, hair, immunity system, and overall health. Papaya nourishes you from deep health, alleviating some health concerns, and imparts a youthful look to your skin. It is a rich source of vitamins, enzymes, and minerals. It controls acne and reduces wrinkles on your skin and face. It even acts as a natural cleanser and cleans off the dirt present in your skin pores, giving your skin a fresh look.
Here is how you can use papaya in different ways on your skin.
A mixture of papaya pulp, milk, and honey in the right proportion can moisturise your dry skin and make it glow.
Take a cup of chopped papaya and chopped orange and blend it to make a smooth mixture.
Apply it on your face and skin and leave it on for 10-15 minutes.
A face pack with cucumber, papaya, and banana will help to moisturise your skin and lighten it.
A mixture of papaya, lemon juice, and honey will unclog the pores and cleanse your face deeply.
Cucumber Face Toner
With high water content in cucumber, makes cucumber a hydration element in DIY skincare remedy recipes. The benefits of cucumber are not just limited to the dinner table but offer an amazing list of benefits for the skin upon regular application. It helps in the removal of toxins and stress present in the skin cells. It maintains the sebum level present in our pores and treats clogged pores, acne, and blemishes on your skin.
It combats free radicals and inflammation. Here is how you can use cucumber in different ways on your skin.
Take a cucumber & wash, peel, and slice it. Add it to a pan with the necessary amount of water to cover the cucumber pieces.
Heat the content over a low flame for roughly 5-7 minutes before transferring them to a blender to blend them until it turns smooth.
From there, pour the mixture through a fine mesh sieve or squeeze with a cheesecloth to remove any unblended pieces.
Transfer the remaining liquid to a spray bottle or other sterilized container.
Feel free to add a teaspoon of rose water or witch hazel to amplify the hydrating and healing mixture.
Do not store it for more than 3-4 days.
Activities That Promote Skincare Apart from DIY Remedies
Apart from making DIY remedies, there are plenty of other things that you can do to maintain healthy and glowing skin. These things do not just maintain your skincare but help in the overall physical and mental health development. All you have to do is to follow these regularly.
Exercising Regularly
When you follow a workout routine or just do simple basic exercises, it pumps blood throughout your body as it works on your heart muscles in circulating blood and oxygen. This improved and increased blood flow that happens while you exercise results in improved circulation even when you are not exercising. Exercising in turn nourishes your boy cells including skin cells leading to improved vitality and promoting effective cellular repair and replacement.
Not just, exercising even helps with the ageing of the skin. It prevents and reverses the signs of skin ageing with just 30 minutes of aerobic exercise each day. Exercising regularly improves your overall health and places less stress on your skin eventually.
Getting Enough Sleep
With enough sleep per day, your body regains moisture as the body's rehydration balances. At the same time, the excess water is removed, and not getting enough sleep would result in puffy baggy eyes. It improves blood circulation and avoids many of the problems affecting the skin. Apart from sunscreen or any other skincare products, sleep is the best way to fight any signs of wrinkles, skin ageing, and sagging.
On the contrary lack of sleep induces stress-causing hormones which in turn cause inflammation of the skin. So a healthy sleep is needed to prevent this from happening and various other things. Since the blood flow is consistent when you snooze, the body itself heals and repairs skin cells very effectively.
Drinking Plenty of Water
In case you have not known, drinking an adequate amount of water regularly has some amazing benefits for the skin. Drinking water helps eliminate toxins present in your body while providing you with healthier glowing skin. Keeping yourself hydrated promotes elasticity in your skin as it stays moisturized for a longer period and regular consumption of water, delivers a smooth tone to your skin and increases blood flow with each glass of water.
It even delays sagging and premature ageing, fine lines, and wrinkles appearing on the skin. It boosts the healing process for ailments such as headaches, blemishes, and sunburn. Drinking water adequately maintains your body's pH level.
Eat To Nourish Your Skin
Skin renews itself every time after 28 days and that is why it is important to provide enough nourishment through the food we eat. Regular healthy eating improves your skin texture and imparts glow to your skin. The importance of nutrition is paramount since we know that the skin is nourished from the inside, and an incorrect diet is reflected in the external appearance. This result is visible both on the skin, as well as on the hair and nails, and in general, on our entire body.
As we already know, our skin is the body's largest organ and is interconnected with the whole organism. Therefore, if we have liver problems or poor digestion, this will be reflected in the state of the health of the epidermis. On the other hand, if we have respiratory problems or food allergies, we will see skin problems such as psoriasis or eczema.
Knowing how our skin works, it is time to pay attention to our daily diets and include healthy foods rich in vitamins and nutrients, to help improve the health of our body and our skin.
Avoid Smoking & Secondhand Smoking
Smoking affects the collagen and elastin production of your skin. The elastic fibers are responsible for keeping your skin firm and plump. Smoking promotes oxidative stress in skin fibroblasts, impairs collagen formation, and increases the expression of an enzyme that degrades collagen. Smoking in turn narrows blood vessels to the skin making it difficult for the nutrients to reach the skin compared to the normal.
Smoking greatly increases or boosts melanocyte formation which is responsible for age spots and dark spots appearing on your skin. Frequent exposure to environmental factors with tobacco smoking, heat, and UV rays can cause the accumulation of oxidative stress on your skin. It even increases transepidermal water loss and degeneration of collagen and elastic fibres. This in turn causes your skin to sag.
Apply Sunscreen Each Day
Frequent and regular use of sunscreen can prevent and block the UV rays that cause much damage to your skin including skin cancer. It effectively prevents sunburns and premature ageing including fine lines and wrinkles causing your skin to lose its firmness and elasticity.
It boosts skin texture and reduces hyperpigmentation on the skin. It might not be a quick treatment but regular and consistent application of sunscreen will surely promote you with glowing-looking skin. But make sure to do a patch test of whichever sunscreen you are going to use.
Shorten Your Shower Time
According to the CDC or Centre for Disease Control & Prevention, it is said that the average shower time is roughly around 8 minutes. Dermatologist Dr. Edidiong Kaminska has recommended that the maximum shower time must be between 5-10 minutes approximately. Longer than 15 minutes would strip your skin and scalp of natural oils, and other healthy bacteria causing the skin to dry and crack up. This can cause many skin-related problems such as eczema. So to avoid those, it is better to reduce or lessen the time you engage with a shower daily since the purpose of the shower is to rehydrate and cleanse the skin instead of opening our pores and damaging our skin.
Consistency is Key
Doing all these won't be effective until you are not consistent enough with whatever you are doing. Stopping in between or infrequent usage, follow-up is never going to yield a good result. Make sure to stick with whichever remedy you have opted till the end or until it starts reflecting on your skin positively. Consistency is the key to achieving something in any field or in anything you do.
Closing Thoughts
No matter how much you have aged or how is your lifestyle proceeding, you should make a consistent effort in looking after your health and skin. Neglecting or being irresponsible in such matters would only make things worse and negatively affect your health. The skin which envelopes you is the skin you are going to live in for the rest of your life. So make sure to treat it with care and gentleness, and look after its wellness daily.
FAQs
What are the natural ingredients that can be used and that can be found easily in your household?
Cucumbers, milk, turmeric, banana, rice, coconut oil, oats, etc are commonly found things in almost every household. 
How can I improve my skin quality?
You can improve your skin quality by using various skin care products are DIY remedies with natural ingredients present in your home.
What is the natural way to improve the skin color?
With the regular use of rice water cleanser, oat face mask, and turmeric face pack it is easy to regain your skin's natural color in just a few days.
What are the natural skincare products available in the market?
There are plenty of natural products and Ayurvedic skincare products available out there in the marketplace. 
Are naturally found ingredients expensive?
No, most of the natural ingredients are easily available and are affordable by any. 
Are homemade DIY skincare remedies beneficial for the skin?
Absolutely. Homemade DIY skincare remedies are proven to be beneficial for your skincare routine and to heal ailments related to your skin. 
You might also like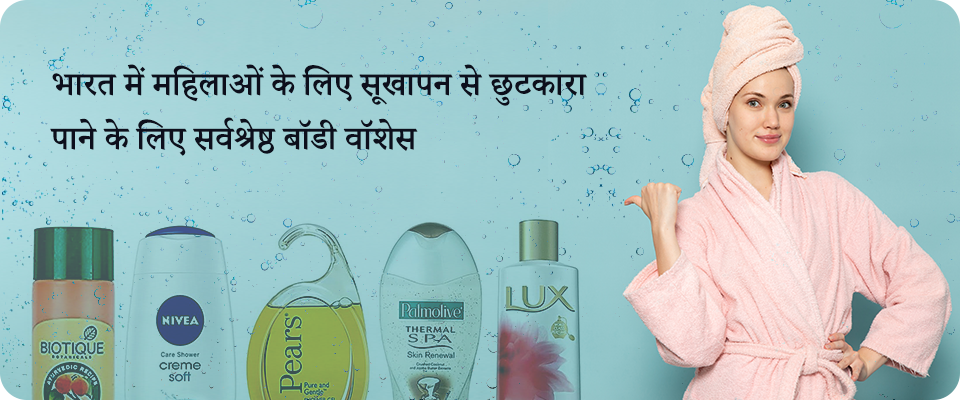 Wellness
10-Oct-2023
भारत में महिलाओं के लिए सूखापन से छुटकारा पाने के…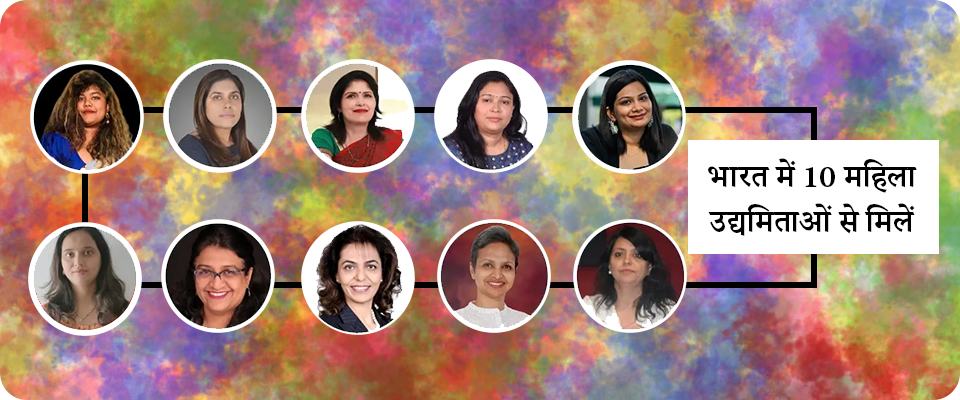 Wellness
06-Oct-2023
भारत में 10 महिला उद्यमिताओं से मिलें

Wellness
25-Apr-2023
Gulabi Gang: An Extraordinary Women's Movement