Beauty
Upgrade Your Hair Care Journey with Castor Oil

249 Views
Published On: 03 Apr 2023 Updated On: 27 Jul 2023

Castor oils have been a significant component in beauty and health care for centuries. It is widely used for its efficacy in stimulating bowel movements and its inflammatory property. As India is the top producer of high-quality castor oil-it is high time you expose yourself to the benefits of castor oil.
Castor oil is rich in ricinoleic acid, vitamin E and omega fatty acids which can stimulate faster hair growth. Castor oil can be beneficial if you have a dry scalp, split ends and frizzy hair. Regular use of castor hair can result in stronger, moisturised long hair.
Just apply castor oil to the scalp and massage your scalp to promote hair growth it is also good if you have a dry scalp. This will stimulate the hair follicles resulting in the growth of thick shiny hair growth. The anti-inflammatory property of castor oil can help prevent fungal and bacterial infections that can happen to hair scalps. The fatty acids in castor oil will help manage a healthy pH balance preventing dandruff for a healthy scalp.
If you have an oily scalp you can apply castor oil to the hair stand if it is prone to split ends. Applying castor air to hair will act as a moisture barrier making the hair appear shinier and softer. Castor oil has hair-softening properties which can rejuvenate dry damaged frizzy hair. You can also use castor oil as a carrier oil for other essential oil and extracts because it can help in deeper penetration of it for better results.
Keeping castor oil in your must-have things can always come in handy. Castor oil has been since time used for medicinal and beauty purposes. Castor oil is a good remedy to induce bowel movement. If you have dry skin, castor is a natural moisturiser. The monounsaturated fatty acid present in this oil makes it an occlusive moisturiser which prevents water loss from the outer skin layer.
Castor oil mixed with other light oils can be used as a moisturiser for the body and face. You can dilute castor by mixing it with coconut oil, jojoba oil or almond oil for convenient application as castor oil is thick. Castor oil can also be applied to wounds for faster healing, using castor oil in wounds creates a healthy hydrated environment for the wounds to heal.
When you are purchasing castor oil it is always good to buy the one that is cold pressed as it retains more of the nutrients.
We have gathered a list of a few trusted castor oil brands you can purchase
Avnii Organics 100% Pure Cold Pressed Castor Oil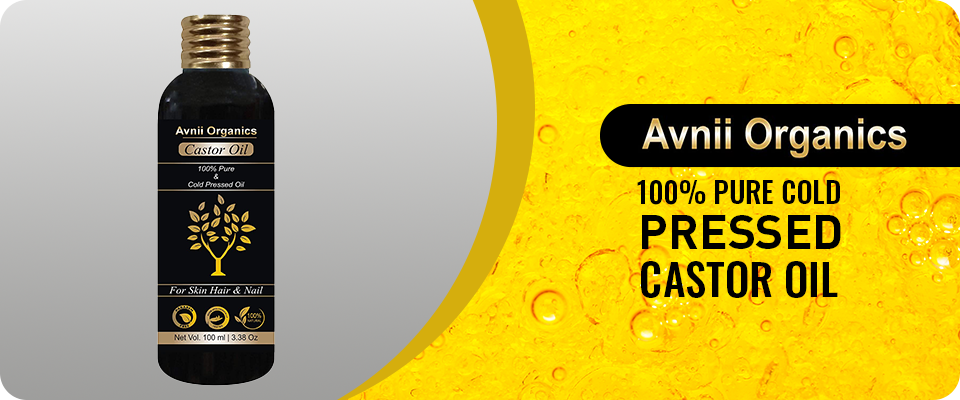 Castor oil is rich in essential fatty acids and provides nourishment to promote hair growth, this 100% pure cold-pressed castor oil from Avnii Organics can moisturise the scalp to reduce hair fall and promote hair growth. Avnii Organics 100% Pure Cold Pressed Castor Oil can promote hair growth as it is made from high-quality naturally sourced castor seeds.
Since it is cold pressed there won't be a loss of essential matters like proteins and omega-six fatty acids. Omega fatty acids are good to stimulate hair growth, improving hair health, controlling water loss in hair, improves scalp and skin condition. It also keeps away dandruff with its antibacterial property.
Hydrates and moisturise dry scalp
Helps control hair fall
Voluminous and strong hair
Matra 100% Pure & Natural Processed Castor Oil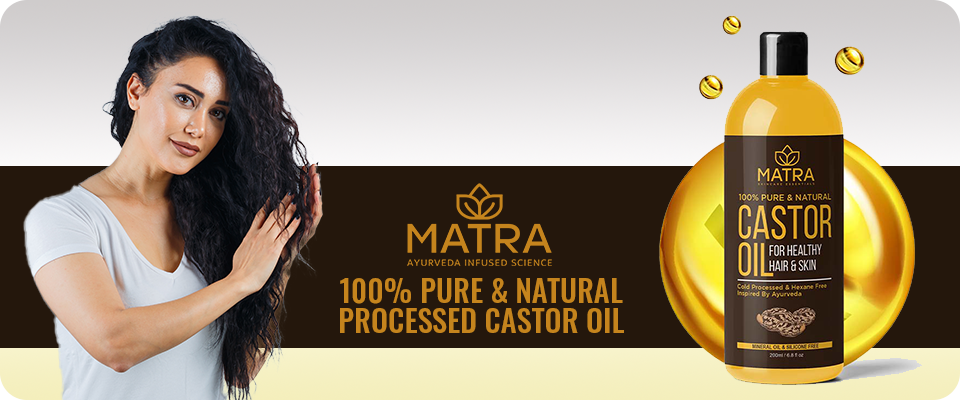 There are many reasons why Castor oil has been a part of holistic healing, with no side effects it is a cure for all your skin and hair care issues. Matra 100% Pure & Natural Processed Castor Oil contains Omega 6 and Omega 9 fatty acids that help strengthen hair roots and scalp.
Leaving Matra 100% Pure & Natural Processed Castor Oil on your hair for up to 30 minutes and washing it off using a mild oil, can help treat thinning hair and retracting hairlines.
Reduce premature greying
Moisturize hair strands
Reduce hair breakage
Controls hair fall
EarthBaby 100% Natural Origin Cold-Pressed Castor Oil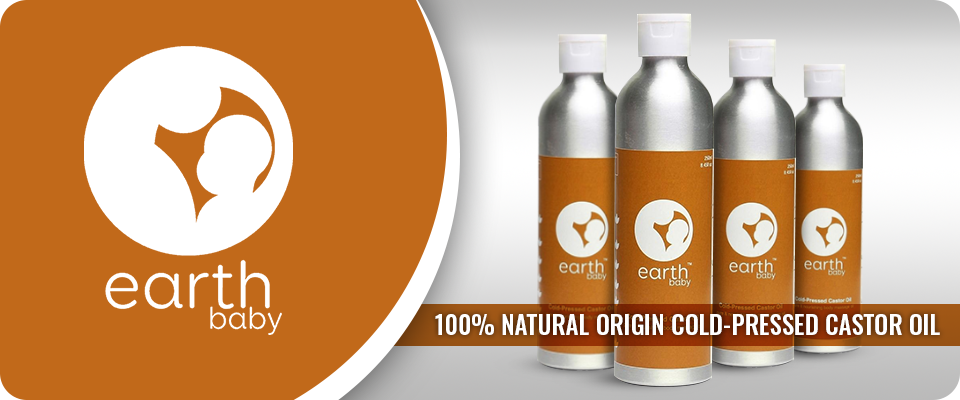 This 100% pure cold-pressed Natural Castor Oil is good for young babies and new mothers. It is quite seen that women lose hair postpartum due to stress and hormonal issues. EarthBaby's 100% Natural Origin Cold-Pressed Castor Oil is specially formulated to help new mothers to regain their shiny strong hair.
The brand believes in the value of sustainability and quality, so once you have emptied the bottle you can return it to them to receive cash back. The product is also good for rashes and sunburns.
Deeply conditioning and moisturisation
Helps cool the scalp
Helps control dry scalp
Controls scalp infection
Nature's Tattva Jamaican Black Castor Oil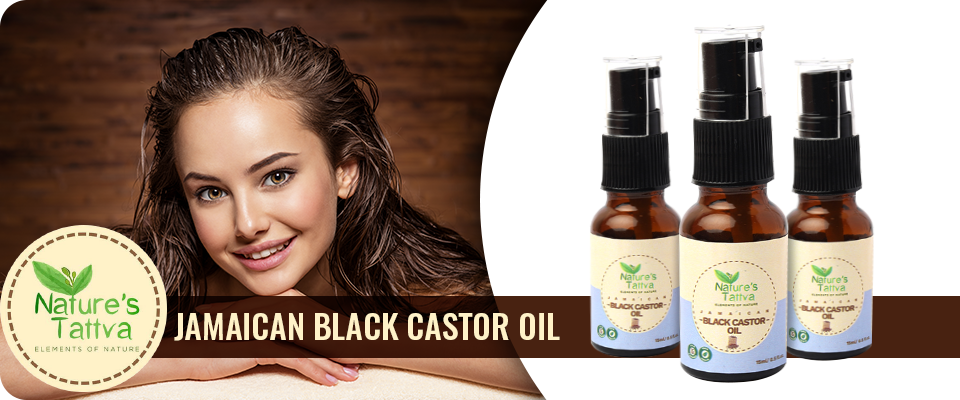 If you are also someone struggling with dandruff and hair fall issues, Nature's Tattva Jamaican Black Castor Oil could be your fix for the issue. The castor oil of the brand is extracted from roasted castor beans than raw beans, this removes all the possible toxins from the oil.
This castor oil is effective in controlling hair concerns, and promoting hair growth. Due to the fact, it is processed after roasting the seed the ash content in the oil increases the oil pH making it more effective
Improves blood circulation to the scalp
prevents itchy scalp and dandruff
Helps hair re-growth
Effective for dry frizzy hair
Rey Naturals 100% Pure & Natural Cold Pressed Castor Oil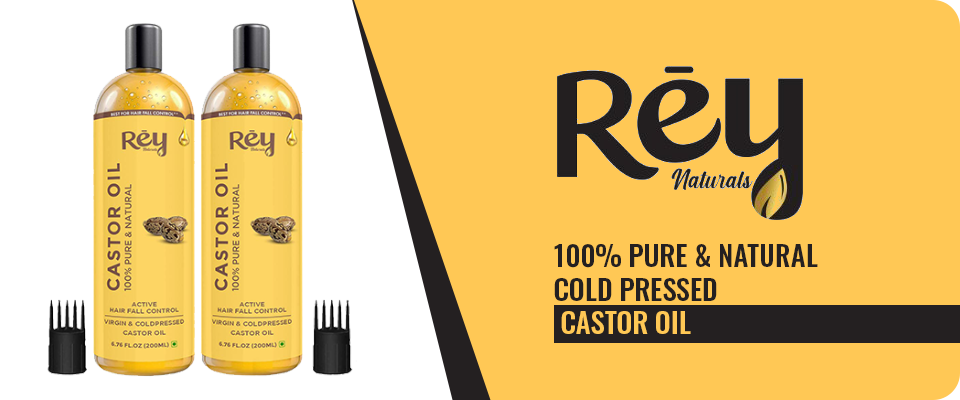 The 100% pure natural cold pressed Castor Oil from Rey Naturals has the ability to promote hair growth by strengthening thin hair, replenishing the scalp, and helping natural oil production. It can help increase hair density and repair hair damage. Rey Naturals 100% Pure & Natural Cold Pressed Castor Oil is also good in hydrating the scalp and penetrates deeper into hair follicles.
This powerful and pure castor oil formula from Rey Naturals is rich in antioxidants and keratin which aids in the growth of strong and smooth hair.
Helps to reduce & prevent hair loss
Hydrates & moisturizes dry scalp
Makes hair thick and voluminous
Suitable for all hair types
Morpheme Remedies Jamaican Black Castor Hair Therapy Oil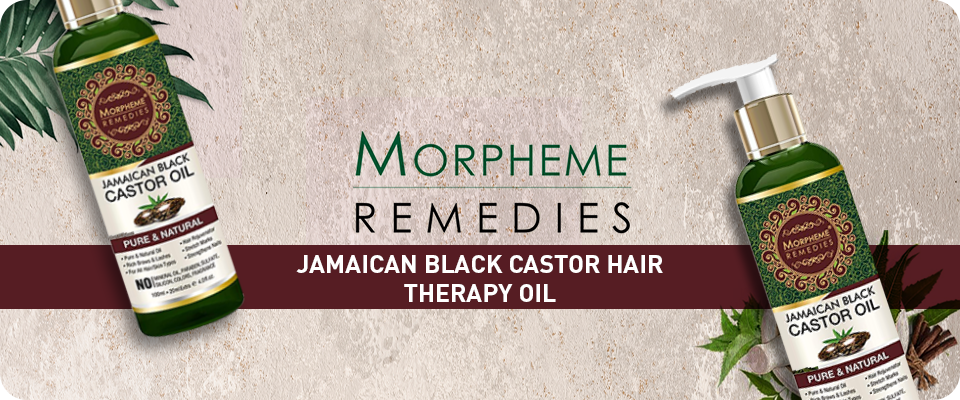 This Morpheme Remedies Jamaican Black Castor Hair Therapy Oil is made of Jamaican Black castor seeds and is effective in advanced hair care. This hair care oil would be the perfect remedy for people who suffer from dry damaged-prone hair.
Massaging the scalp with Morpheme Remedies Jamaican Black Castor helps increase blood circulation to the scalp. Strengthening hair roots activates hair follicles to promote hair growth.
Keeps hair nourished
Provides deep conditioning
Builds protective barrier
Promotes natural hair growth
Aroma Magic Castor Oil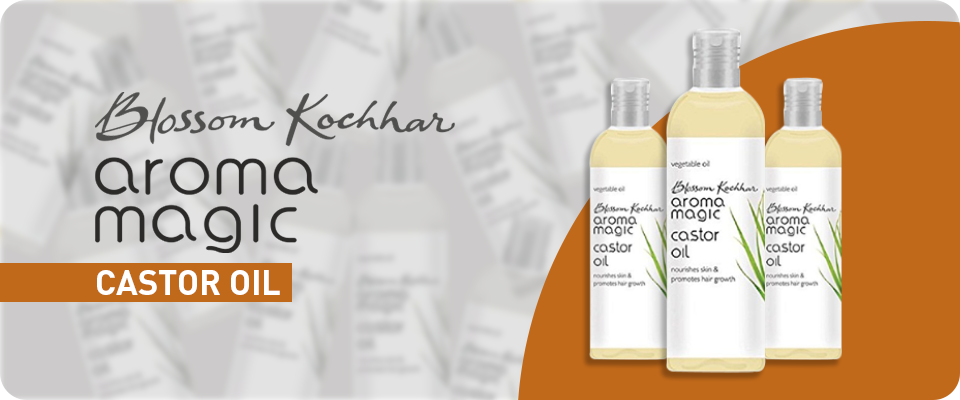 The cold-pressed, natural Castor oil from Aroma Magic has the combined goodness of castor oil and essential oils, that exenterates the healing property of the oil. When massaged with Aroma magic castor oil your scalp get the power to fight bacterial and fungal infection.
The Aroma Magic castor oil is made from pure castor seeds and contains no added chemicals or preservatives. Castor oil twice or thrice a week can help you gain shiny and soft hair.
No harsh chemicals
Promotes hair growth
Fights fungal and bacterial infection
Cleanses hair and scalp
Soulflower Coldpressed Castor Carrier Oil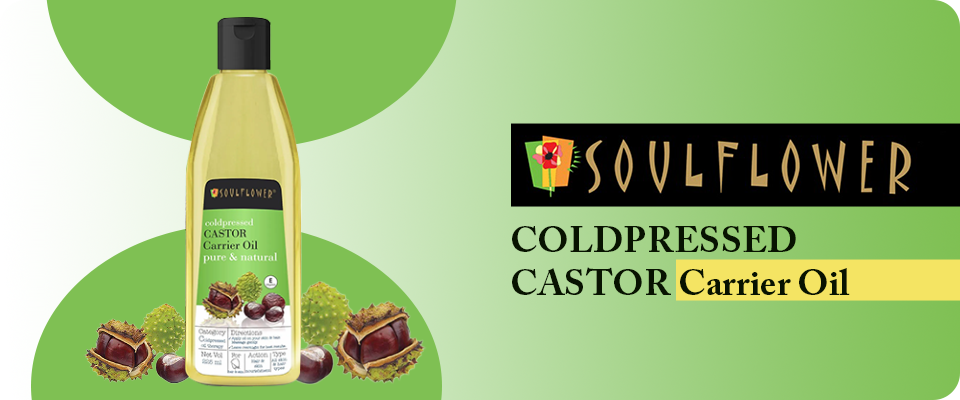 The fatty acids contained in Soulflower cold-pressed castor oil can activate hair growth, and soothe itching and damaged scalp. To enhance the benefits of castor oil it is infused with vitamin e and other essential oils.
The thick, sticky consistency of Soulflower castor oil will help in the absorption of the oil deep into the skin cells. It is effective in preventing hair fall and promoting hair growth.
Good for dry scalp
Nourishes hair
Gives a shiny gloss to hair
Makes hair healthy
Aloe Veda Massage Oil – Cold Pressed Castor Oil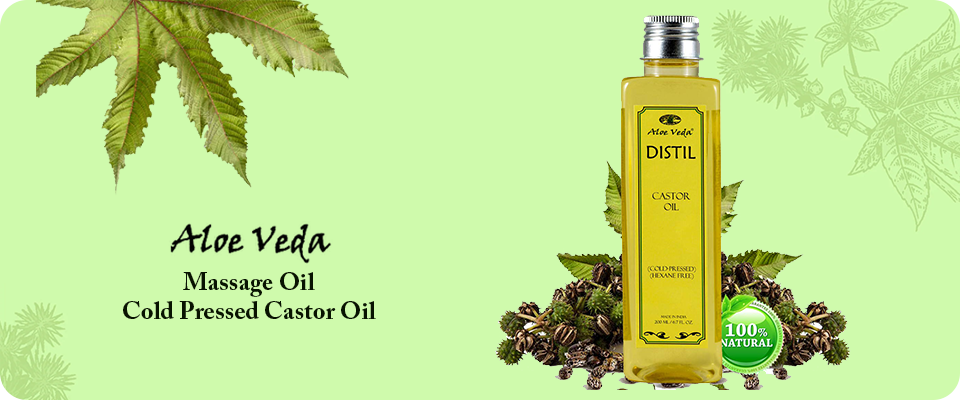 A good solution for head acne and dandruff Aloe Veda cold-pressed castor oil is infused with ricinoleic acid. Massaging your head with Aloe Veda castor oil would nourish the scalp cells from within strengthening the hair roots.
With the natural healing properties Aloe Veda castor oil is packed with, it will give you an incredible boost to your hair growth. Using castor oil on your hair leaves you with lustrous soft hair.
Help heals the scalp
Prevents head acne
Control dandruff
Promotes hair growth
Juicy Chemistry Cold Pressed Organic Castor Oil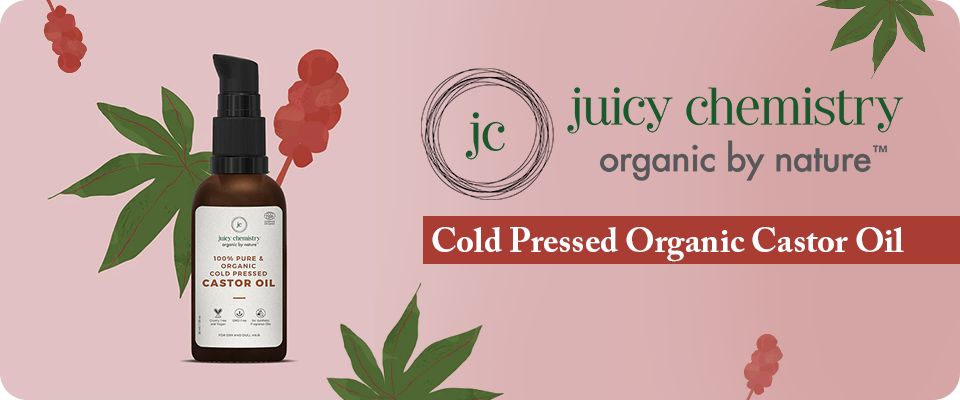 The Juicy Chemistry Castor Oil acts as a powerful oil that controls the fungal infection and prevents dandruff encouraging hair growth. This castor oil is infused with Vitamin E making it a good agent to promote a healthy nourished scalp.
The high content of oleic acid present in juicy chemistry castor oil is good for reducing hair fall, and also has antibacterial properties which will help in protecting hair and scalp resulting in healthy-looking hair.
Increase hair growth
soothe your scalp
Strengthen hair follicles
Improves hair texture
Morpheme Remedies Pure Coldpressed Castor Oil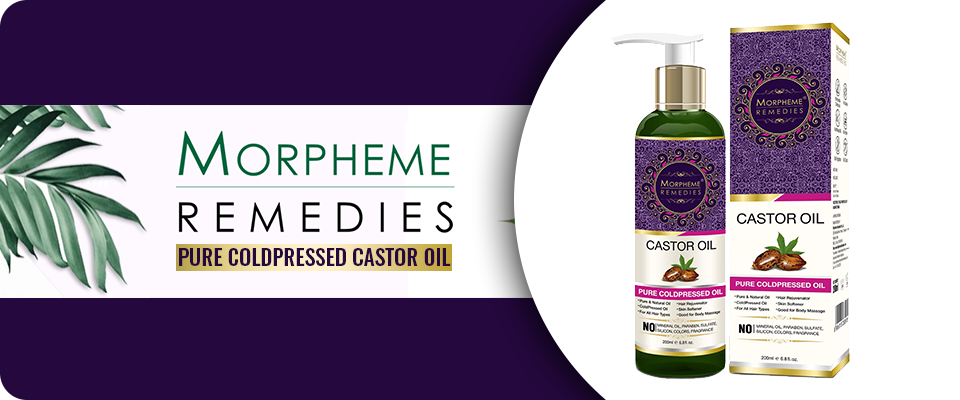 If you are looking for a quick fix to rejuvenate hair Morpheme Remedies Pure Coldpressed Castor Oil is a good pick. This hair care oil has healing properties to replenish the scalp and has emollient properties which will moisturise hair strands.
Promotes hair growth
Heals scalp
Nourishes hair
You might also like