SwearBy
Best Body Washes For Women to Get Rid of Dryness

69 Views
Published On: 25 Sep 2023 Updated On: 10 Oct 2023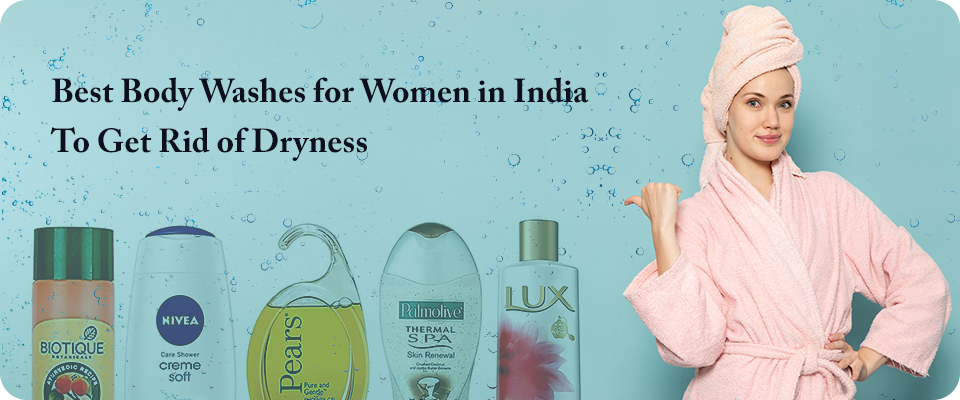 Dry, itchy, and flaky skin causing you trouble? That is because the infusion of sulfates, parabens, and other harmful chemicals in any of the personal care or cosmetic products causes your skin to turn dry eventually. And that applies to body washes as well. A body wash is a liquid cleanser used for the body and is typically used in the shower and lathers up well with just a small quantity. This helps in getting rid of dust, dirt, oil, and sweat from the skin. Some of these washes can be used as an alternative for face and hair washes.
Additionally, it contains ingredients required for exfoliation, moisturization, and condition your skin. Most have fragrances in them delivering a beautiful scent to your body. Each of the elements helps to nourish and protect your skin along with making it smooth & hydrated intensely. Using a body wash is a great way to maintain your skin and is suitable for all skin types. With plenty of options available, it might become overwhelming to choose the best. but worry not as we have curated a list containing the best body washes for women to get rid of dryness.
Best Body Washes For Women in India
| | | |
| --- | --- | --- |
| Product Name | Brand | Available On |
| The Derma Co 1% Salicylic Body Wash with Glycolic Acid | The Derma Co | The Derma CoAmazonNykaaFlipkart |
| Bodywise 1% Salicylic Acid Body Wash | Be Bodywise | Be Body WiseFlipkartNykaaAmazon |
| PLIX Jamun & 2% Salicylic acid Body Wash | The Plant Fix | Plix LifeAmazonFlipkartJio Mart |
| Cetaphil Restoraderm Body Wash | Cetaphil | Cetaphil IndiaAmazonNykaaPharmeasy |
| Pears Naturale Aloe Vera Body Wash | Pears | AmazonNykaaFlipkartPurplle |
| Mamaearth Vitamin C Body Wash | Mamaearth | MamaearthAmazonFlipkartNykaa |
| Chemist at Play 4% Lactic Acid + Salicylic acid & Vitamin E Body Wash | Chemist at Play | NykaaFlipkartAmazonPurplle |
| Minimalist 2% Salicylic acid + LHA Body Wash | Minimalist | MinimalistAmazonNykaaPurplle |
| Palmolive Iris Flower and Ylang Ylang Essential Oil Body Wash | Palmolive | AmazonFlipkartNykaaPurplle |
| mcaffeine Coffee and Berries Body wash | mCaffeine | mCaffeineNykaaAmazonFlipkart |
| Nykaa Wanderlust Mediterranean Body Wash | Nykaa | NykaaFlipkartMeeshoZepto |
| The Body Shop Strawberry Shower Gel | The Body Shop | The Bodyshop. inNykaaAmazonFlipkart |
| Dove Deeply Nourishing Body Wash | Dove | Dove IndiaAmazonFlipkartPurplle |
The Derma Co 1% Salicylic Body Wash with Glycolic Acid
The 1% Salicylic acid body wash by Derm Co is a daily exfoliating body wash powered with Salicylic acid, Glycolic acid, and Pentavitin®. The mentioned body wash is sulfate-free and is gentle enough to use on a daily basis. The antibacterial formulation helps in getting rid of body acne and smoothens the skin. In addition to this, it cleanses your skin deeply and reduces inflammation. Salicylic acid which is a renowned keratolytic agent helps in the exfoliation of skin and targets blackheads and acne whereas Pentavitin® is an excellent hydrating agent to boosts hydration & locks moisture for up to 24 hours. This body wash is safe for all skin types including sensitive skin.
Product Highlights
Smoothens rough and bumpy skin.
Deeply Cleanses and exfoliates with the sulfate-free formulation.
Fights body acne and blackheads.
Sheds dead skin cells and makes skin even-toned.
Safe and effective product designed by dermatologists.
Suitable for all skin types.
Key ingredients
Glycolic Acid
Salicylic Acid
Pentavitin®
Other Bodywashes by Derma Co
1% Vitamin C Daily Glow Body Wash
1% Kojic Acid Daily Brightening Body Wash
1% Ceramide-Oats Complex Daily Hydrating Body Wash
Bodywise 1% Salicylic Acid Body Wash
Be Bodywise is one of the popular personal care brands in India. The Bodywise 1% Salicylic Acid body wash is a one-in-all body regime that treats, soothes, exfoliates, and cleanses your skin deeply. This is an effective and gentle body wash enriched with 1% salicylic acid and other nourishing agents like cucumber, aloe vera, and chamomile that soothe irritated skin and hydrate from within. It helps to unclog pores and reduce blemishes and breakouts, delivering fresh and rejuvenated skin each day.
Product Highlights
Helps solubilize the oil present in the skin and prevents acne formation
The anti-inflammatory agent helps in soothing inflamed skin.
Lightens pigmentation & dullness and treats strawberry legs.
Cleanses and refreshes your skin.
Dermatologically developed and clinically tested ingredients.
Alcohol, paraben, sulfate, and cruelty-free.
Refreshes and renews skin cells.
Key Ingredients
Salicylic acid
Cucumber
Aloe Vera
Chamomile
Other Body Washes by Be Bodywise
5% Niacinamide Body Wash
2% AHA Body Wash
Hyaluronic Acid Body Wash
PLIX Jamun & 2% Salicylic Acid Body Wash
This body wash by PLIX also known as The Plant Fix is known for deep exfoliation action that helps in the elimination of dead skin cells and reveals healthier-looking skin by nourishing from within. The blue scrub microbeads present help in clearing dead skin cells gently. Along with that, the body wash soothes skin inflammation and promotes moisturization of the skin. The Glycolic acid and Jamun extracts along with salicylic acid treat your body's skin deeply.
Product Highlights
Exfoliates your skin and reduces body acne.
Soothes your irritated skin due to its anti-inflammatory properties.
Revitalizes and rejuvenates your skin making it smooth and hydrated.
Dermatologically tested and is a non-comedogenic product.
Silicones and paraben-free & IFRA-certified fragrance.
Key Ingredients
Salicylic Acid
Glycolic Acid
Aloe Vera extract
Jamun extract
Other Body Washes by PLIX
Pineapple 5% Lactic acid body wash
Cetaphil Restoraderm Skin Restoring Body Wash
If you have sensitive skin then it is best recommended to use Cetaphil Body wash. This is a creamy body wash formulated with powerful potents that help to soothe dry and sensitive skin. Infused with advanced technology, this creamy body wash gently cleanses and rinses to hold skin-nourishing oils in a gentle, soap-free cleanser. The Patented Filaggrin Technology™ helps restore the skin's moisture barrier and leaves the skin feeling hydrated and healthy. Formulated with a blend of 9 moisturizers, vitamins E and B3 defend against 5 signs of skin sensitivity including dryness, irritation, roughness, tightness, and a weakened skin barrier.
Product Highlights
Paraben free and hypoallergenic.
Clinically proven to provide moisture-enhancing cleansing.
Soothes itchy and eczema-prone skin.
Dermatologically recommended for sensitive skin.
Key Ingredients
Niacinamide
Glycerin
Butyrospermum Parkii Butter
Citric Acid
Other Body Washes by Cetaphil
Baby Moisturising Bath and Wash
Pears Naturale Aloe Vera Body Wash
The Pears Naturale Body Washes have pure glycerin leaving your skin feeling soft and smooth.
Pears Naturale Aloe Vera Detoxifying body wash has the goodness of 100% Natural Aloe Vera along with Olive Oil. Its 100% soap-free formula gently cleanses your skin for visibly refreshed, glowing skin, every time you shower. Do you know Aloe Vera is known to purify and soften your skin leaving it clear and refreshed, and Olive Oil packed with antioxidants, is known to protect skin? This gentle formula has 0% Parabens and is mild and gentle on the skin.
Product Highlights
With the goodness of natural ingredients, this body wash rejuvenates and nourishes your skin.
Gives you a refreshed, glowing look after each wash.
Hydrates your skin leaving it soft and supple.
It is a paraben-free and soap-free body wash.
Contains pure glycerin and natural oils to help retain the body's moisture.
Key Ingredients
Glycerin
Citric acid
Aloe Vera Juice
Olive fruit oil
Water
Other Body Washes by Pears
Brightening Pomegranate Body Wash
Nourishing Coconut Water Body Wash
Mint Extract Body Wash
Mamaearth Vitamin C Body Wash
Enriched with the goodness of vitamin C and honey, the Mamaearth Vitamin C body wash is here to wake you up with the zesty fragrance of lemons and oranges. This product will leave your body feeling cleansed and supple after each bath thereby enhancing the skin's radiance. Honey is a natural moisturizer so this is going to keep your body deeply moisturized. No harmful chemicals or toxins including parabens or silicones, are present in this.
Product Highlights
Draws out dirt and toxins present in your skin giving you supple and healthy skin.
Gives your skin a radiant glow and smoothens it.
Imparts natural radiance and moisturization with every use.
Dermatologically tested and suitable for all skin types.
Locks in moisture and prevents skin from drying out.
Smoothens the skin surface making it soft.
Key Ingredients
Vitamin C
Honey
Glycerin
Oat Amino acids
Other Body Washes by Mamaearth
Ubtan Body Wash with Saffron and Turmeric for Glowing Skin
Charcoal Body Wash with Charcoal and Mint
Chemist At Play 4% Lactic Acid + Salicylic acid & Vitamin E Body Wash
Infused with murumuru beads, lactic acid, Zemea, ceramides, and other potents, Chemist at Play body wash is an exfoliating body wash suitable for any skin type. The dissolvable murumuru beads deeply cleanse your skin and leave behind smoother skin. The ceramides present in this help to bind your skin together along with locking in the moisture improving the overall appearance of your skin. The body wash has a rich texture providing you with luxurious after each bath. This multi-beneficial body wash is formulated to target concerns of various types.
Product Highlights
Gently exfoliates your skin and gently handles the bumpy skin.
Provides intense hydration and calms skin inflammation.
Reduces body acne, improves skin texture, and enhances skin radiance.
Helps in healing UV damage.
It is completely free from allergens and dermatologically tested.
Key Ingredients
Lactic Acid
Murumuru beads
Zemea
Ceramides
Hyaluronic acid
Vitamin E
Other Body Washes by Chemist at Play
1% Salicylic Acid Acne Control Body Wash for Daily Use
1% Niacinamide Hydrating Body Wash for daily Use
Minimalist 2% Salicylic acid + LHA Body Wash
This is an everyday body cleanser imbued with a combination of 2% salicylic acid and LHA (Capryloyl Salicylic Acid) that helps in the gentle removal of excess sebum as well as cleanses & exfoliates in order to maintain healthy skin. Salicylic acid is best known for penetrating deep into the skin and removing excess oil which reduces and prevents acne in the body. Combined with LHA, this body wash provides even textured skin. Boosted with niacinamide, which acts on acne marks and blemishes to provide smooth and even skin. Formulated with betaine and glycerin keeps the skin moisturised and soothes it to avoid any irritation making it suitable for all skin types.
Product Highlights
Gently cleanses and exfoliates your skin.
Prevents body acne by reducing body oil and sebum.
Reduces the appearance of body acne and blemishes.
Intense moisturization and soothes the irritated skin.
Dermatologically tested and free from paraben, silicones, sulfates, dyes, and synthetic fragrances/perfume.
Suitable for all skin types.
Key Ingredients
Salicylic Acid
LHA
Niacinamide
Glycerin
Betaine
Other Body Washes by Chemist at Play
Minimalist Salicylic Acid & LHA 2% Body Wash With Niacinamide
Palmolive Iris Flower and Ylang Ylang Essential Oil Body Wash
Fond of refreshing and luxurious feels bath? Then look no further as this body wash is here to provide you with the exact same feeling. Infused with Ylang Ylang essential oil and Iris extract it provides you the essence of relaxation of a blissful shower moment. This product lathers up perfectly for rejuvenating baths. It works great on the skin avoiding any sort of irritation. The formula is created to give you a brilliant beauty experience.
Product Highlights
Repairs the skin from external damage.
Intensely moisturizes your skin from within.
Provides you with a refreshed and aromatic feeling with each bath.
Leaves your skin feeling soft & smooth for a hygienic experience.
Dermatologically tested and free from parabens and silicones.
Key Ingredients
Ylang Ylang Essential oil
Iris extracts
Other Body Washes by Palmolive
Palmolive Coconut and Jojoba Butter Exfoliating & Moisturizing Body Wash
Palmolive White Orchid & Fig Oil Luminous Oils Rejuvenating, Nourishing Body Wash
Palmolive Macadamia Oil & Peony Flower Luminous Oils Invigorating, Moisturizing Body Wash
Palmolive Rose & Orange Essential Oil Aroma Sensual, Soothing & Brightening Body Wash
Palmolive Orange Essential Oil & Lemongrass Aroma Morning Tonic, Brightening Body Wash
mCaffeine Coffee and Berries Body wash
Incorporated with superfood coffee which is the main ingredient of mcaffeine's personal care & beauty care products, this body wash is enriched with the power of coffee and berries. Juicy raspberries, cranberries, and strawberries are present to elevate the moisturization, and hydration, and enhance the skin's radiance overall. Vitamin E is present to shield the skin against sun & pollution damage and leaves it soft & supple. It deeply cleanses the skin, fades uneven skin tone, and restores moisture. Antioxidant Caffeine soothes redness and inflammation in the skin.
Product Highlights
Helps get rid of tan on your skin.
Nourishes your skin and leaves with an improved glow.
Energizes skin and evens skin tone.
Antioxidant duo coffee and caffeine deep cleanses the skin.
FDA Approved, Dermatologically Tested, Made Safe, PETA Certified, Cruelty-Free & 100% Vegan, and with Zero Plastic Footprint.
Key Ingredients
Caffeine
Coffee
Berries
Vitamin E
Other Body Washes by mCaffeine
Coffee Body Wash with Cocoa
Coffee Body Wash with Almonds
Green tea & 1% BHA- Salicylic Acid Body Wash
Green Tea & 10% AHA Body Wash for Rough & Bumpy Skin
Expresso Coffee Body Wash
Latte Coffee Body Wash with Murumuru butter
Coffee Shower Oil Body Wash with 12 Essential Oils
Nykaa Wanderlust Mediterranean Body Wash
Capturing the cool breeze of the Mediterranean Sea, this body wash is infused with the aquatic fragrance of that fresh air. It gently purifies your skin and gives you a beautiful beach experience. The gel provides hydration and keeps your skin soft and supple. This body wash is accompanied by a free loofah. It produces a rich lather and is ultra-lightweight. It has a rope for easy hanging with a soft & gentle mesh.
Product Highlights
Gentle exfoliation of the skin and leaves your skin smooth.
Deeply hydrates your skin, leaving it soft and supple.
Infused with Mediterranean salt, this gives you a beautiful beach experience.
Energizes your skin and refreshes it
Enriched with aloe vera, this locks in your skin's moisture.
Key Ingredients
Sea salt
Aloe Vera
Glycerine
Sodium Chloride
Other Body Washes by Nykaa
Ethiopian Coffee Wash
Himalayan Hemp Wash
Activated Charcoal Wash
Californian Almond Milk Wash
Strawberry Daiquiri Wash
Country Rose Wash
French Lavender Wash
Japanese Cherry Blossom Wash
Sicilian Sweet Pea Wash
Hawaiian Jasmine Wash
The Body Shop Strawberry Body Wash
Infused with cold-pressed strawberry seed oil, this body wash or shower gel is a cleansing agent for everyday use. With a hint of vanilla, the Body Shop strawberry shower gel gently exfoliates your skin leaving it nicely scented. This shower gel allows you to immerse yourself in the fruity scent of strawberry. This shower gel is perfect to nourish and envelop your skin in softness and bathe it in intense hydration.
Product Highlights
Gentle cleansing and exfoliation of your skin.
Leaves skin feeling soft and supple.
Strawberry-inspired sweet and juicy fragrance.
Completely vegan and cruelty-free.
Suitable for all skin types.
Key Ingredients
Strawberry
Vanilla
Strawberry seed oil
Sodium chloride
Other Body Washes by The Body Shop
British Rose Body Wash
Argan Body Wash
Olive Body Wash
Dove Deeply Nourishing Body Wash
Looking for a body wash that cleans like soap and moisturizes like cream? Dove Deep Moisture Body Wash does both. It cleans your skin like soap and keeps it moisturized for 24 hours. It's enriched with a gentle cleansing formula and Dove's signature ¼ moisturizing cream to give you softer, smoother skin after every shower. Its Nutrium Moisture technology and mild cleansers penetrate up to 3 layers deep, to help your skin retain its natural moisture, leaving you with moisturized, healthy-looking skin. It's mild, pH-balanced formula, makes it a great body wash for dry skin, unlike typical bathing soap or shower gel. Dove Body Wash, with sulfate-free/paraben-free cleansers, 100% gentle cleaners & 100% plant-based moisturizers, nourishes deep into the surface layers of the skin and helps strengthen your skin's moisture barrier.
Product Highlights
Keeps your skin moisturized for 24 hours.
Cleans like a soap and moisturizes like a cream.
Leaves you with smooth, soft, and glowing skin after each wash.
Effectively washes away bacteria and is mild on the skin.
Nutrium Moisture technology delivers natural nutrients to your skin.
Completely free from parabens and sulfates.
Key Ingredients
Water
Glycerin
Sodium Chloride
Citric Acid
Coconut
Soyabean oil
Other Body Washes by Dove
Refreshing Body Wash with Cucumber and Green Tea scent
Gentle Exfoliating Body Wash with Exfoliating beads
Steps To Use Body Washes
Pour water on your body to make sure the skin is wet and only then proceed to apply body washes or shower gels.
Lather the solution using a loofah or washcloth.
Apply a generous layer of lather over your skin.
Rinse it off thoroughly and pat dry your skin with a clean towel.
Please avoid rubbing your skin after walking out of the shower as this might strip away the moisture content and irritate your skin.
How to Look for a Right Body Wash or Shower Gel?
Discover your skin type. For instance, if your skin feels itchy then your skin must be dry. If your body is acne-prone then your skin is oily-type or if your skin is prone to inflammation or allergic reactions then you might have sensitive skin.
Check whether the body wash is non-drying or not.
Choose a body wash that goes well with your skin type.
Browse the ingredients of the body wash as some contain harsh cleansers along with harmful toxins that damage your skin further.
Ensure that the body wash is naturally scented if it possesses any fragrance.
Make sure that the body wash you are using is a tested & certified body wash.
FAQs
Are body washes and soaps the same?
Soaps and body washes are not the same. Body washes are considered to be a mixture of soap along moisturizer. Soaps tend to be over-drying which strips skin of its natural moisture and alters its natural pH level. Body wash on the other hand is more hydrating and deeply cleanses your skin without drying it out.
What is the purpose of having salicylic acid or lactic acid in your body washes?
Salicylic Acid works at clearing clogged pores and removing dead skin cells. It also helps control oil production, all of which help prevent acne. This makes it ideal for treating acne on the body. Whereas, lactic acid brightens, smooths, and evens skin, while also making it look firmer.
Are scented body washes good for the skin?
If it is a naturally-scented body wash it is a safe choice but otherwise, it is safer to opt for fragrance-free body washes or shower gels.
Which are the few ingredients that should be completely avoided in a body wash?
Parabens, SLS (Sodium Lauryl Sulfate), SLES (Sodium Laureth Sulfate), Triclosan, Synthetic fragrance, and Formaldehyde are some of the ingredients to look out for while purchasing a body wash.
What are the advantages of pH-balanced body wash?
PH-balanced body wash removes impurities while regulating the pH level of your skin and keeping your skin moisturized and healthy.
Can body washes be used as a shampoo?
No, body washes must be used only on your body as it is ineffective on hair due to the presence of nutrients and potents effective only on body skin.
You might also like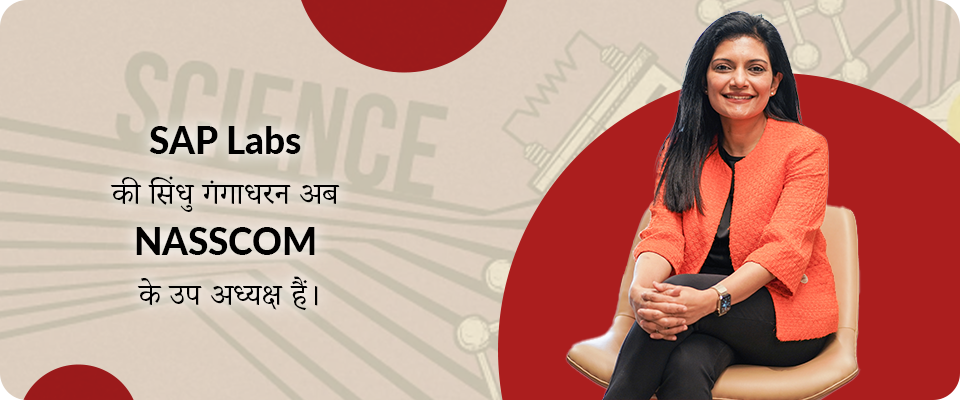 Wellness
06-Oct-2023
SAP Labs की सिंधु गंगाधरन अब NASSCOM के उप अध्यक्ष…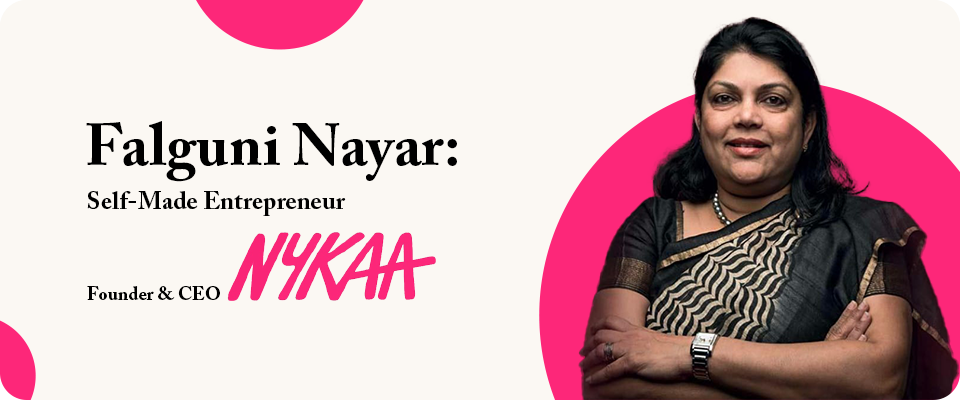 Wellness
03-Aug-2023
Falguni Nayar: India's Richest Self-Made Entrepreneur 

Wellness
07-Nov-2023
भारत की शीर्ष महिला रैपर्स जो भारतीय संगीत जगत में…