News
Amrita Sher-Gil's Painting Sells for₹ 61.8 Cr at an Art Auction

199 Views
Published On: 18 Sep 2023 Updated On: 06 Oct 2023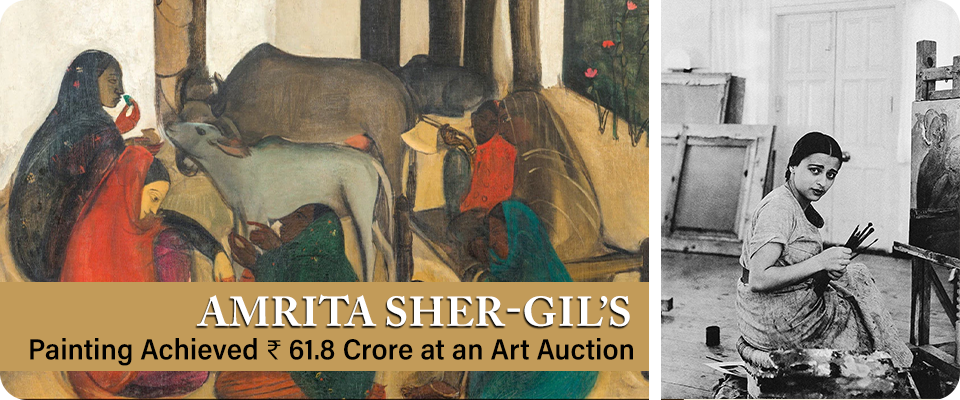 Amrita Sher-Gil was a famous painter during the 1900s who is known for creating beautiful and astounding masterpieces through her paintbrush strokes and wide imagination fetched ₹ 61.8 cr at a recent auction. Her work 'The Story Teller' became the highest-sold art piece in the auction making Amrita achieve such an accomplishment by an Indian artist. This artwork was painted in the year 1937 by Ms. Sher-Gil. 'The Story Teller' became the most expensive artwork fetched at the 'SaffronArt' the art house that organized the auction on Saturday night in New Delhi.
In the below link, you can have a look at the artwork that gained 61 crore rupees in the auction.
This auction happened just ten days after modernist Syed Haider Raza's painting fetched ₹ 51.7 cr at the auction house of Pundole. The auction house SaffronArt even mentioned on a page dedicated to the artworks that Amrita was a legendary artist who portrayed the domestic life in her artwork named 'The Story Teller.' The co-founder of the SaffronArt auction house, Minal Vazirani stated that the sale of this particular artwork was a significant breakthrough in the market. She further added saying, "However, equally important, is the work itself – it is an exceptional painting as a cornerstone in Sher-Gil's work as such. She is one of India's national art treasures, and this type of work is quite rare to come across for sale."
This wasn't her first work that was auctioned. 84 of her works have been auctioned till now. One of her oldest auctions was recorded in MutualArts for Artwork Village Group which later sold at an English auction house named Sotheby in early 1992. 'The Story Teller' fetching a sale price of $7.44 million has left all the art enthusiasts in awe and amusement. Furthermore, this art piece has undoubtedly tattooed its name in art history by strengthening its status by grabbing a record-breaking achievement.
Other artworks at the SaffronArt house auction included Earth (1986), another work by Raza that sold for ₹19.2 crore. Tyeb Mehta's work titled Red Figure sold for ₹9 crore. Paysage(1961) by Akbar Padamsee was sold for ₹4.08 crore, which surpassed the lower estimate calculated. A. Ramachandran's Autobiography of an Insect in the Lotus Pond (2000) sold for ₹4.44 crore, nearly four times its higher estimate, setting a world record for the highest price achieved by the artist globally.
Ms. Sher-Gil was born in the year 1913 in Budapest. Amrita's father, Umaro Singh Sher-Gil hailed from a Punjabi aristocratic family and he was a scholar in both Sanskrit and Persian languages. Mother Marie Antoinette was a skilled and trained Hungarian opera singer. From an early age itself, Amrita was curious and interested in painting and drawing.
At the age of five, she realized her passion for art and wanted to progress in that field. Her early works explored Hungarian fairy tales with fascinating characters. Mostly, all of her works were watercolor paintings. The Sher-Gil family settled in Shimla in the year 1921. The artist passed away at the age of 28 in the year 1941.
You might also like