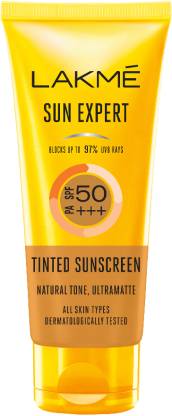 Lakme Tinted Sunscreen-SPF50PA+++(50ml)

Shubra Rani and 250+ people like this product





₹473.00
₹525.00 (10% off)
Pros
Protects skin from sunburn, dark spots, and premature ageing.
Shields your skin from harmful UVA rays.
Soothes and hydrates your skin.
Gives you an even skin tone.
Cons
Not suitable for all skin types.
Clogs skin pores.
This product is love
18 June 2020 by kathija n on Nykaa
Usually when I go out on a sunny day even after applying sunscreen my skin tone becomes a slight darker than before. But after using this I started feeling the difference between this one than the other sunscreen. This one really protects my skin ND it also gives a matte glossy finish on my face so that there is no need to apply makeup on my face. Wow this one is amazing just go for it everyone would love it. But before everything do a patch test to confirm whether this product suits you or not. And the most important thing is that we need to use sunscreen even when we stay at home. Sunscreen is always needed.
Perfect
19 August 2021 by hiral prajapati on Nykaa
This is my go to sunscreen Smells amazing it has little tint in it feels super light on skin love this sunscreen
Lovely
04 November 2022 by simran on Nykaa
I love the sunscreen i use it regularly on my face and hands it feels so light, it smells so good and best thing is it's tinted sunscreen i really love this sunscreen and definately I'll repurchase it?????
Lakme sunscreen
27 October 2021 by sudipa nandi on Nykaa
As always up to the marks... And Nykaa also sends the products in a good situation.. Thanks
Best One
21 September 2020 by abhinaya nikhil on Nykaa
Best sunscreen for dry skin..its hydrating my skin..looks so perfect