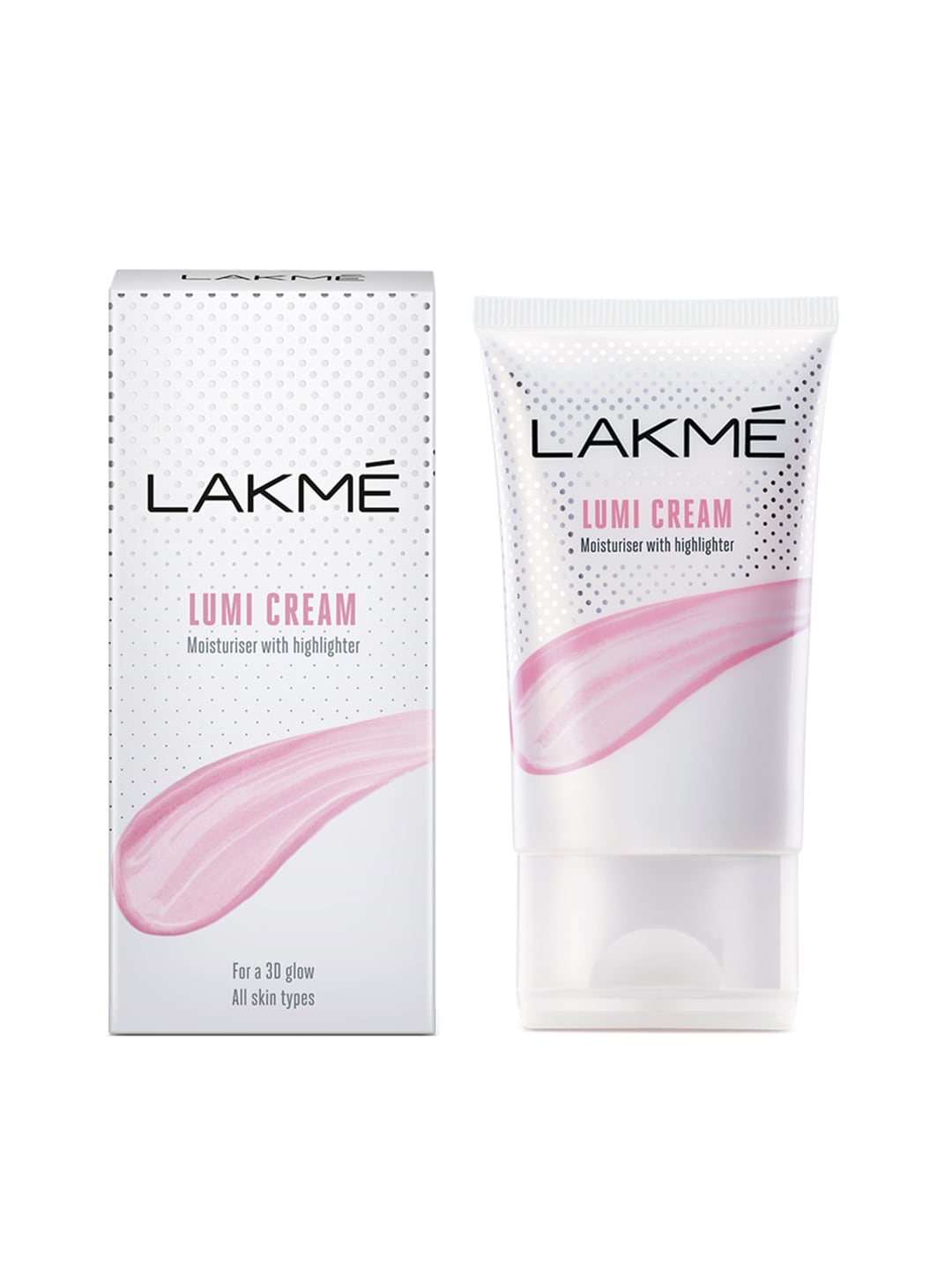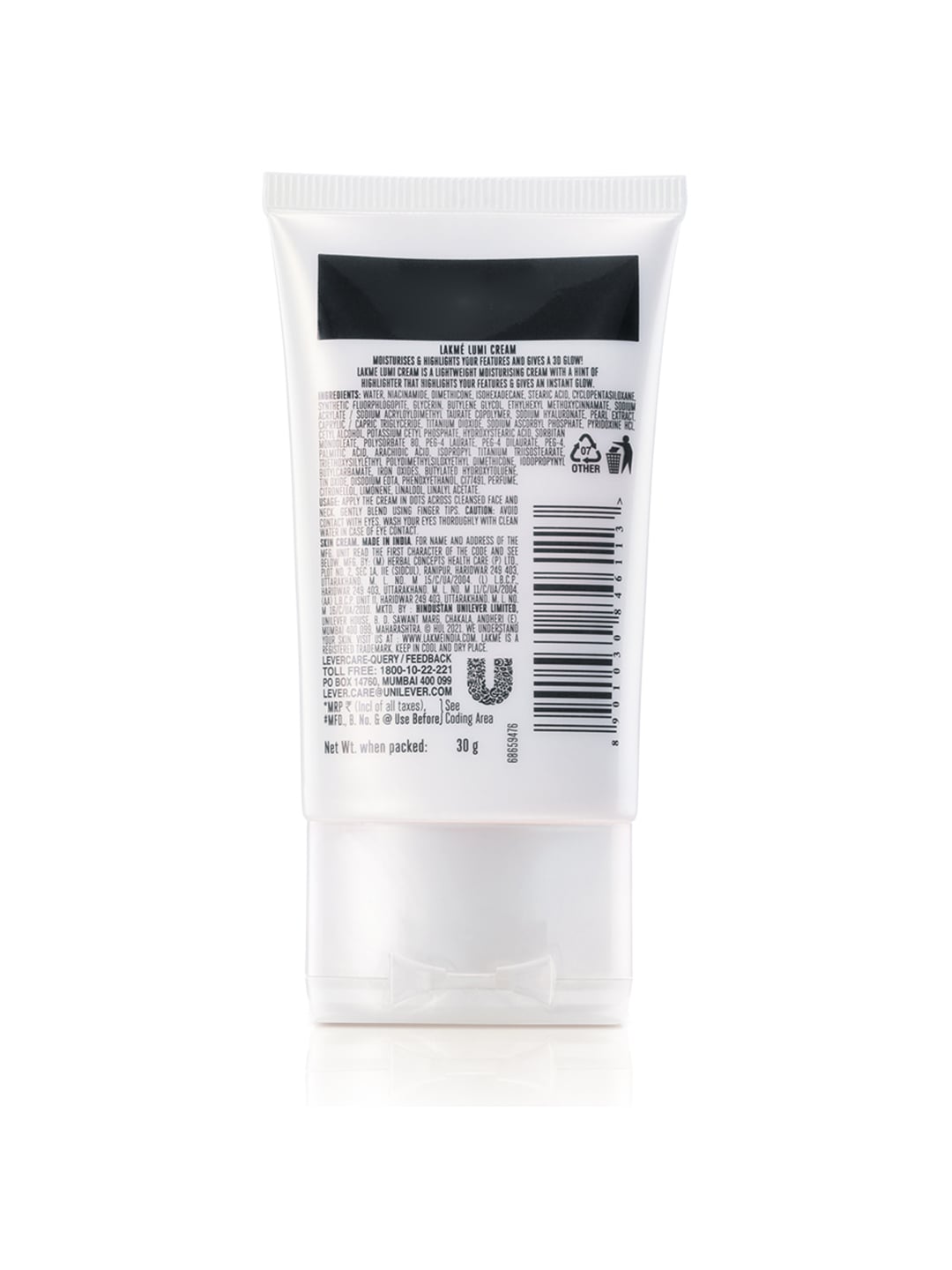 Lakme Lumi Skin Cream(30g)

Shubra Rani and 250+ people like this product





₹239.00
₹299.00 (20% off)

₹254.00
₹299.00 (15% off)
Description
A multi-purpose beauty product by Lakme with plenty of benefits, the new Lakme Lumi Cream is here for all the women who are on the go and could spare a few extra minutes. This cream not only gives you the benefit of the perfect makeup look but also is infused with daily skincare benefits on any occasion. You can apply it as a moisturizer, as a highlighter, mix it with the foundation, or even apply it as a primer. The presence of Hyaluronic acid which is a powerful humectant, that draws in the surrounding environmental moisture and keeps it locked. This improves skin hydration making your skin look smooth and supple. The Niacinamide acid or commonly known as Vitamin B3 helps in keeping your skin firm, lightening your skin, and even skin toning, providing your skin a shield from harmful UV rays. Vitamin B6 and Vitamin C which are rich sources of exfoliation and skin brightening are present to impart glowing, youthful skin. This moisturizer + highlighter gives your skin hydration of 8 hours and skin-lightening agents deliver stunning, luminous looks on your face. Make sure you grab it now to have a flawless look.
Benefits
Lightweight moisturizing cream can be used as a highlighter.
Highlights your features.
Keeps your skin intensely hydrated.
Protection from harmful UV rays.
Fades dark spots and lightens your skin.
Reduces blotchiness and redness.
Use it as a moisturizer, or highlighter, apply it with foundation or apply as a primer.
Non-greasy, smooth texture.
It imparts glowing, nourished skin.
Key Ingredients
Hyaluronic Acid
Niacinamide (Vitamin B3)
Vitamin B6
Vitamin C
Water
How To Use
Squeeze a little moisturizer on your palm.
Apply little dots around your face.
Blend the moisturizer.
Enjoy your 3D highlighted glow.
Disclaimer: Avoid contact with eyes. Wash your eyes thoroughly in case of eye contact
Suitable for
This product is suited for all skin types.
About Lakme
India's contemporary beauty expert, Lakme frequently brings up unique creations to deliver a plethora of skincare, world-class cosmetics, and beauty products which are recognized by the People for the Ethical Treatment of Animals (PETA). The brand focuses on delivering a comprehensive beauty experience to Indian women by understanding deeply their needs and combining them with international cosmetic technology. Their products are in line with the variety of Indian skin tones. Lakme was the first to bring makeup into India and has been one of the top beauty brands for over 50 years. The renowned 'Lakme Fashion Week' is the largest fashion event in the country that celebrates the beauty of fashion.
FAQs
What is the use of Lakme Lumi Cream?
It moisturizes skin and gives your skin a 3D glow.
Can we use Lakme Lumi daily?
Yes, this can be used on a daily basis.
Lakme Lumi can be used as a primer.
Can I apply foundation after Lakme Lumi?
Use Lakme Lumi after your skincare routine ie cleanser, toner, moisturizer & sunscreen, and after your makeup.
Osm
04 May 2023 by priya tyagi on Nykaa
Very nice illumination cream just like highlights face very nice cream texture osm
Luminous
31 December 2022 by raii banerji on Nykaa
It's too good, mild ,no big glitter, doesn't look pink, brings a soft glow,, mix with foundation,blend well... its super glowy.
Lakme lumi cream
03 March 2023 by afeefa on Nykaa
Got in just rs 239 Pesches nd milk
Fulfilled all expectations! Overachiever
11 May 2022 by prerna gupta on Nykaa
It fulfills all the expectations given on the description. Perfect for dewy finish and makes you shine & glowy in affordable price of 299/-. I brought it on discounted price. Thanks to Nykaa!
Bro positive
06 February 2023 by sandhya dabas on Nykaa
Must buy product
18 November 2022 by nivedita mohanty on Myntra
It wasn't as good as I heard the reviews. Idk how is this illuminating cuz my skin is spotless & any kind of highlighter does an amazing job adding the glow to my face even with a little bit of quantity. But this cream does nothing to my face at all. Plus it's very matte so I guess oily skin people would love it.
27 December 2022 by sheikh arsh on Myntra
very good product